Jennifer Lopez's Scuba-Inspired Gown Breathes New Life Into The Skin-Tight Silhouette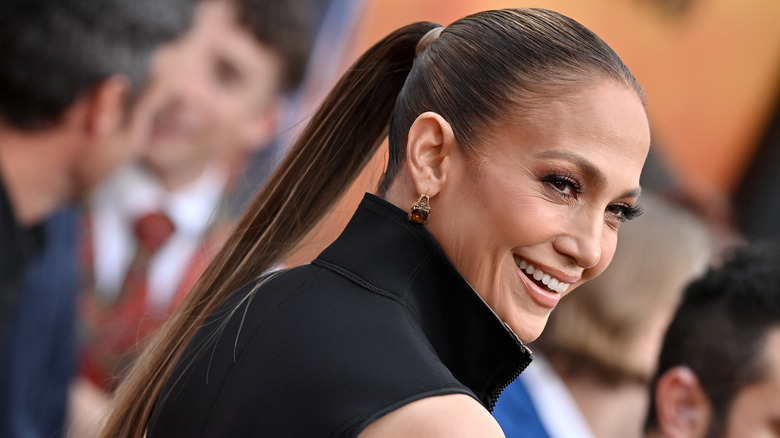 Axelle/bauer-griffin/Getty Images
Jennifer Lopez is making waves with her fashion yet again. This time it's in a dress that looks like it came straight from an elegant underwater kingdom. The pop idol and actress has never failed to disappoint us with her bold sense of style and jaw-dropping outfits. When it comes to the red carpet, no other celeb can hold a candle to J.Lo's ability to grab everyone's attention without saying a word. Now, here she goes again with another fashion statement on the red carpet.
On Monday night, Lopez and her husband Ben Affleck attended the premiere of his latest action-packed superhero film "The Flash." Fans, of course, were there to celebrate Affleck, who looked somewhat more expressive than he did during his and Lopez's last red carpet incident. But, cameras couldn't stay off Jennifer Lopez's scuba-inspired gown as she walked the red carpet.
Lopez absolutely shone in her flowing, bicolored Gucci dress. The long beige skirt swept effortlessly along the carpet and paired well with the upper half of the gown, which was a pretty midnight black. It's this upper portion that's really got fans talking. We're all wondering if this is the skin-tight silhouette revival we've been waiting for.
The bodice takes this dress to the next level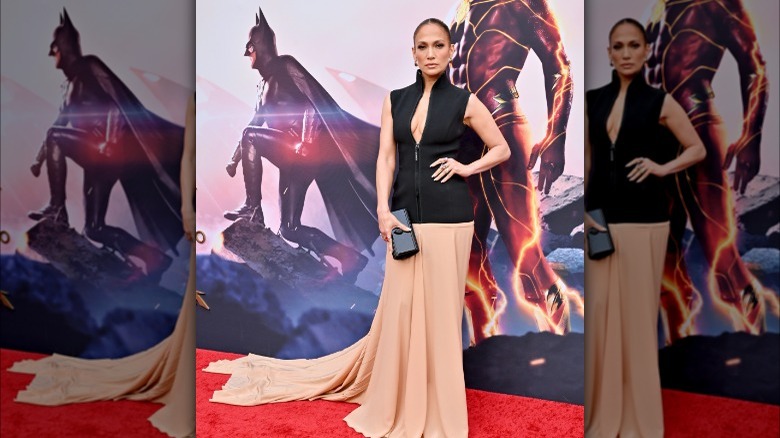 Axelle/bauer-griffin
Of all Jennifer Lopez's looks, this dress stands out as having the most layers of charm to it. The slicked-back bun and lowkey makeup is giving us prima ballerina, and we love it. The form-fitting bodice resembles a wetsuit in the most fashionable way possible, adding a lovely dissonance with the princess-like train.
The slight edginess of the dress has all the potential to breathe new life into the skin-tight silhouette that's recently waned in popularity. Crop tops and high-waisted jeans were everywhere, but, as stylist Patrick Kenger told Insider, the fashion industry has begun to move away from those tight-fitting styles and towards clothing with a "more loose and relaxed fit." Not for long, though, if Lopez's dress has anything to say about it.
The throwback fashion silhouette deviates from the relaxed fit by bringing attention to our body's natural curves. It also embraces our curves in a way baggy silhouettes and flowy clothing can't. We don't know if this is the start of the skin-tight comeback, but we can all agree that J.Lo slayed this look.