Ice Spice Red Is The Rapper-Inspired Hair Color That's All The Rage For Summer 2023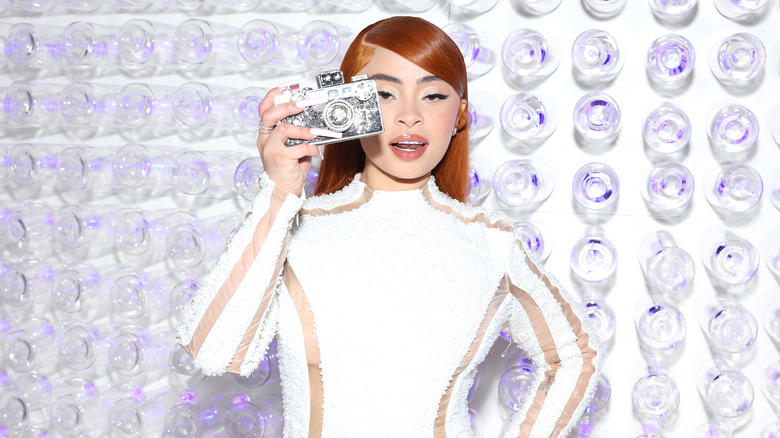 Cindy Ord/mg23/Getty Images
If you haven't heard of Ice Spice, you clearly aren't on the right side of TikTok — the rapper may be new to the music industry, but her influence has already reached a huge audience. The 23-year-old has released hit after hit since appearing on the scene in 2021, like the viral song "Bikini Bottom" that had listeners dancing all over social media. Ice Spice recently collaborated with Nicki Minaj on her single, "Princess Diana" – and we can only imagine how the young rapper felt dancing next to the rap icon she grew up listening to. She was also featured on the remix of Taylor Swift's song "Karma" — The singer surprised fans by inviting Ice Spice onto the stage during her sold-out concert at MetLife stadium. Taylor gushed about the up-and-coming rapper to Rolling Stone, saying, "I am blown away by her ... In my opinion, she's the one to watch."
But Ice Spice's iconography extends beyond her recent singles. Fans have become obsessed with the rapper's signature style and hair color. Whether she's sporting tight curls or a long and straight do, her hair is a beautifully toned shade of copper. According to style experts, the musician's shade of red has heavily influenced the summer's hottest hair trends.
This fiery hue is making a vibrant statement this season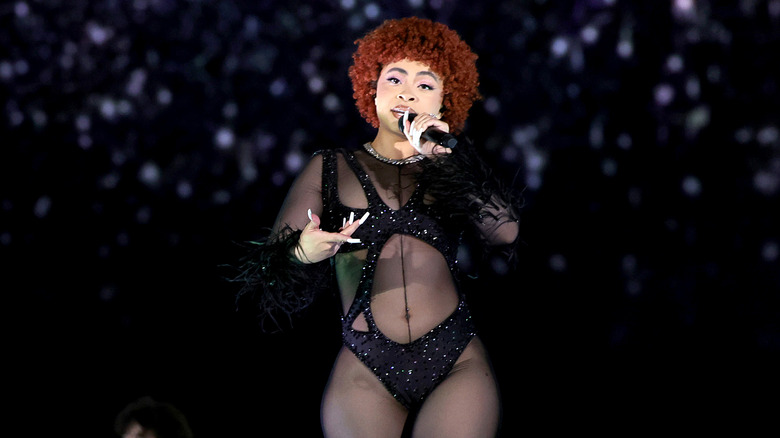 Kevin Mazur/tas23/Getty Images
For those who put "finding a new hairstyle" on their summer bucket list, consider dyeing your hair to match the "Bully Freestyle" singer. Color is totally in this season, and the brighter the hue, the better.
Celebrity hair stylist Sophie Rose Gutterman told PureWow that Ice Spice red is the hair trend to watch this summer. The copper color "bring[s] out the warm tones of your skin," making it a great option to compliment all skin types. Ice Spice also demonstrates how well the shade of red works on multiple hair textures — whether you rock your hair's natural curls or lay it flat to frame your face, this rapper-inspired shade will compliment even the wildest beach waves.
If you are new to being a redhead, it is important to learn the right way to care for your shade of red. While we admire those who tackle their own styling with nothing but a box of DIY hair dye and a dream, we recommend confiding in a professional to achieve the iconic Ice Spice red. To keep your summer shade from fading too quickly, experts recommend color-safe hair washing products that are free of sulfates. Washing your hair at a cool temperature will also keep your color looking vibrant for longer, and try your best not to over-wash.
Coordinate your outfits to match your bright red hair color
When you're considering a new hair color, it's important to check in with your wardrobe colors. While we are firm believers in the wear-what-you-want mentality, there are a few fashion faux pas you might subconsciously make if you decide to commit to the red hair trend. Sometimes red and purple are serious color clashes because both hues are so bright and fight for the viewer's attention when paired together. Luckily for purple lovers, the Ice Spice hair color has a brassy copper undertone, making it darker and more palatable for even the most vibrant color combinations. Ice Spice herself posted a stunning photo rocking an all-purple ensemble on Instagram while posing for a feature in Billboard magazine.
For our redhead newbies, we recommend trying out your new look with neutral-colored outfits first. Rock your new do out on the town while wearing your favorite LBD — black will perfectly compliment your red hair and let the color take center stage. Emerald green, navy blue, and beige are also great colors to wear when you're just starting out on your red hair journey.
In the words of the iconic Ice Spice, "A baddie gon' get what she like." Take a chance on the summer's hottest new hairstyle — and confidently rock all your favorite outfits while you're at it!