Where Does Drew Barrymore's Relationship Stand With Her Mother?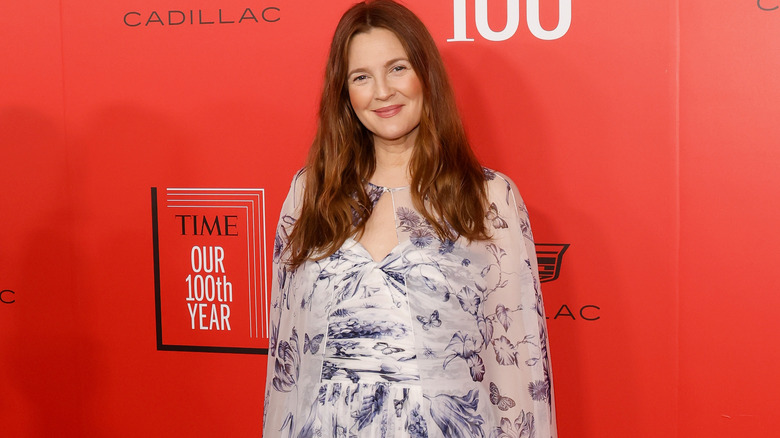 Taylor Hill/Getty Images
Mother-daughter relationships are never simple, but Drew Barrymore and Jaid Barrymore make for a particularly complex case. Jaid was not the most responsible mother figure to Drew, and the "Charlie's Angels" star suffered severe emotional consequences. When Drew was 13, Jaid sent her to a psychiatric ward for a year and a half. After a rocky early childhood and that scarring experience, Drew won emancipation from her parents and had to learn how to be an adult at just 14 years old. 
Needless to say, things aren't perfect between Drew and Jaid, but they do respect each other and have a relationship today. In her 2023 Mother's Day blog post, Drew reflected on where she and her mother stand now. She shared that it had recently been Jaid's birthday, so she texted, "Happy birthday, Mom." Jaid responded at the time, "Thank you so much! I'm incredibly proud of you and send you love," which Drew called the best possible gift she could receive at the time. 
In December 2022, the actress noted to People that she and Jaid have established their share of boundaries, and they also take "healthy pauses" whenever they need to. All in all, it's very impressive that Drew and Jaid still speak given their history.
Why Drew won emancipation from her mother at 14 years old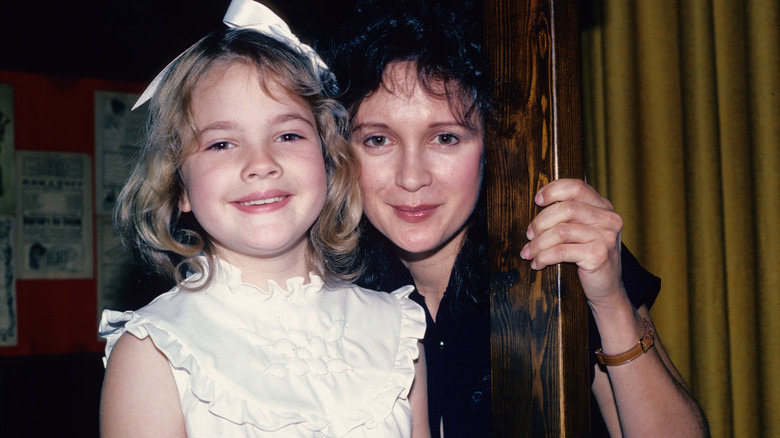 Yvonne Hemsey/Getty Images
During a September 2018 interview on The Today Show, Drew Barrymore reflected on her difficult childhood and discussed the very complicated relationship that she has with Jaid Barrymore. "I had a mom, but she was more like my best friend," Drew shared. "She was like, 'Do you want to go to school and get bullied all day, or do you want to go to Studio 54?". At seven years old, Drew became famous when she starred in "E.T." Just a few years later, she developed drinking and drug problems, and she blames Jaid in part for "creating a monster" and then not knowing what to do with it, as she explained to Howard Stern in February 2021. 
Jaid placed her daughter in a mental institution called Van Nuys Psychiatric for 18 months when Drew was 13, and the "50 First Dates" star still remembers the dark experience vividly. Drew told Stern that you "couldn't mess around in there." She noted, "If you did, you'd get thrown either in the padded room or get put in stretcher restraints and tied up." Following that traumatic stay, Drew was legally emancipated from her parents when she was 14 years old and subsequently moved to her own Los Angeles apartment. 
She wishes her mother the best now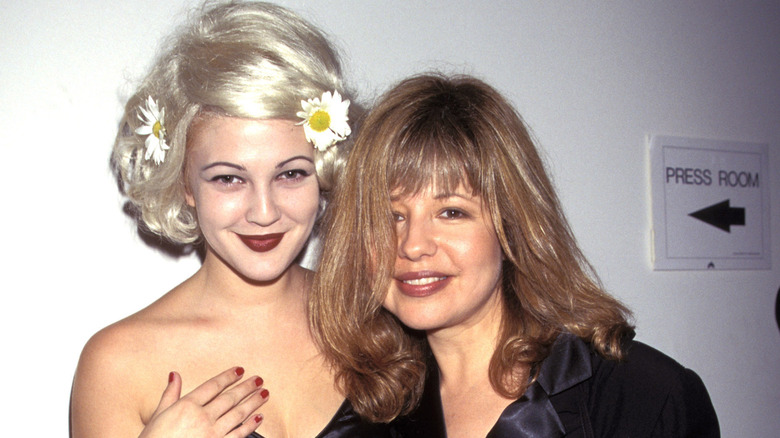 Kmazur/Getty Images
To this day, Drew Barrymore has a hard time navigating her relationship with Jaid Barrymore. In fact, she finds it hard to fully heal from the situation with her mother still around and in and out of her life. In a June 2023 Vulture profile, Drew noted that all of her neighbors' mothers have passed, but not hers. "And I'm like, Well, I don't have that luxury," she said. "But I cannot wait. I don't want to live in a state where I wish someone to be gone sooner than they're meant to be so I can grow." Drew emphasized to Vulture during the conversation that she does not wish any harm on her mother.
"I actually want her to be happy and thrive and be healthy," she said. "But I have to f***ing grow in spite of her being on this planet ... I dared to say it, and I didn't feel good. I do care. I'll never not care." 
After headlines from sites such as Page Six emerged claiming Barrymore wanted her mother to be dead, the actress expressed her anger about that narrative on TikTok. "I have never said that I wished my mother was dead," she said in her post. "How dare you put those words in my mouth? I have been vulnerable and tried to figure out a very difficult, painful relationship while admitting it is difficult to do while a parent is alive."