The One Plastic Surgery Regret Ashley Tisdale Has
Matt Winkelmeyer/Getty Images
Ashley Tisdale has given fans loads to love in her long and varied career. Her long-time manager, Bill Perlman, discovered Tisdale at South Shores Mall when she was only three years old. The little starlet appeared in over 100 commercials as a child and, when she was just eight, Tisdale joined Broadway's "Les Misérables" as Little Cosette. Shortly after, she appeared in an international production of Annie. 
At 18, she earned the career-defining role of Maddie Fitzpatrick in Disney's hit show, "The Suite Life of Zack & Cody." During an interview with "Chicks in the Office," Tisdale shared that as an adult, she's grateful she got to experience all the things a person her age should because it grounded her, but at the time, she wasn't too pleased she had to live a normal life between shoots, in conjunction with her music career.
By the age of 20, Tisdale had already undergone a stunning transformation and bagged the role of Sharpay Evans in "High School Musical," from whom she still draws a little oomph to push herself. However, all this success at such a young age didn't come without its struggles. Tisdale has many regrets, just like the rest of us mere mortals, including some plastic surgery that she eventually undid because it became such an issue for her.
Ashley Tisdale regretted getting breast implants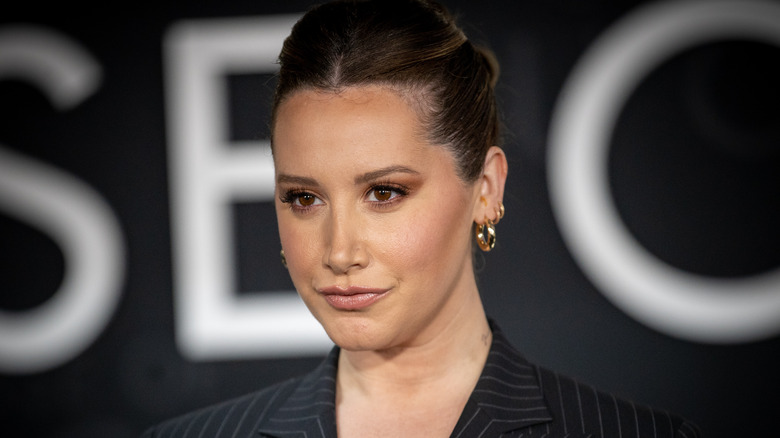 Emma Mcintyre/Getty Images
In an Instagram post, Ashley Tisdale revealed that she had got breast implants years prior because she felt that her body was lacking something without them, and the augmentation would increase her confidence. However, the procedure exponentially affected the actor's mental and physical well-being. Tisdale elaborated on her negative experience in a blog post for her wellness brand, Frenshe, explaining that she struggled with gut health issues and food insensitivities following the procedure. 
And, after she watched a bunch of videos and read stories from people who had experienced similar symptoms after their own augmentations, Tisdale realized that her implants were the culprits. So, the "High School Musical" star decided to have an explant surgery. In the post, she wrote, "What's so crazy is that plastic surgeons can't actually acknowledge Breast Implant Illness because then they obviously won't be able to practice breast augmentation surgery," adding, "As you know, implants are one of the biggest moneymakers in the plastic surgery industry." 
Even before the explant surgery, Tisdale was positive that she would feel better afterward, and her food sensitivity and gut health issues reduced after the removal. She noted, "I was at a place where I really didn't even like having my implants anymore and I wanted to honor my body in its natural form. I believe our thoughts help us, and by practicing self-love meditation and keeping a positive attitude, I was able to love the results." 
She's been open about her mental health struggles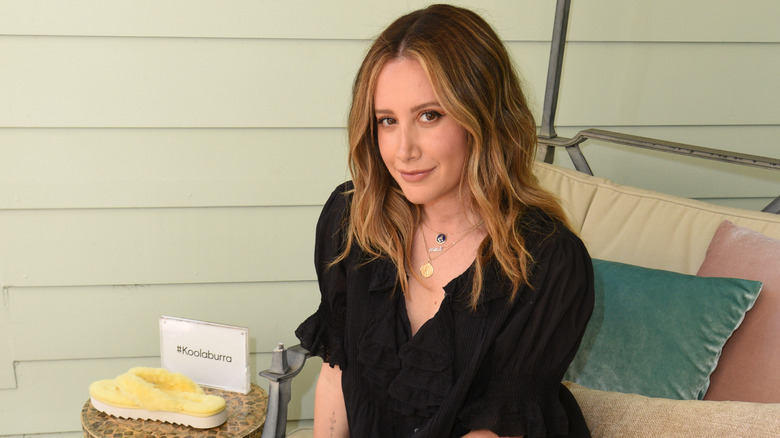 Vivien Killilea/Getty Images
Growing up, Ashley Tisdale struggled with mental health issues and decided to get a rhinoplasty (AKA a nose job) at the age of 20 to ease her symptoms. However, the actor's personal choice was met with a lot of very public criticism. In a blog post for Frenshe, Tisdale wrote, "When I got it done I was scrutinized, judged, and made to feel ashamed over my decision." She clarified, "I made a decision that was no one's business (and is STILL no one's business) and for that decision, I was constantly made to feel bad about it." 
As a child star, Tisdale naturally faced a lot of pressure, and eventually, that led to panic attacks and anxiety. In an essay for Cosmopolitan, she admitted that her symptoms were so debilitating that she canceled appearances to quell them. The actor suffered from intense sleep issues, and her stress and anxiety skyrocketed. Tisdale sought help from doctors, and she was eventually, officially diagnosed with anxiety. 
Since then, she's been trying to make the world a better place for those struggling with mental health issues. Her 2019 album, "Symptoms," meanwhile, was a means for Tisdale to process in a more creative way. Her blogs on Frenshe also create a safe space for people suffering from similar problems and help them to feel validated in their struggles. Finally, Tisdale's wellness line, My Frenshe, meshes mental health with self-care.