The 'Jelly Skin' C-Beauty Technique That Will Revolutionize The Way You Apply Blush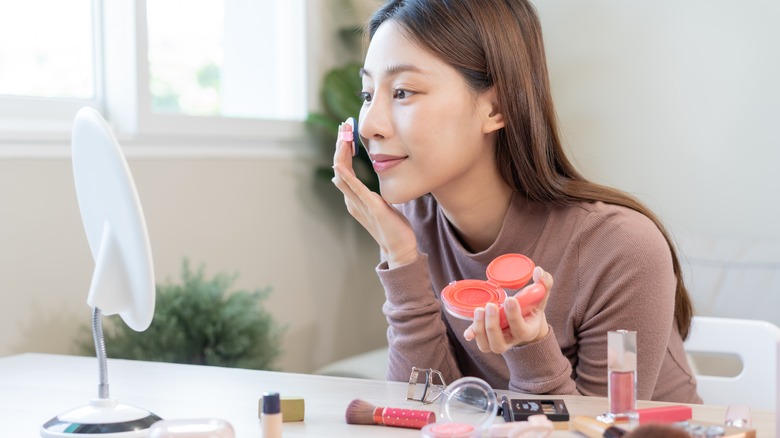 Kmpzzz/Shutterstock
K-beauty may be dominating the makeup and skincare market, but it's time for C-beauty (aka Chinese beauty) to have its moment. Among various C-beauty techniques is "jelly skin," which aims to give you a fresh and glowy look that will emphasize your natural beauty. 
Many of us view blush as an afterthought and just put a little bit on the apples of our cheeks. However, in recent years, applying blush in different ways has become a trend. Different ways to do your blush like the winter blush trend and Douyin makeup (which emphasizes pigmented blush) have only been growing in popularity.
Best of all, you don't need to buy any new products or even change up your skincare routine for jelly skin. All you need to do to achieve the look is switch up the way you apply your blush. If you feel like you've been applying your blush wrong, try out the jelly skin technique for a fresh take on your usual makeup routine.
This method of applying blush is easy to do
The first thing you need to do to achieve jelly skin blush is to decide which blush you're going to use. The idea of jelly blush is to be obviously visible, so pick a blush that will show up well on your skin. Traditionally, the jelly blush technique uses light pink or coral shades. The only other thing you need is a brush.
Using the brush, tap your chosen blush onto your cheeks in a circular motion to get the best coverage. An important aspect of this trend is to start just above the apples of your cheeks so you end up with a cute, doll-like blush effect. Your cheeks should look rosy and plump, giving you a youthful appearance. If you want to accentuate other areas of your face, you can apply a small amount of blush across the top of your nose or under your eyes for a pretty, naturally flushed look.
Get creative with what you use as blush
If you want to take the jelly blush trend a step further, ditch the blush entirely and reach for lipstick instead (yes, you read that right). Makeup artist Mira Parmar told Refinery29 that using lipstick instead of regular blush for your cheeks works "because lipstick is often a very creamy product. In fact, it's very similar to a cream blush, so applying to your skin with a concealer and petroleum jelly will lend a dewy and flawless, skinlike finish."
Don't just go straight to swatching lipstick on your cheeks though. To end up with dewy flushed cheeks instead of something clownish, you'll want to blend with concealer and petroleum jelly (or a thick cream). Apply your lipstick (preferably red or bright pink for pigment) in a straight line on each cheek, then criss-cross each lipstick line with concealer. Dab the jelly on top and then blend the mixture with your fingers or a brush for a cute and dewy look.
If using lipstick on your cheeks isn't for you, Parmar also recommended using a powder eyeshadow or regular powder blush and mixing your chosen product in with a balm to get a dewy, jelly-like finish. No matter which technique you go for, you'll end up with glowy jelly blush cheeks.