See-Through Shoes Are Having A Main Character Moment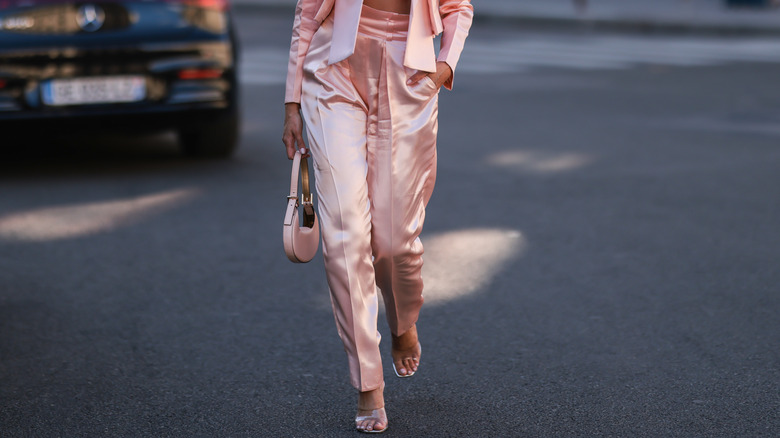 Jeremy Moeller/Getty Images
Whether you love or hate them, there's no denying that see-through shoes (alternatively known as invisible shoes) are having a major moment right now. From ballet flat styles and Mary Janes to more perspex heels than you could dream of, the trend is all about showing off your feet; toes and all.
Sheer clothing has been having a moment for a few runway seasons now, so it makes sense that the sheer trend has gravitated downward and ended up in the footwear industry. Those deeply involved in the fashion world are loving the trend, too. Referring to her own mesh shoes, Zoë Wendel, vice president of design at Loeffler Randall, told The Zoe Report: "I love wearing them with simple cotton dresses. It's such an easy way to add interest to a simple outfit."
In summary, you can throw on your mesh shoes with just about anything and look like one of the fashion pack with very little effort. Here are some of the best see-through shoe styles and how to style them.
Sparkly and sweet
If you have ever wanted to have your Cinderella moment in everyday life, the Leonie ballet flats are your chance to do just that. From Loeffler Randall, the style comes in beige or blue and will lend a pretty and feminine touch to any outfit. You could even DIY a pair by buying some plain mesh flats and then decorating them with gemstones of your choice. This style will look best with skirts and dresses because of the delicate design, especially midis and maxis for a vintage vibe.
Embrace femininity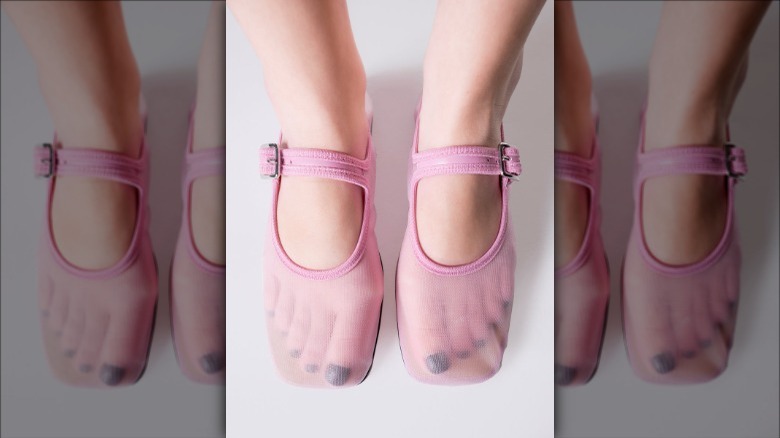 Sandy Liang
Add these shoes to your list of Barbiecore essentials you need in your wardrobe. The cutesy Mary Jane style strap on these pink mesh flats from Sandy Liang only adds to the Barbie aesthetic. We recommend styling this shoe color with neutrals, mainly white, as black might be too harsh for the delicate pink mesh. For something different than the usual dress or skirt look, try pairing your mesh flats with a pair of pleated shorts. A puff sleeve blouse would also look gorgeous and match their light, airy appearance.
Simple and elegant
Breezy, fresh, and perfect for summer, the Balla white mesh flats from Dear Frances will complement any outfit (just make sure to paint your toenails beforehand). Match them with a linen suit for a gorgeous lunch-on-vacation outfit, or with a white sundress for a more casual look. We love how the simple and classic ballet flat design of the shoe allows the mesh element to stand out more, making this a shoe that perfectly marries trendy and traditional.
Double strapped heels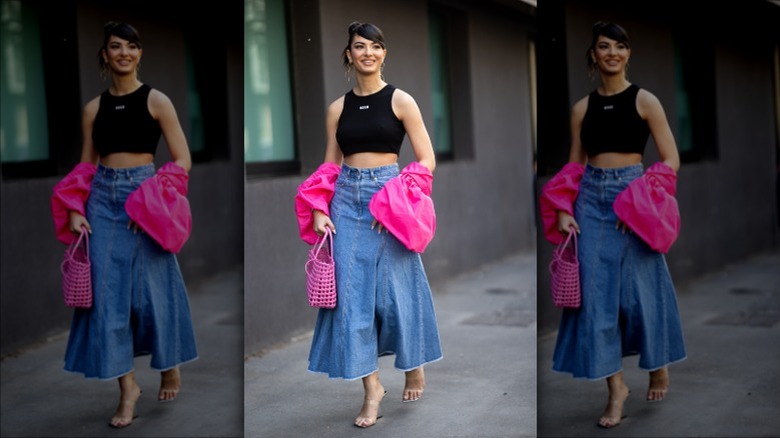 Valentina Frugiuele/Getty Images
Sometimes referred to as glass heels, clear heels are a must-have shoe. Not only will clear heels make your legs look longer due to their barely-there appearance, but they're also a great way to give you some height without ruining the vibe of your look. Plus, they aren't just for formal events. You can get clear heels with a high, low, or mid heel. Most clear heels feature a mule style to add to the understated look, making them ideal for warm weather.
Crochet style
If you're not fully ready to get your toes out, go halfway with some raffia shoes. Raffia accessories are everywhere right now, but because the material is always popular in summer you don't have to worry about your new shoes only being in style for a bit. There are tons of raffia shoes out there, but classic raffia ballet flats (with or without a strap) tie in the trend. We recommend styling them with a breezy white dress for European summer vibes or with straight-leg jeans for some masculine counterbalance.
Get experiemental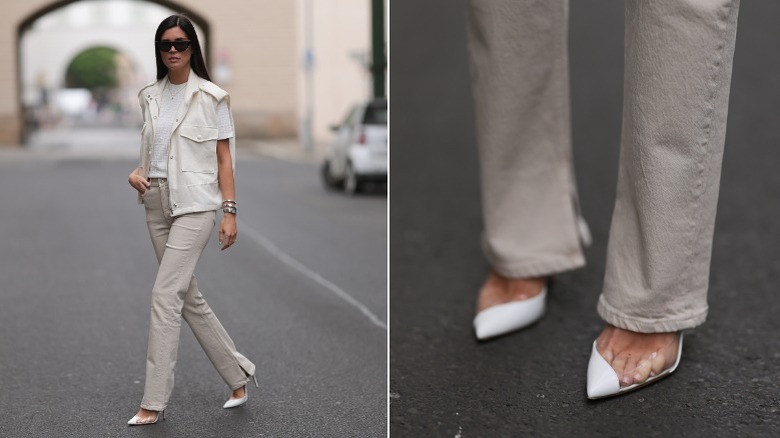 Jeremy Moeller/Getty Images
Keep things visually interesting by choosing a clear shoe that isn't fully clear. A shoe like this is additionally a solid alternative if you don't like the idea of your whole foot being on display. The white cutout detail of these shoes means they also fit in with the asymmetrical trend of 2023. As with most clear shoes, neutrals and light colors will pair the best, but especially if your clear shoes feature white detail. Wear them with jeans in fall/winter and a linen skirt in spring/summer.
Classic black
We love this pair of black fishnet ballet flats from Alaia. The subtly sexy vibe of the fishnet design is balanced out by the wide strap. We recommend wearing these shoes with loose cotton or linen trousers and a flowy vest-style top. As the strap visually cuts off your feet, choose trousers that end just above your ankle or have a cropped fit. This will help balance out your bottom half as well as prevent you from looking shorter than you are, particularly if you're petite.
Not just for warm weather
You may think see-through shoes are purely for warm weather, but that doesn't have to be the case. In awkward in-between weather, wearing breathable shoes will help to keep you cool even if you're wearing more layers than usual. This type of look works best with black shoes, as black naturally gives off less summery vibes than white or lighter neutrals do. The key is to stick to colors like gray or beige for the rest of your outfit if you're completely covered up, as an all-black outfit will look too heavy with mesh shoes.
Pointed toe
Pointed toe shoes have been back on the map for a while now, so why not combine two trends together? Similar to the look of natural raffia, the neutral hue of these flats is giving us all the elegant vibes, and we think a linen two-piece set would be the perfect accompaniment. Note that pointed toe shoes elongate the feet, so if you have already large feet and don't want to emphasize them, you might want to opt for a non-pointy version. 
Make it casual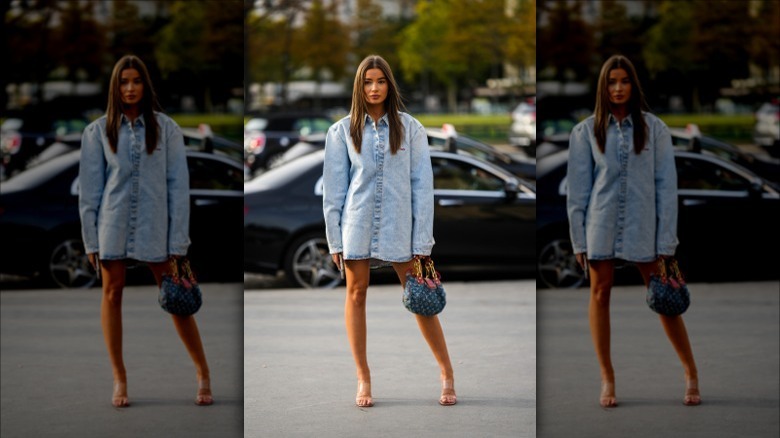 Edward Berthelot/Getty Images
Finally, see-through heels don't have to be super dressy. Pair them with a look that you would normally wear to brunch for a fun way to add something extra to your look. Or, go in the opposite direction and use your heels to make what would normally be a casual outfit more dressy. Take the above example — black heels might look a bit off with the denim dress, but clear heels balance out the look. In general, clear heels go with every color but look best with a lighter color palette due to their mostly invisible design.