Meet Diane Keaton's Kids, Dexter And Duke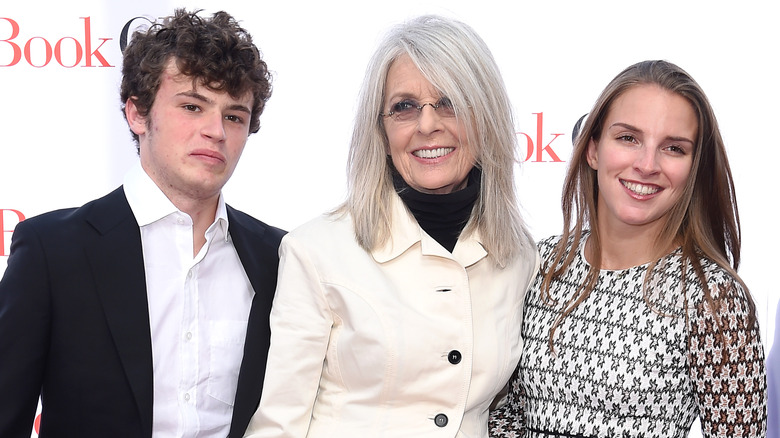 Axelle/bauer-griffin/Getty Images
From her frequent collaborations with director Woody Allen to her fish-out-water role amidst the Corleones in "The Godfather Trilogy," Diane Keaton was a go-to romantic lead throughout the '70s and '80s — but her success didn't stop there. In the '90s and early 2000s, she took off her "Annie Hall" neckties and championed the viral coastal grandmother aesthetic in Nancy Meyers movies like "Something's Gotta Give." For the last 50 years, Diane Keaton has been the unofficial queen of romantic comedies and, most recently, TikTok fashion.
Keaton says her decade-spanning icon status can be boiled down to happenstance. "I don't feel like I've transcended anything, particularly," she explained in an interview with ABC News, adding, "I've been very fortunate to have many opportunities that came my way." She was asked if she could give the 30-year-old "Annie Hall" version of herself advice, what would she say, recalling "I wouldn't go back to the 30-year-old and [say] here's how you do anything . . ." For Keaton, the freedom to choose her own path is what made life meaningful, mistakes and all.
Although the "Father of the Bride" star has become known for playing onscreen mothers, the actor is also a real-life mom of two. Here's what we know about her kids, Dexter and Duke.
Dexter and Duke haven't followed in their mother's footsteps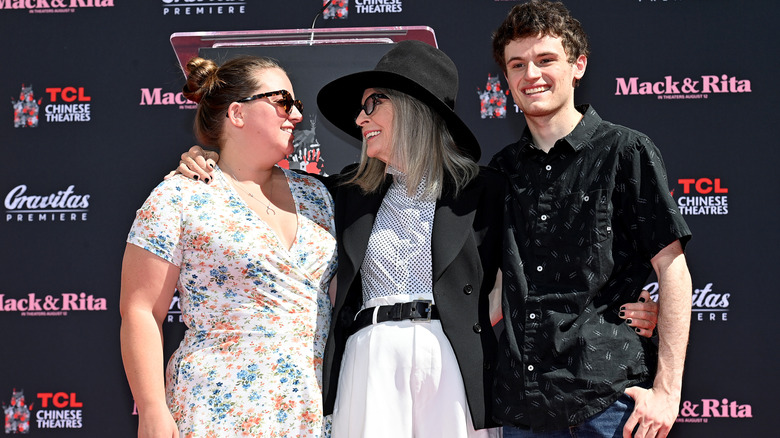 Axelle/bauer-griffin/Getty Images
It's not uncommon for the children of actors to carry on the family legacy — think Lily-Rose Depp, Dakota Johnson, Jamie Lee Curtis, and many more. However, Dexter and Duke have decided to steer clear of the entertainment industry, at least for the time being. Diane Keaton adopted her daughter, Dexter, in 1996. As can be gathered from her Instagram, she tied the knot with her now-husband, Jordan White, in 2021 and works as a veterinary technician. In 2014, Dexter posted a special message to her mom, captioning a photo, "Happy Mother's Day to my amazing momma! I'm so thankful to have been adopted by such a strong, beautiful, and talented woman. I couldn't thank you enough for everything you've done for me. I love you!" The two clearly enjoy a special bond.
Diane Keaton adopted her youngest, Duke, in 2001. Although he posted a friendly picture alongside Rita Ora and Cara Delevingne on Instagram in 2019, he has managed to stay pretty off-the-grid since. In 2022, Diane Keaton created a birthday slideshow for her son, even backing up the post with her own rendition of "Happy Birthday." Not much else is known about Duke — who knows, maybe we'll see him on the big screen one day.
The actor is a proud single mom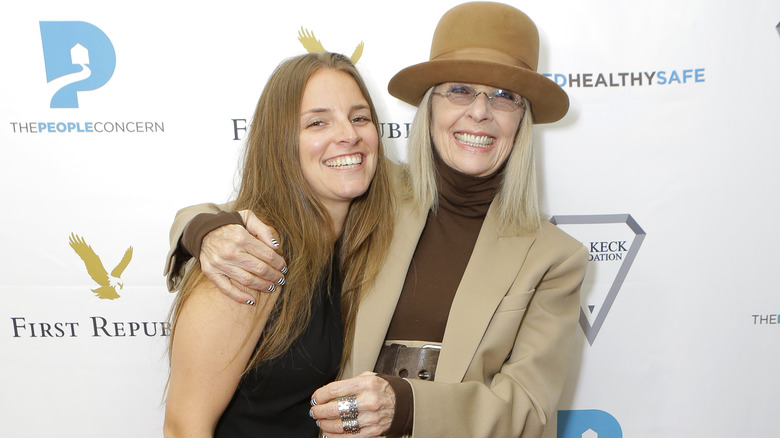 Tiffany Rose/Getty Images
Diane Keaton decided to become a mother at age 50, adopting her first child, Dexter. It was a decision in part sparked by the death of her father — until then, she had been focused on being a daughter. After his passing, the actor wondered what her life purpose was. "Motherhood is of course, it's by far the best choice I ever made," Keaton told CBS.
Although she has had several high-profile relationships with the likes of  Woody Allen, Al Pacino, and Warren Beaty, she never got married mostly because, as "The First Wives Club" star has been known to joke, no one ever asked. "I remember when I was young I honestly believed in some ridiculous way that you would find someone who would be the person you lived with until you died. I don't think that because I'm not married it's made my life any less. That old-maid myth is garbage," she told WENN, later reported by The Cut. Keaton prizes the independence that comes with being single and claims she hasn't gone on a date in 15 years.