What Is The Coastal Grandmother Trend On TikTok?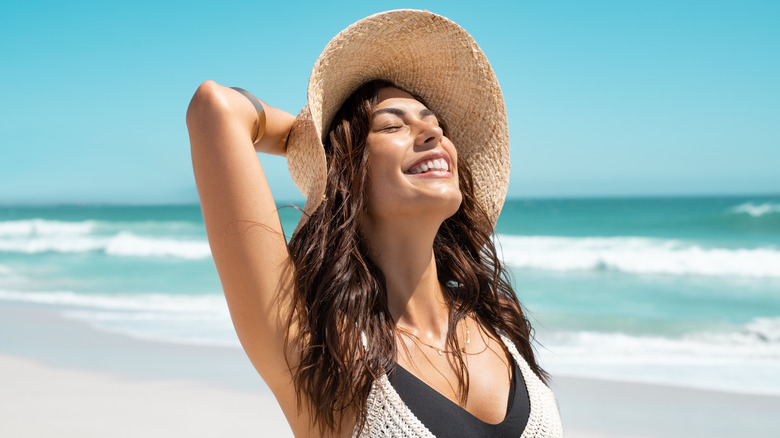 Rido/Shutterstock
Wondering what's up with the coastal grandmother trend that's making waves on social media? Coined by TikTok creator Lex Nicoleta, the term "coastal grandmother" describes a laid-back lifestyle inspired by romantic, feel-good movies like "You've Got Mail" and "Something's Gotta Give." The best part is, you don't have to be a grandma or live by the beach to keep up with this trend. As Nicoleta said in her TikTok video, "It's for anyone and everyone."
Today's hectic lifestyle makes it difficult to relax and stop staring at your phone all day. Given this aspect, it's not surprising that more than half of the population reports feeling stressed on a daily basis, according to the American Institute of Stress. Social media only makes things worse, leading to anxiety, depression, and bad sleep, as reported by  McLean Hospital. On the positive side, there are ways to manage stress and get your life back on track. Small things, such as baking an apple pie and placing fresh flowers throughout your home, can make all the difference.
The coastal grandmother trend is all about living a more relaxed life, even if you're miles away from the ocean. Let this concept guide your fashion choices, eating habits, and day-to-day activities. Most importantly, give yourself permission to rest and do whatever brings you joy. 
What it means to be a "coastal grandmother"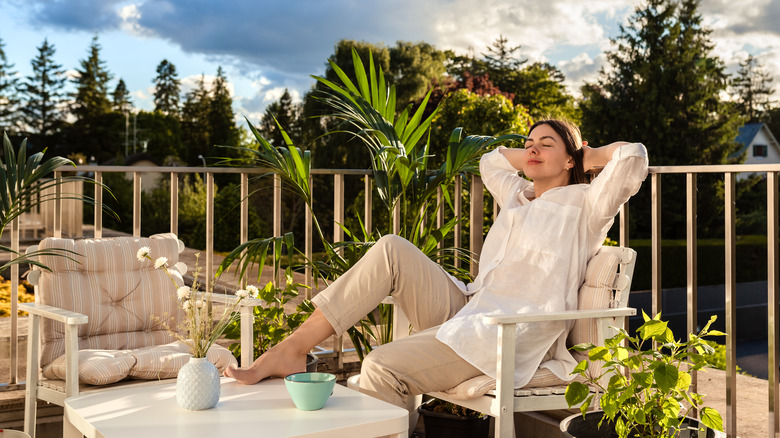 Tatyana Soares/Shutterstock
Take a moment to think about your favorite Nancy Meyers movies and how they make you feel. Now imagine taking a walk on the beach and allowing yourself to be present. Put on a cozy sweater, turn off your phone, and enjoy the sunlight. That's what it really means to be a coastal grandmother.
Go one step further and throw a knit blanket on your couch, paint the walls in warm tones, and add some wicker chairs to the mix, suggests Daily Hive. Don't be afraid to play with floral patterns, and forget about minimalism for a while. "If you're looking for a home refresh that'll welcome an elegant style, a calming environment and familiar comforts then 'coastal grandmother' is perfect for your home," trends specialist Matilda Martin told the Daily Mail.
As TikTok creator Lex Nicoleta explains in her video, the coastal grandmother trend is defined by "coastal vibes, recipes, and cooking, Ina Garten, [and] cozy interiors." In other words, it's a way of living. As far as your wardrobe goes, you'll need some basic pieces, such as white button-down shirts, summer dresses, and bucket hats, says Lex (via TikTok). Take inspiration from Selena Gomez — in one of her latest selfies, you can see her wearing a comfy cardigan over a light dress, sporting a laid-back look. You, too, can embrace this lifestyle by making small but impactful changes to your home, closet, and daily routine.