B&B's Jacqueline MacInnes Wood Thinks Her Family Is The Perfect Size After Fourth Pregnancy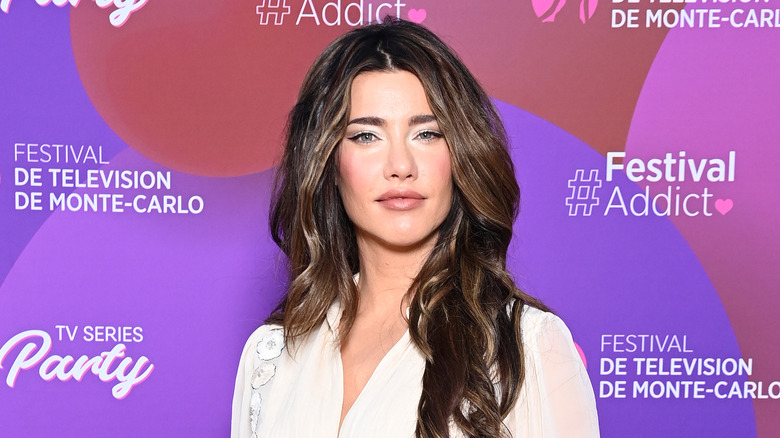 Pascal Le Segretain/Getty Images
On June 4, Jacqueline MacInnes Wood celebrated 15 years on "The Bold and the Beautiful" as Steffy Forrester. While Steffy has had various love interests over the years with many ups and downs, the spotlight in the romance department isn't on her at the moment. In trying to run Forrester Creations and ensure that its revamped Hope for the Future Fashion line doesn't bomb, she's had to keep an eye on Hope Logan (Annika Noelle), not Thomas Forrester (Matthew Atkinson), as everyone thought. Hope might have romantic feelings for Thomas, and it could jeopardize not only her relationship with her husband, Liam Spencer (Scott Clifton), but the fashion line as well.
While Steffy is a bit on edge, her portrayer Wood has been enjoying life. In April, she posted a video slideshow on Instagram of her and her husband, Elan Ruspoli, having fun on the beach with their three children. Looking great while sporting a baby bump with her fourth child, she wrote, "Seeing the world through a different lens..." One fan aptly responded, "You definitely see the world through a different lens because you're raising your children to see the beauty of their surroundings and with what looks like amazing love and closeness."
Wood recently explained how this fourth baby will factor into her family dynamic.
Wood enjoys having a big family
Michael Fairman TV spoke with "Bold and the Beautiful" star Jacqueline MacInnes Wood about her career, life, and family. Of her 15 years on the show, Wood graciously explained how humbled and thankful she is for the experience. When her current pregnancy was brought up, Wood stated that she and her husband, Elan Ruspoli, definitely planned to have another baby. She is enjoying motherhood and is also able to do other things, saying, "I think that as moms, we just go a hundred percent in everything we do because we don't have time. So, if we're going to go out with our friends, we're going to have a good time because we don't know when we're all going to be able to be together again."
While she currently has three boys, Fairman asked if she wants this child to be a girl, to which she replied, "Everyone says that, but no. I don't really care. It's funny because we just want a big family." She also stated that either way, this will probably be their last child. With regards to having a large family, Wood welcomes it, remarking, "I'm technically an only child. I have a half-sister, but she's 20 years older than me, and my husband's an only child. So, we are now diving into this big family, and it's so cool." She added that she and her husband are thrilled to add another little one to their growing brood.