What Happened To The Skinny Mirror After Shark Tank?
Belinda Jasmine is one of many entrepreneurs who stood on the infamous "Shark Tank" carpet and pitched to investors. She came into the tank looking for help with her business, the Skinny Mirror. Its name gives the concept away: a mirror designed to make you look slimmer. While not as extreme as a funhouse mirror, Jasmine's product was designed to make the viewer appear two sizes smaller when looking in the mirror.
Jasmine's intentions behind the brand were to fight body insecurities. She got the idea after realizing that her mirror at home was affecting the way she thought about herself and, according to her, added weight to her appearance. The Skinny Mirror was her solution.
There are positive mental effects to be gained when you stop looking in the mirror, so perhaps a slimming one could help with body positivity, too. However, the Sharks did not agree, and Jasmine's business garnered attention for all the wrong reasons.
The Skinny Mirror left the tank without a deal
Belinda Jasmine came into the tank asking for $200,000 for a 20% stake in her business. Jasmine claimed her special looking glass, the Skinny Mirror, shed five to ten pounds off your reflection. At the time of her pitch, Jasmine had sold $85,000 worth of the product. The majority of the revenue came from retail stores and hotels.
Lori Greiner, the queen of QVC, and Daymond John, a fashion industry expert, tested the mirror and immediately noticed a difference. However, despite it working, the Sharks weren't on board with its function. John claimed it could be harmful to an individual's mental health. Kevin O'Leary thought the product was deceptive. "I'm out," he said in the Season 7 episode. "But I also forbid any other Shark in investing in this."
The Sharks seemingly heeded O'Leary's command, because Jasmine received zero offers. Many entrepreneurs leave the tank without a deal and go on to have profitable companies, like what happened to gum company Neuro after "Shark Tank." However, Jasmine did not go on to find success with the Skinny Mirror.
The Skinny Mirror is no more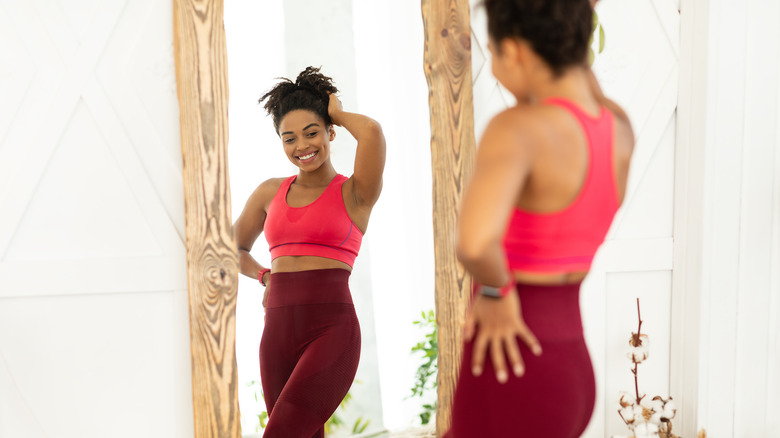 Prostock-studio/Shutterstock
The Skinny Mirror received media attention because of its controversial purpose. While consumers didn't mind purchasing one for at-home use, the idea of it being used in retail stores didn't sit well with the public. The idea was seen as deceptive to retail store customers and a trick to increase sales, although each Skinny Mirror did have the trademarked logo in the bottom corner as a way to inform customers of the mirror's effect. Business owner Belinda Jasmine even turned down a $700,000 purchase order because the retailer wanted mirrors without the logo.
According to Jasmine, her product was intended to be a confidence booster. "It's not about making people look good, it's about making them feel good," she explained on "Today." She even claimed, "A normal mirror actually makes you look five to ten pounds heavier than you do in real life." However, there is no evidence regular flat mirrors add weight to your reflection.
The Skinny Mirror closed down its operations just seven months after the Shark Tank episode aired. The Skinny Mirror's website is no longer operational, the company's Twitter page has not been updated since 2016, and its last Instagram post was in 2015. But your local carnival funhouse mirror might give you a taste of what could have been.