Eric Trump Mistaking Barron's Age Draws Questions About Their Brotherly Bond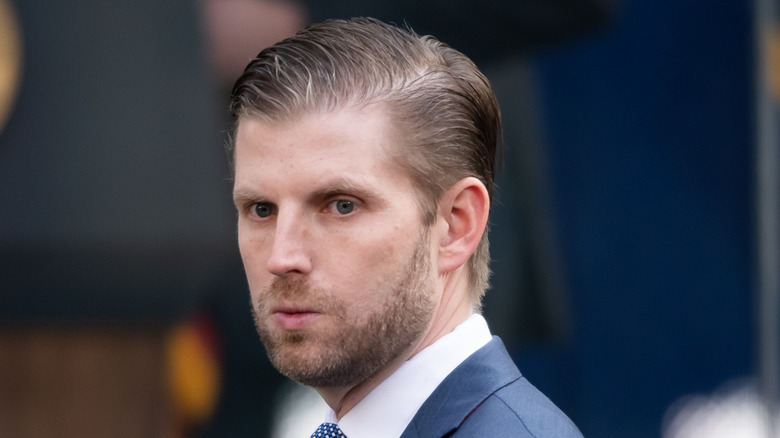 Noam Galai/Getty Images
Eric Trump might be finding it difficult to keep track of his many siblings amid the constant controversy surrounding the family name. On Tuesday, June 15, Eric's father, Donald Trump, was arrested for a second time on federal charges surrounding a classified documents case being investigated in Florida. Since the news broke, many members of the Trump family have found their way back into the spotlight in an attempt to clear his name and criticize the opposing political party.
In an interview with NewsMax, Eric began his on-camera rant with sentiments like, "If you get in the way of the Democratic Party ... They will target you, they will come after you and they will try and destroy your life." Clearly, his feelings are very closely tied to the raids on Donald's Mar-a-Lago house, but it was Eric's comments about his younger brother, Barron Trump, that caught the attention of fans and critics alike. 
In a misguided attempt to evoke fear for the privacy of children, he cited Barron's age incorrectly, stating, "They will raid Barron's room who is a 16 ... 15-year-old kid ... They'll go through his underwear drawer." One Twitter user posted the interview clip with the caption, "Why do I know that Barron is 17 but his own brother clearly has no idea?" This has sparked some serious questions about how close the Trump family really is.
The youngest Trump son grew up without his half-siblings around much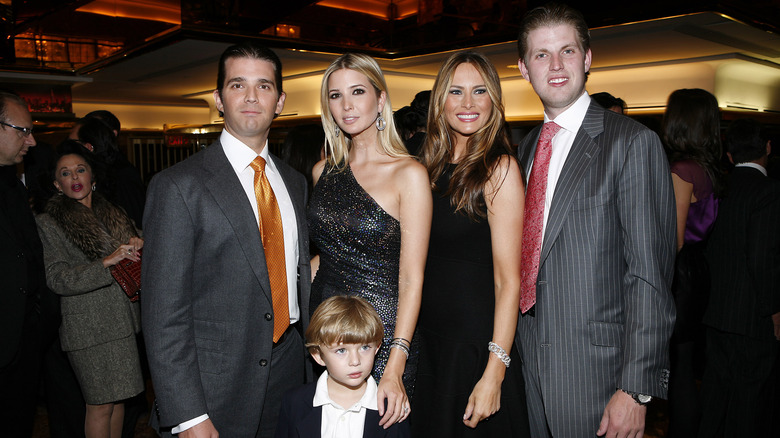 John Lamparski/Getty Images
Barron Trump is the youngest of five Trump siblings, and the only child of Donald and Melania Trump. Barron was born in 2006 when his half-siblings were already grown and out of their parents' homes. He and Eric Trump, the youngest son of Donald and Ivana Trump, are 22 years apart in age. While he grew up in luxurious surroundings while being raised in Trump Tower, it is understandable that Barron might not have a super close relationship with the rest of his siblings given their considerable age gap. 
But when his older brother attempted to cite Barron's age to support his claims against the Democratic party and got it wrong, people started to become suspicious about just how strong (or rather, loose) their brotherly bond actually is. One Twitter user claimed that Eric's issues with Barron may stem from their eventual inheritance, arguing, "He knows Melania has strong-armed Daddy to leave Barron more $$$." Another commenter criticized the Trump family bringing up Barron's age at all: "[The] only time the child's siblings or father give him a thought is if his name can be invoked to spin up some outrage over something that has never happened." 
While Barron remains a minor for one more year, someone should probably let Eric know that his youngest brother is about to turn 18 and will no longer be considered a "kid."
Barron Trump has a close relationship with his mother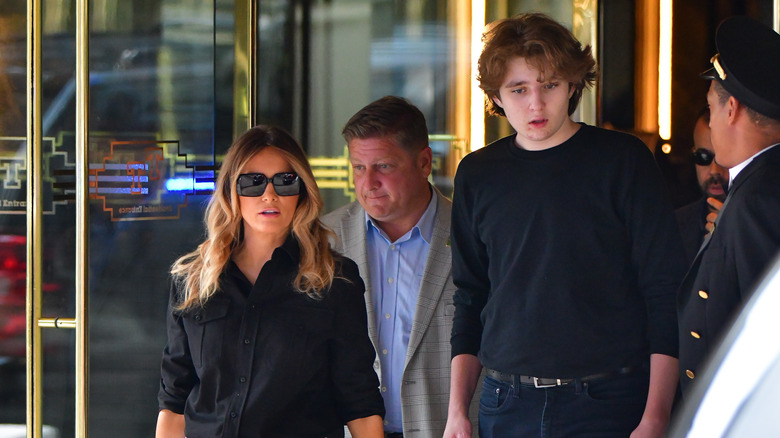 James Devaney/Getty Images
Although Barron and his half-siblings might not have a traditional bond, the youngest Trump has a special relationship with his mother, Melania. Especially after her husband's latest legal struggles, the former first lady has kept a watchful eye on her son. "Barron has always been a first priority in [Melania's] life," an anonymous source told People, adding, "[She] is worried and concerned about the legal issues but she has not done anything more to protect Barron now than she ever did. She has always put him first. She is a good mother." With the help of private jets, the protection of the Secret Service, and several different residences, the mother-son duo has been able to stay out of the spotlight in recent weeks (minus Eric's startling comments regarding Barron's underwear drawer, of course). 
After Barron's name came up at Trump's 2019 impeachment hearing, Melania famously took to Twitter to defend the teenager, writing, "A minor child deserves privacy and should be kept out of politics." He was just 13 at the time. 
Clearly, she believes her son deserves the best. The high schooler even had a floor to himself in Trump Tower before the family moved to the White House in 2017 — Melania famously called it his "living room." Now, as his father pleads not guilty, Barron and his mother are allegedly planning to keep a low profile in Europe this summer.