What Eric Trump's Relationship Is Like With His Siblings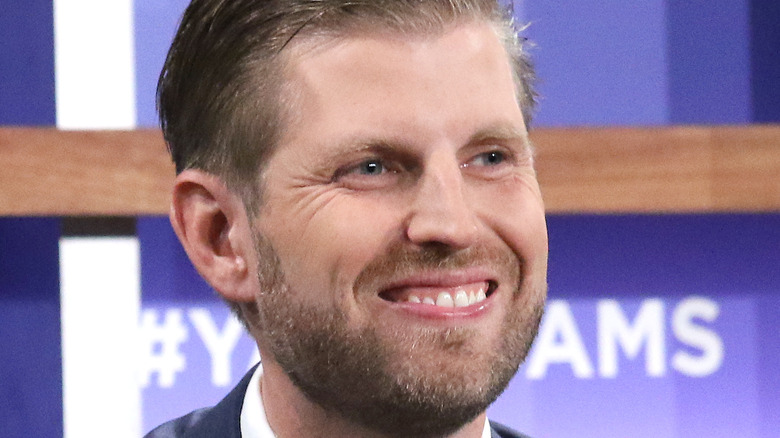 Jim Spellman/Getty Images
Donald Trump has an undeniably blended family, with children coming from three mothers. But through it all, the siblings seem to have maintained a rather close relationship — particularly the older Trump kids. Eric Trump, in particular, seems to have strong bonds with his brothers and sisters. 
Eric (above) has two half-siblings, Tiffany Trump, whose mother is Marla Maples, and Barron Trump, the youngest, whose mother is Melania Trump. Eric, Ivanka Trump, and Donald Trump Jr. were born during Donald's first marriage, to their mother, Ivana. All in all, the kids appear to be close. The three eldest children, in particular, have worked together on their father's campaign. However, Town & Country reports some strife with sister Tiffany when the older children attempted to take away her inheritance. She later went on to give a keynote speech at the Republican National Convention, per "Today."
The youngest child, Barron, was born quite a few years after his siblings and most likely spent his formative years as the only child regularly in the home. But despite the age difference, he seems to be close with his family and often appears in photographs alongside his siblings. Through it all, it seems that the Trumps have forged a lasting bond. 
The oldest Trump siblings are close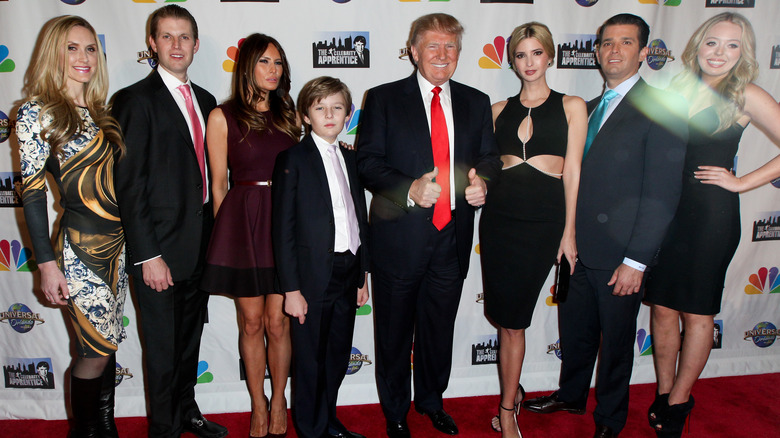 Debby Wong/Shutterstock
Ivana Trump's three children — Eric, Ivanka, and Donald Jr. — grew up together working on their father's business endeavors. These shared experiences have brought them rather close. The eldest brothers in particular were once described as "inseparable" by The Washington Post. In fact, Eric looked up to Donald Jr. and considered him a role model in his younger years. Don Jr. went on to take an interesting path in his early adult years and lived out of a truck without speaking to his father for an entire year, per Business Insider. But since his father's run for president, he seems to have grown closer with the family and further strengthening his bond with Eric. The two have collaborated on multiple projects and are often seen together. 
For her part, Ivanka also appears to be rather close with her brothers and Eric in particular. Eric and Ivanka reportedly worked together closely on the Trump National Doral and its Blue Monster golf course in Miami, per the South Florida Business Journal. The $250 million renovation likely took lots of time and effort, bringing the pair even closer. Work within the Trump business ventures seems to be an ongoing unifying factor for the siblings, giving them plenty of quality time to spend together.
Families come in a lot of shapes and sizes, and the Trump family is no exception. But Eric has plenty of siblings to rely on and makes the most of these connections.