Hallmark's Jake Epstein Announces Son's Birth With Heartwarming Photos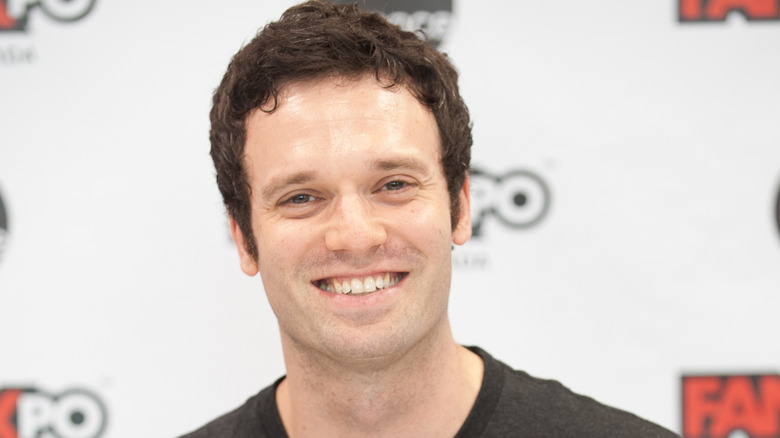 Che Rosales/Getty Images
Hallmark's "Eight Gifts of Hanukkah" star Jake Epstein has recently announced a heartwarming gift of his own: his first son. The Canadian actor and singer — who also starred in "Degrassi: The Next Generation" and the Broadway production of "Spider-Man: Turn Off the Dark" — welcomed his firstborn with his spouse, Vanessa Smythe, to whom he's been married since 2018. 
Smythe and Epstein both have roots in show business, with Smythe starring as Michio in "The Expanse" and Shirley MacLaine in the TV mini-series, "Mrs. America," alongside stars like Cate Blanchett and Rose Byrne. The celeb couple welcomed their precious bundle of joy on May 25, 2023, just before the pair's fifth wedding anniversary on July 7. 
By the looks of both their social media posts, Mom and Dad are over the moon and doing incredibly well, as is the new baby. 
The new parents' heartwarming social media posts
Jake Epstein announced the arrival of his son, Miles August Epstein, in an adorable photoset on Instagram featuring a snapshot of both himself and his wife resting peacefully next to their son (and, of course, a close-up of the baby swaddled snugly, snoozing away). 
"I'm in total awe of his mama and how she is transforming into this amazing new mum before my eyes," Epstein wrote in his caption. "He's only been on this planet for 18 days and it feels like I've landed in this new alternate reality of life. Being a parent. It's wild. I'm on no sleep but I couldn't love this little cuddler, music lover, and pooper more. Welcome to the world my guy." 
Vanessa Smythe shared similar sentiments in an Instagram post of her own, writing, "On May 25 at 4:59 pm, Miles August Epstein was lifted into the world and placed on my chest. We got to be cheek to cheek. Then he got to go to his dad. It has been only a couple weeks and yet I swear there is a dimension of time that has wrenched open vertically because it feels like he's been here for ages. Holy moly what a trip." Congrats to the new parents!