The Most Romantic Royal Proposals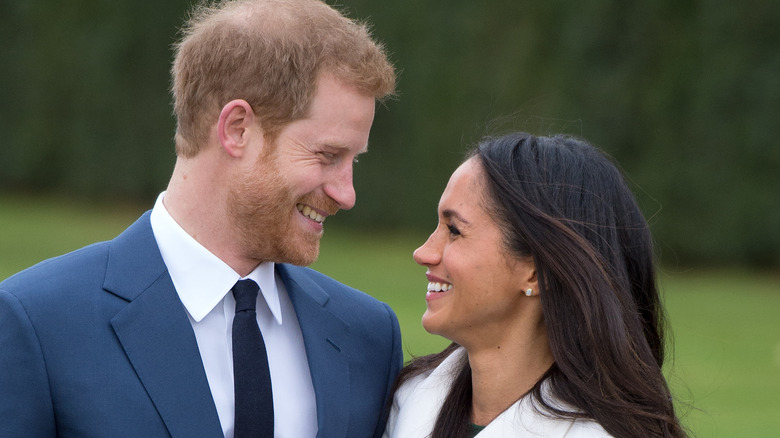 Anwar Hussein/Getty Images
The British royal family is a source of great interest to people across the world. Not only do we love to read about royal scandals, secrets, and other behind-the-scenes capers from inside the gilded cage, but we love the pomp and circumstance that comes with big royal events. There are all sorts of occasions that ooze grandeur, from state visits to christenings, but one stands out head and shoulders above the rest: a royal wedding. The public and the media alike go wild whenever a member of the firm gets hitched, not least because we know we're going to see it all unfold.
Every single detail from the dress to who is making the wedding cake gets discussed for months in the lead-up to the big day, but it all starts with a simple question. Proposals are difficult at the best of times, but how on Earth do you make it special when your hopeful bride-to-be is used to palaces and diamonds? On the flip side, how does a member of the royal family ask someone to give up everything they've ever known in order to join them in one of the world's most famous institutions? From romantic holidays in Italy to playing hide and seek, let's take a look at some of the most loving (and unexpected) engagement stories from the House of Windsor ... and one unusual tale that predates them all.
Prince William popped the question on Mount Kenya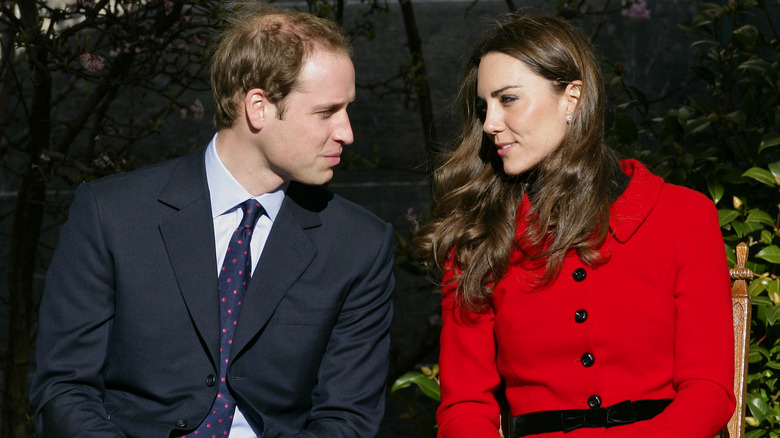 Max Mumby/indigo/Getty Images
It's impossible to imagine the present-day royal family without Catherine, Princess of Wales. However, there was a time when it seemed like Catherine and Prince William were never going to get down the aisle. After years without a ring, the press called Catherine "Waity Katie", insinuating that she was waiting far too long for William to take the big leap and ask her to be his wife (and the future queen of England). It was Catherine that got the last laugh in the end, when William proposed to her in a cabin 11,000 feet above sea level on Mount Kenya in 2010.
William gushed at the time during their official engagement interview with ITV News. "We had a little private time away together with some friends, and I just decided it was the right time, really," he said. "We'd been talking about marriage for a while, so it wasn't a massively big surprise, but I took her up somewhere nice in Kenya, and I proposed." Even so, Catherine was still totally blindsided by the moment. "I really didn't expect it at all," she said. "It was a total shock when it came, [I'm] very excited."
Years later during a speech at Buckingham Palace in 2020, William revisited the proposal. Per Town & Country, the royal shared, "[W]hen deciding where best to propose to Catherine, I could think of no more fitting place than Kenya to get down on one knee."
Queen Elizabeth II said yes at her favorite place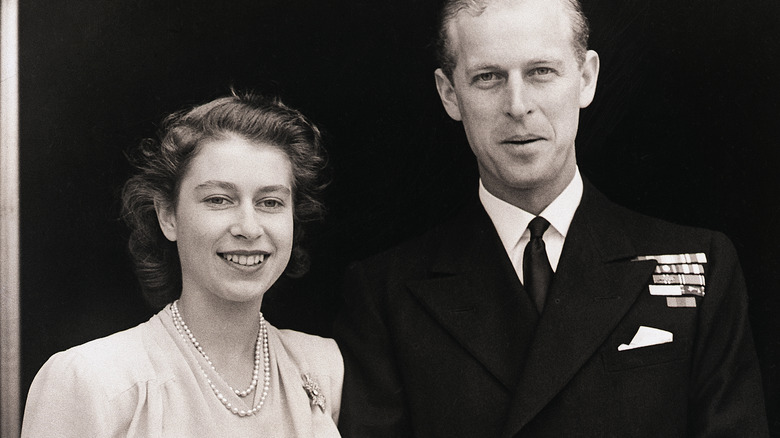 Bettmann/Getty Images
Queen Elizabeth II was always extra fond of her Scottish residence, Balmoral — so much so that she spent her final days there in 2022. It was at Balmoral, after a month-long holiday with her family, that Prince Philip asked the young princess if she would be his bride. The pair had known each other since they were teens, with their first formal interaction coming when Philip met Elizabeth when she visited Britannia Naval College in 1939. From that point on, it seemed like Elizabeth didn't have eyes for anyone else, and while she likely had other suitors, it was only Philip that succeeded in winning her heart.
When Philip popped the question to Elizabeth, he already had the seal of approval from her father, King George VI. What's more, Philip also included something extra special: diamonds from a tiara belonging to his mother, Princess Alice of Battenberg, that were made into the engagement ring. The dainty art-deco ring remained on Elizabeth's finger until the end. Elaborate and televised engagement interviews such as we see today were not commonplace back then, so the details surrounding exactly how the question was asked remain vague. According to Elizabeth's speech to commemorate their Golden Wedding anniversary in 1997, it was an easy "yes" that she didn't come to regret. Per the royal family's website, she said, "[Philip] has, quite simply, been my strength and stay all these years."
Meghan Markle and Prince Harry were roasting a chicken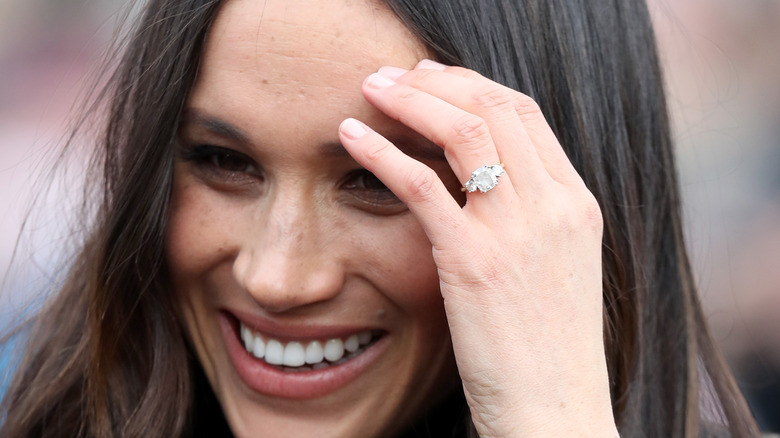 Chris Jackson/Getty Images
If there's one thing we know about Prince Harry and Meghan, Duchess of Sussex, it's that they broke the mold; As far as royal traditions go, this couple has ripped up the rule book and forged their own path. The unlikely tale of the American divorcee actor and the prince will be told for generations to come, mostly because we know far more about their love story than other royal romances. Meghan and Harry have been very candid about their proposal story, telling the documentary crew for their Netflix show, "Harry & Meghan" that Meghan was in the middle of roasting a chicken at Frogmore Cottage in Windsor when Harry led her out into the garden, where he popped the question on a blanket surrounded by electric candles.
According to Harry, one simple move almost gave the whole game away: "I did pop a bottle of champagne while she was greasing the chicken and that kind of slightly gave the game away. She was like, 'You don't drink champagne. What's the occasion?' I was like, 'I don't know. Just had it laying around here, whatever.'" Meghan added, "He's down on one knee and I was just like, 'Yes!' We were so joyful and excited. I was like, 'Ah, we're doing this!'" There was one important detail that Harry couldn't overlook: the presence of Meghan's rescue dog, Guy, who was right there beside them as the moment unfolded.
Princess Eugenie's perfect moment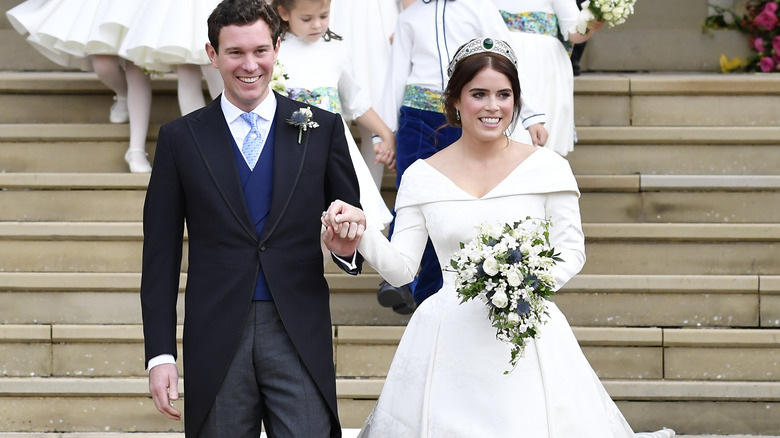 Wpa Pool/Getty Images
While Princess Eugenie's wedding wasn't an affair that the entire world tuned into, it was still a cause for celebration that royalists wholeheartedly embraced. The daughter of Prince Andrew and Sarah, Duchess of York, tied the knot with British wine merchant and socialite Jack Brooksbank at St. George's Chapel at Windsor Castle in 2018. The wedding was a beautiful event that saw all of the senior royals gather for, including Eugenie's grandmother, Queen Elizabeth II. As you might expect, Brooksbank's proposal was certainly fit for a princess.
Eugenie gushed about her and Jack Brooksbank's "perfect moment" telling BBC's "The One Show" (via Sky) that the romantic moment happened beside a beautiful lake in Nicaragua. "The lake was so beautiful, the light was a special light I've never seen," she recounted. "I actually said, 'This is an incredible moment', and then he popped the question, which was really surprising even though we've been together seven years – a complete surprise. It was like this perfect moment, we couldn't be happier because we knew it was going to end up this way ... I was over the moon, crying." Interestingly, Brooksbank went on to explain that he actually proposed to Eugenie without the ring he originally purchased. After Eugenie said yes, they went back to the jeweler and designed it together.
Prince Andrew and Sarah Ferguson were playing hide and seek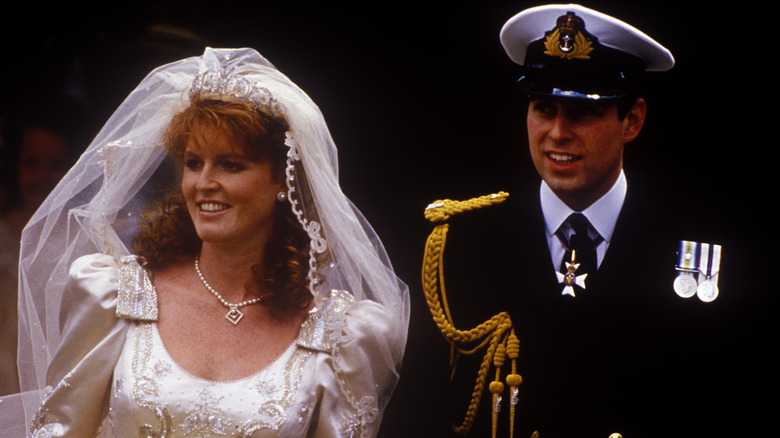 John Shelley Collection/avalon/Getty Images
Prince Andrew and Sarah, Duchess of York, have never exactly been a conventional royal couple. Although their romance may have been ill-fated, with the couple divorcing in 1996, they have remained firm friends. They even continue to live together at their marital home, Royal Lodge. Many may find this strange, but it's a testament to their relationship. Their marriage started in an equally off-beat way, with Prince Andrew proposing to Sarah Ferguson during a game of hide and seek at Floors Castle on his 26th birthday. Most princes might take their prospective wives for a lavish holiday or set up a beautiful romantic dinner, but Andrew's version of romance was quite different. As you might expect, their engagement interview wasn't the norm for the time, either.
Fergie, a young, fiery redhead, was far more forward than previous royal wives-to-be had been. She was miles away from the doe-eyed, shy, and retiring Princess Diana, but instead confident and playful. She even went so far as to kiss Prince Andrew during the chat, which was totally unheard of. As King Charles III's younger brother, Andrew's wedding was a spectacle, with over 500 million people tuning in to watch the lovers say their vows. It may have ended, but the proposal and their long-standing friendship certainly won't be forgotten in the annals of history, not least because of the scandals both Prince Andrew and Fergie have weathered over the years.
Zara Tindall was watching TV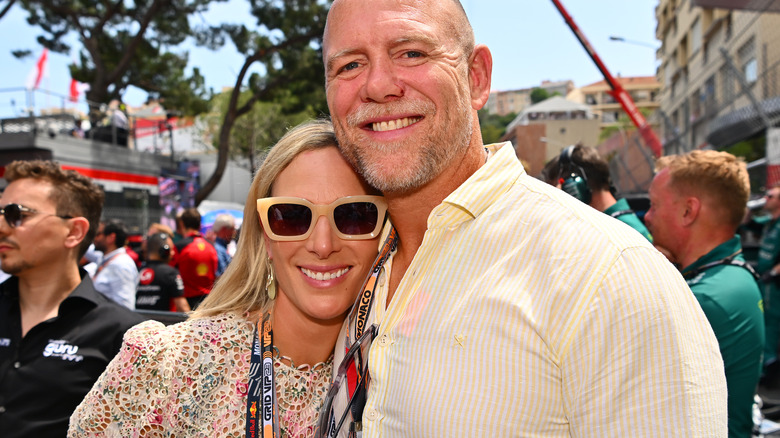 Dan Mullan/Getty Images
Zara Tindall may be the daughter of Princess Anne, but she has always striven for a "normal" life. She's a fixture at royal weddings and other events, but for the most part, Zara has managed to draw a line between herself and the usual infamy that comes with being a member of the House of Windsor. Zara started dating rugby ace Mike Tindall in the early 2000s, after meeting at a sporting event their connection was instant. However, the couple wasn't in any rush to get hitched and Tindall didn't pop the question for six years.
Tindall decided the best way to woo his future wife was to get her with the element of surprise. He told the Daily Mail, "I was upstairs, plucking up the nerve to do it, while Zara was downstairs watching television. It was all about shock value – I wanted to catch her when it was quiet and she wasn't expecting anything. I walked in there and got down on one knee, with the ring. She was on the sofa, so that made it easier. I said, "Will you marry me?"' Zara's reaction wasn't quite as cute as you might expect, as the Olympian reportedly started laughing. When she eventually pulled herself together she said yes, which was a relief to Tindall.
Princess Margaret and Peter Townsend's tragic love affair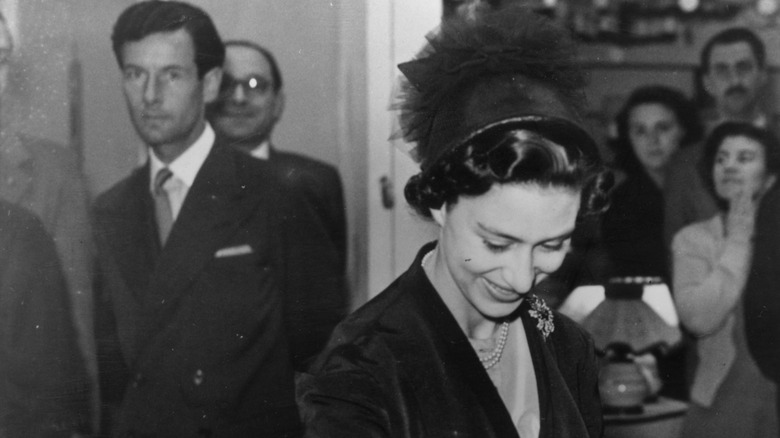 Keystone/Getty Images
This is one of few royal proposals that didn't end in a wedding, but interestingly, it's one that gets talked about the most, no matter how many years have passed. Thanks in part to Netflix's "The Crown," there has been a renewed interest in Princess Margaret's love affair with her father's equerry, Peter Townsend. The two struck up a romance after spending time together on royal visits, before eventually deciding to marry. We may not know exactly how Townsend proposed, but we do know how it ended. Unfortunately, the monarchy wouldn't initially green-light the wedding thanks to Townsend's divorced status, but that wasn't the end.
When Margaret turned 25, she would no longer need her sister, Queen Elizabeth II's permission to marry Townsend. Subsequently, the couple waited, with Townsend spending two years abroad. What came next isn't immediately clear, but after the pair reunited, Margaret decided to end their engagement for good. In a statement to BBC Radio, the princess explained, "I have been aware that, subject to my renouncing my rights of succession, it might have been possible for me to contract a civil marriage. But, mindful of the Church's teaching that Christian marriage is indissoluble and conscious of my duty to the Commonwealth, I have resolved to put these considerations before any others." Margaret would go on to marry Antony Armstrong-Jones, whom she divorced in 1978.
Edoardo Mapelli Mozzi proposed to Princess Beatrice in a £3,000-a-night hotel
Max Mumby/indigo/Getty Images
Not long after her sister, Princess Eugenie, got engaged, Princess Beatrice also said yes during a lavish break to the Amalfi Coast. Unlike her sister, Beatrice's romance was still relatively young; she only started dating her boyfriend, Edoardo Mapelli Mozzi the previous year. Most other royal matches tend to wait a few years before sealing the deal, but as the saying goes, when you know, you know. Mozzi and Beatrice were enjoying a break in sunny Italy when the multi-millionaire businessman decided it was the right time to ask for Beatrice's hand.
A source told the Daily Mail, "Mr. Mozzi proposed on the terrace at the bar next to the swimming pool. It was in the evening as the sun went down. We have the most amazing sunsets. It was very romantic." The setting certainly sounds idyllic, but the hotel wasn't just a bog-standard Hilton, either. The luxury accommodation costs around £3,000 a night, making it fit for a princess. As for the wedding itself, the couple tied the knot at The Chapel Royal at St. James' Palace in 2020, before going on to have a reception at Buckingham Palace. While The Chapel Royal may not seem quite as grand as Westminster Abbey to the casual observer, it is steeped in history. Queen Victoria married Prince Albert there, making it a very important place to the British monarchy.
Prince Edward and Sophie Wessex's Christmas-time moment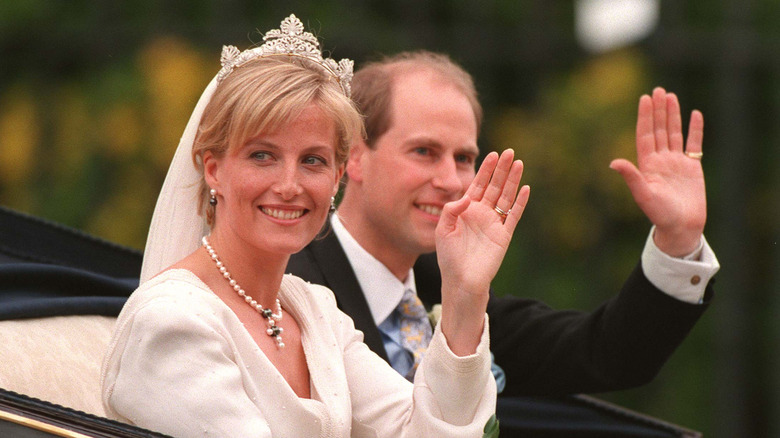 Uk Press/Getty Images
Many people know of King Charles III, Prince Andrew, and Princess Anne, but what about the youngest of Queen Elizabeth II's children? Prince Edward has managed to steer clear of scandal over the decades, causing many to forget about him altogether; As he is so far removed from the line of succession, Edward rarely gets discussed. He does have one distinction though — he is the only one out of Elizabeth's children to never get divorced.
In 1996, Prince Edward was asked constantly by the press when he was going to propose to Sophie, Countess of Wessex, so much so that he once said to the Radio Times (via Express), "If you shut up, mind your own business and let me do it when I want, it's much more likely to happen." We don't know all of the details surrounding the proposal, but it took Edward another two years to pop the question, which was asked just before Christmas in 1998. Per Hello! magazine, Edward told reporters, "We are the very best of friends and that's essential but it also helps that we also love each other very much." Edward and the former PR guru have remained a solid couple ever since. Unlike the relationships of his brothers and sister, Prince Edward's marriage has remained squeaky clean. Their ability to keep their private life private has likely been a contributing factor to the success of their marriage.
Queen Victoria proposed to Prince Albert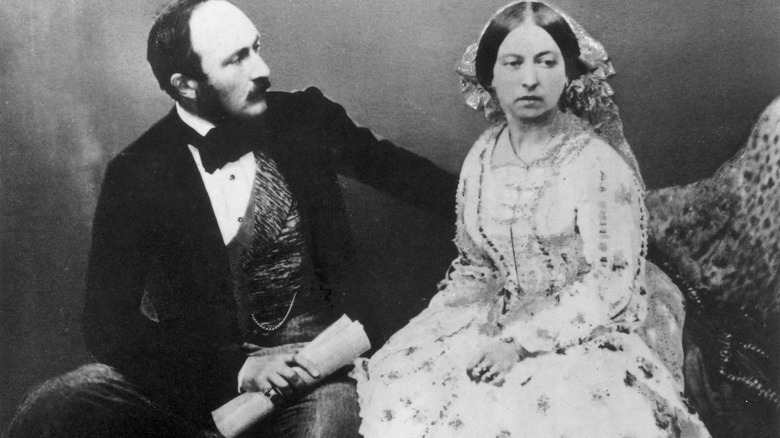 Roger Fenton/Getty Images
Modern royals have everything at their disposal should they want to make the most out of that special proposal moment. From helicopters to cabins in Africa and lavish hotels, nothing is off-limits. However, things were vastly different in the Victorian era. Not only did Queen Victoria have fewer options, but she was also bound by a strict rule that she couldn't break. At the time of Queen Victoria's courtship with Prince Albert, a reigning monarch was not allowed to be proposed to. It fell to Victoria to propose to Albert, something that would have likely felt quite strange at the time.
During a visit to Windsor in 1837, Victoria told Albert exactly what her intentions were. Victoria, an avid diarist, detailed the encounter in her journals. "I said to him that I thought he must be aware why I wished him to come here, and that it would make me too happy if he would consent to what I wished (to marry me); we embraced each other over and over again, and he was so kind, so affectionate; oh! To feel I was, and am, loved by such an angel as Albert," she wrote, according to Britain Magazine. Their marriage saw them welcome nine children, many of which would go on to create royal dynasties across Europe. Victoria and Albert's passionate romance has remained the stuff of legend ever since, with Victoria famously falling into a deep depression after Albert died aged just 42.