Pete Davidson Once Bought A Boat With Scarlett Johansson's Husband Colin Jost After Partying Too Hard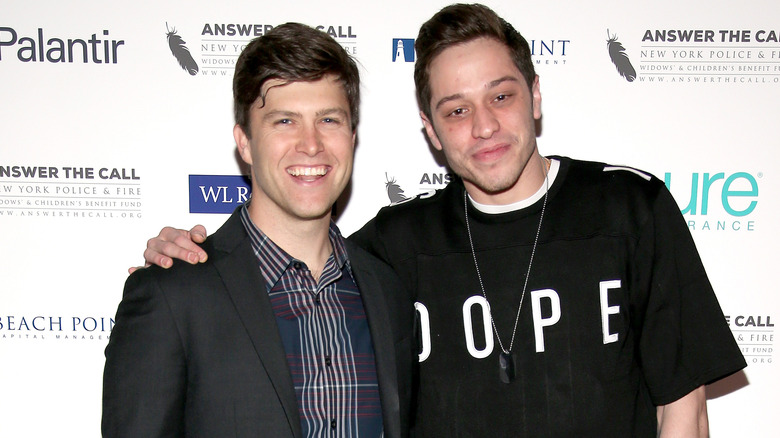 Paul Zimmerman/Getty Images
When Pete Davidson and Colin Jost placed a winning bid on their ferry during a January 2022 auction, they had high hopes — literally and figuratively, according to Davidson, who claims he was in an "altered state" at the time. The "Saturday Night Live" stars were part of a group of investors that also included Paul Italia, the owner of The Stand comedy club in New York City. They bought the boat on a whim for a whopping $280,000. In February 2022, Davidson showed "People (The TV Show!)" during an interview that he can see the ferry right from his apartment window. "It's literally in my yard," he pointed out. 
Davidson and Jost — who is married to Scarlett Johansson – initially had some pretty grand plans for their boat. They originally envisioned it as a booming entertainment venue, a classy eatery, and everything. Clearly, the project hasn't turned out to be quite as simple as they may have hoped, considering the boat is still just a boat. A year and a half after acquiring the ferry, Davidson seems to have some regrets about making the expensive purchase. 
They didn't think buying the boat through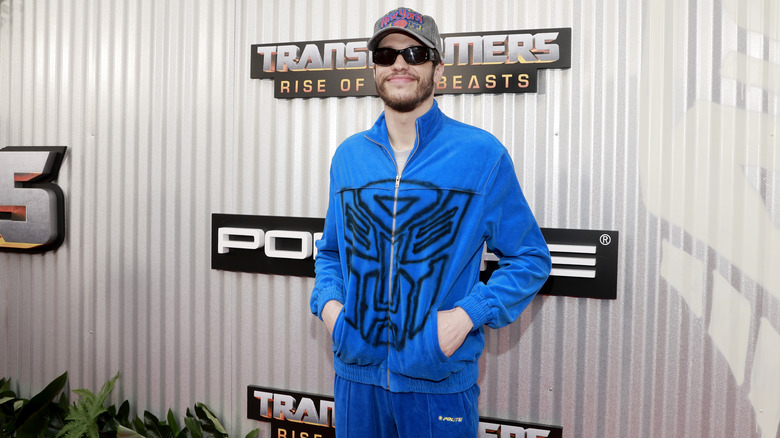 Jason Mendez/Getty Images
When Pete Davidson attended the premiere of his film, "Transformers: Rise of the Beasts," on June 5, 2023, he provided an update about his and Colin Jost's iconic boat. Entertainment Tonight asked the comedian if there would be an after-party on his ferry, and Davidson replied, "Yeah, if it's not sunk!" He admitted that he is currently unaware of the boat's status. "Me and Colin were very stoned a year ago and bought a ferry," Davidson explained. The "SNL" star went on to say that the comedic duo was still trying to figure things out regarding the boat.
In true Davidson fashion, the "King of Staten Island" star added, "Hopefully it turns into a Transformer and gets the f*** out of there so I can stop paying for it!" When he and Jost first won the auction item in January 2022, they addressed it during the Weekend Update segment of "SNL" — before Davidson quit the show a few months later. "We bought a ferry, the windowless van of the sea," Davidson joked. "Yes, it's very exciting," Jost said. "We thought the whole thing through." Evidently, that is the exact opposite of what the comedians did. 
The comedians had an exciting idea for their ferry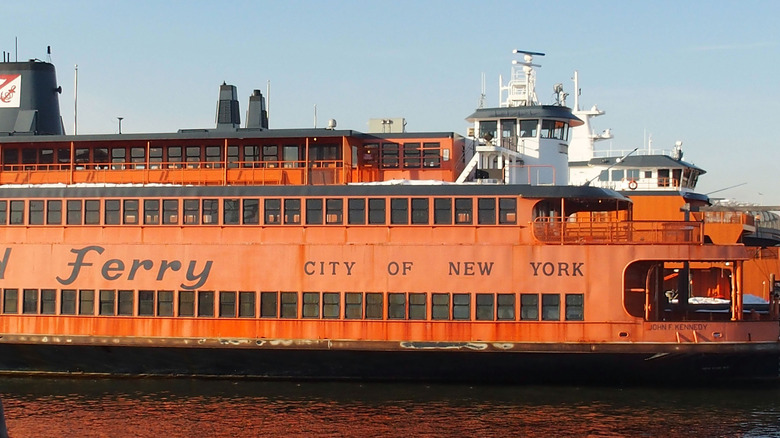 Bobby Bank/Getty Images
Back in February 2022, Pete Davidson was feeling very optimistic about his and Colin Jost's new boat. He declared to "People (The TV Show!)" at the time, "There is going to be a bar, there is going to be a nice restaurant and... The lower level, the big space is going to be an entertainment space and we're going to dock it in the city." Even the New York City Mayor Eric Adams was excited about the announcement. Adams tweeted to Davidson and Jost, "I love this idea." The politician went on to tell the duo to let him know if they needed any help and that he looked forward to the boat's maiden voyage.
During his interview with People, Davidson did offer a witty disclaimer: "Or it could all go to s*** and I'll be doing lots and lots of gigs next year." However, there might still be hope for the Staten Island Ferry under Jost and Davidson's ownership after all. In a June 14, 2023 Instagram post on the subject, Jost claimed that they are excited to prove those who doubt the project wrong. "You're going to be BEGGING to get on this ferry in two years. Mark my words," Jost wrote.
Surely, fans of "SNL" everywhere have marked their calendars for 2025.