Hallmark's Brendan Penny Is Ready For A Wedding Cottage Sequel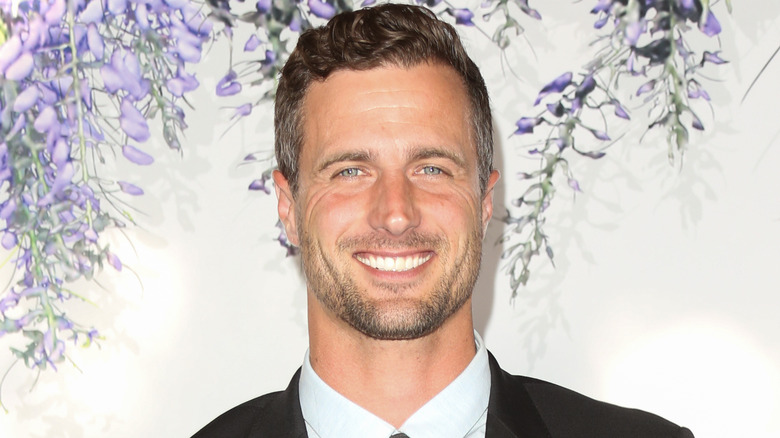 Paul Archuleta/Getty Images
Brendan Penny's Hallmark flick "The Wedding Cottage" is the perfect mix of romance and comedy. He plays the leading man, Evan, an artist who lacks a muse. Evan owns a cozy wedding venue, but it is in desperate need of a new life, much like his creative inspiration, which has been sadly lacking as of late. Luckily, his path crosses with a wedding planner named Vanessa, played by Erin Krakow. 
Vanessa is in a serious time crunch to make a couple's dream ceremony a reality. However, their hearts are set on saying "I do" at The Wedding Cottage. Convincing Evan to reopen the venue is no easy feat, but Vanessa's fight for one couple leads to a romantic battle of her own. Thus, "The Wedding Cottage" is a classic tale of enemies to lovers; one stubborn heart warmed by the persistence of another. 
The movie's lighthearted comedic beats and stellar cast shaped it to be a standout Hallmark film from the beginning. So much so that fans have created a petition in support of a sequel to "The Wedding Cottage." Hopefully, Hallmark gets the hint. Along with the audience, Penny himself is more than ready to reprise his role as Evan for another special ceremony at the cottage.
Brendan Penny is ready for Evan and Vanessa's wedding
Brendan Penny is no stranger to Hallmark. He has starred in a number of their films to date including "In Merry Measure," "Beverly Hills Wedding," and "The Secret Ingredient." Penny particularly enjoyed starring as an uninspired artist instead of the typical hero, in "The Wedding Cottage," so it's no surprise he's fully onboard for making part two happen. 
In an interview with Just Jared, the actor pitched his idea for a sequel: "They could make a second movie out of it for sure. Where we have our wedding at the Wedding Cottage, you know, and the hijinks that are involved with that." Evan and Vanessa tying the knot is the perfect continuation of this particular story and has the potential to be romantic and funny. 
However, Penny's motivation isn't just to reprise his nuanced character but also to reunite with his co-star, Erin Krakow. He shared, "I hope it could have 10 films out of it so I could work with Erin again." Penny's eagerness to reconnect with her and footage of their behind-the-scenes relationship has many wondering if there's more to their on-screen romance.
Are Brendan Penny and Erin Krakow dating?
Brendan Penny and Erin Krakow's chemistry is undeniable. And, when she posted behind-the-scene videos with her co-star on Instagram, fans started speculating about their real-life relationship. Penny clearly enjoys acting alongside Krakow, telling told TV Goodness, "To my delight, she is pretty much the greatest person in the world, so I was super lucky to get to work with her on this." And his feelings were reciprocated. 
In a live discussion with her co-star, for Hallmark, Krakow gushed, "I'd only heard good things and he surpassed every expectation." She added, "He's like the funniest person on and off-screen." The experience was so great that Krakow didn't want "The Wedding Cottage" to end. Sadly, despite the amazing dynamic between Penny and Krakow both on and offscreen, they're not a couple. They just play a very believable one on TV. 
Penny is married to a woman named Lisa Gerrard, with the actor informing Just Jared: "I'm really, really fortunate." Krakow, meanwhile, is single and not mingling with Penny. "Clearly they had so much fun together and their chemistry is top-notch," asserts the fan petition for part two of "The Wedding Cottage." We all bought Evan and Vanessa's romance and, hopefully, we'll see it again in a sequel someday.