Eras Tour Mishaps We Won't Soon Forget (But Taylor Swift Shook Them Off)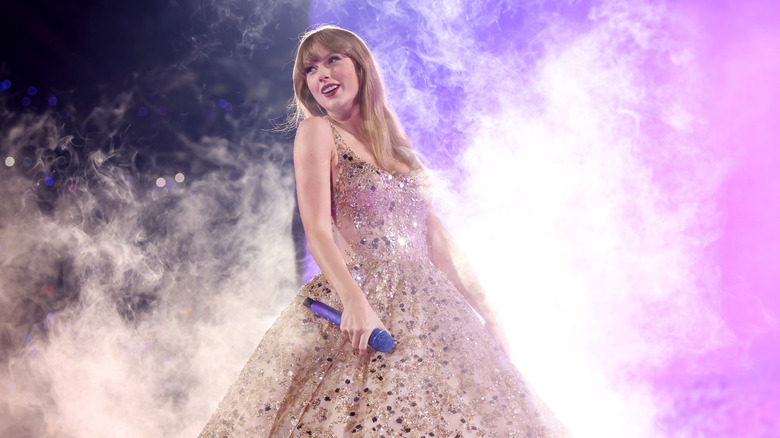 Scott Legato/tas23/Getty Images
The wave of hype behind Taylor Swift's Eras Tour has broken more than just bank accounts and Ticketmaster. It's also featured a string of incidents that have some Swifties renaming the tour "Errors" rather than "Eras." However, the 12-time Grammy Award winner has taken everything in true performer fashion by shaking it off with a laugh.
Swift is a music sensation that got her start in county music in her early teens. She broke into the Top 40 in the 2000s and has had multiple hits to reach the Top 40 since her debut. Like many stars that took a break during the pandemic, Swift hasn't been on the tour circuit since 2018. Therefore, the hype leading up to the Eras Tour reached epic proportions for Swifties trying to snag those exclusive tickets. And those who reaped the rewards haven't been let down by the exciting errors every live show can bring.
See how Swift gracefully handled everything from an overzealous security guard to a bug on a death mission and weirder-than-average technical difficulties.
Concert security guard is too vigilant
Ticket sales weren't the only thing that hit snags regarding Taylor Swift's much-anticipated Eras Tour. Fans at the Lincoln Financial Field in Philadelphia had a bit of bad blood toward a security guard who was too vigilant in their duties.
Swifties want to get close to their idol, and it's a security guard's job to keep everyone safe. However, Swift herself noticed the hyper-vigilance of a guard during her performance on May 13, 2023. In fact, she had to halt her rendition of "Bad Blood" to tell the security guard to stop. In several fan videos, Taylor can be heard shouting, "She's fine," and "She wasn't doing anything." At one point, she even told the security guard, "Hey, stop." According to Daily Mail, the "she" in question was a female fan simply jumping up and down, and the overzealous guard was ushered out of the stadium.
Swifties also noted at the venue that the guard was taking his duty of protecting and serving a bit too seriously the entire night. While Taylor did have to give the guard a what for, it didn't deter her from giving Philadelphians a show they won't soon forget. 
Taylor Swift swallowed a bug
Everyone has swallowed a bug at one point or another in their lifetime. During the summer, it's inevitable that a flying menace will make it into your mouth. But could you imagine accidentally swallowing a bug in front of thousands of adoring fans? While talking about the pleasure of introducing a new bandmate during her Soldier Field Chicago performance, Taylor Swift had such an encounter.
Mid-sentence, the "Anti-Hero" singer started coughing uncontrollably. Laughing at her own bad luck, she turned away from the crowd to try to cough up the treacherous treat. She could not cough up the bug, but she took the moment in stride by commenting, "Oh, delicious." She then laughed at herself, asking the crowd, "Is there any chance that none of you saw that?" before breaking out into another coughing fit.
While the Grammy-winning singer was eventually able to sing "Tolerate It" with stunning beauty, she did note for the crowd, "This is going to happen again tonight. There's so many bugs. There's 1,000 of them."  
Piano played by itself
Live outdoor concerts cab be full of bugs and rain, and that's especially true for the Eras Tour. The rain deluged the venue before Taylor Swift's performance at Gillette Stadium in Massachusetts, making several instruments waterlogged. When Swift sat down to play the surprise song "Red," the piano started to play off-key. Shocked, the singer looked up at fans, stating, "I think there's stuff wrong with the piano because it's playing keys that I'm not playing." 
She continued to tell the story as the piano played on its own: "So it rained a lot last night, like a monsoon. To be exact, it rained for three and a half hours straight, and it just kept getting more and more rain." At one point, she even seemed slightly startled by the piano as it played several keys in a row on its own. 
Sure, some Taylor Swift fans might chalk this one up to a piano malfunction, but others wonder if the piano playing by itself really was purely coincidental, since Swift is known to throw little Easter eggs at her fans. So whether the rain or Swift herself brought on the creepy notes will remain a mystery for now. 
Mic malfunction that drew laughs
Microphone malfunctions are just part of the game when you go on tour. No matter how well the crew set up the equipment, something can always go wrong. While it's not as serious as a piano gaining a ghoul, Taylor Swift did have a rather funny microphone malfunction during her concert in Chicago. The singer remained true to her award-winning style and had fun with the otherwise-annoying situation.
The mic mishap happened when Swift was belting out her rendition of "Lover" on the stage. As the background music continued to play, no words came out of her unique blue microphone. The smiling Swift picked up the microphone and began to scream into it, much to the delight of the thousands of Swifties screaming out her name. The "Love Story" singer motioned to the crowd to wait a second before sticking her tongue out in exasperation. She then began to heartily smack the soundless mic, hoping her slaps might pound it into submission.
Thankfully, a crew member brought her a new microphone, to which she laughed, "Is it gonna work?" before starting the song again. 
Tampa show set shakes it up
Bugs, mics, and piano malfunctions are a drag for sure. But in true Florida style, the Tampa stop of the Eras Tour was full of interesting mistakes. The first of many slip-ups of the night was Taylor Swift thanking the wrong opener, but graciously rectified the error caused by multiple openers on the tour. After that embarrassing moment, the mic pack also came unplugged and the garter on her outfit snapped. She even commented during the mic incident, "It's that kinda day. Do you know what I mean?"
That prediction held true as the hole in the stage opened late during her dive scene; therefore, she had more of a pause than normal while she waited for her stage crew to get things going. She even held up her finger for the crowd to let them know that the pivotal moment in the show was happening. The energetic artist also blanked on the lyrics to "Speak Now," and took her a second before she realized her mistake.
Regardless of whether it's a faulty mic, bug, or even a snapping garter, Taylor Swift is the first one to laugh it off and move on. It's a realness that you can only get on stage, and why so many fans flock to her live performances.