Body Language Expert Spots King Charles & Prince William's Special Care For Charlotte - Exclusive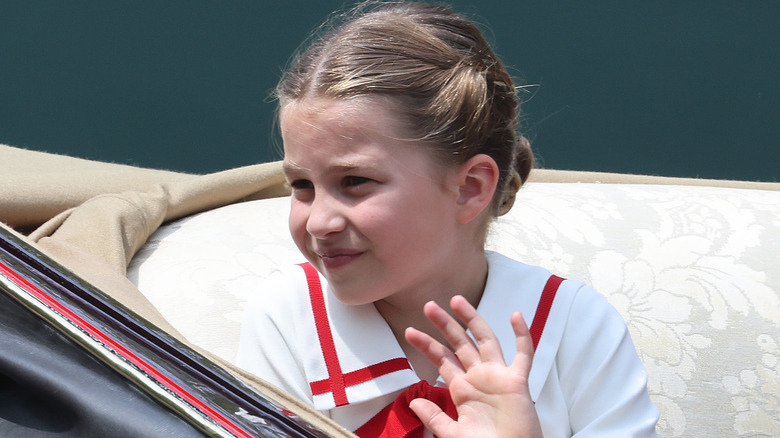 Neil Mockford/Getty Images
On June 17, royal fans and British citizens gathered for Trooping the Colour, an annual event detailed on the royal family website as a parade celebrating the reigning monarch's birthday. This year's event marked King Charles' first as monarch following his coronation in May 2023. As with previous years, the celebration was nothing short of elaborate. However, in a twist of events, the king rode on a horse during the parade — making it, per the BBC, the first time in 30 years that a monarch opted for a horse rather than a carriage. 
While the spotlight might have been cast on him, King Charles was joined by several prominent members of the royal family, including his wife Queen Camilla, and the Prince and Princess of Wales, as well as Prince Edward, Duke of Edinburgh, and his wife, Sophie, Duchess of Edinburgh. In addition to the royals, the celebration also welcomed Prime Minister Rishi Sunak and Labour leader Sir Keir Starmer. Visibly missing were Prince Harry and his wife, Meghan Markle.
However, amid the festivities, the royal waves, and all of the many fashion statements at this year's Trooping the Colour, the Cambridge kids — particularly Princess Charlotte — seem to have enjoyed special care from their grandfather.
Princess Charlotte has a special bond with the men in her family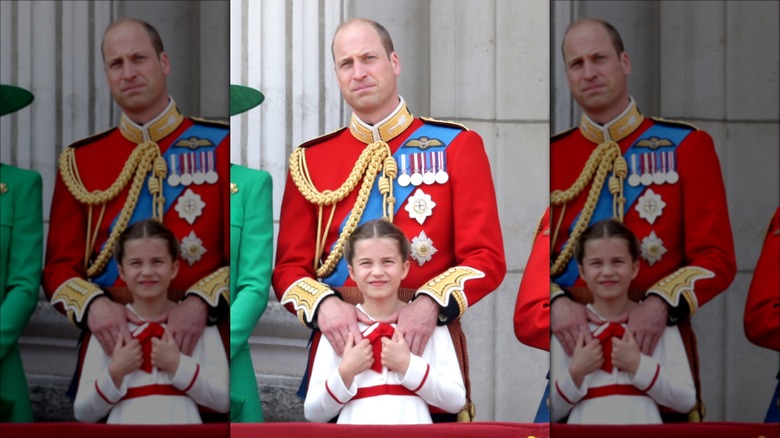 Chris Jackson/Getty Images
He has his hands full ruling the UK, but King Charles is apparently never too busy to dote on his granddaughter. While appearing on Buckingham Palace's famous balcony for this year's Trooping the Colour, Charlotte led the way among the Cambridge kids, eventually planting herself beside her grandfather, who in turn briefly placed his hand on her shoulder, as seen in this clip shared on Twitter. This exchange is testament to the sweet bond between the king and his 8-year-old granddaughter, body language expert and author of "A.W.E.S.O.M.E.: Seven Keys to Unlocking the Speaker Within," Jess Ponce III tells The List. "This loving hand gesture suggests a balance between guidance, literally making sure she is situated appropriately, and affection," Ponce explained. "The King even looks at her, as if to make sure she's both appropriate and okay. He is both warm and cautious in his expression."
As Ponce described, despite the celebrations going on around her, the princess' body language in this clip suggests she's less interested in the occasion and more in her father and King Charles. "She is present in their energy, seems to be a part of their personal experience, and is less involved in the formality of the situation," Ponce added. And while Charlotte might have caught her father's attention, Ponce noted that the Prince of Wales did his best to tend to his two other kids.
Princess Charlotte has strong ties to King Charles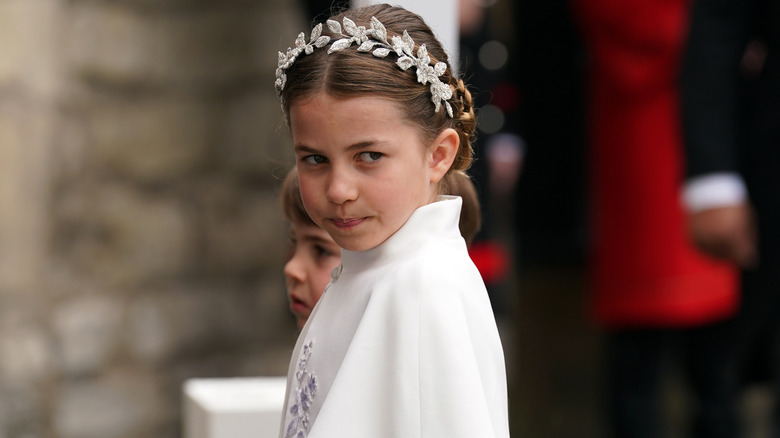 Wpa Pool/Getty Images
She might be only 8 years old, but Princess Charlotte is arguably one of King Charles' favorite members of the royal family — and understandably so. According to Express, the princess was named Charlotte, the feminine version of Charles, as a nod to her grandfather. Today, this decision barely comes as a surprise given that the monarch has since admitted he always wanted a female grandchild. "I was hoping for a granddaughter — someone to look after me when I am very old," King Charles said in 2015 (via People). In the time that has passed since then, Charles has continued to speak fondly of the little princess, whom he once praised for her sleeping habits as a child.
Seemingly backing the fondness between the two, royal author Robert Jobson claims in his 2023 biography "Our King: Charles III: The Man and the Monarch Revealed," that the monarch has plans to someday bestow his granddaughter with the Duchess of Edinburgh title. "After Edward [the current Duke of Edinburgh] dies, Charles has made it clear Charlotte should become Duchess of Edinburgh," Jobson wrote (via Cosmopolitan).
But, despite his obvious affection for Charlotte, King Charles has also proven to have a great relationship with the other Cambridge kids — particularly Prince George, who's set to rule England someday. "He [Charles] is going to be more hands-on," royal correspondent Charles Rae once told Metro. "He will be part of the process of teaching George about kingship."