Julia Louis-Dreyfus' SNL Run Was 'Brutal,' But It Taught Her An Important Showbiz Lesson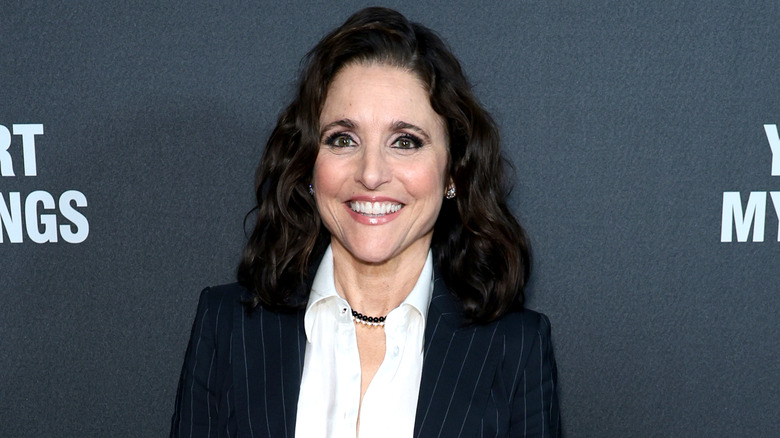 Dimitrios Kambouris/Getty Images
Julia Louis-Dreyfus is a star who has stood the test of time and given audiences hit after hit. In 1982, she was performing at an improv night with her future husband, Brad Hall, at Northwestern University, but little did she know "Saturday Night Live" producer Dick Ebersol was in the crowd. He loved the group's material and asked them if they wanted to join the show, and of course, they obliged. During her time on the show, she became close friends with writer Larry David, and that friendship, paired with her tremendous talent, earned her the career-defining role of Elaine Benes in "Seinfeld."
Even though Elaine is integral to the show, she wasn't a part of the original script created by David and Jerry Seinfeld. She was written in as an attempt to save the show because test audiences did not react well to the pilot. However, "Seinfeld" was a massive success that earned 10 Emmys and a whopping 68 nominations. Louis-Dreyfus even bagged her first win and scored seven nominations overall for "Seinfeld." 
Her work in the political comedy "Veep" earned her a record-setting six consecutive wins. Her eighth Emmy win tied her with Cloris Leachman for the actress with the most wins. And although "Saturday Night Live" paved the way for her successful journey, she didn't exactly have the best time on the show. In her own words, it was a "brutal" but "informative" journey that opened her eyes to the world of showbiz.
Julia Louis-Dreyfus learned an important lesson from 'SNL'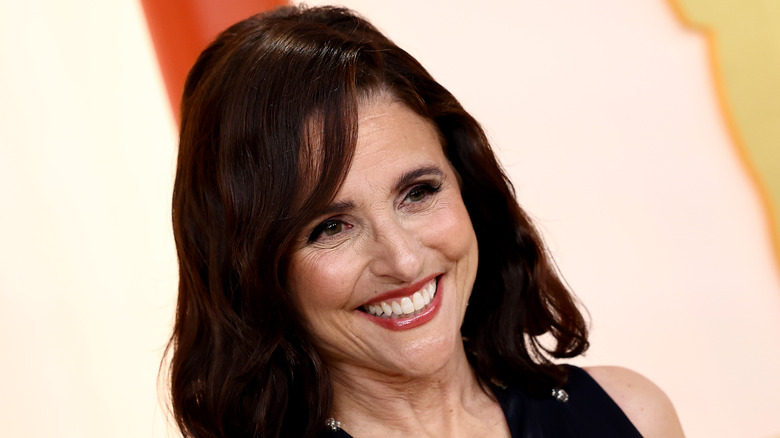 Arturo Holmes/Getty Images
When Julia Louis-Dreyfus joined "Saturday Night Live," she was the youngest cast member at 21 years old. She told Digital Spy she initially felt like Cinderella on the sets because it was her first professional acting gig. However, things took a turn for the worse. In an interview for "Evening with Stephen Colbert, Louis-Dreyfus said, "I was unbelievably naïve and I didn't really understand how the dynamics of the place worked" (via People). At her young age, she couldn't identify the rampant drug use and sexism prevalent among the cast and crew.
However, Louis-Dreyfus was able to make the best out of a bad situation by thinking of it as a lesson. "I learned I wasn't going to do any more of this show business crap unless it was fun," she added. "I don't have to walk and crawl through this kind of nasty glass if it's not ultimately going to be fulfilling, and so that's how I sort of moved forward from that moment. I sort of applied the fun-meter to every job since, and that has been very helpful." Luckily for Louis-Dreyfus, "Seinfeld" turned things around. She told "Charlie Rose" that the cast had a terrific time making the show, and their happiness fueled their performances in the sitcom. 
After a breast cancer diagnosis, she took some time away from "Veep" for her treatment. But as soon as she returned, she tweeted how grateful she was to work with "superb people."
Many celebs haven't enjoyed their time on 'SNL'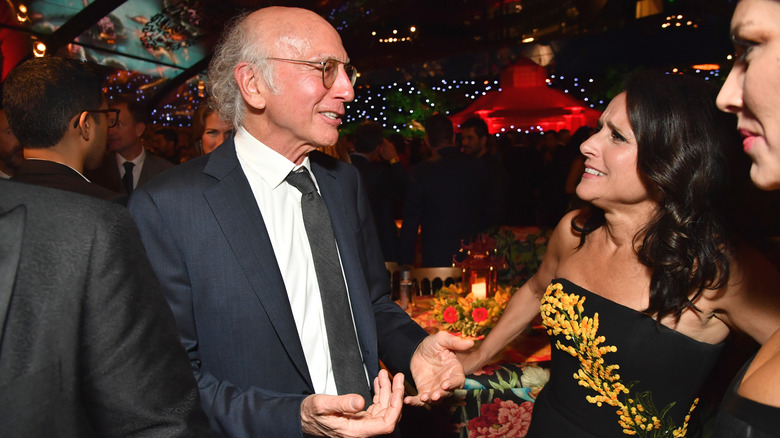 Jeff Kravitz/Getty Images
Julia Louis-Dreyfus isn't the only one who didn't have a great time on the "Saturday Night Light" sets. Louis-Dreyfus bonded with Larry David over their mutual negative experiences in the show. In the "Evening with Stephen Colbert" interview, Louis-Dreyfus recalled the time, "I would go into his office and cry a lot. He would b*****, and he would write sketches, and they would not see the light of day, and I was in all of them." But, those two aren't the only celebs who didn't have the best time working at "SNL."
American comedian, Janeane Garofalo described it as "the most miserable experience of [her] life" to New York Magazine. She detailed her time on set in the book, "Live from New York: An Uncensored History of Saturday Night Live," by saying that the writing wasn't in good taste and the atmosphere felt hostile. Even actress Jenny Slate told InStyle that she "didn't belong" and that affected her performance at work.
When comedian Jay Pharaoh was working at "SNL," he felt his creativity and individuality were stifled. He had to follow the path the crew had set for him (via Hot 97's Ebro). Actor Harry Shearer told IGN he walked away from the show after a year and returned five years later to find the same poor working conditions. He said that the experience was a "living hell" because of the management's poor treatment of its cast and writing.