Linen Shorts Should Be A Summer 2023 Wardrobe Staple — Here's How To Pull Them Off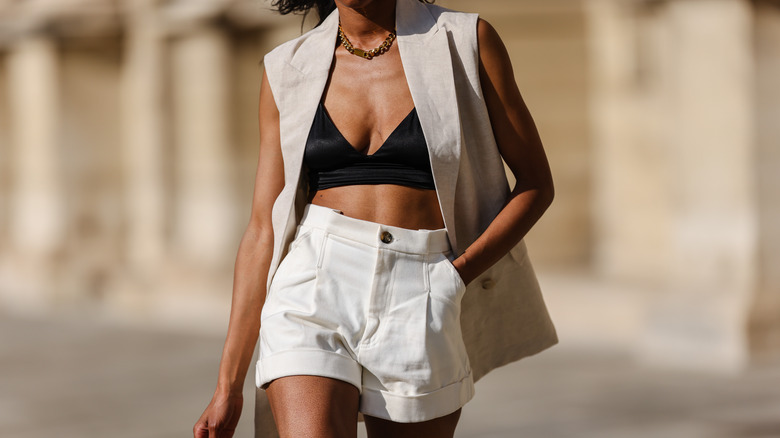 Edward Berthelot/Getty Images
As the temperatures rise, our fashion focus shifts from heavier to lighter fabrics as well as more comfortable pieces. If there's any fabric that checks all the boxes for summer essentials, it's definitely linen. Summer is a great season to have fun with your outfits, and linen shorts are the only pair you will need this year.
Chic and practical, linen is the warm-weather staple fabric you won't want to take off the entire summer. As it's a super-breathable fabric, linen shorts are the perfect choice for any summer occasion. Whether you're out running errands, going to the office, or attending an event, linen shorts will easily get you from day to night if styled right.
Pulling off linen shorts for the summer is as easy as it sounds, especially with the variety of styles available. You can go for shorter or longer ones, a relaxed or more tapered silhouette, as well as any color you like. Pair them with anything from a basic tee to a blazer and enjoy hassle-free outfits that will surely turn heads all summer long.
Channel high-fashion vibes with a linen overcoat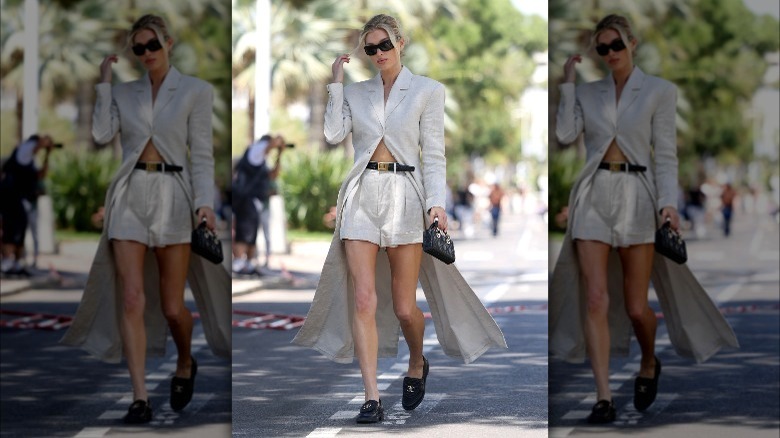 Pierre Suu/Getty Images
Summer outfits don't have to be basic. A long summer overcoat in linen will instantly elevate your entire look, especially if you opt for a monochromatic feel and match the shade of your shorts to the overcoat. For those scorching summer days, go for an overcoat that's sleeveless. The overall linen look will exude elegance, and all you have to do is add your favorite leather accessories. Make sure they're color-coordinated and darker than the color of your linen pieces to make them stand out. Keep the jewelry dainty to round off the minimalist vibe.
A linen vest for the ultimate summer look
One of the easiest ways to pull off linen shorts without looking like you're headed to the beach is to pair them with a linen vest. This linen pairing is perfect for creating homogenous summer looks that require minimal effort and are easy to dress up if needed. Opt for a shoulder bag and casual footwear to create an elevated everyday look, and round it off with sunglasses and cute jewelry. To take it up a notch for a summer event, go for high heels such as wedges or pointed-toe pumps and a leather clutch.
Go for a linen shirt in a matching color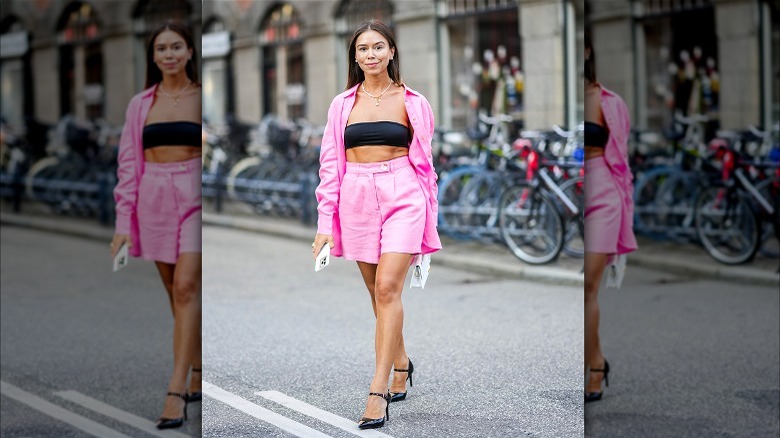 Edward Berthelot/Getty
For a quick and easy summer outfit, pair linen shorts with a linen shirt in a matching color to create a stylishly homogenous look. Go about the shade depending on your style. You'll get a classier vibe with neutral shades like ivory and taupe, while brighter colors will seem more playful. As linen shirts mostly have a relaxed silhouette, opt for an oversized one and wear it unbuttoned for an effortlessly chic look. Add a cute crop top or a bralette underneath for coverage, and color-coordinate your accessories to match.
You can never go wrong with an all-white fit
If linen is a warm-weather staple fabric, then white has to be the staple color. Not only does white look good, but it also reflects the sun so the fabric of the garment doesn't absorb as much heat. When in doubt, reach for your white linen shorts and pair them with a white linen top of your choice for the ultimate all-white outfit that will keep you cool. An oversized shirt is an unerring choice, but any style top will work for this combo. Go for white accessories and spruce up the look with some chunky jewelry or a headpiece.
Linen shorts are a 'quiet luxury' staple
The "quiet luxury" fashion trend doesn't necessarily have to be expensive, and linen shorts are going to be your favorite stealth wealth summer staple. Linen is a fabric that screams elegance without being too much in your face, which is exactly what you want in a "quiet luxury"-inspired outfit. Pair your neutral-colored linen shorts with visually interesting tops to add some depth to the overall look. Boatneck and off-the-shoulder tops, as well as knitted tank tops, all work fabulously. Leather slides and a leather shoulder bag are obvious "quiet luxury" choices, as are pearls and gold jewelry pieces.
The peplum top is back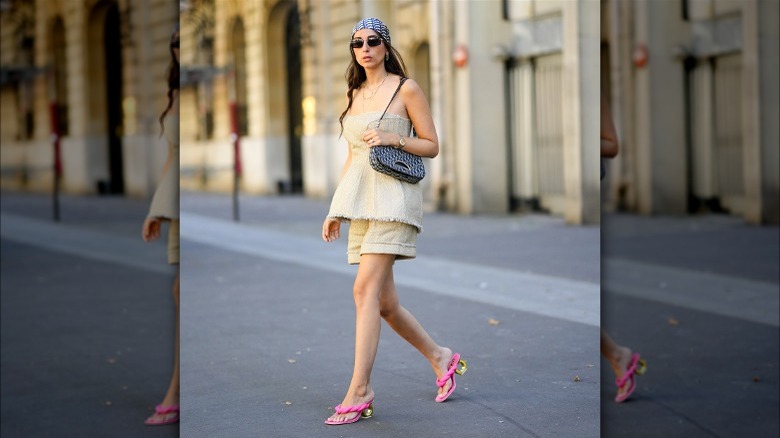 Edward Berthelot/Getty Images
Peplum tops are making a comeback, and pairing them with linen shorts for the summer is all you need to update the resurging style. As the ultimate fashion-forward move, go for a linen peplum top that matches the shade of your linen shorts. To counterbalance the femininity of the linen, opt for sturdier accessories in leather for a classy everyday outfit. Statement jewelry will elevate this chic linen set to an event-worthy look, but in that case, go for accessories that are more toned-down in appearance, such as a smaller bag and kitten heels.
A plain tee is all you need
Pairing a basic T-shirt with linen shorts might sound a bit simple, but it's the perfect empty canvas to showcase your style during the summer season. Linen shorts in a neutral shade and a slightly oversized plain tee work together to create a great low-key outfit that can easily be elevated. Add your favorite jewelry pieces, oversized sunglasses, and a wicker basket to channel the ultimate European vibes. Both sneakers and sandals work great here, and don't forget to add a belt with a larger buckle to add structure to the overall look.
Use accessories to bring some color to your linen look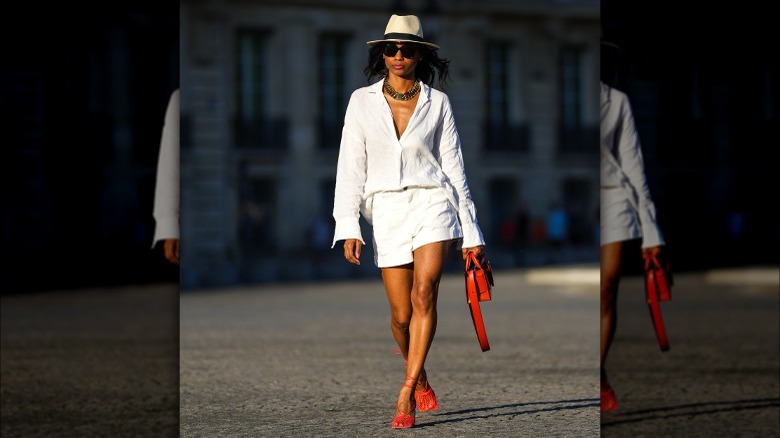 Edward Berthelot/Getty Images
If you love your white summer outfits but would like to add some fun to your look, utilize your accessories for a pop of your favorite color. It would be best to choose one color and stick to it if you don't want to take too much attention away from your all-white linens. Brighter colors in warmer shades work best for hot summer days, such as coral red, tiger orange, and plum purple. Go for chunky silver or gold jewelry to add some interest to the top part of your outfit, and don't forget your sunglasses.
Business casual meets linen shorts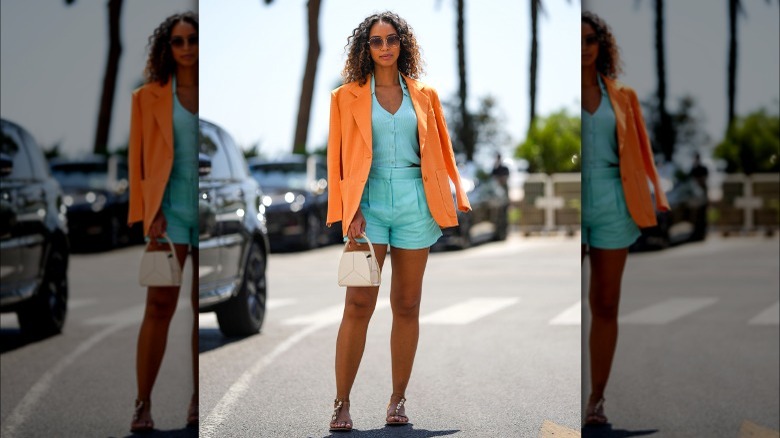 Edward Berthelot/Getty Images
Adhering to a business casual dress code in the summer can be tricky if you're not the biggest skirt fan. Linen shorts are coming in to save the day, and all you have to do to create a smart warm-weather outfit is a linen blazer. Choose the top you'll be wearing underneath depending on the occasion; a linen vest or a sleeveless top with a higher neck are both usually great choices. To add some playfulness to the overall look, go for a blazer that's brightly colored but still works with the rest of the shades in your outfit.
Create counterbalance with knee-high boots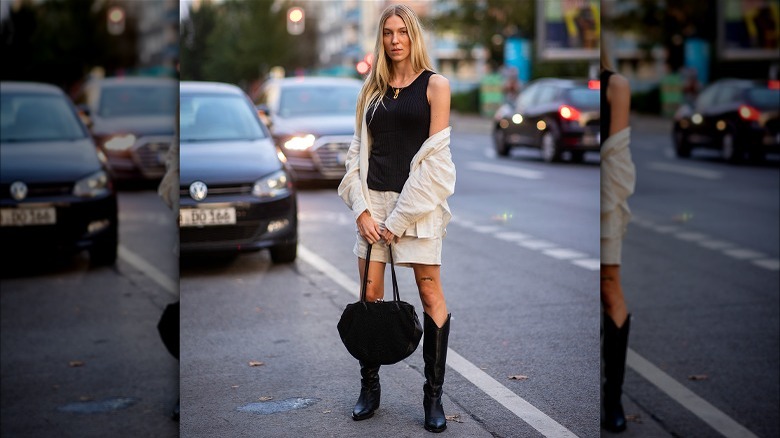 Christian Vierig/Getty Images
Linen can come across as too romantic if you go the feminine styling route. If that's not entirely your vibe, but you'd still like to rock your linen shorts this summer, simply boot them up. A pair of leather knee-high boots in a darker color will instantly create contrast with the lightweight linen fabric. To take it a step further, go for a dark top and a larger leather bag in a matching dark shade. Add some layered necklaces and chunky earrings to pull off your linen shorts in an unexpected rock 'n' roll way.
Linen shorts with a long-sleeve top
Summer nights can get chilly, but you can still rock your linen shorts regardless. Pair them with a long-sleeve top that has a tighter fit to counterbalance the short's relaxed shape. Create a color block by opting for darker shorts and a lighter top, or vice versa, but you can also color-match them for a monochromatic look. Leather accessories are a must, as is minimal jewelry that won't take the shine off the clothing combo. A leather belt will break the continuity between the top and the shorts and add dimension to the outfit.