Why Demi Lovato Actively Avoids Listening To Two Of Their Albums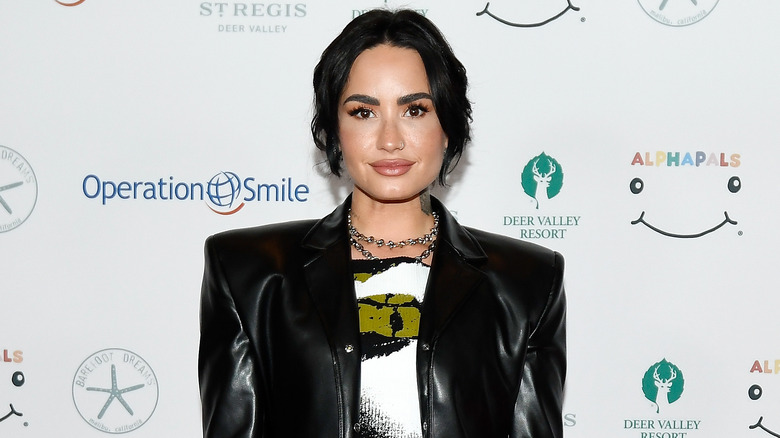 Alex Goodlett/ Getty Images
Most people will spend the first few decades of adulthood continuously learning to be themselves. They will do everything and more; enter therapy, read self-help books, enroll in various kinds of rehab, etc., to freely and unapologetically accept who they are. To get there, you must let go of other people's expectations and choose to please yourself rather than others. For the average person, this is a challenge. For a former child star like Demi Lovato, we can imagine this challenge is intensified 20-fold.
We can all look back on memories of when we weren't being ourselves and cringe at the thought of those moments. However, for someone like Lovato, this experience is multiplied beyond imagination. Their whole history is laid out in full detail by media reports and is constantly circulated by millions of strangers.
What's worse for Lovato is that, as a singer, their past thoughts and feelings are eternally recorded in the sound of pop music. Not to mention, this is successful music that can easily ambush them in full blast at the grocery store, in a taxi, or at a club. According to an interview with The New York Times, Lovato will do all they can to avoid listening to two very specific albums.
Lovato can't stand their albums 'Confident' and 'Demi'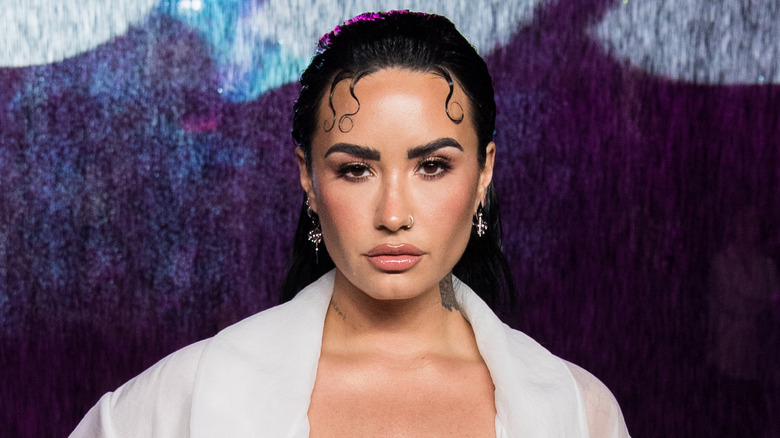 Jason Koerner/ Getty Images
The child of a former Dallas Cowboys cheerleader, Demi Lovato quickly took after their mother's knack for entertainment. At just 10 years old, they appeared as a cast member of "Barney and Friends." By 2008, Lovato was in a leading role alongside the Jonas Brothers in the iconic Disney Channel original, "Camp Rock." And by 2015, they had released five albums, starred in Disney TV series, and appeared as a judge on "The X-Factor." Lovato barely had a second to catch their breath before all eyes were on them, let alone figure out who they were.
After releasing the album "Unbroken" with top charting songs like "Skyscraper" and "Give Your Heart a Break," Lovato told the NYT they had high hopes for the following albums they produced, "Confident" and "Demi." Sadly, these albums did not have nearly as much success. However, Lovato created the albums with a deep desire to get positive feedback from the public. Lovato told the NYT, "So I dove into, all right, what is the formula for a pop star that's top of the charts?" She continued, "I played that role for a minute. And that didn't fulfill me at all." 
Today, they can't even bare to listen to these albums. Lovato reflected further about why this is, explaining to the NYT  "I don't know if it's because it reminds me of the people that were in my life during those times or if it just doesn't feel that authentic to myself."
The singer's near death experience has pushed them to be authentic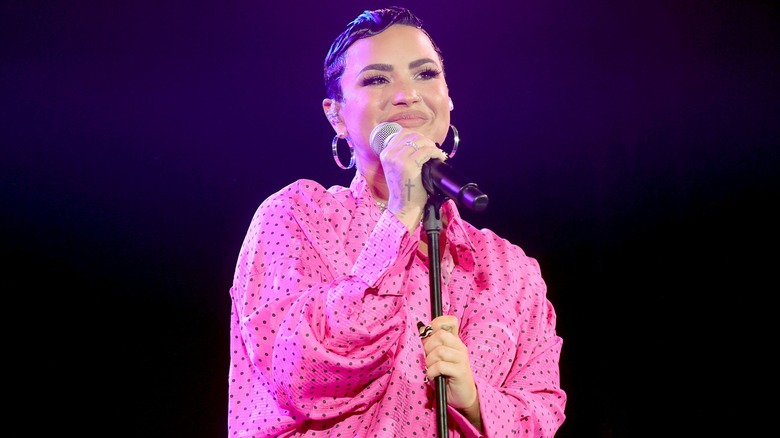 Rich Fury/ Getty Images
Demi Lovato shared the horrifying details of the night they overdosed in 2018 in the YouTube docuseries, "Dancing with the Devil." Lovato, alongside friends and family members, revealed the long, arduous journey they've had with their mental health. Their rapid rise to fame put a tremendous amount of pressure on them, and with Lovato's competitive and perfectionist nature, this pressure became too much. To cope with this stress, Lovato endured an on-and-off battle with eating disorders and substance abuse, entering rehab for the first time at the young age of 18. In 2018, Lovato was close to death in the ICU. In the docuseries, they revealed the truth about their serious health issues after the overdose. "I had three strokes, I had a heart attack . . . I also had pneumonia and multiple organ failure," they said in the docuseries.
While speaking with the NYT, Lovato explained, "It took getting that close to shake me up and be like, wow, b****, you really got to live your life for who you really are." Today, when they look back at "Demi" and "Confident," they see those albums through a brand new lens that knows the value of their life. Lovato has made it clear that they will no longer waste any precious time being someone they're not.
If you need help with an eating disorder, or know someone who does, help is available. Visit the National Eating Disorders Association website or contact NEDA's Live Helpline at 1-800-931-2237. You can also receive 24/7 Crisis Support via text (send NEDA to 741-741).
If you or anyone you know needs help with addiction issues, help is available. Visit the Substance Abuse and Mental Health Services Administration website or contact SAMHSA's National Helpline at 1-800-662-HELP (4357).