Jennifer Lawrence Doesn't Need Pants To Rock This Sheer Top And Blazer Look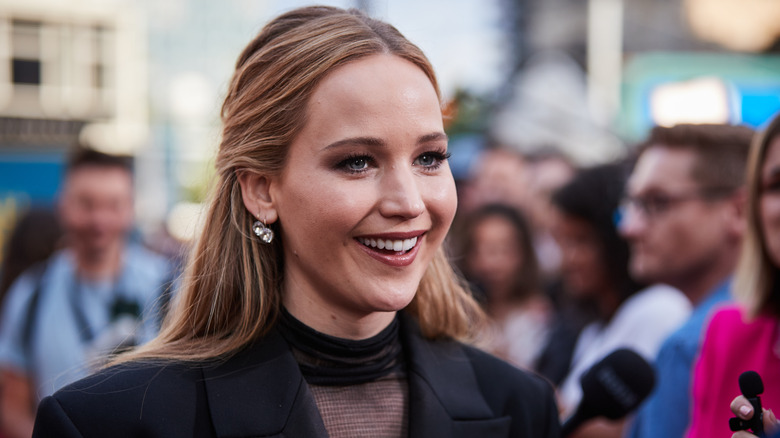 Sebastian Reuter/Getty Images
We've all had that embarrassing dream where we show up to work without our pants. Jennifer Lawrence, bold fashion icon that she is, woke up one day and said she was going to utterly destroy the notion that wearing no pants to an event is embarrassing. She was going to show the world that, hey, you can still slay with no bottoms. Her testing grounds for the inventive look? The red carpet, of course. 
On June 15, the award-winning actress appeared at the Berlin premiere of her film "No Hard Feelings" in an outfit that we'll be talking about for months to come. The "Silver Linings Playbook" performer wore a classy, slightly oversized Givenchy blazer with edgy, emphasized shoulders. The blazer was the perfect length to double as a minidress, falling a bit above mid-thigh. Beneath the buttoned blazer, Lawrence wore a sheer top with some ruching that looked both refined and comfortable. And yes, even the shoes looked amazing. The jet-black heels with thin ankle straps and extremely pointed toes were the finishing touch to her gorgeous red carpet look.
She's reviving the sheer look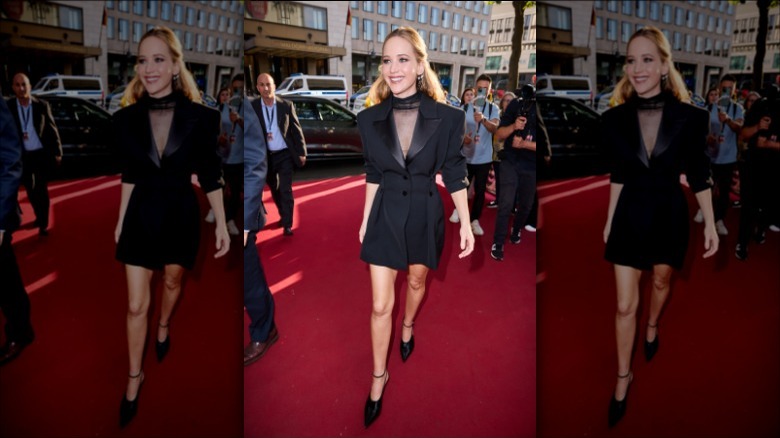 Sebastian Reuter/Getty Images
There seemed to be a few recurring elements to Jennifer Lawrence's red-carpet appearances for "No Hard Feelings," and sheer is one. Her see-through top beneath her blazer minidress in Berlin was stunning, but this wasn't the only time the actress pulled off a sheer style for her movie's premiere.
Per Harper's Bazaar, at the London premiere of "No Hard Feelings," Lawrence's outfit brought summer sheerness to the forefront once again. The "Hunger Games" star dazzled in her black Dior gown, which featured a sheer bodice over a coordinating black bandeau bra. The bottom half of the dress was an opaque black but included a sheer panel of fabric floating above it. The transparent fabric was decorated with dozens of sparkling sequins and delicate embroidered flowers. The upper half of the dress was separated from the floor sweeping skirt by a minimalistic belt that blended into the outfit with ease.
After dropping off in the late 2000s, it's clear that sheer clothes are having their moment again, and Lawrence is helping to revive the look. We expect to see even more fashionable sheer pieces in red carpet styles to come.