Lacey Chabert And Other Fan-Favorite Hallmark Stars Connect At Network HQ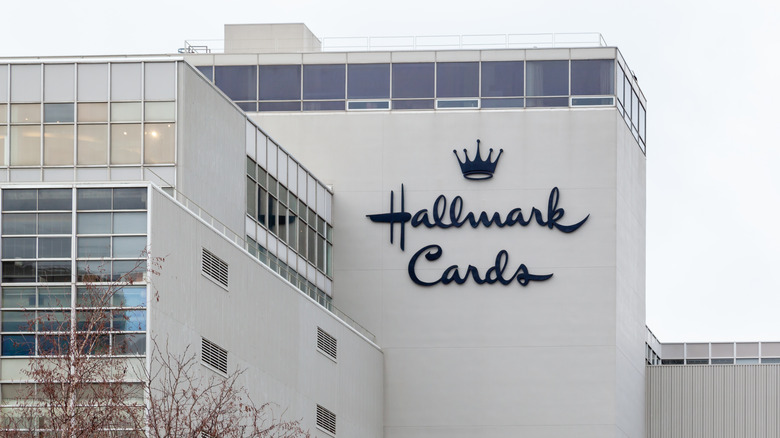 Jhvephoto/Getty Images
Despite being a massive television and retail company, Hallmark is not headquartered in a major showbusiness city like New York City or Los Angeles. The company is headquartered in Kansas City, Missouri. This is because Hallmark's founder Joyce Clyde Hall first started selling his postcards in Kansas City. Now over 100 years later, postcards are far from the first thing that comes to mind when thinking of Hallmark. The company's movies from the Hallmark Media television network have millions of viewers each year.
For the first time, some of the network's favorite Hallmark actors and actresses spent time at the company's headquarters in June 2023. Over a dozen Hallmark stars loved meeting the employees who keep Hallmark running like a well-oiled machine. It takes a village to create the company's retail merchandise and the always increasing films and television series year after year. Hallmark's onscreen talent showed that they do not take these people for granted at the meet-up.
The Hallmark stars met with employees at the company's headquarters
When the group of Hallmark stars like Lacey Chabert, Jonathan Bennett, Tyler Hynes, Paul Campbell, Andrew Walker, and many more arrived at Hallmark Media's headquarters in Kansas City, it was one big celebration. According to People, over 300 Hallmark employees spent time with the stars, playing games and even watching some fun performances at the theater located right on the company's campus. The event was also a "Three Wise Men and a Baby" reunion for the film's lead actors Campbell, Walker, and Hynes. They performed a dance number from the film for the occasion, and for good reason. The film was the most-watched cable television movie in 2022.
Chabert took to Instagram to post her appreciation for what she called the "best field trip ever." She gave a shoutout to Don Hall Jr., the grandson of founder Joyce Clyde Hall. He gave the stars a tour, and helped them learn more about the company which became the well-loved television network they call home. 
Lacey Chabert is excited for Hallmark's upcoming films
Nikki DeLoach shared similar sentiments as Lacey Chabert. DeLoach posted an Instagram video of the gathering, including a clip of the comedic dance number from the stars of "Three Wise Men and a Baby" as well as lots of smiles from Hallmark employees, fellow film stars, and Hallmark Media's President and CEO Wonya Lucas. "We connected with so many beautiful humans who are the backbone of @hallmark and the reason @hallmarkchannel exists. To learn the history of this company and to see firsthand how they truly live out every single value in their lives and work was nothing short of awe-inspiring," DeLoach stated in her post's caption.
Hallmark Media is gearing up for another season of holiday films. Chabert did not reveal too much about the films to come, but sang her praises for the Hallmark Media team on Instagram. "Thank you to [Samantha DiPippo Pasquarella] and your incredible team for everything you do to bring these magical Christmas movies to everyone's TVs. You're loved and appreciated! I can't wait for you all to see what they have in store for you this year," Chabert wrote along with a photo from the Kansas City trip.