Looking For The Perfect Summer Wedding Dress? Look No Further Than A Mini-Gown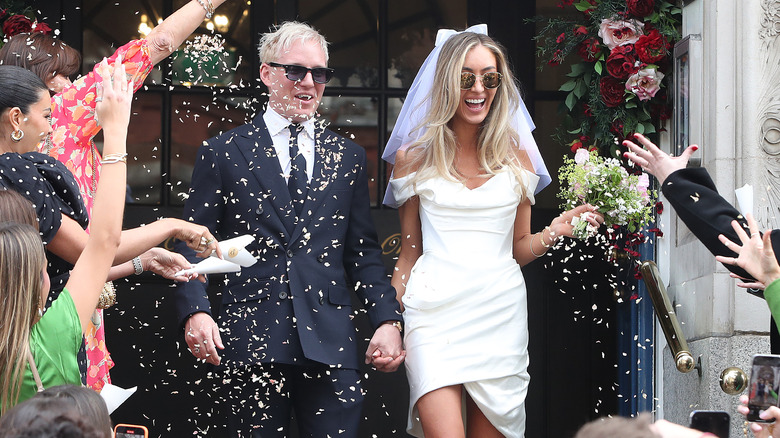 Gc Images/Getty Images
When it comes to getting married these days, many brides are thinking outside of the box. New trends like unconventional wedding dress colors are popping up everywhere, so it makes sense that mini-wedding dresses are one of the wedding trends you could be seeing more of very soon.
Sharon Tate wore one for her wedding in 1968, and throughout the 1960s mini dresses (or dresses to the knee) were relatively popular as wedding attire. Though they went out of fashion in favor of the longer, poofier dresses seen throughout the 1970s and '80s, the mini-gown has begun to make a comeback.
Modern and stylish, a whole host of celebrities have endorsed the trend by putting their own spin on mini bridal gowns. The best part? Choosing a mini for your wedding dress won't leave you feeling sweaty and like you're wearing too much fabric, especially if you're getting married during summer. 
Here are some of our favorite dreamy mini-wedding dress styles for summer and beyond (and the celebs who have jumped on the trend so far).
Celebs have been loving the mini wedding dress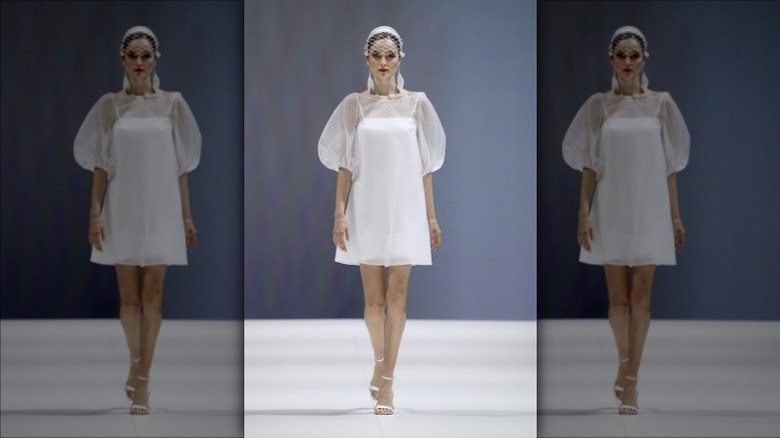 Estrop/Getty Images
Fans of the mini wedding dress include Sofia Richie Grainge (nee Sofia Richie) among others. Richie Grainge, who recently married Elliot Grainge in a custom Chanel wedding dress, changed into a gorgeous structured mini white gown with camellia detail, also from Chanel, for her reception.
Moreover, Kourtney Kardashian went short for her wedding, this time for the actual ceremony. She wore a custom Dolce & Gabbana gown with heart detail at the front. In addition to Richie and Kardashian, Lily Allen wore a '60s-inspired white mini dress by Dior when she married David Harbour in 2020. Plus, although it's technically more of a knee-length than a mini wedding dress, Keira Knightley actually wore her Chanel tulle dress on three separate occasions, proving that even the most formal outfits can be repurposed.
Though Sofia Richie Grainge wore a mini gown for the reception after her wedding ceremony rather than her actual wedding, you can definitely wear one to your ceremony as Kourtney Kardashian did. Undeniably modern, interest in the mini wedding dress is clearly rising. According to fashion brand Karen Millen, searches for "mini bridal dress" increased by an incredible 423% after Richie Grainge debuted her Chanel pick.
These mini dresses will bring a unique flair to your wedding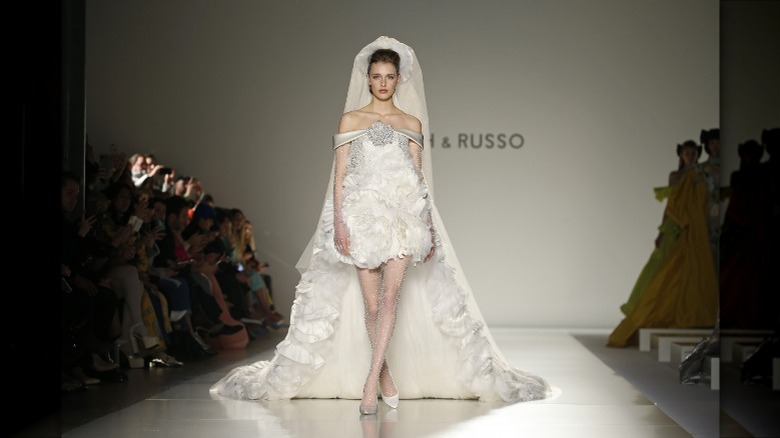 Thierry Chesnot/Getty Images
This gorgeous embroidered mini dress from ASOS gives major 1920s vibes and is perfect for dancing the night away in. We love the subtle back cutout that gives it a fun and flirty edge. If you want something more traditional, this structured white mini dress from Sachin & Babi has a distinctly bridal look and is complete with a large bow that sweeps down into a mini train at the back. The bow can additionally be removed for easier dancing later in the day.
Featuring a subtly metallic sheen, this strapless ivory mini dress from Reformation also features a removable train and a smocked back bodice for added comfort. Additionally, Reformation offers free alterations so you'll be able to make your dress fit like a dream. Looking for something bridal but without the fuss of a train? This strapless white corset mini dress from Alex Perry will cinch your waist and make your legs look miles long due to its voluminous skirt. Moreover, the bodice has a flattering wrap-around cuff top for extra support.
If you feel like a long wedding dress just isn't for you, a mini wedding gown could be exactly what you're looking for.