Every Hallmark Movie Treat Williams Ever Made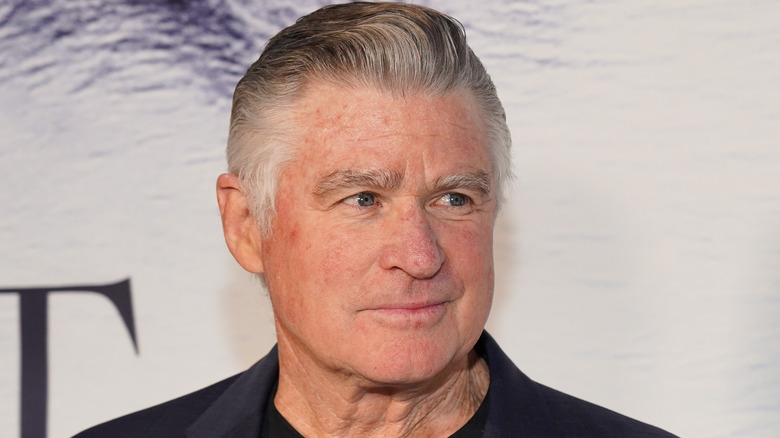 Rachel Luna/ Getty Images
Treat Williams was one of the gems that Hallmark had recruited to their pool of recurring actors. For almost two decades, Williams played a combination of leading roles and supporting roles, serving as a beloved member of the Hallmark family. After appearing for the first time in 2008, he returned to perform in seven films, one mini-series, and a five seasons TV series with the channel. His Hallmark movies include: "Front of the Class" (2008), "Chasing a Dream" (2009), "Safe Harbor" (2009), "Beyond the Blackboard" (2001), "Rocky Mountain Christmas" (2017), "The Christmas House" (2020), and "The Christmas House 2" (2021).
Sadly, on Monday, June 12, 2023, Treat Williams, died at 71 in a motorcycle accident. After years of working with the channel, its community of fans and filmmakers is devastated by the tragic news. In a Facebook post, the Hallmark Channel wrote, "In memory of Treat Williams, a beloved member of the Hallmark Channel family, tune in for a special presentation of "The Christmas House" on Friday, June 16 at 8/7c. ❤️" Although the channel could only show one of Williams' movies as tribute, they all deserve to be remembered. So, we did a round-up of all seven of Williams' Hallmark films.
Front of the Class (2008)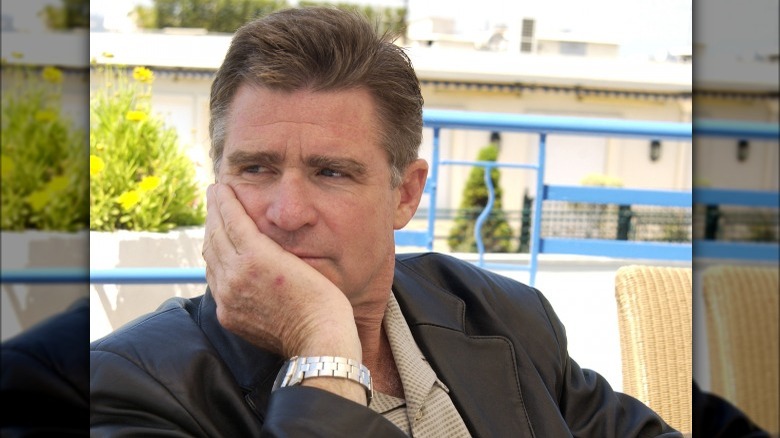 J. Vespa/ Getty Images
Before he arrived at Hallmark, Treat Williams' life was already filled with a long list of accolades in the entertainment world. After starring in the hit movie "Hair" in 1979, earning a Golden Globe nomination, winning a SAG Award nomination, and working with legendary directors like Steven Spielberg, Williams slowly but surely made his way to Hallmark. In 2008, Williams appeared for the first time in the film "Front of the Classroom" playing the role of Norman Cohen, the father of Brad Cohen.
The film was based on the true story of Brad, who was born with Tourette Syndrome. Before being diagnosed, Brad was made to believe he didn't fit in at school. His sporadic noises and movements were punished as rude outbursts. As a young adult, Brad becomes determined to become a teacher. After being rejected by 24 schools, he becomes a second-grade teacher and is awarded the "outstanding first-year teacher" by the state of Georgia. While Williams plays a more minor role in the film, this first film set a precedent for the line-up of heartwarming Hallmark roles that would come his way.
Chasing a Dream (2009)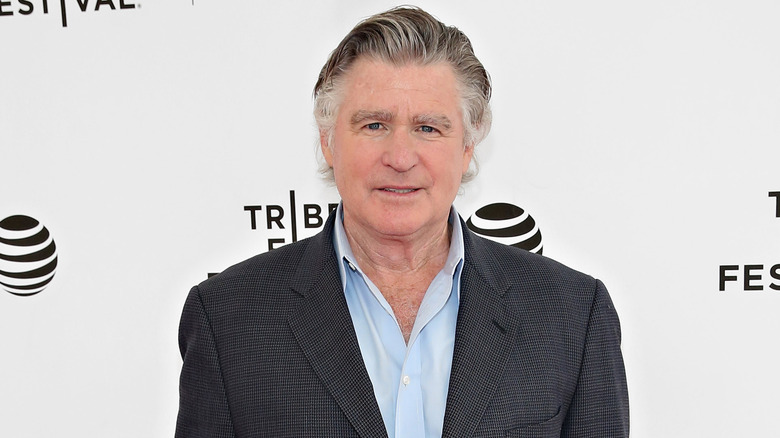 Cindy Ord/ Getty Images
Just a year after the premiere of "Front of the Class" in 2008, Treat Williams appeared in the film, "Chasing a Dream." At the age of 57, Treat had begun to take roles suited for older male characters. In this Hallmark film, he played the part of Cam Stiles' father, Gary Stiles. At the start of the movie, his son's best friend is hit and killed by a car while running in the street after a party. This sends Gary into a spiral of anxiety and pain, leading him to quit his position as the star player on the football team.
In honor of his late friend, who had been a track star, the high schooler joins the track team instead. This choice creates friction with his old teammates. It also takes a toll on his and his father's relationship, as Gary is also the football coach. In this film the audience sees Williams' character struggle to navigate through his son's mourning journey.
Safe Harbor (2009)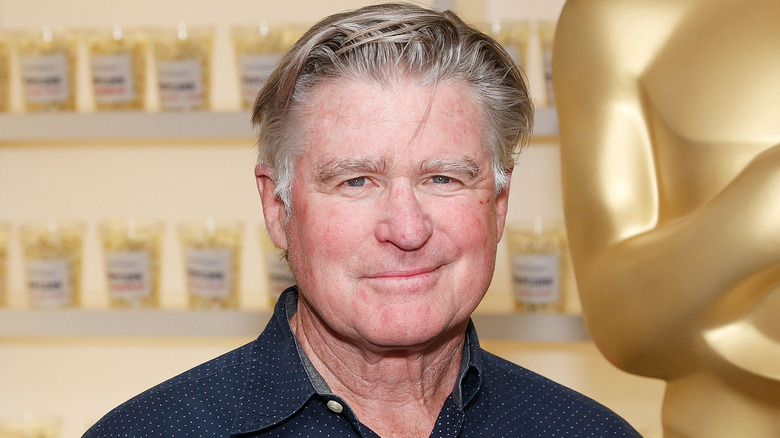 Lars Niki/ Getty Images
Between his roles as Norman Cohen and Gary Stiles, the Hallmark Channel clearly loved to see Treat Williams play the part of a father. This pattern continued throughout much of the work Williams did with Hallmark. Although, in the film "Safe Harbor" in 2009, his part is not written as a conventional, biological father. Williams' character Doug, and his wife, Robbie, are an older married couple who, at the start of the film, have no children.
Just as the two are about to embark on a long trip sailing across the sea, they become foster parents at the last minute. Suddenly, they have a crew full of teenage boys who come from unstable backgrounds. In the course of their journey, Doug and Robbie form deep connections with their foster sons. By the end of the film, the unlikely bunch becomes a family, doing all that they can to stay together.
Beyond the Blackboard (2011)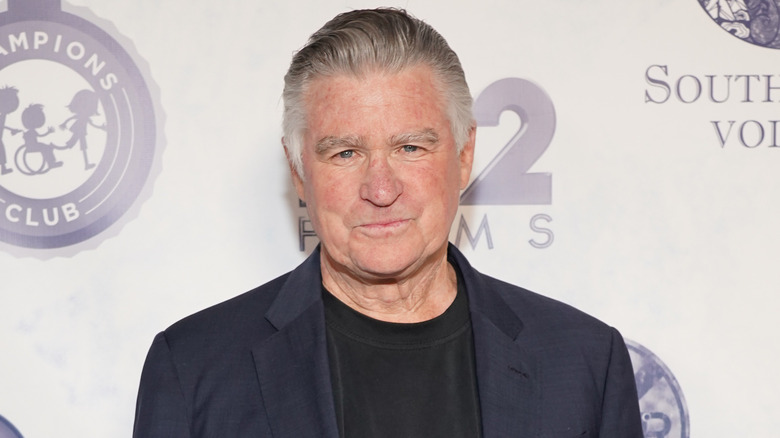 Rachel Luna/ Getty Images
In 2011, Treat Williams appeared in another film centered around academic life. In the Hallmark film "Beyond the Blackboard," Williams played the role of Dr. Warren, an administrative faculty member. The main character, Stacey Bess, begins working at a school built from a homeless shelter. Bess faces various challenges while working with the group of underserved students.
Around every corner of her journey as a new teacher is another challenge. Between the lack of supplies in the classroom and the students' refusal to cooperate, Bess cannot get a break. However, by the film's end, Bess earns the respect of the parents, students, and administrators. Another true story, this film is an adaptation of Stacey Bess's memoir, "Nobody Don't Love Nobody." Following this film, Williams took a six-year break from his work with Hallmark. But by 2017, he had made a comeback, and it was just in time for Christmas.
Treat Williams has appeared in three of Hallmark's Christmas movies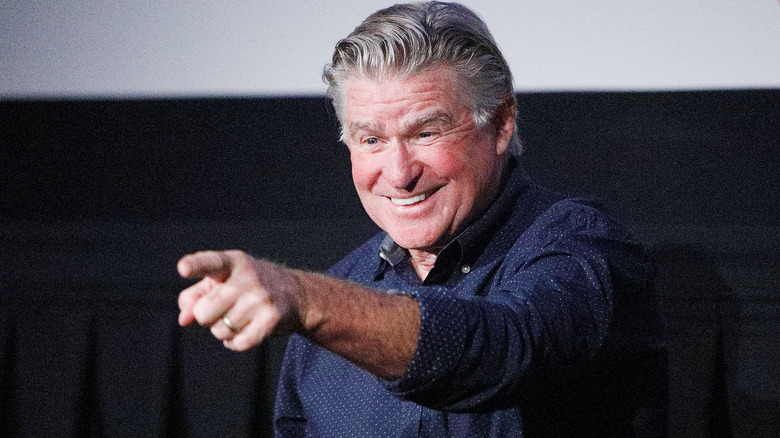 Lars Niki/ Getty Images
Hallmark is known for its Christmas films, so it is a surprise that it wasn't until almost a decade after working with Hallmark that Treat Williams played a part in one of its holiday specials. In 2017, Williams played the role of Roy in the film "A Rocky Mountain Christmas." When Roy's niece goes through a difficult, public breakup, she takes a break from the real world on his rural ranch and finds love with an actor.
In 2020, Treat Williams appeared in "The Christmas House" as Bill Mitchell, the father of two sons. For the holiday season, the Mitchells unite at their family home. While his son Brandon and his husband eagerly wait to hear from an adoption agency, sparks fly between his other son, Mike, and an old hometown fling. This is arguably one of Williams' most beloved films, as the channel came back with a sequel the following year, "The Christmas House II, where the two boys battle it out to determine who can make the best Christmas House.