Planning A Beach Trip? Here's What Kind Of Clothes You Need To Pack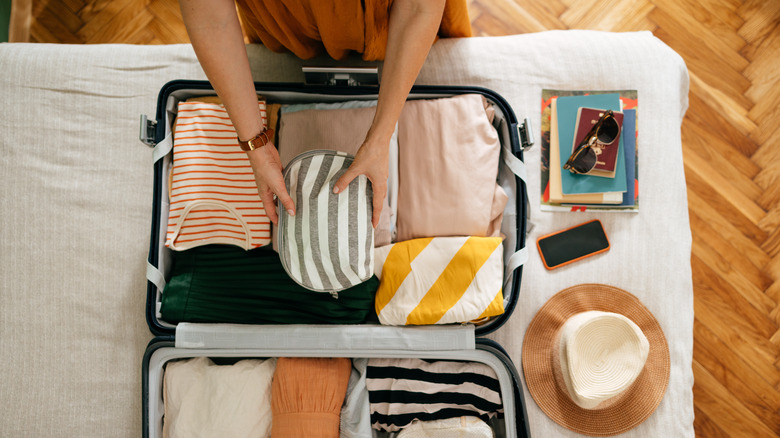 Miniseries/Getty Images
Packing for a beach getaway involves so much more than just a few bathing suits and a coverup. All that fun in the sun comes with plenty of challenges, like planning for hot days that melt into chilly oceanside evenings. You also need to take into account the uniqueness of beaching; plan for wet, sandy scenarios. And on top of that, the ultimate goal is to look cute and be comfortable — even when it's sizzling hot and humid.
Seaside vacations are a blast, and with a little bit of planning, you'll be ready for everything from lounging in your beach chair to late-night toasts under the tiki torches. So, here's a collection of beach vacation packing essentials that will let you embrace the beach all summer long. Grab that reef-friendly sunscreen; it's the season for sandy soirees, seaside campfires, searching for seashells, and all the summery joy of beach vacations.
Add open weave elements to your summer packing
Add a cute crochet crop to your summer getaway packing. Not only is it on-trend, but it can be used as a cover-up or statement piece within an outfit. One of the benefits of a crochet-style cover-up is that it dries quickly. Then again, if you choose one with a bold print like this cute daisy look by @chicismyniche, it can be the foundation of a cute all-day look. We love how Francesca's Tate Jelly Basket Tote echoes the open-weave theme, too, and is beach sand savvy.
A chambray shirt will never fail you
TikToker @nenaevans_ is giving effortless summer elegance in this beach vacation outfits video. She leads with a classic beach fit — white shorts and a casual chambray button-down. The beauty of chambray is that it's basically denim's cousin — but thinner. Generally, chambray achieves the look of denim but with a softer, lighter vibe. It's popular for the beach scene because the light blue hue feels a bit nautical and is neutral enough to pair with most colors and patterns. Tie it at the waist or leave it open.
Denim shorts are pretty much mandatory for beach getaways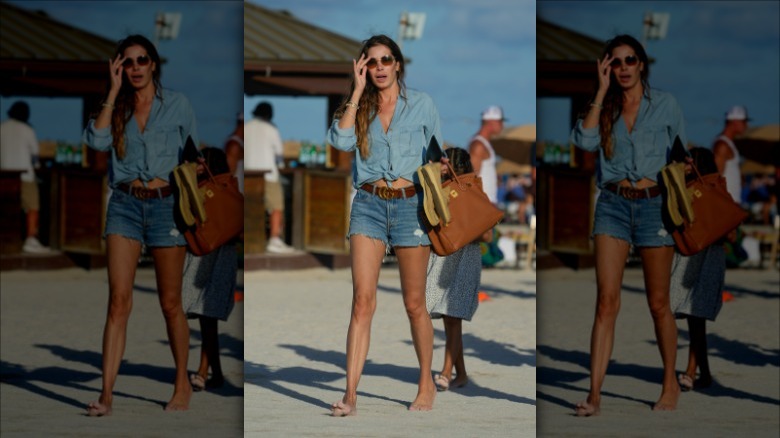 305pics/Getty Images
If you're making a beach vacay checklist, denim shorts should be close to the top. We usually try our best not to overpack, but here's the thing. Denim does not dry quickly, so bring two or three pairs. Let's say, for example, you slide into your denim shorts after a quick swim, and they're wet. You'll be glad you have extra. Create a beautiful look by pairing raw-hem denim shorts with a button-down and nautical-inspired shoe. These shorts go with everything, which is why they remain a timeless fashion go-to.
Rock a utilitarian chic look for exploring the boardwalk
Everything about this look is perfect for a seaside romp. The cute orange romper channels sunset vibes and is as comfortable as it is attractive. Of course, a romper always gets bonus points for being a one-and-done look, but this glam utility really won us over. Paired with the black platform slides, @zodiacshoes made this a chill daytime look, perfect for checking out the shops along the boardwalk. By night, this romper with a gladiator heel would be a gamer changer.
Be sure to pack colorful prints
@iloveyroutfit has a fresh batch of beach outfit inspiration. She leads by example here because sometimes we get so focused on packing summer essentials like a neutral color scheme that we forget one critical thing. It's summertime, after all — so be sure that a few pops of color make their way into your suitcase. In this look, she combines a colorful open-weave knit top from Magnolia Boutique with denim shorts. Look for colors that capture summery vibes — like watery blue hues, vibrant lemon, or sunset orange.
Invest in a few quick-dry pieces for water adventures
Of course, reading a book on the beach is a perfect way to spend the day, but sometimes you get the itch for something more adventurous. Whether kayaking, boating, or a little stand up paddleboarding time, water sports are best in clothes designed for the task at hand. Find this ready-for-action look at Free Fly Apparel: this Bamboo Shade Hoodie is odor resistant and boasts a 50+ UPF rating. Plus, it's temperature regulating, which makes it a go-to for all kinds of travel scenarios. And that teal color just screams summer.
Don't forget a cute dress for seaside dinners
If you're heading to the shore for a long weekend, you probably need one cute dress. However, you should pack a few for a more extended beach vacation, including one long-sleeved option for chilly nights. Typically, travelers want to maximize their outdoor time on summer holidays, so cue the al fresco meals. It can be a little breezy or chilly at night near the water, so we love this light, long-sleeved dress inspiration from @caminho.da.indi.
Coastal grandmother still has so much to teach us
As if torn from the pages of the official coastal grandmother style guide, here's a gorgeous gauzy beach-ready look from @shop_crescent. The key to this look is to pick pieces that are made with fabric that is very breathable and light. Of course, this is airy and appropriate in summer's heat and humidity, but it gives casually chic vibes. This look seamlessly goes from barefoot while looking for seashells to metallic Birkenstocks and Mai Tais.
Don't forget to pack nautical stripes
You can't go wrong in a blue and white striped sweatshirt, faded denim, and some platform Chuck Taylors. The sweatshirt's stripes and colors offer perfect nautical vibes — like sailboats and the good life. This is a go-to look for cloudy days, when a storm is rolling in, or late-night beach campfires. Add a straw tote like @constantly_coveting for carrying sunblock, your favorite beach read, or stashing your shoes when walking along the beach.
Rock an all-white outfit
Is there anything better than an all-white look on a dreamy summer night? Of course, you can wear white all year round, but bright white from head to toe is quintessentially summertime. And when you walk into the room — or onto a patio — in a look like this, all eyes are on you, guaranteed. This stunner from @mareathebrand is monochromatic at its best. We'd start with the pants, a silky white camisole tank, and that cute sweater over the shoulders. Then, once the sun goes down, it's sweater time.
Swap your swimsuit for a bodysuit
Theoretically, you can wear your bathing suit as a bodysuit, but it's usually wet from playing in the ocean. However, the other reason you shouldn't stay in a wet swimsuit is that it can create the potential for a yeast infection. Skip all that chaos, and be sure to have a few cute summer bodysuits in your wardrobe. For this fit, @alexiahopemoss styled a patterned bodysuit from VICI; the pale, neutral colors make it summery and versatile.
This is the secret to summer vacay packing
It's not just the clothes you pack but what you pack them into. Regardless of whether you're flying, driving, or taking the train, you want to avoid lugging a bunch of overpacked bags. The key is to be strategic. For example, pack your smaller clothing items — like swimsuits, socks, and underwear, in a beach tote. Once you arrive and unpack, your beach tote is there, at the ready. We couldn't resist taking efficiency to the next level with this ingenious beach tote by @sunshinetiendashop, which is designed to hold your sun hat.
It's called a cabana set and we're in love
We're calling it; cabana sets are about to have their moment. Traditionally, they're short-sleeve button-down shirts with matching shorts. But we love this riff with long sleeves. It's a relaxed yet chic look. Whether you go for short sleeves or long, a cabana set pairs perfectly with flat sandals, as @wilderfleur showcases. You can also style them with a pair of sneakers if you're going for a walk after your beach day.