Captain Lee Talks His Favorite Below Deck Memories & His Latest Collaboration - Exclusive Interview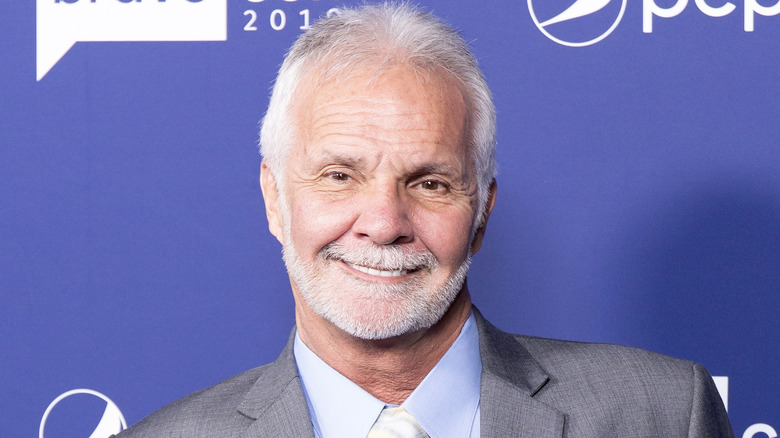 Arturo Holmes/Getty Images
On "Below Deck," Captain Lee Rosbach quickly became a fan favorite, thanks to his GIF-worthy quotes and his firm but fair approach to handling his crew. After missing part of Season 10 to deal with some health issues, it's been revealed that Captain Lee is stepping away from the show for its eleventh season and will be replaced by "Below Deck Adventure" star Captain Kerry Titheradge. However, Captain Lee has most definitely not retired, and he's currently working with Dramamine on the Ditch the Drama Sweepstakes, which will give three lucky winners the chance to go on their dream vacation anywhere in the world. 
Discussing the incredible opportunity, Captain Lee told The List, "Planning a vacation can be stressful. There's so much to think about and so much to get done ... 'Damn, I didn't arrange for transportation to the airport, to the hotel, and I left the name of the hotel sitting on my desk.' It's those things that come up and bite you in the butt."
In an exclusive interview with The List, Captain Lee Rosbach opened up about his future on "Below Deck," his best friends from the cast, and why he's excited about the Ditch the Drama Sweepstakes.
On Dramamine's Ditch the Drama Sweepstakes
You're here to talk about Dramamine's Ditch the Drama Sweepstakes. What drew you to this project?
How great is that? Three people are going to get a shot at a vacation — their dream vacation — and they could stand back at a map and throw a dart and go, "That's where I want to go." They don't have to worry about packing. They don't have to worry about travel arrangements. They don't have to worry about anything except getting there and having fun. Now, that is truly a Ditch the Drama Sweepstakes, because you know how hard planning a vacation can be.
First, you got to go, "Okay, I've got to get all this stuff, I've got to get done at work before I can go, I've got to plan this, I've got to plan that. And who's going to feed the parakeet?" Stuff like that. Here, Dramamine has taken all the worry out of it. There's no drama. All [the winners] have to do is enjoy life. Anywhere in the world they want to go — it's got me like, "I want to enter."
You already get to travel the world!
I do. But I've got to work when I get there.
Where would you go if you could pick anywhere in the world?
Oh gosh. Well, definitely someplace warm — maybe the Maldives or Seychelles or Galápagos. The closest I've come to anything like that would be Tahiti. That was pretty good. I really enjoyed that. The Ditch the Drama Sweepstakes is an opportunity of a lifetime, and somebody's going to be very, very fortunate.
You've had an incredible career in yachting so far. How did you first get started?
I was 35 and I'd taken a job helping to deliver a sailboat to Saint Martin. It wasn't until we got out of sight of land that I started not feeling quite so good. Then when we got out of the island and the seas got a little bigger, I wasn't feeling any good at all, and my best friend was a five-gallon bucket. I carried that with me every [night] watch that I did. They don't have any bodegas or anything like that out there where you can stop by and pick up — which, then, I didn't know I needed — some Dramamine. That was my first year. I spent my first year seasick. But I was determined.
On overcoming seasickness to become a captain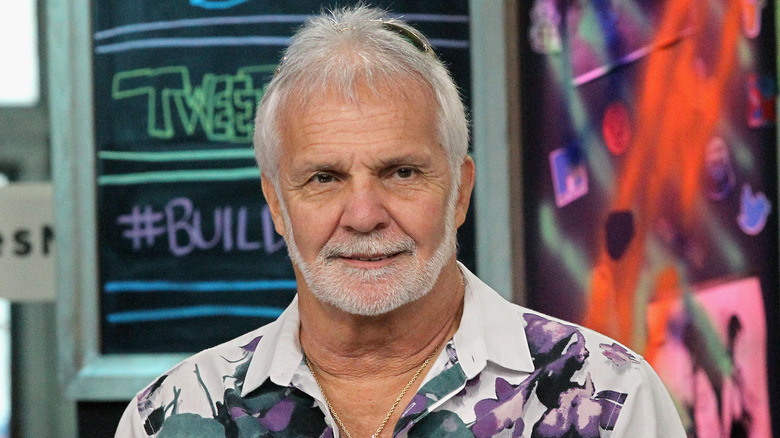 Jim Spellman/Getty Images
You got through the seasickness?
I did. Now, I'm much better prepared for when people come on board. The people over at Dramamine make it so easy, and it's so effective. If you want to take a nap while you're seasick, before you get seasick, take a Dramamine. If you don't, you want the non-drowsy kind — you've got that too. The ones [my wife] Mary Anne likes are the Ginger Chews.
It's not just for seasickness. Pregnant women feel nauseous a lot. To me, those Ginger Chews would be the ideal thing. Or people that go to the fair with their kids and their kids want them to go on a ride ... Roller coasters have that effect on the old man. Pop a ginger or two, and you're good to go.

After you got through that year of being seasick, did you instantly know that you wanted to carry on working on boats? When did you realize you wanted to become a captain?
I knew after the first trip. I came home and told my wife, "Finally, at age 35, I decided what I wanted to be when I grew up." I wanted to work on the water. You should have seen the look on my face when I found out that they have captains — people actually get paid a lot of money to do that. We were in Turtle Cove in Provo — Providenciales — in Turks and Caicos, and an 85-footer came in, and that was a big boat back then. I was talking to what I thought was the owner. He wasn't the owner; he was the captain. I said, "You get paid for this?" I was so astonished. That was the icing on the cake.
What did your wife say then when you announced that you wanted to become a captain?
I don't think either one of us knew how long it would take, and the amount of education, that I'd have to go back to school. After you're 35, going back to school isn't as easy as it is when you're 19. You forget about those study habits, long nights prepping for exams. But we made it through, and I can confidently say it was worth it.
On Below Deck and his friendship with Kate Chastain
You are probably the main reason that "Below Deck" is so successful and why so many of us keep watching — for your one-liners and amazing attitude. Did you think the show was going to be a success when you first started?
The thing is, I wasn't actually supposed to be there when it first started, and I was there totally by accident. Hell, I didn't much give a damn one way or the other because it didn't affect me, as far as I was concerned. I was there doing my job, and as soon as these people got off my boat, then I was going to go back to doing what I do — being a captain. Well, it didn't quite work out that way. 10 or 11 years later, here we are, still going at it.
Then all the spin-offs and stuff — I'm going, "No, I don't think anybody had any idea." I remember asking a producer friend of mine, "Becca, what are good [viewing] numbers for [a show like this]?" You have to remember, this all happened 12 years ago. I said, "What are good numbers that the network might ask you back for a second season?" She said, "If you premiered at 750,000 and could maintain that throughout the season." We only had 10 episodes in the first season. She goes, "750,000 probably gets you an invitation back." I think we debuted at 1,250,000, and everybody's jaw hit the floor. Nobody could believe it, least of all me.
Your friendship with Kate Chastain is another one of the great parts of the show. Did you always enjoy working with her, and are you still close?
Absolutely. Hell yeah. I love working with Kate. Kate was my one worry-free department. It was give her a task and forget about it. You knew it was going to get done, and you knew it was going to get done properly — if not, she would have somebody's ass. I didn't have to. I could always depend on her. That made my job a lot easier.
Are you excited now Kate has expanded her family?
I'm so happy for her. I really am. Sullivan Cay — I love that name. It's great. I couldn't be more tickled for her.
Staying in touch with former castmates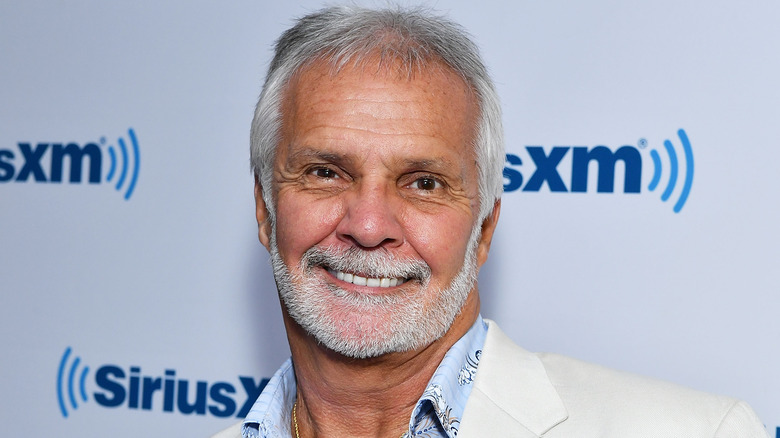 Slaven Vlasic/Getty Images
Are there any other cast members that you're still close to? 
I still chat with Eddie [Lucas]. We probably talk once every month or two months. Kelley [Johnson] lives here in Fort Lauderdale or close by, and he and I go out fishing every now and again. Sometimes, when he takes the boat that he is running up to Nantucket, I'll go up there, and we'll do some blackfin tuna fishing or some bluefin tuna fishing, get some fresh sashimi on the back deck. I talk to [Chef] Rachel [Hargrove] on occasion, and she's embarked on a new career. She's trying to branch out; she wants to be a standup comic. From the yachting world, there's no lack of material. There really isn't. That's what I would call a target-rich environment.
How did you feel about becoming a reality TV star?
It's one of those things that sneaks up on you. The first year, it was like, "Okay, I've got to do it. No way out of it." The boss says you're doing it, you're doing it. The second year, we had a lot of fun. I think it was the third year I actually had a contract, and I stopped and looked back and I'm like, "I'm committed now. I guess I'm in television." It's subtle, the way it works its way into your life. Before you know it, your life will never be the same again. The toothpaste is out of the tube — go ahead, try and put it back in.
The future of Below Deck
We've all been quite upset to hear that you might not be returning to "Below Deck." Where do you stand with the show?
I'm probably going to take a year off for Season 11. After that, I don't know. I'm going to stand back, take a look at it. First, if they invite me back, and second ... you know how sometimes you think that you want to do something, and then all of a sudden, you realize, "Gosh, things have been okay. [It's] comfortable sitting around by the pool"? Any time somebody calls up and says, "You want to go golfing?" you go, "Sure, why not?" But retirement is totally overrated. You can only go fishing so much. You can only go golfing so much, and I like to stay busy. 
The only thing that I absolutely love doing every day is I go to the gym. It used to grind on me a little bit when I would have to go off filming because I'd have to give up my gym, but usually, they would accommodate me on the boat. It worked out. I'm enjoying life, and I'm feeling great. I've got some other things in the works that I'm not at liberty to say. I know that was your next question. But no, I wouldn't be opposed to going back and heading out to sea again. That wouldn't offend me at all.
Do you have any future plans you can tell us about? Anywhere you're traveling to or anything you're hoping to do?
This summer, I'm going to go over and spend about a week over at Walker's Cay with a friend of mine, and we're going to do some diving in a submarine. We're going to do some diving for treasure hunting. He's got one of these little track airplanes. They're amphibious planes. They're only two-seaters, and they're relatively smaller now. They're for taking out and having fun, basically. We'll be doing some of that. I'm looking forward to my week over there. I'll take [my wife] Mary Anne with me and see how she reacts about a thousand feet down.
On his standout career moments
What are some of the standout moments from your career so far?
There have been a lot. One on a serious side is being able to get Ashton [Pienaar] back on board alive [on "Below Deck" Season 6]. Every time I stop and think of how close he came to dying, that gives me chills. But there've been a lot of fun moments. One of the funniest ones that we did was last year [on Season 10] when we decided to cut [guest] Angel loose on the trampoline and let him float away.
Most captains probably wouldn't have the stones to cut a charter guest loose and let him float away. But everybody else seemed to think it was a good idea too, so it might have been a little peer pressure there from the rest of the guys in the charter group, and it was so funny. We kept waiting for him to wake up, and he wouldn't. Then we had to send a jet ski out there to give him one of those rude water awakenings. That was one of the fun times that we've had over the years — that and kicking Delores off the boat [on Season 8]. I enjoyed that.
Is there anything else you want us to know about Dramamine's Ditch the Drama Sweepstakes?
Enter as often as you can. Please do. There's certain things that you get an opportunity to do in life, and if you're one of the fortunate three that have their name selected for the Ditch the Drama Sweepstakes, that'll be life-changing for you. Enter as often as you can.
Dramamine makes outstanding products, so you can enter as often as you'd like to. If I could, I'd be putting my name in there two, three times a day, if I could tilt the scales a little bit. I'm going to be pulling for somebody big time. Three people are going to have that opportunity. The part that makes it so good is that they don't have to do anything to even get ready — just pick a place. We've got the details handled. You're covered.
Learn more about Dramamine and enter their Ditch the Drama Sweepstakes on their website.
This interview has been edited for clarity.