Kristin Davis' Negative Experience With Facial Fillers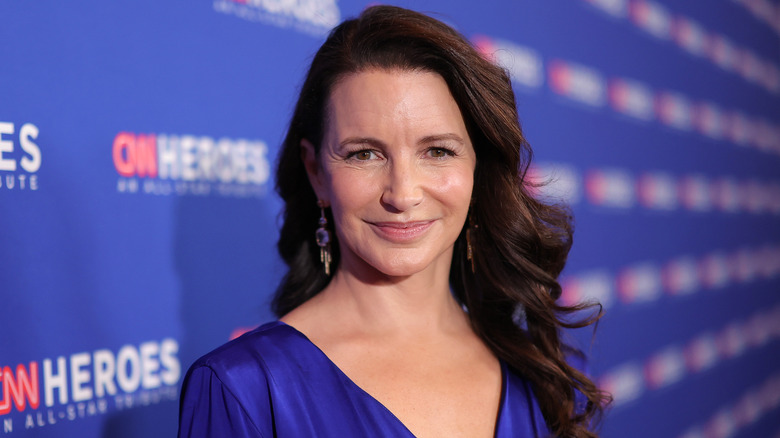 Mike Coppola/Getty Images
The iconic television series "Sex and the City" premiered in 1998, and the four main characters, Carrie Bradshaw, Samantha Jones, Miranda Hobbes, and Charlotte York, were all women in their 30s. More than 20 years later, the show got a reboot with the "And Just Like That" series, which features the girls' lives, sans Samantha this time around.
The characters, as well as the actors that play them, have obviously gotten older as time has passed since the original show premiered. In the reboot, the three friends are in their 50s, still living in NYC, and dealing with new problems and relationships.
Despite the characters looking their age in the show, the Internet has slammed Kristin Davis, who plays the ever-bubbly Charlotte, for messing with her face. While the star always knew how to stand up for herself and had previously shared harsh words for body shamers, she admitted to not handling hate all that well this time around. After the "Sex and the City" spinoff premiered, the online trolls' comments made Davis question her appearance, ultimately leading to her getting her facial fillers dissolved.
The actress cried over the relentless criticism of her appearance
While getting facial fillers in your 20s isn't all that necessary, opting for the cosmetic treatment later on is quite common. Kristin Davis is one of many celebrities and people in general who decided to undergo the injectable procedure to freshen up. However, the actor's experience didn't end in the best way.
In an interview with The Telegraph, Davis shared that she started with a little Botox in her forehead when she was younger and that Botox was the only work she had done for a while. She admits to turning to facial fillers over time and says that she had good and bad experiences with the injectables, but that she ultimately got rid of them. After "And Just Like That" premiered in 2021, social media trolls were relentless in ridiculing Davis' face, and she was well aware of the nasty comments.
"I've had to get them dissolved, and I've been ridiculed [on social media] relentlessly. And I have shed tears about it. It's very stressful," she shared with The Telegraph. After the ordeal, the "Sex and the City" star says she now has a more laid-back approach to cosmetic procedures as she simply "doesn't have the time to keep it up." While Davis was torn apart for getting facial fillers, her co-star Sarah Jessica Parker is getting criticized for allowing her age to show.
Davis' SATC co-star also got body shamed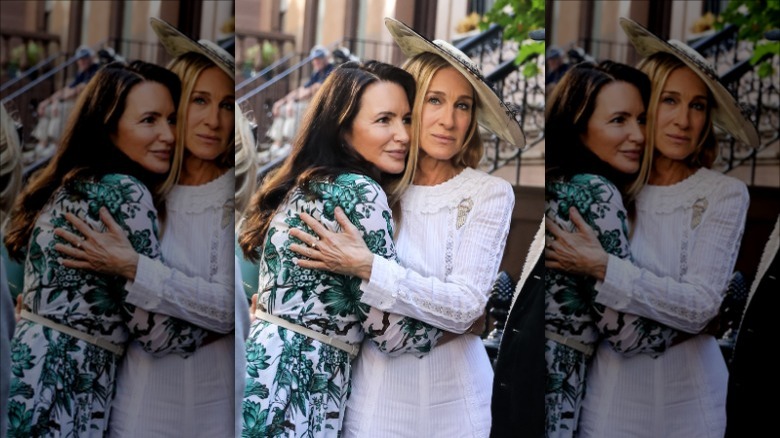 Jose Perez/bauer-griffin
The saying goes, "Women are damned if they do and damned if they don't," and it couldn't be more fitting. Sarah Jessica Parker, the actor who plays the iconically fashionable Carrie Bradshaw, showed a glimpse of her gray hair in the "Sex and the City" reboot, and the Internet went wild. Parker publicly addressed the comments and stood her ground against ageism. "I know what I look like. I have no choice. What am I going to do about it? Stop aging? Disappear?" she said when speaking to Vogue.
While everyone has the right to age in their own way, with or without facial fillers and gray hair, social media offers a big virtual space where everyone can say anything that comes to their mind. Nevertheless, Kristin Davis is not tolerating any form of appearance scrutiny anymore.
When talking about body shaming to Yahoo, Davis said she was initially angry at all the articles tearing her looks apart but that she no longer pays them any attention. "I feel like, 'F*** you. F*** you people, like, come over here and do it better,'" she stated. However a woman chooses to age is solely up to her, and a show like "And Just Like That," which represents mature women and their realistic appearances, should be more celebrated for that than it is.