Royals Who Invited Their Exes To Their Wedding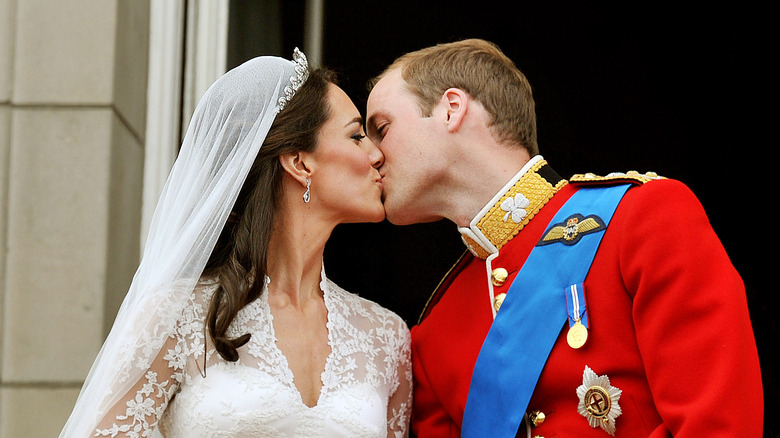 Wpa Pool/Getty Images
It is one thing to stay on polite terms with an ex. It is an entirely different ballgame to invite your ex to your wedding. It may not be for everyone, but as a number of public figures have shown, it is possible to not only be friends with a former significant other, but be happy to celebrate the next chapter in their life. 
Take Valerie Bertinelli, for example. When her first husband, the late Eddie Van Halen, married Janie Liszewski in 2009, the "One Day at a Time" actor was there for the big day. Former power couple Demi Moore and Bruce Willis attended each other's weddings to other people. And, of course, there are some members of the royal family who have invited their exes to their nuptials, suggesting they've stayed relatively friendly with those they previously dated. (We wish we could all say the same.)
While it's certainly not a common practice, we have to admit that it's nice to see some old flames attend royal weddings. It shows mutual respect, and we love it when people can put the past behind them and celebrate a day of love. Join us as we take a look at all the exes that made an appearance at royal weddings so far.
King Charles III invited Queen Camilla to his and Princess Diana's wedding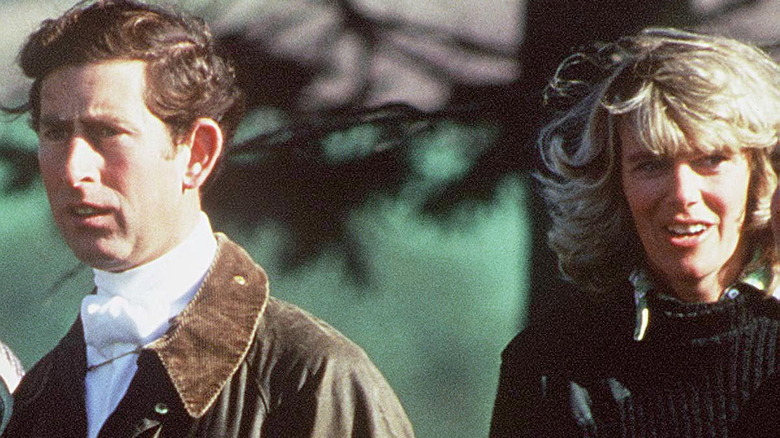 Tim Graham/Getty Images
Everyone knows the story of King Charles III and Camilla, Queen Consort, by now: The two dated before Charles met Princess Diana, and they were madly in love. Unfortunately, Camilla wasn't deemed suitable to marry the heir to the British throne; she had her own relationship history and was dubbed a "party girl" by some, and that simply wouldn't do.
Camilla ended up marrying Andrew Parker Bowles in 1973, and by the time Charles met Diana, his chance to be with Camilla seemed like a thing of the past. His affection for her remained intact, however, and he invited her to his and Diana's wedding — even though Diana already knew at that point that Charles had been madly in love with Camilla. While Charles might have loved having Camilla at the ceremony, Diana decidedly did not. She later told royal biographer Andrew Morton that she looked for Camilla among the crowd as she walked down the aisle. "So walking down the aisle, I spotted Camilla, pale gray, veiled pillbox hat, saw it all, her son Tom standing on a chair. To this day you know — vivid memory," the princess recalled.
One would think that Charles would have forfeited Camilla's invitation because of their history, but Camilla's husband had close ties with the royal family and had a significant role in the wedding procession, so naturally, Camilla was in attendance as well.
Queen Camilla invited her ex-husband to her wedding to King Charles III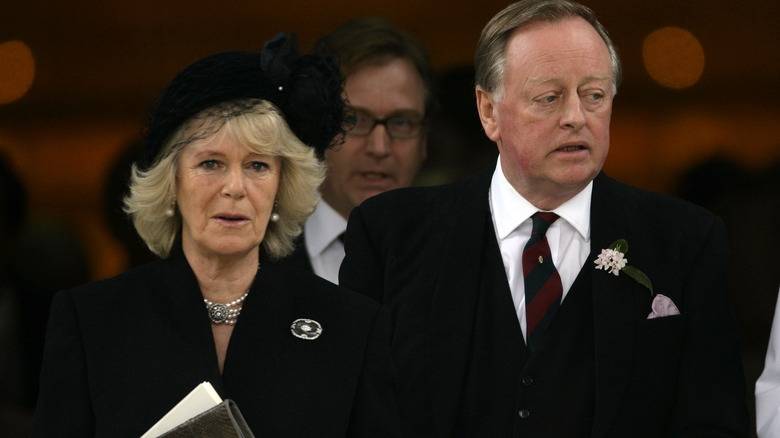 Max Mumby/indigo/Getty Images
When Camilla, Queen Consort, finally married King Charles III in 2005, she followed Charles' example and invited her ex-husband, Andrew Parker Bowles, to the wedding. To be fair, Parker Bowles had already remarried at this point, and the two remained friends after their divorce was finalized in 1995. Parker Bowles also formerly held the position of Commanding Officer of the Household Cavalry Mounted Regiment, which kind of automatically scored him an invitation.
Still, it was kind of strange to see him there. He and Camilla had a complicated relationship while they were married, with Parker Bowles reportedly being unfaithful to Camilla as well. A 2008 documentary titled "Prince Charles' Other Mistress" takes a look at the couple's tumultuous relationship. Royal biographer Christopher Wilson, who granted an interview for the documentary, claimed that Camilla started an affair with Charles before he got married to Diana. According to Penny Junor's book "The Duchess: The Untold Story," Parker Bowles was aware of Camilla's affair with Charles but didn't confront her about it. "Some would say that a part of him actually quite enjoyed the fact that his wife was sleeping with the future King; he might have felt differently had Charles been a traveling salesman," Junor wrote. Per the documentary, Parker Bowles confronting Camilla about the affair might've been a bit dicey since he was also guilty of infidelity. So the affair went on until Charles married Diana, and then picked up again in 1986.
Prince William invited his ex Jecca Craig to his wedding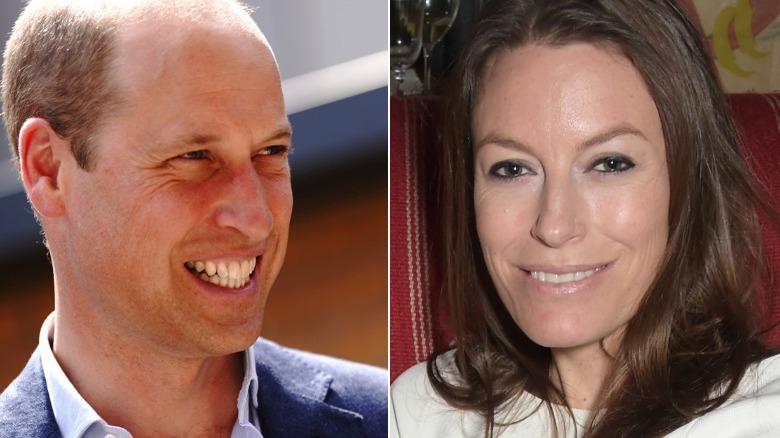 Wpa Pool & David M. Benett/Getty
Jecca Craig not only scored an invite to Prince William and Princess Catherine's wedding, but showed up with bells on. Many believe Craig to be William's first love, and she reportedly caused quite a bit of strife between William and Catherine while they were dating — or so royal biographer Christopher Andersen believes.
In his book "Brothers and Wives: Inside the Private Lives of William, Kate, Harry, and Meghan," Andersen claims Catherine was often upset about all the women the press tied to William. Craig, however, was the main problem, because even though their relationship had ended, William remained very close friends with her. Catherine was likely jealous (as we all would be), and the time William spent with Craig without Catherine present didn't do anything to ease the future princess' worries. William even spent one summer vacation with Craig in Kenya, despite Catherine's reservations. He planned another trip just like it again, but Andersen claims that Catherine had had enough at that point, and Prince Harry told William to consider her feelings in the matter.
William, however, went on to attend several weddings with Craig after that, leaving Catherine stranded at home once again. This was when King Charles III decided to step in and give his son a much-needed talking-to. Andersen claims that Charles cautioned William to take into account the consequences of his actions, and in the end, this talk led to William sticking with Catherine and letting Craig go for good.
Prince William also invited his ex Olivia Hunt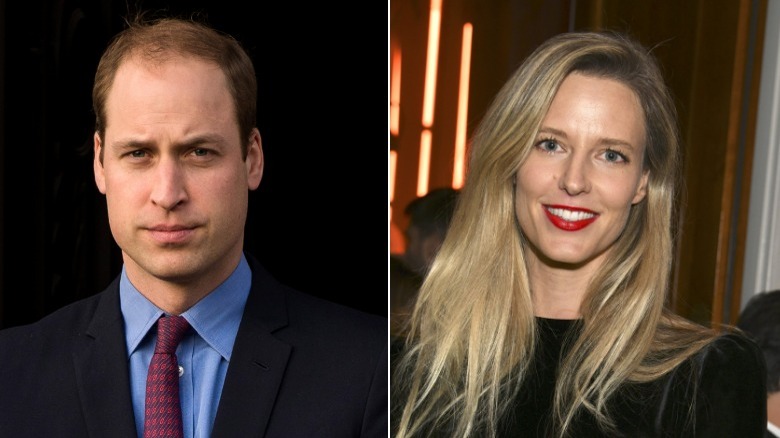 Richard Stonehouse & David M. Benett/Getty
Prince William also invited former girlfriend Olivia Hunt to his wedding. Hunt and William dated for a while before Princess Catherine dazzled William at a St. Andrews fashion show. Catherine famously showed off a sheer dress on the catwalk, and apparently, that was that for Wills. It's not known why he and Hunt broke up, but we can't help but wonder whether that encounter with Catherine had something to do with it.
Those who keep tabs on royal exes will know that Hunt moved on with Nicholas Wilkinson. While he is not a royal, Wilkinson was dubbed the country's hottest barrister by the blog Your Barrister Boyfriend in 2014 —and that isn't anything to sneeze at. 
Catherine and William remained friends with Hunt after they started dating, so it's likely the princess had no reservations about her ex attending the wedding. What's more, when Hunt and Wilkinson got married in 2016, the Prince and Princess of Wales were invited to the nuptials. According to the Daily Mail, Prince Harry went, but his brother and sister-in-law ultimately did not make it to the big day.
Former crush Isabella Calthorpe was present too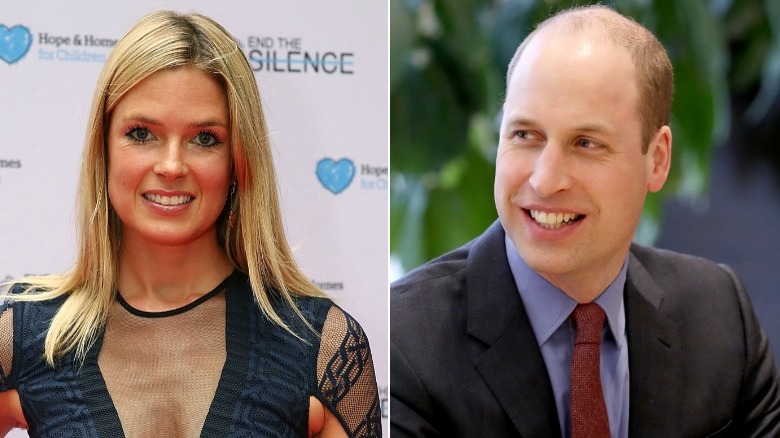 Chris Jackson & David M. Benett/Getty
If some royal experts and insiders are to be believed, Prince William could easily have ended up with Isabelle Calthorpe — that is if she'd actually returned his affections. "[William] had fallen for her in a huge way and wanted to be with her," a royal insider told the Daily Mail. "He propositioned her several times that summer [2004], and although Isabella was single, she knocked William back and said it would be too damaging for her and her career."
Speculation began to bubble up back in 2005 when Princess Catherine reportedly left an event where Calthorpe and William happened to be hanging out. While the timing of Catherine's exit might've been nothing more than a coincidence, some tabloids suspected she'd hit her limit with William and Calthorpe's hobnobbing.
Calthorpe was reportedly also the reason William and Catherine broke up briefly at one point, according to royal expert Katie Nicholl's book "William and Harry: Behind the Palace Walls." "William was madly in love with [Calthorpe] but when he knew there was no chance of them getting together he went back to Kate," a royal insider told the Daily Mail, adding that Catherine welcomed William back but told him to close all communication with Calthorpe. It appears the communication opened back up at some point, as William went on to invite Calthorpe to his wedding. 
William invited two more exes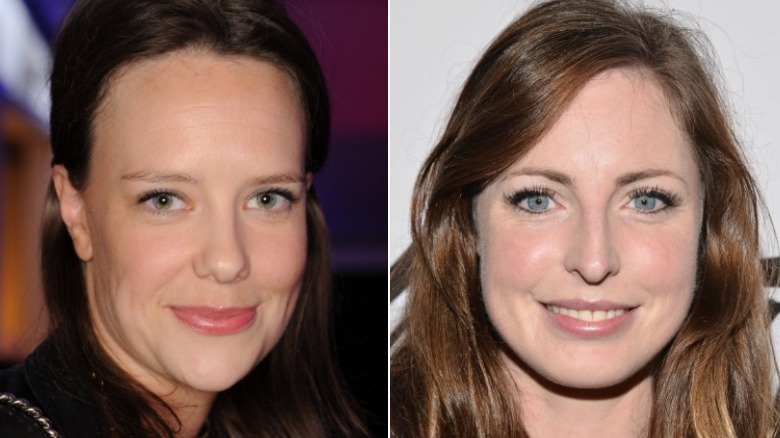 Araya Doheny & Nick Harvey/Getty
Prince William might win the prize for the royal who invited the most exes to his wedding because aside from Jecca Craig, Olivia Hunt, and his crush Isabella Calthorpe, he also invited former flames Arabella Musgrave and Rose Farquhar.
William dated Musgrave in 2001, and the relationship lasted for about a year. Not only that, but Musgrave managed to make quite the impression on King Charles III, who grew quite fond of her. Royal expert Katie Nicholl told the Daily Mail that Musgrave was part of Prince Harry and William's inner circle back in the day, and apparently, William was smitten. After they met at a party, they started what Nicholl calls a "passionate romance." It didn't last long, and now Musgrave is happily married as well.
William's relationship with Farquhar was quite different. It is said that she was William's first official girlfriend, and she even got a mention in royal expert Katie Nicholl's book "The Making of a Royal Romance." Nicholl described William's relationship with Farquhar as an "innocent, tender romance." They are also said to have been childhood friends, so inviting her to his wedding was probably a no-brainer for William. Farquhar returned the favor when she got married 11 years later. All's well that ends well.
Princess Catherine invited her ex-boyfriend Rupert Finch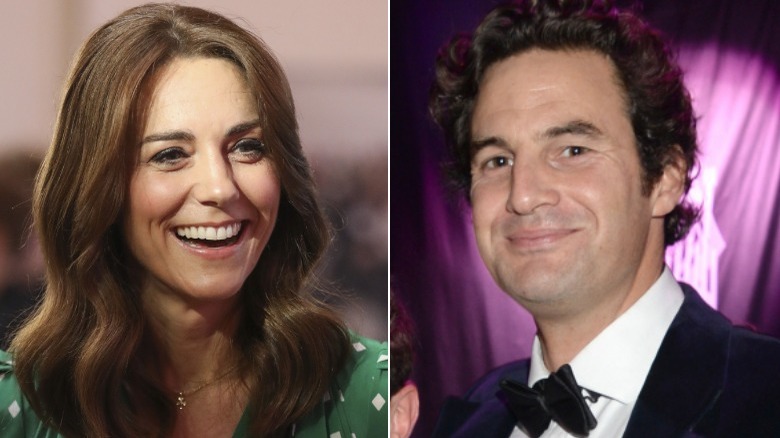 Pool & Handout/Getty & undefined
With Prince William inviting a whole entourage of exes to his wedding, it seems only fair that Princess Catherine decided to add one of her own to the guest list.
Before she started dating William, Catherine was in a relationship with Rupert Finch. An inside source told the Mirror that in addition to being successful and handsome, Finch was said to be "a nice man." The couple dated for a while in 2001, and it appears they were still together when Catherine first met William. "Prince William, he kind of expressed a bit of interest but I think Kate was still playing hard to get. He wasn't terribly sure if she was interested," the source revealed. As we now know, William eventually stole Catherine's heart, and she and Finch parted ways. They remained friends, however, and as a result, he scored an invitation to her wedding. He returned the favor when he tied the knot with Lady Natasha Rufus in 2013.
Harry invited his ex Chelsy Davy to his wedding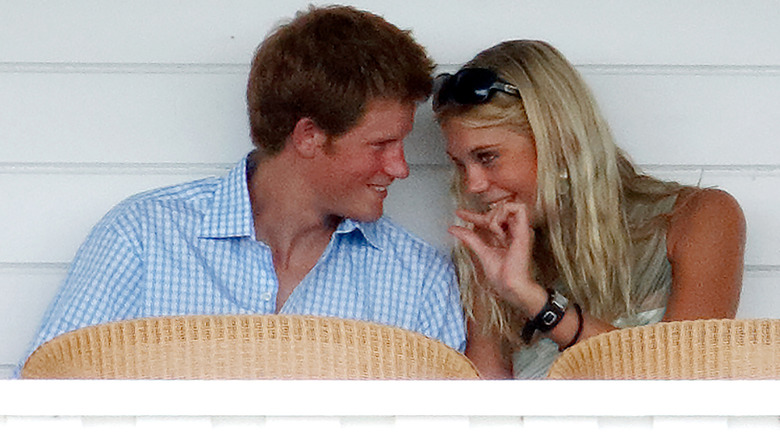 Max Mumby/indigo/Getty Images
Prince Harry and Chelsy Davy were in an on-again, off-again relationship between 2004 and 2010, and they've been on solid terms ever since their split. It was no surprise, then, to see Davy making her way to St. George's Chapel for Harry and Meghan Markle's wedding in 2018.
Harry and Davy remained friendly even after their long-term relationship ended, but it appears Harry has many regrets when it comes to her, specifically the media circus that surrounded their relationship (the man just can't catch a break). Recently, more details about their relationship were revealed, more specifically about why it ended.
Harry is currently smack in the middle of a court case against Mirror Group Newspapers; the prince has claimed that reporters employed by the publisher used illegal methods to obtain information about his private life. He also revealed that he blames them for ruining his relationship with Davy all those years ago, accusing the company of hacking their cell phones and illegally obtaining their voicemails. "We could also never understand how private elements of our life together were finding their way into the tabloids," the prince said in a statement, adding that the pressure became too much for their relationship. "Ultimately, these factors led [Davy] to make the decision that a royal life was not for her, which was incredibly upsetting for me at the time," the prince added. We're glad they stayed friends, though.
Harry's ex Cressida Bonas was also in attendance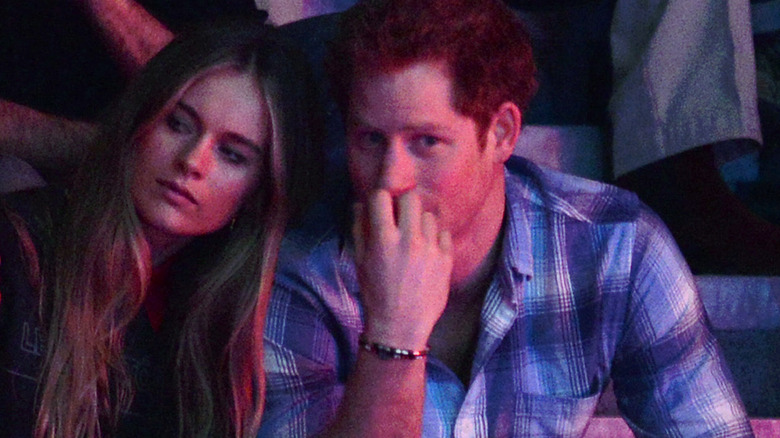 Karwai Tang/Getty Images
Prince Harry's relationship with Cressida Bonas started thanks to Princess Eugenie playing matchmaker. The pair became exclusive in 2012, and they tried to make a long-distance relationship work while Harry was deployed in Afghanistan, but the distance made things hard, as did the public attention. Bonas struggled with life in the spotlight, especially when rumors that she and Harry were engaged started to emerge. In his memoir "Spare," Harry provides an in-depth look at the relationship he shared with Bonas, writing, "There was massive affection, deep and abiding loyalty — but not love everlasting." Their relationship began to fizzle after he returned from Afghanistan. 
In the book, Harry also recounts how he was able to open up to Bonas, recalling one conversation in particular where he cried about his mother for the first time since her funeral. Harry and Bonas clearly had a strong bond, but they ultimately decided they worked better as friends. While the breakup was by no means easy, the two remained close, and Bonas was seen beaming as she attended Harry's wedding in 2018.
Lady Gabriella Windsor's husband invited his ex to their wedding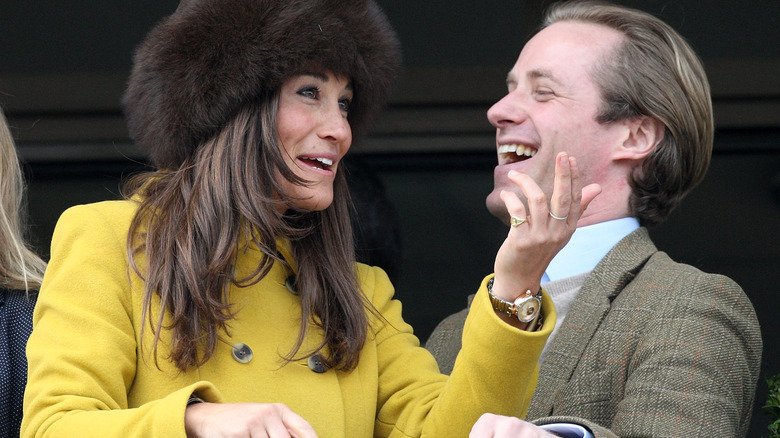 Danny Martindale/Getty Images
While Lady Gabriella Windsor isn't a working royal, her wedding still got plenty of media attention, and so did the fact that her husband, Thomas Kingston, invited his ex to their wedding. Believe it or not, Kingston's ex is none other than Princess Catherine's sister, Pippa Middleton. The royal world is a small one, indeed. 
While Kingston and Middleton never publicly confirmed that they were dating, they were photographed together on a couple of occasions, and they both appeared to be very happy to be in each other's company. They were seen spending time together at the Cheltenham Festival in 2013 and were spotted sharing dinner later that year at a fancy restaurant. If reports are to be believed, the couple didn't date for very long, but they remained friends. So much so that Pippa asked Kingston to attend her wedding in 2017, which he attended with Gabriella on his arm. It makes sense, then, that he returned the favor when he finally tied the knot.