A Look Back At Hugh Hefner's 'Symbolic' Connection To Marilyn Monroe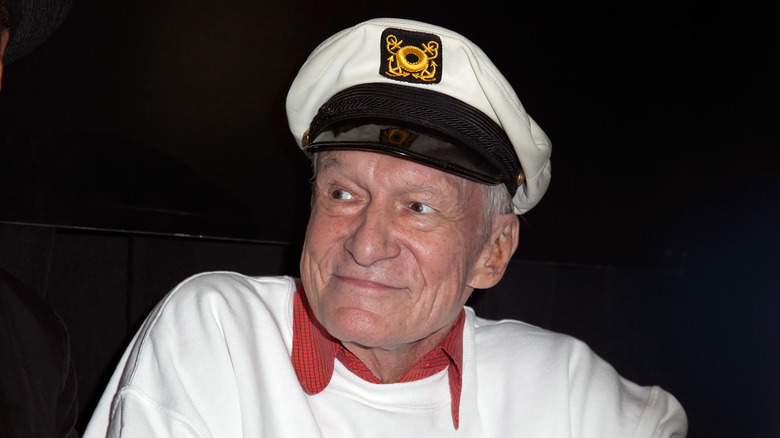 Rodrigo Vaz/Getty Images
Playboy founder Hugh Hefner's insistence on being buried beside Marilyn Monroe in Los Angeles, California's Westwood Village Memorial Park spurred questions of secret love affairs, long-held friendships, or other buzz-worthy secret connections — and understandably so. Why else would someone choose such a specific final resting place? According to the velvet robe-clad playboy himself, the answer is simple: symbolism. 
Monroe was the first cover girl and "Sweetheart of the Month" (what would later become known as "Playmate") of Playboy's 1953 debut issue, and Hefner has a long history of associating closely with the blonde models featured in his publication. However, unlike Hefner's bombshell girlfriends seen in the reality series "The Girls Next Door," Hefner and Monroe's relationship wasn't nearly as intimate. 
But what their connection lacked in intimacy, it made up for in professional and cultural significance. Indeed, Hefner said he always felt a kindred connection to the "Some Like It Hot" actress — a connection he wanted to continue even in the afterlife.
Marilyn Monroe and Hugh Hefner's unique and distant connection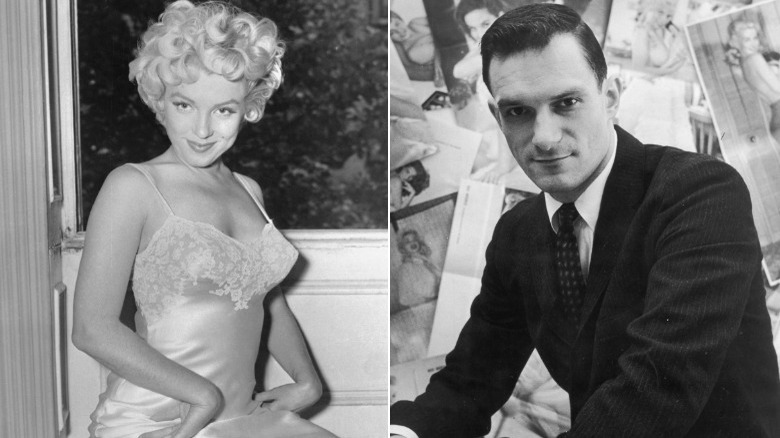 Archive Photos & Bettmann/Getty
In 2016, 50 years after Monroe's shocking, premature death, Hefner shared his thoughts on his and Monroe's unique connection with CBS News. The most obvious connection was her appearance in Hefner's first Playboy issue, but the magazine mogul said he also felt connected to the actress because they were born in the same year, 1926, and because of his propensity for blonde-haired women, calling Monroe "the ultimate blonde."
So, when Hefner got the opportunity to purchase a crypt next to the actress in 1992, he didn't hesitate to drop $75,000 to do so. "I'm a believer in things symbolic," Hefner told the Los Angeles Times. "Spending eternity next to Marilyn is too sweet to pass up." Despite this sense of connection, Hefner and Monroe never actually met in person, having only spoken once over the phone (per CNN).
Hefner explained to CBS News that Monroe's death in 1962 predated his move from Chicago to southern California to build the Playboy empire (and mansion). Moreover, the images of Monroe he used for his magazine weren't originally affiliated with Playboy at all.
From strapped for cash to Sweetheart of the Month
Marilyn Monroe might be regarded as one of the most famous sex symbols of American history, but that wasn't how she thought of herself when she first posed for her now iconic photoshoot. At the time, she was an actress strapped for cash, and the $50 payout from pinup photographer Tom Kelley was too good to pass up, per The Washington Post. 
Kelley sold those photos to the Western Lithograph Company for just under $1,000, and Hefner later bought one of the images for $500. Of course, the value of these photographs skyrocketed to the millions after Monroe became a silver-screen star. As explained in George Barris' book, "Marilyn: Her Life in Her Own Words," she was never given any additional compensation or thank-yous for the photos' success apart from her initial $50 paycheck, but she did recognize the role the publicity from Playboy played in her rapid ascent to fame. 
Perhaps Hefner's choice to be laid to rest alongside Monroe in 2017, 55 years after his death, was his way of thanking her posthumously. The publisher told CBS News that, if given the chance to speak to her, "I would have told her how much she meant to me and still does." Though he never got that opportunity, spending eternity together will have to suffice.