5 Tips To Make Your Pedicure Last Longer During Sandal Season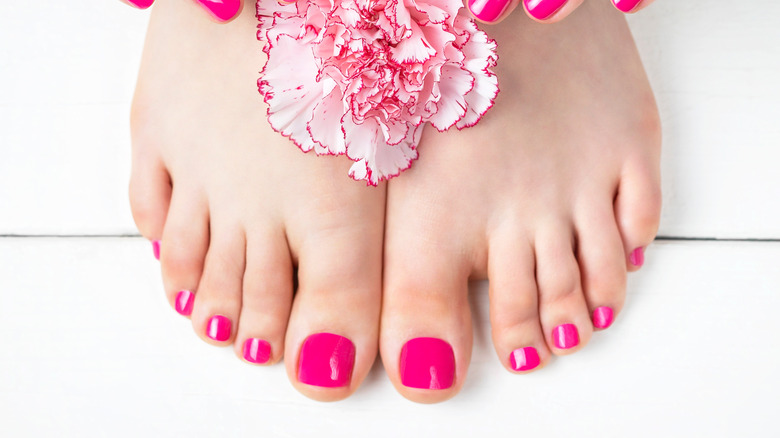 TanyaKim/Shutterstock
The warm weather has finally come out of hibernation, and so have your sandals. Your feet are ready to break free from the binding days of shoes and live their best life. However, when you look down, you see your toes are in desperate need of some love and color.
For many, a pedicure isn't as essential as a manicure, since people aren't going to be looking at your feet all day. But you'll still want them to look cute in those new strappy white sandals you've been saving for summer. Most of the time, a pedicure can last about two weeks. But you'll get a little more time for your money if you take a few precautions (and if your nails happen to grow a little on the slower side).
Learn the tricks of the trade to get your pedicure to last three or more weeks. Find out how socks (and moisturizer!) are going to be your toe's new besties.
Pamper your feet for the first day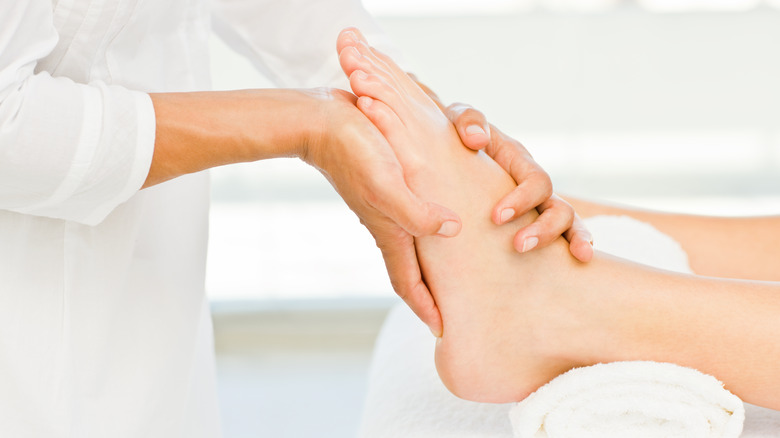 Neustockimages/Getty Images
You leave the salon with your perfect pedicure and aren't too worried about messing it up since the polish is cured. However, the first 24 hours are crucial for your pedicure, according to Namaste Nail Sanctuary. Treating your feet with love and care allows the polish to finish curing to the nail and make sure that your pedicure looks fabulous for weeks to come.
The polish is fragile for the first 12 to 24 hours, so you want to get your pedicure on a day you don't have a lot to do on your feet. In addition to sitting back and relaxing, wear flip-flops or sandals home from the salon. Ensure your cuticle and skin around your nail are in tip-top shape by opting for additional services, like dry skin removal and cuticle care, when you're getting your toes polished and buffed. It's also essential to steer clear of water and heat those first 24 hours.
Care of your feet on the first day sets the precedence for the rest of your pedicure — and ensures you have the best starting point to get at least three weeks out of your pedi. And it's not just your hair you want to protect from chlorine. Your pedicure needs protecting, too, if you want it to last. 
Keep away from chlorine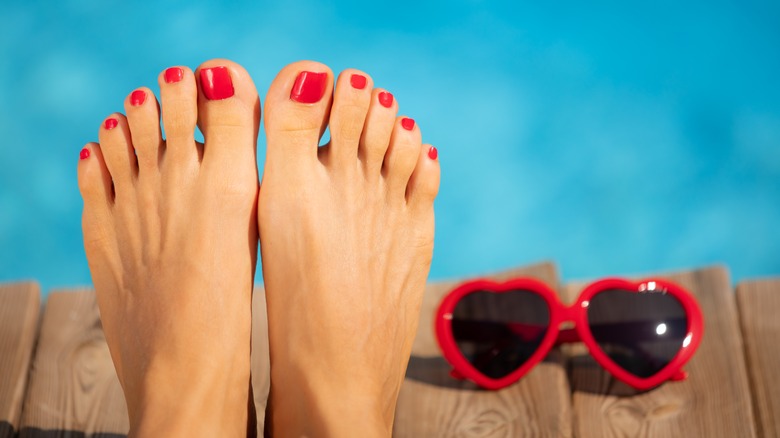 Sunny studio/Shutterstock
One of the best things about a pedicure is showing off your toes by the pool — and an occasional dip in a pool or sauna isn't going to cause any issues with polish. However, you might want to avoid the pool for the first few days. 
Chlorine is used to disinfect water and has some harsh chemicals for your nail polish. These chemicals can cause the polish to crack or dull if you enjoy a dip within the first 24 hours, according to Secret Spa. It can also limit the life of your pedicure if you spend a lot of time sitting in the water, since it might break down the bonds of the polish on the nail. Beyond just the chlorine enemy, most pool bottoms are made of hard materials, like concrete. The constant getting in and out of the pool and playing around in the water can cause you to chip your polish when your toes make contact.
If you can't fathom not spending your days by the water, opt for a day at the lake rather than a prolonged day in the pool. You might also want to just lounge poolside, soaking up those rays and reading a book rather than getting waterlogged. And if you choose to jump in for a quick dip, rinse off your feet as soon as possible. 
Slather your feet in moisturizer and oils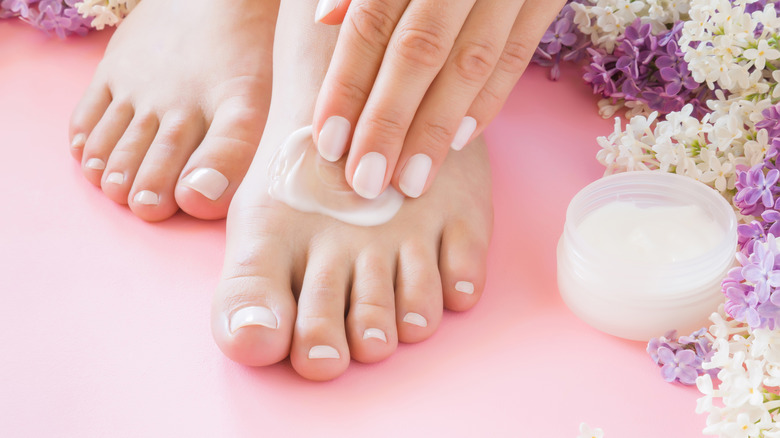 Fotoduets/Getty Images
Moisture is the name of the game when it comes to making your pedicure last for weeks and look fabulous while doing it. Lotions and oils ensure that the skin on your feet stays supple and soft, so you don't have to worry about dry, cracked skin marring up your pedi. It's also important to make sure to have cuticle oils on hand and apply them a few times a day. A soft nail bed is going to give your polish the most for your money. 
Since moisture is a must, consider adding lotion to your feet at least once a day, avoiding it in between the toes. Podiatrist Dr. Alan Bass also told Stylecaster, "Moisturizing your feet prevents cracks from forming and causing infections." Additionally, you'll want to lotion up any time your feet are exposed to harsh chemicals, like a quick dip in the pool. Make sure your feet are dry and all the lotion absorbed before adding any socks or shoes.
When choosing the right lotion to extend the life of your pedi, grab a fragrance-free and chemical-free lotion like Aveeno. Remember, chemicals are the enemy, even those chemicals that smell up your favorite lavender lotion. In addition to lotioning up, wear sneakers that are comfortable and fit your feet well to avoid your toes getting squished (via WebMD). You'll also want to invest in some socks.
Cover up to keep the elements at bay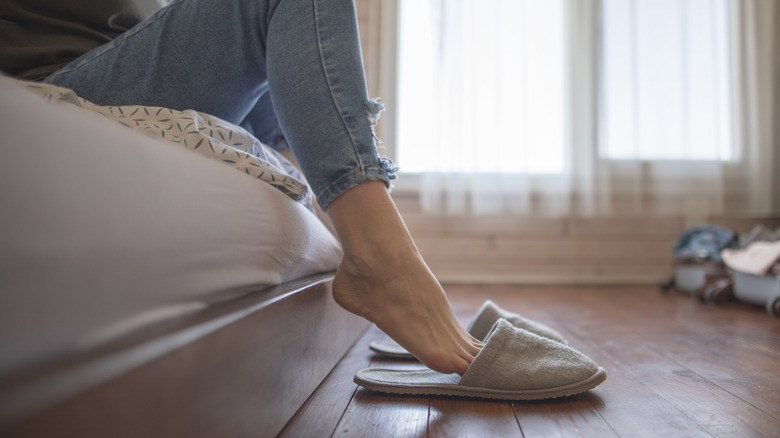 Freemixer/Getty Images
You've got everything you need to leave the salon and get every last minute out of your pedicure. Your sandals are ready, and nothing is on your schedule for the next day or so. It's just time to chill and relax while you let that polish cure. But did you think about grabbing a pair of your softest socks or slippers?
A pedicure makes your feet look cute, so you pop on your sandals when you need to head out of the house. However, if you're just staying in, throw on your comfiest pair of slippers or socks. Sun and friction can take a beating on a pedicure, but so can just moving around your house. Rather than going barefoot and bumping your toes against a wall or chair, allow your slippers or socks to absorb that potential polish-marking bash. Let's face it; most people don't even realize how much they bash their feet just doing the dishes or making dinner until they're trying to save their pedicure. 
It's also a good idea to wear your socks and shoes to somewhere you know might be dangerous on your feet (like the grocery store). In addition to avoiding walls that chip toes, invest in some topcoat polish. 
Give your topcoat a refresh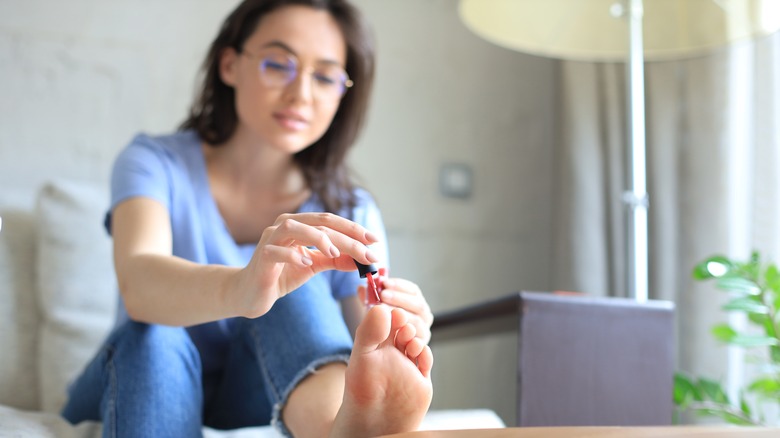 tsyhun/Shutterstock
Nail salons want you to get the most out of your polish, so they provide an extra layer of security by adding a topcoat. In addition to taking the shine-meter to 11, it protects the polish from chips and cracks in those first few days. But it wears off relatively quickly — especially when your polish is exposed to the sun, water, and daily life.
When it comes to getting the most out of your pedicure, invest in your own bottle of topcoat to have on hand. You can add a new layer of protection for your perfectly painted tootsies every few days to keep them shiny. Having that extra layer over your polish also keeps scuffs and scratches at bay when you (inevitably) forget to throw on your socks and trip over your kiddo's toy. It can also be beneficial to ask your nail artist the color to have it on hand, because you never know when a Lego will jump out of nowhere.
Pedicures are lovely for your feet, but not everyone has the money to refresh them every few weeks. Try a few tips like applying a top coat, steering clear of chlorine, and wearing socks to lounge in to make sure your pedicure lasts as long as it can.