What We Know About Hallmark Star Jessy Schram's Wondrous Wedding Day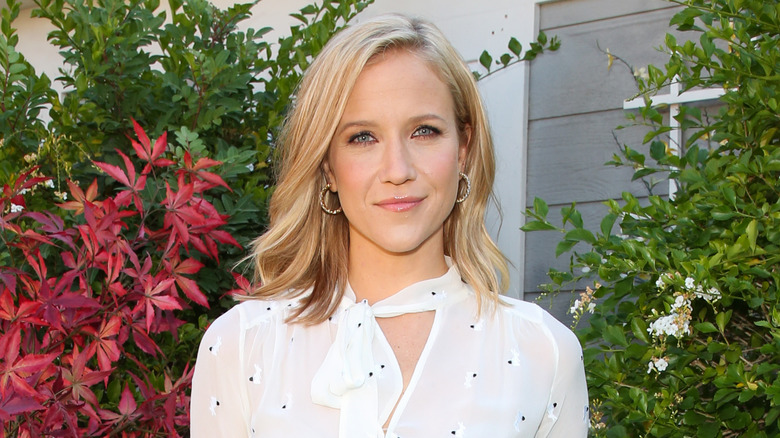 Paul Archuleta/Getty Images
Jessy Schram has been performing nearly all her life, but she took on an entirely new role on June 18 when she wed her longtime boyfriend, Sterling Taylor. The actor has shown her impressive range in projects as diverse as "Mad Men" and "Veronica Mars," alongside the short-lived remake of "Fantasy Island." But she's best known for playing Dr. Hannah Asher on "Chicago Med." The show has allowed Schram to flex her acting chops as the character battled a substance abuse problem that threatened her relationship with her boyfriend.
Balancing her dramatic roles with lighter fare, Schram entered the Hallmarkverse in 2005 with her recurring role as Susan Davis in the "Jane Doe" mystery series also starring Lea Thompson. The network promoted her to the holiday lineup a decade later, with Schram taking on romantic leads in movies such as "Royal New Year's Eve," "Road to Christmas," "A Nashville Christmas Carol," and "Time for Them to Come Home for Christmas." Meanwhile, her personal love life was heating up behind the scenes. 
Theirs was no whirlwind rom-com relationship, however. As far back as July 2018, Taylor, a professional photographer, posted shots of Schram in Utah, noting, "Trips aren't the same without this one by my side." Just before Christmas 2021, Schram posted a photo to her own Instagram account, showing off her ring-enhanced left hand framed against a backdrop of the Aurora Borealis. For a love story like this, a traditional wedding venue wouldn't do; fortunately, Schram and Taylor found the perfect location.
Jessy Schram's wedding was pure Hallmark magic
In an interview with People, Jessy Schram explained how she and her fiancé, Sterling Taylor, wanted to tie the knot in her hometown of Chicago. While scouting locations, they came across an antiques store located inside a massive warehouse: "[A]s we walked around we felt the fun and the energy that it brought. It was quirky and different and still romantic." The location would have been perfect for a Hallmark holiday movie featuring a couple tasked with renovating the space in time for a Christmas wedding. 
Naturally, the weather would have cooperated since a Hallmark Christmas movie must always include snow. Mutual friend Oded Fehr ("The Mummy") performed the ceremony in front of 113 family and friends. The actor wore a stunning, form-fitting, sleeveless Dana Harel gown, featuring a low-cut neckline, embroidered flower detailing, and a sweeping train. "When I tried it on, I felt like the most beautiful version of myself. I felt like a bride and there was only this dress," Schram gushed. 
For the reception, she changed into a shorter fringed dress with a flapper vibe. Sharing her joy on Instagram the next day, Schram summed up: "Still on cloud 9, taking in every single moment of the joy explosion that was this weekend. I got to marry the man of my dreams while being surrounded by the most loving, supportive and epically fun family and friends." A-list well-wishers included Ginnifer Goodwin, Autumn Reeser, and Charisma Carpenter.