Julia Louis-Dreyfus' First Brush With Comedy Landed Her A Trip To The ER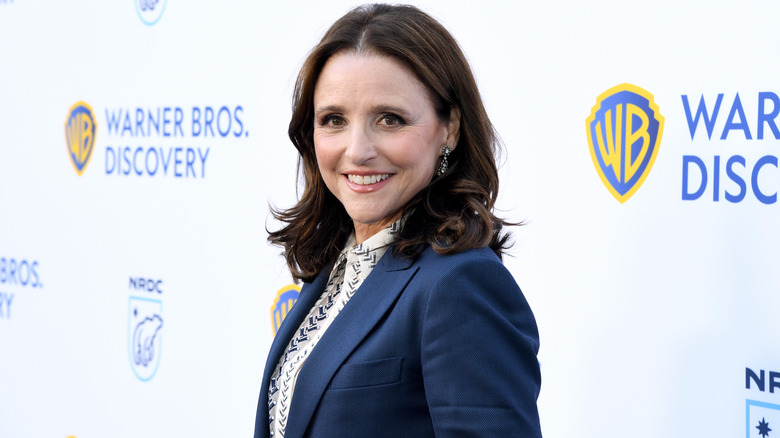 Jon Kopaloff/Getty Images
Julia Louis-Dreyfus has accumulated quite a catalog of memorable comedic roles over the years. From her most iconic portrayal as Elaine Benes in the '90s sitcom "Seinfeld" to her leading role in HBO's political comedy "Veep," the actor is no stranger to comedy.
In fact, the star has been honored for her comedic contributions in many ways, making history as the most-awarded Emmy recipient in 2021. She was even awarded the 21st annual Mark Twain Prize for American Humor in 2018, placing her among comedians such as Richard Pryor and Lily Tomlin.
With Louis-Dreyfus' long-running professional history of making audiences laugh, it will come as no surprise that her connection to comedy runs all the way back to her early childhood. In an interview with NPR, the "New Adventures with Old Christine" star reminisced about her earliest memory scoring a laugh. Unexpectedly, the encounter resulted in a trip to the ER.
Louis-Dreyfus' remembers getting her first laugh as a 3-year-old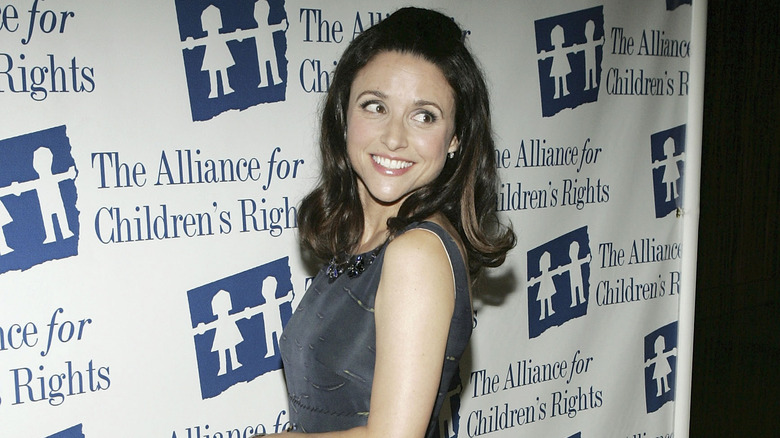 Vince Bucci/Getty Images
When talking with NPR about her 2023 dramedy "You Hurt My Feelings," Julia Louis-Dreyfus was asked if she could recall the first time she realized she could make those around her laugh. While the memory stretches back to when she was only 3 years old, it also ended with a trip to the emergency room.
"Yeah. I mean, when I was about 3 years old, I stuck some raisins up my nose and showed my mom. And I think she chuckled, and I got a good laugh," she explained. "And then I inhaled them, and we went to the emergency room . . . and I had them extracted. I remember the emergency room part particularly well."
Many of us can likely relate to impromptu doctor visits at a young age resulting from sticking foreign objects into our noses or ears, but for most of us, it doesn't lead to a prolific career in comedy. Even so, those around her didn't necessarily see her epic success coming.
Her father didn't realize she was going to be a star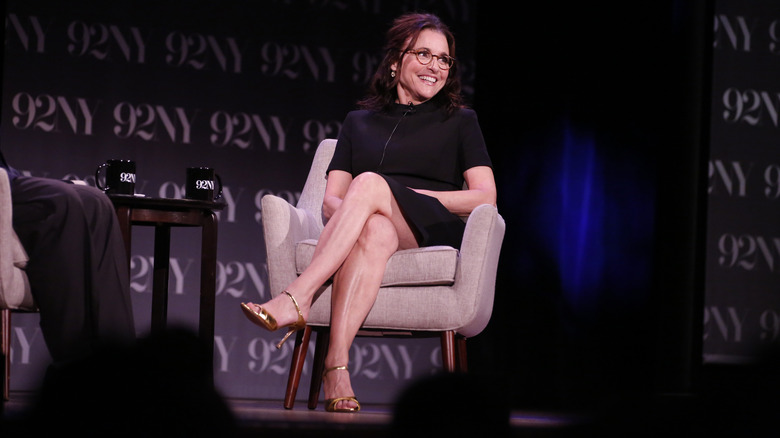 Rob Kim/Getty Images
We've all heard stories about managers, producers, or parents recognizing the potential star power in pre-famous celebs, but that wasn't the case for Julia Louis Dreyfus' father. Apparently, the art collector wasn't always convinced of his daughter's success.
In a Today interview that William Louis-Dreyfus gave with his daughter to promote the 2015 documentary "Generosity of Eye," the billionaire spoke about his early perspective of his daughter. William explained, "I couldn't tell she was going to be a star . . . I knew how natural she was and how much she liked life and fun. She was always very funny and fun to be with."
So, even though Julia was scoring emergency room-level laughs from a young age, her eventual comedic accomplishments weren't always obvious to her father. While we can't fathom anyone overlooking the "Seinfeld" star's talent, hindsight is admittedly twenty-twenty. Nonetheless, we're just happy to see all the success those little raisins eventually led to.