Get To Know General Hospital Star, Kirsten Storms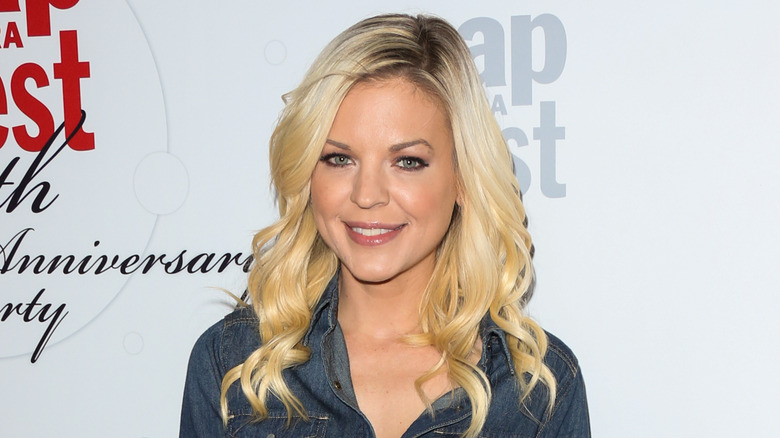 Paul Archuleta/Getty Images
Actor Kirsten Storms has played Maxie Jones on "General Hospital" since 2005, acting in over 1,500 episodes of the soap opera. Before that, she played Belle Black on "Days of Our Lives" for over 700 episodes. Her career did not start with the world of soaps, however. Some people may recognize Storms from her role as Zenon Kar from the Disney Channel Original Movie "Zenon: Girl of the 21st Century." The movie, which came out in 1999, takes place in the year 2049 and follows Zenon, a teenage girl whose parents send her away from their space station home to instead live on Earth with her aunt. Storms reprised her role as Zenon in two sequels.
Storms' other Disney Channel credits include the role of Emily in "Johnny Tsunami," the voice of Bonnie in the animated "Kim Possible," and a one-episode guest-starring role on "That's So Raven." After these Disney roles, her acting career has largely been with soap operas.
Storms is an award-winning actress, but likes a low-key hobby in her free time
Playing the role of Belle on "Days of Our Lives" earned Kirsten Storms some award nominations and wins. She won "Outstanding Child Actor" at the Soap Opera Digest Awards in 2001 and "Best Performance in a TV Drama Series — Leading Young Actress" at the Young Artist Awards in 2002. Her portrayal of Maxie Jones on "General Hospital" has earned her nominations at the Daytime Emmys and the Soap Hub Awards.
Maxie, like all soap opera characters, has had an exciting life full of many ups and downs, missteps and triumphs. Out of all the things Maxie has experienced, Storms revealed her favorite "General Hospital" storyline was Maxie grieving the death of her husband Nathan West, who was played by Hallmark star Ryan Paevey.
When she's not playing Maxie, one thing Storms likes to do in her free time is knit and crochet. She took to Instagram in February 2023 to share a cardigan that she knitted for her daughter Harper. She often posts pictures of ongoing projects on social media and shares the hobby with her close friend and former "GH" costar Emme Rylan (Lulu Falconeri). The two also enjoy hosting "knit-alongs" with fans online.
Major health issues interfered with Storms' General Hospital run
Kirsten Storms has taken breaks from "General Hospital" for various reasons. For example, she took a year off from the show in 2011 because of endometriosis. Actor Jen Lilley played the role of Maxie Jones in the interim. When so-called fans of "General Hospital" took to the internet to complain about Lilley, Storms spoke out against it, saying, "I won't claim any of those people who said negative things toward her, fans of mine. I don't approve of that" (via Michael Fairman TV).
Storms also stepped away from the show for maternity leave after the birth of her daughter — whom she shares with fellow soap star Brandon Barash — and for issues related to mental health. During her break in 2016, Molly Burnett took over for Storms. In 2021, Storms temporarily left Maxie behind again to recover from brain surgery. Instead of being recast this time, Storms' temporary exit was written into the show as Maxie headed to Texas for a while.
On an Instagram story, Storms was open about what she was going through, candidly explaining that she had a cyst in her brain removed but that it was not cancerous, per Soap Opera Network. In a later post, she talked more about the cyst and expressed gratitude to her "family, friends, and incredible 'work family' who have been supportive, kind and loving during a time when I've been feeling a lot of emotions. ... I'm excited to get back to [work] after my recovery."