Chelsea Clinton's Chat About Activism With Kim Kardashian Defied Her Expectations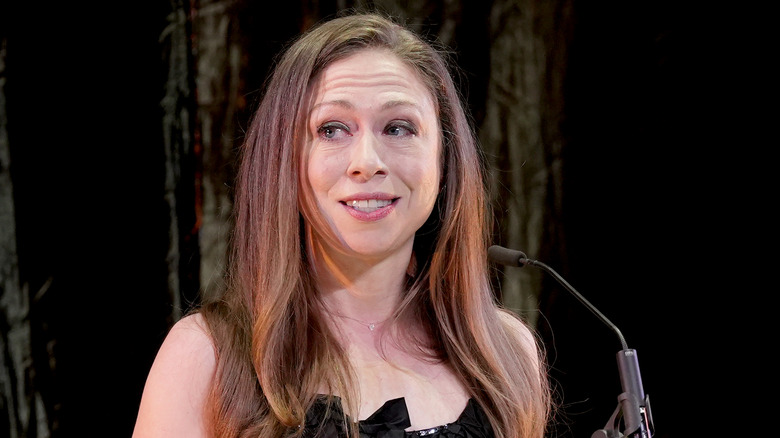 Ilya S. Savenok/Getty Images
Inspired by their 2019 novel, "The Book of Gutsy Women: Favorite Stories of Courage and Resilience," Hillary Clinton and Chelsea Clinton's documentary series, "Gutsy," premiered on Apple TV on September 9, 2022. The eight-part show features several conversations with powerful women, including Megan Thee Stallion, Wanda Sykes, and the reality queen herself, Kim Kardashian. During Kim's episode, the SKIMS founder opened up about becoming a lawyer and spoke about her passion for criminal justice reform — and she also beat Hillary in a legal quiz. 
In August 2022, Chelsea shared with Entertainment Weekly that she was particularly taken by Kim. In fact, she had such a positive experience with the beauty mogul that she now doesn't listen to Kanye West's (Kim's ex-husband's) music anymore. Chelsea called the way he's treated Kim and how he's talked about women in the past "unconscionable." During her chat with the "Kardashians" star, the author and public health advocate admired Kim's genuine dedication to the cause and her willingness to be truthful about her journey.
Kim Kardashian impressed Chelsea Clinton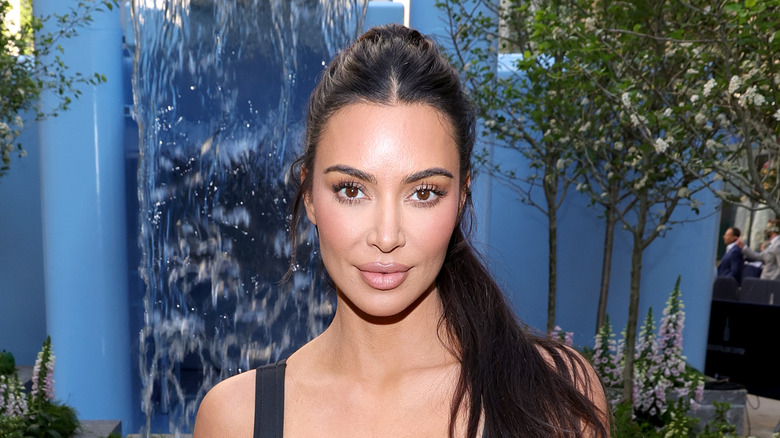 Kevin Mazur/Getty Images
Chelsea Clinton told Entertainment Weekly that she has "long admired Kim [Kardashian]'s commitment to criminal justice reform." The "Gutsy" host added that she knew Kardashian had gone to law school and committed herself to these issues. However, Clinton explained that it was impressive to hear Kim talk about how "this is such a significant part of her identity, how she thinks about her role as a celebrity, how thoughtful she is about where her celebrity can help and where it may be harmful."
Clinton also appreciated Kardashian's raw honesty in the episode and praised the reality star for admitting that she didn't always know what "DOJ" (Department of Justice) stood for. "I think she shared that anecdote because she wants other people to think, 'Okay, I may not know what all the acronyms are, but if I think something is wrong, I can learn more and then be a more effective advocate,'" Clinton mused. She added, "You don't have to know everything at the beginning of your journey as an activist; by definition, you won't." The author also pointed out that she was moved by how important this kind of work is to Kardashian's sense of identity.
Kim Kardashian's activism journey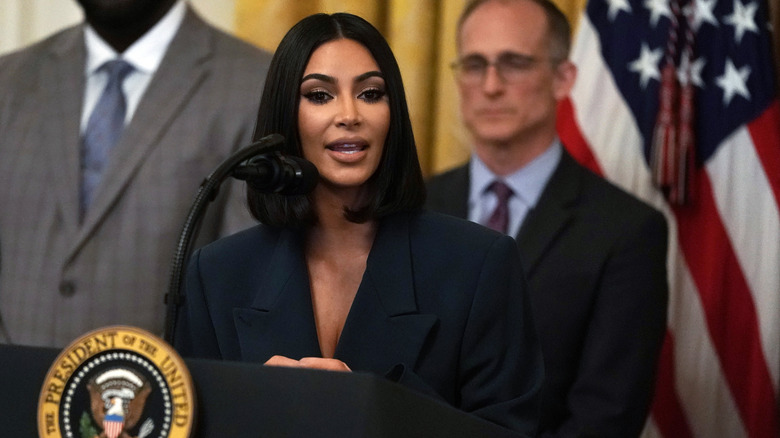 Alex Wong/Getty Images
According to Us Weekly, Kim Kardashian passed the "baby bar" (the First-Year Law Students' Examination) on her fourth try in December 2021. A few months later, she told Vogue Hong Kong, "I'm very passionate about Criminal Justice Reform, and I want to advocate for those who I feel they were wrongfully convicted. I dream of one day creating a successful law firm." The reality icon revealed at the April 2023 Time100 Summit that she plans to take the official bar exam in February 2025.
Kardashian has accomplished quite a lot even before passing the bar. In May 2019, she met with President Trump at the White House to advocate for Alice Johnson, a woman serving a life sentence for a nonviolent drug offense, per People. After her visit, the former President commuted Johnson's sentence. That same month, Kardashian also helped release another low-level drug offender named Jeffrey. She then visited the White House in June 2019 to discuss working with Lyft to give freed prisoners rides to job interviews. And in March 2020, Kardashian returned to the White House again after President Trump granted clemency to three women chosen by Johnson. 
Despite her already-packed legal resume, Kardashian's just getting started.