These HGTV Stars Are Friends Off Screen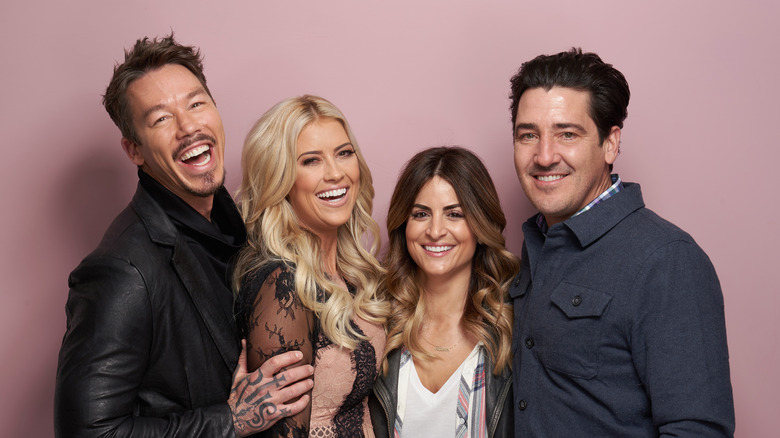 Corey Nickols/Getty Images
When we watch our favorite HGTV shows, it seems as if everyone gets along well, like one big happy family. And we're not just talking about the ones who are already a married couple or who are related (we assume they're friends behind the scenes). We're talking about the stars who work together on the same show or who appear on different shows. Many of the network's personalities have gotten to know one another from working together on various crossover events and competition series, from "Rock the Block" to "Hometown Takeover."
HGTV fan-favorite host David Bromstad, who's hosted "My Lottery Dream Home" since 2015, sheds some light on the network's friendly feel and close friendships that have developed. "The people at HGTV, from the talent all the way down to the secretaries, are amazing people," he shared with PopSugar. "They feel like they know you; I feel like I know them."
We're here to let you know which HGTV co-stars are friends off screen and which stars across series hang out without the cameras present.
Hilary Farr and David Visentin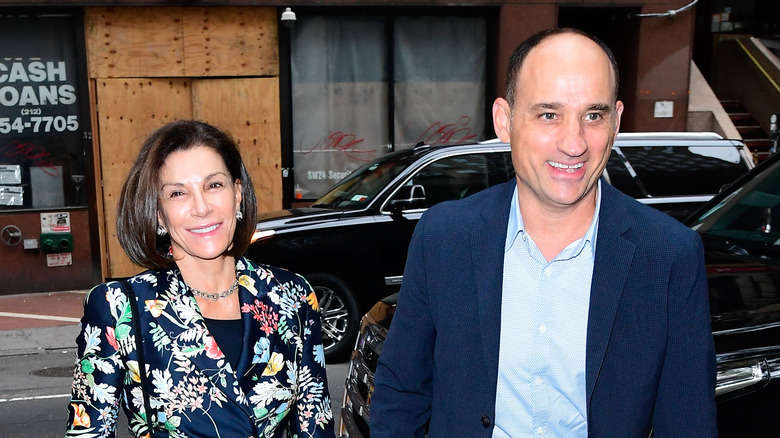 Raymond Hall/Getty Images
Sure, we love to see the dramatic home transformations at the end of "Love It or List It" and the beautiful properties toured, but what really has drawn viewers to the show all these years is the banter and undeniable on-screen chemistry between hosts Hilary Farr and David Visentin. Even the commentary they provide when driving to each location can be truly hilarious.
Despite their on-screen, good-natured bickering, the two have become close friends over the years after first meeting at their audition for the show and ultimately being paired up together as co-stars. "David makes me laugh and is terrific to work with," Farr said during an interview with TV Insider. We've become close friends and colleagues, so it turned out to be the perfect match." In another interview with the Star Tribune, Farr elaborated on their friendship, saying, "We are good friends. But sometimes it's like having a brother around — he's annoying but you make each other laugh."
It turns out that Visentin feels the same way about his longtime co-star and collaborator. "I have to give credit to Hilary. The banter we enjoy is because of what we are able to create together," he told AZCentral.
Chip and Joanna Gaines and Ben and Erin Napier
Oftentimes, the stars from different HGTV series become close after meeting through the network. Ben and Erin Napier of "Home Town" and Chip and Joanna Gaines of "Fixer Upper" are one example. Both couples had hung out together even before "Home Town" premiered on HGTV in 2015, as the foursome posed for a pic together in November 2015 that was posted to Instagram.
According to Erin, she and Ben have learned a lot from the Gaineses. "Chip and Joanna have been absolutely lovely mentors to us," Erin told Fox News in April 2017. "We're in this really weird adventure, this same crazy journey ... We're all doing our different thing ... but it's not something like we can call our parents and ask for advice ... because they've never been there."
They've also bonded over their shared interests. "We care about home and we care about, you know, showing people in America that...home is the most special place in the world, wherever that home is for you," Erin told the outlet. Both couples are also fans of the University of Mississippi football team. And, in a 2021 Instagram Story, Erin shared a sweet note that Joanna and Chip sent their way after their daughter, Helen, broke two bones from a playground accident. "Dear Helen, we hope you get to feeling better soon," the note read (via Closer Weekly). "We wanted to send you a few things we hope cheer you up."
Tarek El Moussa and Ant Anstead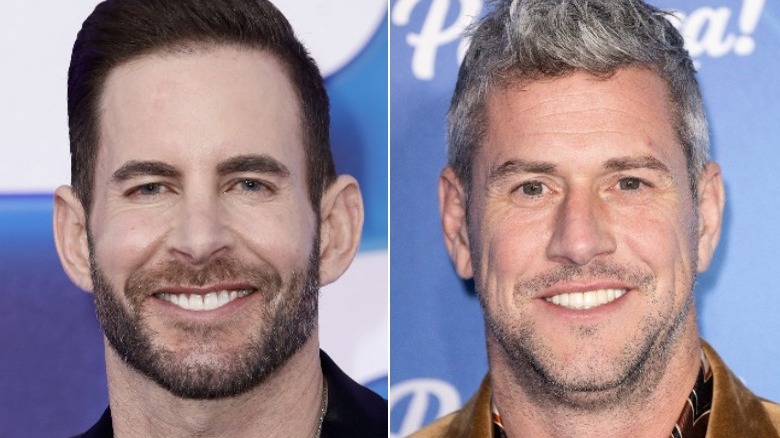 Frazer Harrison & Jeff Spicer/Getty
Despite having both appeared on HGTV, Tarek El Moussa and Ant Anstead have a rather unique way they got to know each other. El Moussa, who's starred in "Flip or Flop," "Flipping 101," and "The Flipping El Moussas," and Anstead, who appeared on "Christina on the Coast," were both once married to fellow HGTV star Christina Hall, who's now happily married to Josh Hall.
While the two men were cordial to one another during Anstead's marriage to Christina, it was once they both were no longer with her that they formed a unique bond. Though the two often see each other at family events — Anstead's son, Hudson, whom he shares with Christina, is the half-brother of El Moussa's daughter, Taylor, and son, Brayden, whom he also shares with Christina — sources told Us Weekly in April 2021 that the two men get together outside of family events. "Tarek and Ant have a great modern day family dynamic," the inside source said, adding that they both "share similar interests and enjoy hanging out."
Additionally, the source said that the two even went car racing together and were joined by their partners and other friends in the spring of 2021. We love to see it.
Scott McGillivray and Debra Salmoni
On HGTV's "Vacation House Rules," it's clear that its Canadian co-stars Scott McGillivray, a real estate investor and house flipper who's starred on HGTV series in Canada and the U.S. since 2008, and Debra Salmoni, his on-screen designer partner, get along great both on set and off. As Salmoni made clear in July 2022 Instagram Stories Q&A (via Heavy), she touched on just how long she and McGillivray had known each other: "Three years but feels like a decade at least." In a separate chat with Seneca Polytechnic News, the designer noted that she made her reality TV debut on "Vacation House Rules." They literally found me on Instagram, interviewed me, and hired me, and I was shooting in a week. It was the quickest turnaround they'd ever seen," she said.
Salmoni credits McGillivray for showing her the ropes and making her feel comfortable. "Scott is wonderful, and we connected immediately," she told the outlet. "My energy level matches his, and that's really important. He really took me under his wing and guided me. We don't take ourselves too seriously. It's a light-hearted show."
On Instagram, the two are often seen in photos goofing off on set. In one post, Salmoni wrote, "Nothing like hanging with your pal, and having a few laughs. Over the last few years, me and this guy make TV together, but more importantly, have become great friends."
Keith Bynum, Evan Thomas, and Shea Hicks-Whitfield
Keith Bynum and Evan Thomas of HGTV's "Bargain Block" are business and life partners, so obviously they make a great team on screen and off; however, they've both become close with their realtor partner and co-star Shea Hicks-Whitfield whom they teamed up with upon moving to Detroit to start their flipping business and film their HGTV show. The realtor told HGTV that the three truly work together wonderfully, saying, "Keith is excellent when it comes to the vision of the design. And then, with Evan, he's brilliant with carpentry and building. I've been an agent since 2004, and I'm really good when it comes to pricing. Because I was born and raised and now live in Detroit, I know the neighborhoods."
The three have shared their love for one another on Instagram. In one post from April 2023, Bynum shared several photos of them together, including one with Hicks-Whitfield's husband and their baby son, Beau. As the caption, he wrote, "Monday is Shea Appreciate Day!!! Not only is she holding down the fort while we're working in California, but she's brought us multiple over asking offers for three houses in 2 weeks!! We couldn't be happier. Great team!!! #loveshea #beauismypreciouspea #happymonday." In another post from that same month, Hicks-Whitfield wrote alongside a photo of her, Bynum, and Thomas, "Let us be grateful to the people who make us happy! They are the charming gardeners who make our souls blossom."
Izzy Battres, Christina Hall, and Tarek El Moussa
For 10 seasons, Tarek El Moussa and Christina Hall starred on HGTV's "Flip or Flop." And, for 37 episodes from 2013 to 2022, they were joined by their longtime contractor, Israel "Izzy" Battres, who, in 2019, joined Hall for her solo HGTV series, "Christina on the Coast."
It turns out that Battres is just as close with the former couple off screen as he appears to be on screen. Speaking to Orange Coast Magazine, he shared that "meeting Tarek and Christina" played a major role in his life and career. He added, "Even before the TV show, Tarek and I would go all day doing houses." He first met El Moussa before the show while working on a flip.
So, filming the show and doing business as usual was difficult for Battres when El Moussa and Hall split up and the onetime couple's real-life personal drama played out on screen. "I had no idea what was going [to] happen," Battres told Newswire. "Tarek and Christina are not just my business partners, they are my friends."
Scott McGillivray, Bryan Baeumler, and Mike Holmes
Scott McGillivray, Bryan Baeumler, and Mike Holmes have all starred in multiple shows for HGTV in both Canada and the U.S. So, it might not come as a surprise that these three Canadians are close.
In August 2015, Holmes posted a photo to Facebook of himself, Baeumler, and McGillivray all making a toast. Alongside the photo, he wrote, "Stopped by my buddy Bryan's house to say hello to a few friends today." In addition, the Instagram feeds of all three include photos of one another. In April 2021, McGillivray shared to Instagram a playful pic of him alongside a tied-up Holmes sitting in a chair with the caption, "Tell me you want your show to be #1 without telling me you want your show to be #1." If you swipe right, you'll find a pic of Baeumler, apparently also in on the gag, also sitting tied up in a chair.
These days, McGillivray and Baeumler get to enjoy their friendship both off screen and on, as they star together in their own HGTV Canada series, "Renovation Resort." The two regularly post photos and videos of their good times together on set, such as one from April 2023 where McGillivray shared a photo of him and Baeumler, writing, "It's #havefunatworkday, and I can confidently say that I'm having a blast! Shoutout to the #RenovationResort cast & crew who are always up for a good time! Are your coworkers as fun as mine?"
Heather Rae El Moussa and Jessica Hall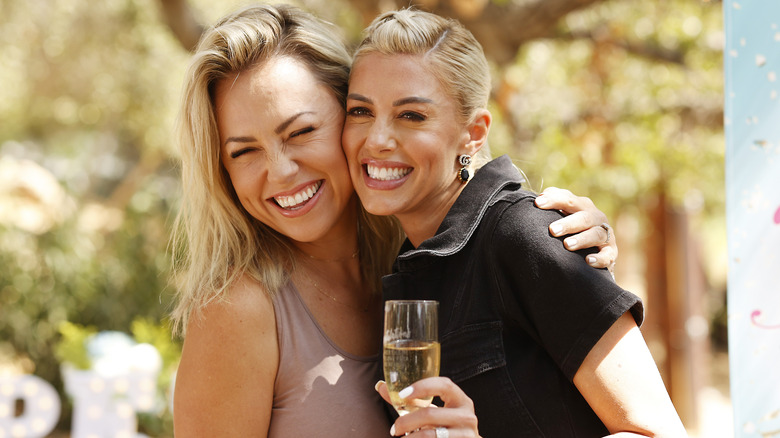 Michael Tran/Getty Images
This next one requires a bit more of an explanation. Heather Rae El Moussa of the hit Netflix real estate reality show "Selling Sunset" also stars with her husband, Tarek El Moussa, on HGTV's "The Flipping El Moussas."
Heather is also a close friend of Jessica Hall, who has appeared alongside her good friend Kendra Wilkinson on Kendra's real estate reality show, "Kendra Sells Hollywood," the first season of which aired on Discovery+ and HGTV. Jessica and Heather also have another wild connection, making you realize how small the world truly is: Jessica's brother, Josh Hall, is married to Christina Hall, the ex-wife of Heather's husband, Tarek. Got that?
Apparently, Heather and Jessica used to host a podcast together called "Flashbacks" before Heather left in 2021 and was replaced by former Bachelorette DeAnna Pappas Stagliano. While we don't know what led Heather to depart the podcast, the timing, interestingly, was close to when Christina and Josh are reported to have started dating in March 2021.
Ben and Erin Napier and Dave and Jenny Marrs
With the success of the first season of "Home Town Takeover" on HGTV, the network planned for a second season. On board to help revitalize an entire town over a period of weeks were co-hosts Erin and Ben Napier of "Hometown." This time, though, they decided to ask their friends, Dave and Jenny Marrs of "Fixer to Fabulous," to join them in Fort Morgan, Colorado, to divide and conquer the 18 renovation projects between them.
While the massive undertaking was not easy for either of the couple's work and family schedules, they ultimately made it work. Having the project take place in Colorado was a big pull for Dave and Jenny especially since Dave grew up there. "What an honor it has been to be a part of this town revitalization," Jenny wrote in a post on Instagram announcing the series' premiere date. "A big thank you to our friends @erinapier and @scotsman.co for asking us to be a part of this truly amazing project."
The two couples have a lot in common, including their "passion for small towns," which Jenny also mentioned in her post. As Erin told Country Living, "The world needs more goodness. All four of us felt honored to participate in something like that." We bet the foursome had just as good a time together off screen as they did on.
Alison Victoria and David Bromstad
Alison Victoria of "Windy City Rehab" and David Bromstad of "My Lottery Dream Home" met through the HGTV family. Though they haven't worked together much, they did both appear together in Season 2 of "Rock the Block," though on opposing teams. The two have also appeared together during HGTV events and panels including the "Personal Reinvention to Home Renovation: How HGTV Finds Fresh Star Vehicles For Established Talent" panel during the HGTV portion of the Discovery Networks Present at TCA Winter Tour 2019 at the Langham Hotel in Pasadena, California, on February 12 of that year. 
Over the years, Victoria has posted a number of pics of her and Bromstad to her Instagram feed. Alongside one photo of the two giving each other a big hug and smiling for the camera in November 2020, Victoria wrote simply, "My [heart emoji]." Victoria included the same caption for photos with Bromstad from a December 2019 holiday party.
Jonathan Knight and Kristina Crestin
Jonathan Knight of New Kids on the Block fame and his "Farmhouse Fixer" co-star, interior designer Kristina Crestin, are good friends who go way back — something that makes sense based on how comfortable the duo seems while working and having fun together on their HGTV series. The two have known each other since Crestin was just out of college working as an architectural design assistant. They met when Knight hired the firm where she worked for a project. From there, Crestin became Knight's go-to design partner, first off, then on, TV.
Crestin, though, had to "play it cool" around Knight, since she had been a lifelong fan of New Kids. "I really played it cool without saying 'New Kids was my first concert when I was 12!'" Crestin shared with HGTV. "I thought it was the coolest thing. Jon and I ... stayed in touch. Then I did a season of 'This Old House' and I got a text from him like, 'Oh my God. I'm just watching this episode. I'm so proud of all the things you've done ... I'm so happy the world can see your talent.' I think that's when he realized, 'Oh, she wants to do TV.'"
It's evident from the show and their Instagram accounts that they enjoy working together. "Such a fun day with @kristinacrestindesign today giving our amazing homeowners their house back," Knight wrote in one post alongside several photos from the day, including one with his designer.
Christina Hall and James Bender
If you've watched "Christina on the Coast" or followed her on Instagram, you know that James Bender has become Christina Hall's wingman. Hall especially began to rely on Bender after having her third child, Hudson, and was grateful when he agreed to step up and play a larger role in her design business.
On Instagram, Bender and Hall even refer to him as her "work husband" (via Hello!). In a post from July 2021, Hall shared a sweet birthday message for her work partner and close pal. "Happy Birthday to the amazing / super talented @jamescbender .... co-workers turned closest friends... thank you for always making me laugh and keeping it real," she wrote alongside a photo of the two smiling together while sitting on a living room sofa. "Can't wait to do many many more projects with you. Love you and appreciate you always."