Kim Zolciak-Biermann Was Never The Same After Leaving The Real Housewives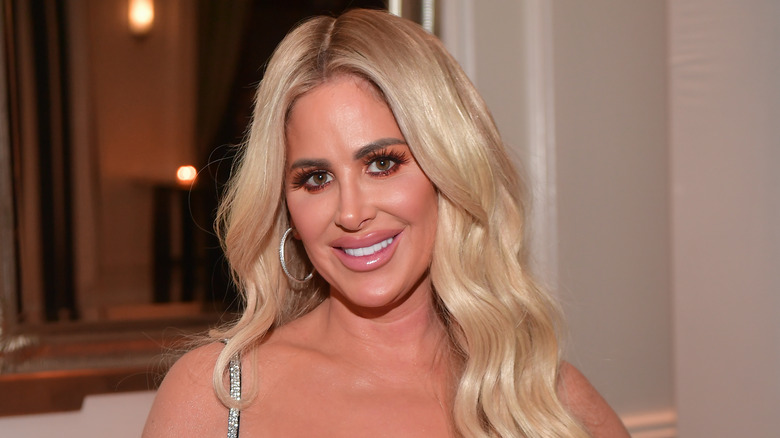 Prince Williams/Getty Images
Kim Zolciak-Biermann was destined to become a star after first appearing on Bravo's "The Real Housewives of Atlanta." The hilarious blonde was known for her witty one-liners and never holding back when there was a confrontation to be had with the other women. But like most Housewives who leave the franchise, Kim was ready for something different after meeting her husband and former NFL player Kroy Biermann in May 2010, when they both attended a Dancing Stars of Atlanta charity event. Kroy apparently went over to Kim's table to introduce himself and exchange information. "Let me give you my number," Kim told the former NFL star. "Call me, we'll go have a drink."
Although they would marry two years later, and Kim would leave "RHOA" to star in a show with her new beau, "Don't Be Tardy," things weren't exactly smooth sailing. In fact, Kim was never really the same since leaving "The Real Housewives" franchise.
A divorce no one saw coming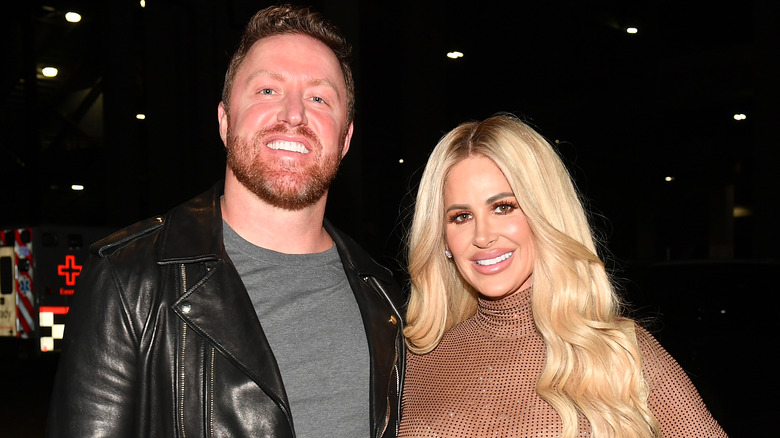 Paras Griffin/Getty Images
In May 2023, TMZ obtained court filings that showed Kim Zolciak-Biermann had filed for a divorce from her husband, Kroy Biermann. After being married for 11 years, welcoming four children together, and starring in eight seasons and nearly 100 episodes of "Don't Be Tardy," the couple was officially splitting up. This came as a big surprise to the Bravo universe.
"This is a complete shock and no one saw this coming," a source told ET. "Kim and Kroy have always come off as 'couple goals' and seemed so in love." However, another source told the outlet that "although publicly they showcased a united front, it wasn't like that behind closed doors. The financial issues they have really started to add up and that is what ultimately broke the relationship."
Since news of the divorce surfaced, Kim and Kroy began going head to head regarding child custody, spousal support, and other financial issues. 
Kim saved her Georgia mansion from the bank but could end up losing it in the divorce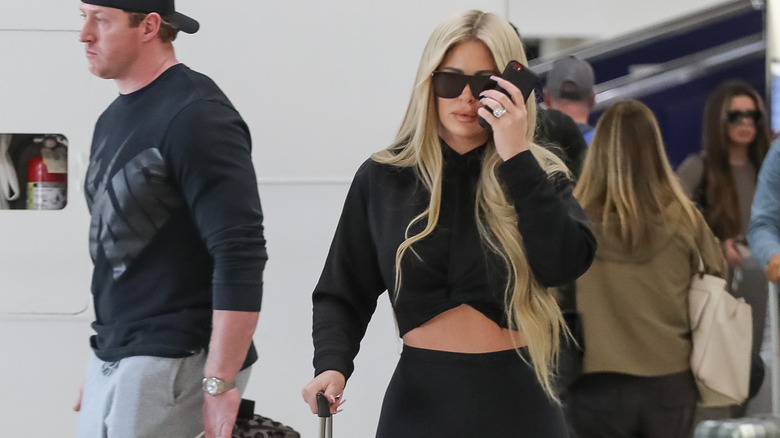 Bg023/bauer-griffin/Getty Images
In early 2023, there were many rumblings about Kim Zolciak-Biermann and Kroy Biermann not being able to pay their bills for their Atlanta mansion. In-Touch later confirmed that their home was in foreclosure and set for auction to the highest bidder because the Biermanns defaulted on their $300,000 construction loan and their $1.65 million mortgage.
However, in a wild turn of events, the home was later removed from auction. "The couple has taken the action to clear this up," a source alleged to People. In June 2023, legal documents obtained by The Blast show that Kroy has requested to be "awarded exclusive, temporary, and permanent use and possession of the marital residence ... in Alpharetta, Georgia." He further petitioned the judge to have Kim "restrained and enjoined from coming about the marital residence."
A life without reality TV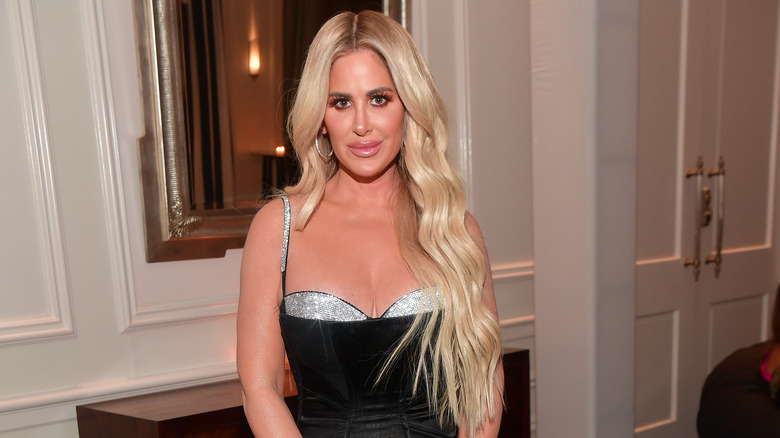 Prince Williams/Getty Images
When Kim Zolciak-Biermann left "RHOA," fans didn't have time to miss her because Bravo tapped her and her family the spinoff, "Don't Be Tardy." The reality TV series followed Kim and Kroy Biermann's life as they blended their family with Kim's two daughters from previous relationships, whom Kroy went on to legally adopt, and grew their family by having four children together. Between chasing around the kids and working on their marriage, the reality show was a success. 
However, in 2021, Bravo canceled the series. It's been rumored that the reason for the show's cancelation wasn't because of Kim and Kroy's crumbling relationship; rather, it was because of low ratings. After being on reality TV on and off since "RHOA's" first season in 2008, this was the first time Kim would be without Bravo's cameras in her face. That didn't last too long, though, as Kim appears as a guest star in Season 15 of "RHOA." 
Kroy alleged that Kim developed a gambling addiction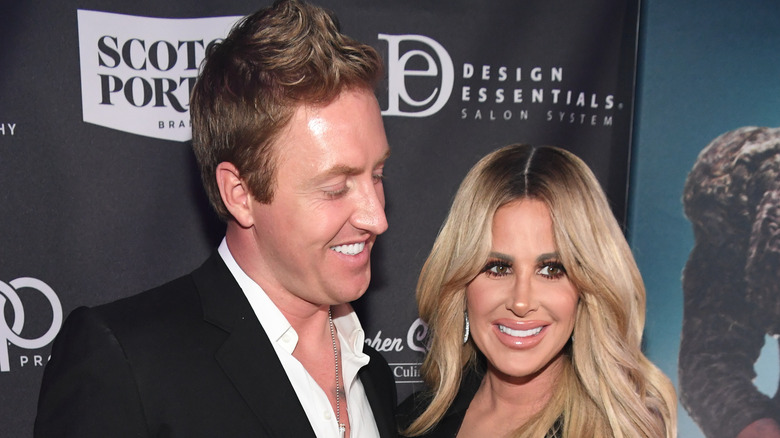 Paras Griffin/Getty Images
A lot has transpired since Kim Zolciak-Biermann and Kroy Biermann filed for divorce, and sadly it doesn't look to be a civil departure from their marriage. Not only did Kim request her former husband to submit to drug tests, but he made claims in court about her overspending habits and love of gambling. According to documents snagged by Page Six, Kroy alleged that Kim was "spending substantial time and marital funds on gambling and other games of chance."  The court papers continued, "This compulsion has financially devastated the parties."
Even more heartbreaking, Kroy suggested that his ex's obsession with online gambling became so severe that she can't take care of their four youngest children. To prove his claims, Kroy shared bank statements with the court.
Back in 2014, Kim admitted on "Don't Be Tardy" that she'd suffered big losses from gambling. "I took a really big hit in the Bahamas last time I went ... like quarter of a million dollars," she said. "A lot of money."
Kim was sued by another Housewife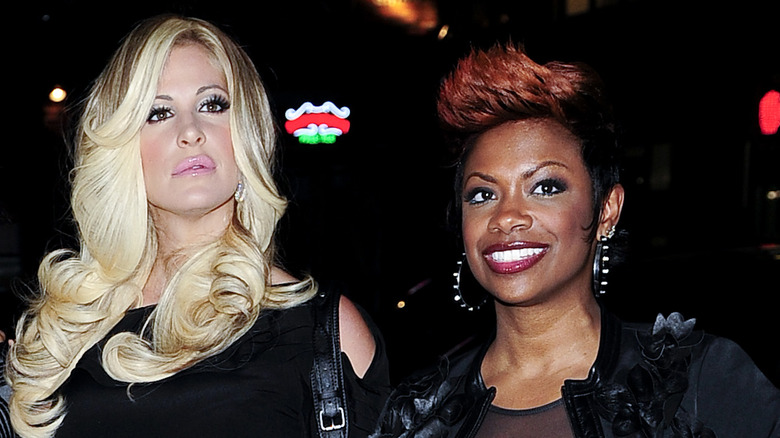 Ray Tamarra/Getty Images
Kim Zolciak-Biermann's life has changed since leaving "Real Housewives of Atlanta" in many ways, including her friendships with former Housewives. While on "RHOA," Kim worked with fellow Housewife Kandi Burruss on a song called "Tardy For The Party." Kim provided the vocals and Kandi wrote the lyrics. 
While the song was done for fun, it wound up becoming a huge success in the "Real Housewives" world — so much so that Kandi went after Kim for royalty money. "This is nothing short of a publicity stunt, I find this lawsuit funny yet sad," Kim revealed in a statement to Too Fab at the time. "Coming after me now and this song is 4 years old? I have in fact overpaid Kandi and have documents to prove it and my legal team will handle this accordingly."
While Kim ultimately won the lawsuit, it paints a bad picture of her and Kandi's friendship status.
The House of Kim podcast came to an end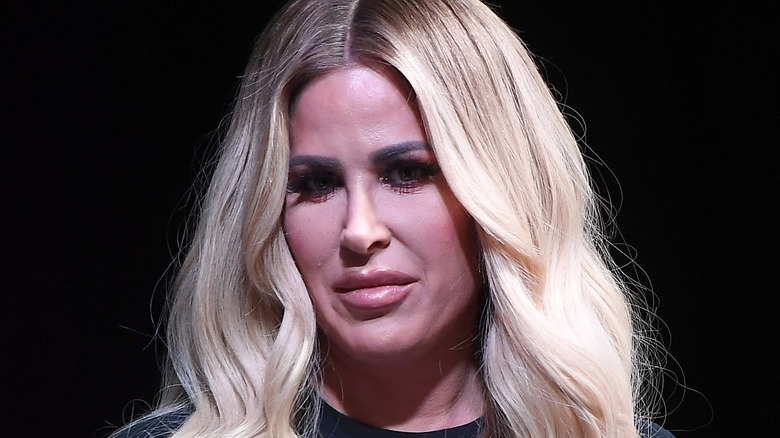 Paras Griffin/Getty Images
Podcasts have never been more popular, especially in the Bravo fandom, and Kim Zolciak-Biermann joined in on the trend when she created the "House of Kim" podcast. Produced by Pionaire Podcasting, the show began in 2018. In it, the former Housewife discussed pretty much everything — from manifestation to body positivity to relationship woes to anything going on in the Zolciak-Biermann household. "If you know anything about Kim, you know there is never a dull moment in her life," the podcast's description reads.
However, "House of Kim" abruptly stopped in May 2021 without reason, despite being popular with a 4.4 star rating on Apple Podcasts and some 5,500 reviews. There was no closing episode or statement about the show's ending, leaving fans in the dark and wondering why Kim wasn't making new episodes. Of course, since Kim didn't officially sign off, she could resume the podcast where she left off.
Fans criticized her beauty venture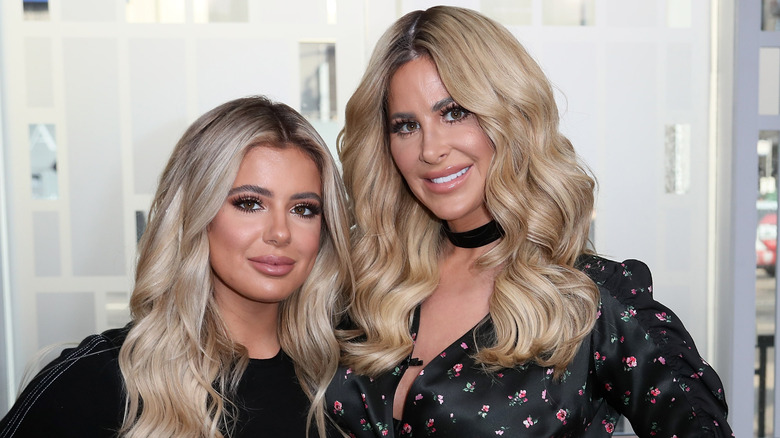 David Livingston/Getty Images
Kim Zolciak-Biermann and her eldest daughters, Brielle and Ariana Biermann, are incredibly close and interested in the same things. Naturally, it made sense for them to go into business together. The mother-daughter team created KAB Cosmetics, selling a range of products like lip kits, powders, and liners. But as much as the three women put into their cosmetics line, poor reviews still started to pour in from shoppers. 
The women received backlash for a number of reasons, as RadarOnline reported, including the quality of their products, their refusal of sharing the ingredients of their lip kits, and for deleting negative comments about their products on KAB Cosmetics' Instagram page. Fans pointed out that comments of authentic reviews were being deleted but those that raved about the women or their products were kept. The company responded, saying, "We have not intentionally deleted anything, possibly by mistake or possibly the person who wrote it deleted it. We will be more careful in what we consider spam and try to only delete rude comments."
Her Spiritual Academy didn't exactly have a cult following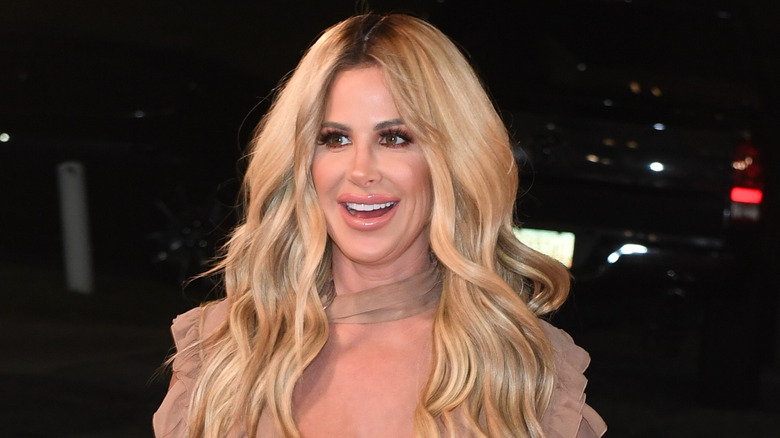 Paras Griffin/Getty Images
Kim Zolciak-Biermann is a big believer in manifesting and has shared her spiritual beliefs on camera. To help share her knowledge and positivity, she launched a Spiritual Academy to help her fans get in a similar mindset. This idea, however, was met with much criticism — especially when fans saw that Zolciak-Biermann was charging fans for her guidance. 
In a since-deleted Instagram post, Kim shared more insight into the Spiritual Academy and what comes along with it. For $77 a month, fans would learn how to live a more passionate life. Kim shared that she was teaming up with fellow spiritual guru Nicole Zeola and claimed the academy was "for anyone who wants to increase their vibration and manifest their desires." She added, "[Nicole] and I are so passionate about this and want to help people that are ready to step into more of their power."
Many fans pointed out in the comments of her post that they felt this was a scam and that if people truly needed guidance, they should go to a professional instead of a reality TV star.
She took her shot at Dancing With the Stars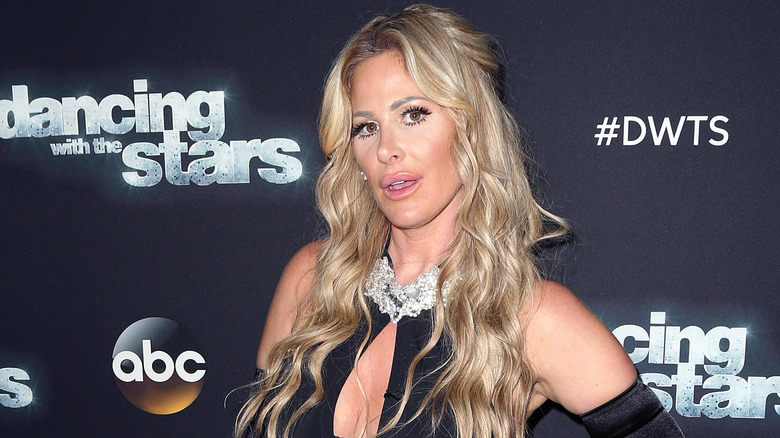 David Livingston/Getty Images
In 2015, Kim Zolciak-Biermann opted for ABC's cameras instead of Bravo's. In Season 21 of "Dancing with the Stars," Kim was paired with professional dancer Tony Dovolani as they attempted to come out on top. However, Kim's time on the show was cut short when she was disqualified from the series following a transient ischemic attack (TIA), more commonly known as a mini-stroke. Instead of competing, Kim underwent heart surgery. 
"The minor TIA revealed that I have a PFO, which is like a hole in your heart. I was born with it and it never closed," Kim revealed. "That's what caused it basically because the blood clot was able to cross over through the hole whereas most people don't have that and it's not able to do that."
Kim proved she was dedicated to the competition as she returned for the season finale of "DWTS" and showed off her moves while costumed as Jeannie from "I Dream of Jeannie." Kim took to Instagram before performing to share her gratitude for her both her health and the show. 
Her swimwear company was slammed by fans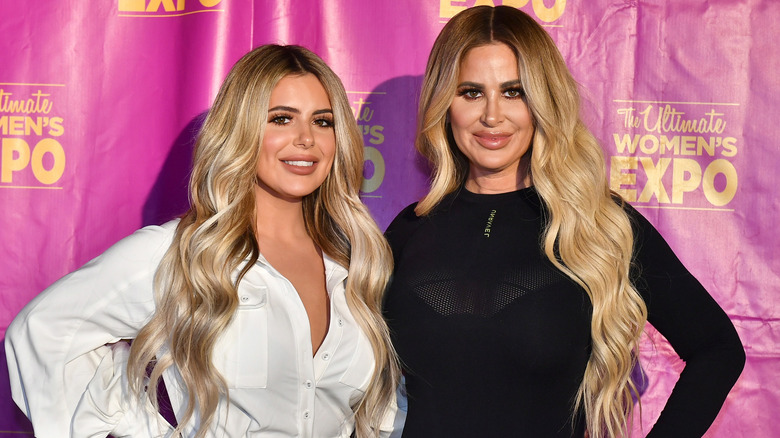 Paras Griffin/Getty Images
Outside of KAB Cosmetics, Kim Zolciak-Biermann also teamed up with her daughters, Brielle and Ariana Biermann, for a swimwear collection called Salty K. However, fans were pretty salty about the lack of size-inclusive options.
In a few posts on Salty K's Instagram, fans expressed their outrage at the company's size options and lack of diversity in models. As The Sun reported, comments ranged from "make some stuff for the bigger girls with the curves" to "I wish you would show more diversity on your branding. Women of all sizes, ethnicities, and orientations." Similar to the controversy that incurred after KAB Cosmetics launched, fans pointed out that some of the comments asking for more sizes and diversity were being deleted. 
As of this writing, the company appears to have shuttered, as its website is defunct and the brand's Instagram account hasn't shared any new posts since July 2022.