Who Were Queen Camilla's Parents (And What Her Dad Really Thought Of Her Affair With Charles)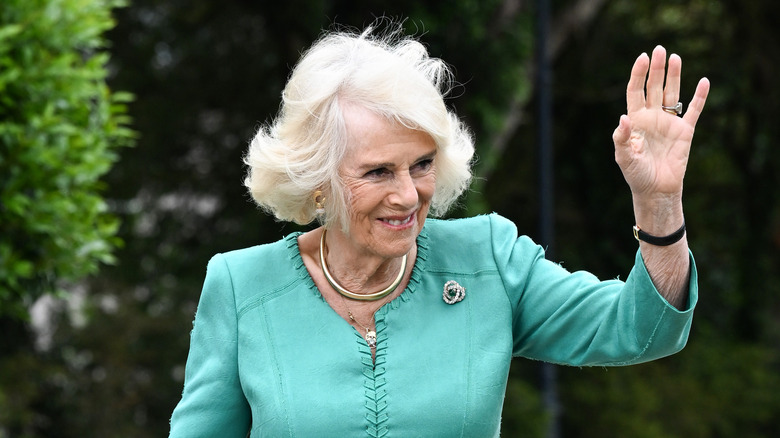 Pool/Getty Images
When Bruce Shand walked down the aisle with Rosalind Cubitt on January 2, 1946, certainly nobody imagined that the couple's firstborn child would become the queen of England. After all, while Bruce and Rosalind were certainly well-off, they were hardly considered elite enough to marry into the royal family. Bruce's own father was Philip Morton Shand, a thrice-divorced food and wine critic who barely participated in his childhood. Rosalind's father, meanwhile, was the third Lord Ashcombe — a man who gave his daughter blue blood but no titles to pass down to his grandchildren.
Nonetheless, the couple's first daughter, Camilla Shand, would not only go on to become queen, but transform into one of the most controversial royals in recent British history. Indeed, Camilla, Queen Consort, first rose to public prominence in 1989 when leaked tapes exposed her role as King Charles III's longtime mistress. Following the scandal, Camilla became the most-hated woman in the country. Charles' then-wife, Princess Diana, was particularly vocal about blaming Camilla for her own failed relationship, famously telling BBC's Martin Bashir, "There were three of us in this marriage, so it was a bit crowded."
In the end, though, Camilla came out on top. Against all odds, the daughter of Bruce and Rosalind Shand married Charles in 2005 and was crowned queen in 2023. That being said, Camilla's parents had mixed feelings about their daughter's trajectory. At times, it was clear that they did not see her love story as a fairy tale.
Camilla's dad was a military hero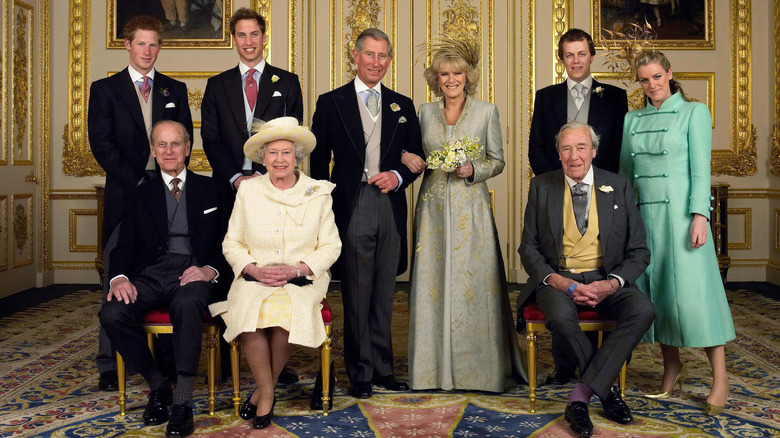 Tim Graham/Getty Images
To Camilla, Queen Consort, Bruce Shand was a loving father. However, to the world, he was a war hero. Back in 1939, Bruce went off to fight in World War II, with the honorable intention of defending his home country. Of course, as a young man, Bruce was not immune to naivité. Reflecting on this time in his 1990 memoir, "Previous Engagements," the soldier-turned-writer shared his aspirations of heading to war following a blow-out party (via The Guardian). Ultimately, though, this is not how things ended. Instead, Bruce was shipped off to France and, later, North Africa, where he was eventually taken captive by German troops. He remained imprisoned for the following two years.
By the time Bruce returned to Great Britain at the end of the war, he was a major and a hero. He was awarded the prestigious Military Cross award on two separate occasions. Later, a Hollywood movie was based on his experiences. As documentary filmmaker Gita Mehta told Vanity Fair, "[Camilla's] father was one of the guys on whom 'The Great Escape' was based." The classic 1963 film, which stars Steve McQueen, follows a group of Allied prisoners of war as they escape from Nazi camps during WWII.
On top of being a military man, Bruce Shand was known for being chivalrous. Speaking to Vanity Fair, photojournalist Don McCullin said, "Major Shand was the archetypal English gentleman with decorations, good manners, impeccable dress."
Her mother was philanthropic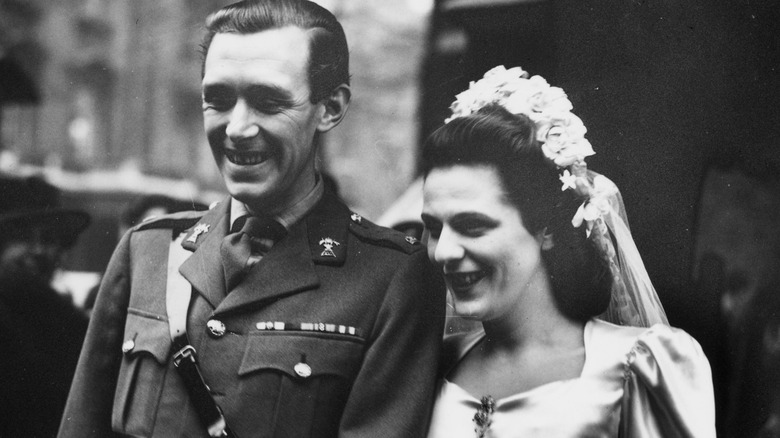 Keystone/Getty Images
Bruce Shand was not the only one of Queen Camilla's parents to impact the world. Her mother, Rosalind Shand, was also known to dedicate her time to the less fortunate and even participated in a number of charitable endeavors over the years. She was particularly invested in helping young people. In fact, one of her favorite causes was providing support for children with severe learning differences. Rosalind was known to volunteers at the Chailey Heritage Foundation, which describes itself as, "one of the U.K.'s leading centers for children and young people with complex neuro-disabilities." She also had a history of collaborating with adoption agencies to help orphans find new homes.
Sadly, Rosalind was unable to continue her work for as long as she may have liked. In 1994, Camilla's mom died following a long battle with osteoporosis. Rosalind's charitable spirit lives on in her eldest daughter, who continues to do good work in her name. Indeed, Camilla became the president of the National Osteoporosis Society (N.O.S.) — all thanks to her mother's influence. "As a result of my mother's death, I became determined to find some way of helping people with osteoporosis from experiencing the same fate and general disregard that she encountered," she said in a 2002 speech, per The Guardian. Since pronouncing those words, Camilla went on to push the cause forward, even winning the prestigious Kohn Foundation Award for her efforts.
Bruce and Rosalind Shand were doting parents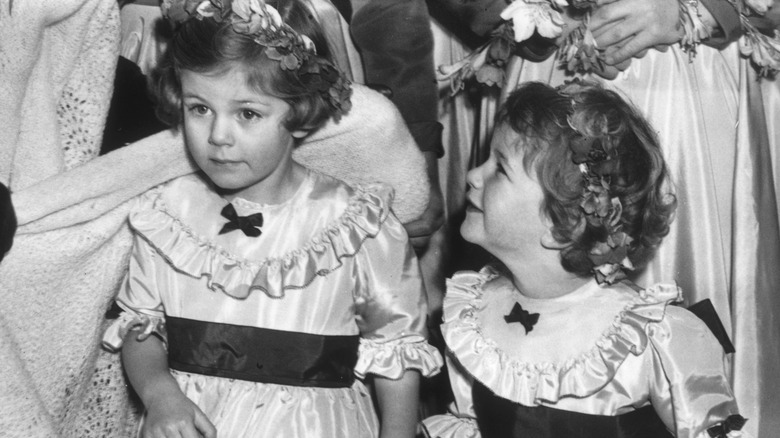 William Vanderson/Getty Images
Queen Camilla's parents may have been busy people, but that did not mean that they neglected their children. On the contrary, Bruce and Rosalind Shand were known for being very family-oriented people who dedicated quite a bit of time and energy into parenting Camilla and her two younger siblings, Mark Shand and Annabel Shand (married Elliot). In a conversation with Vanity Fair, Annabel recalled, "We had this enchanted childhood. Unlike a lot of our generation, we had this incredibly warm, easy relationship with our parents."
Perhaps, though, one of the factors that most differentiated the Shand children from their peers was that their parents did not enlist anyone else to care for them. Instead, Camilla, Mark, and Annabel spent time with their mother – an arrangement that was not common with upper-class Brits at the time. As Annabel recounted, "We didn't have nannies. All our friends growing up would immediately be drawn to my mother. She was completely straightforward, and one of the warmest, kindest people."
According to some, it was this unique upbringing that made the Shand children so different from other blue-blooded people of their generation. Bruce and Rosalind's friend and decorator, Jane Churchill, told Vanity Fair, "The odd thing for that sort of family is they were brought up in a completely unsnobbish way. That's where Camilla has the edge. It's no different to her to talk to a duke or a dustman."
They wanted Camilla to marry Andrew Parker Bowles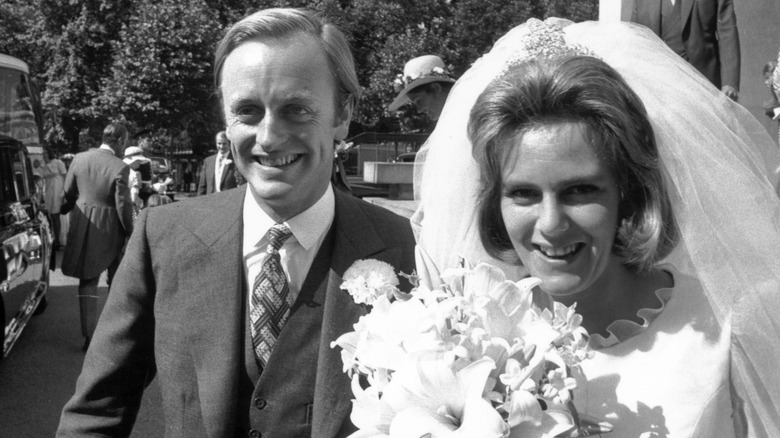 Frank Barratt/Getty Images
When Camilla, Queen Consort, was growing up, plenty of aristocratic families encouraged their daughters to get to know the future King Charles III. Nevertheless, Camilla's parents, Bruce and Rosalind Shand, did not particularly want their daughter to date the then-Prince of Wales. Indeed, when Camilla was out on the town in the early 1970s, she allowed herself to go out with a number of guys that did not include Charles. And, of all their daughter's suitors, Bruce and Rosalind had a clear favorite: Andrew Parker Bowles.
In many ways, it was hardly surprising that the Shands supported this relationship. Like Bruce, Andrew was a military man who had studied at Royal Military Academy Sandhurst. And, like Rosalind, he came from a family with strong aristocratic ties. However, the biggest factor that led the couple to root for Andrew was that their daughter had completely fallen for him. Thus, Camilla's doting parents began to plot a way to push Andrew and their daughter together.
Ultimately, Bruce resolved to send an engagement notice to The Times as a way to encourage Andrew to make things with Camilla official. As royal biographer Sally Bedell Smith wrote in "Prince Charles: The Passions and Paradoxes of an Improbable Life" (via Town & Country), "Pressure was building on Andrew Parker Bowles to make a commitment ... His hand publicly forced, Andrew proposed to his girlfriend of nearly seven years."
Camilla's father was astonished to find out about her affair with Charles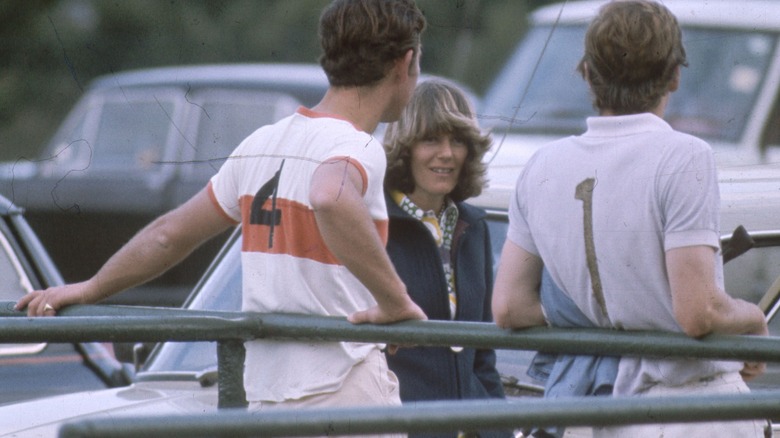 Serge Lemoine/Getty Images
On July 4, 1973, Camilla, Queen Consort, married Andrew Parker Bowles. Naturally, Camilla's parents were thrilled with the match. However, behind the pristine veneer of Andrew and Camilla's relationship lied a serious issue. In reality, the groom was something of a ladies' man who had very little interest in remaining faithful to his new bride. Throughout his marriage with Camilla, Andrew engaged extramarital affairs, crushing his wife. It is thought that this behavior is what drove Camilla back into the arms of the future King Charles III.
For years, Camilla and Charles sneaked around, even as they remained married to other people. The pair met up on clandestine trips and bought each other expensive gifts, keeping their romance out of the eyes of the public. All of this changed, however, in 1993 when leaked tapes of Camilla and Charles' pillow talk made their way into the mainstream media. Naturally, Bruce and Rosalind Shand found out about their daughter's affair along with everyone else. 
At the time, rumor had it Bruce was particularly incensed, blaming Charles for the scandal. As a palace insider claimed to Radar, "At a private meeting, Shand scolded Charles for ruining his daughter's life, reducing the prince to tears ... He reminded the prince he was sleeping with another man's wife, which was a disgrace to the monarchy and his role in the Church of England. He told Charles Camilla's husband was the better man."
Bruce Shand grew to accept the future king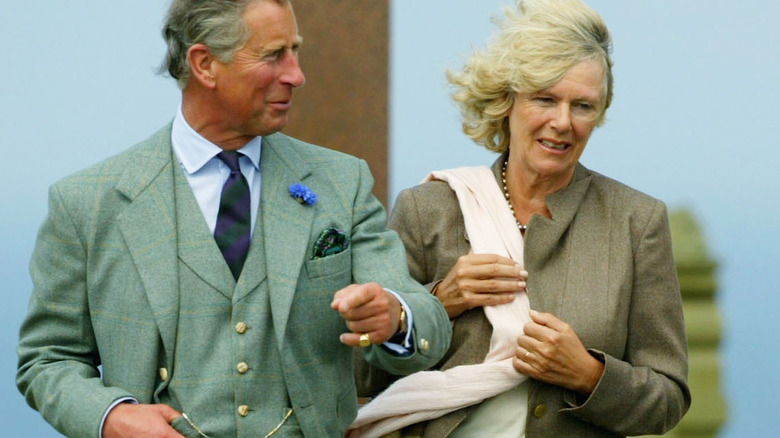 Christopher Furlong/Getty Images
Following the leaked tapes scandal, Bruce Shand reportedly did not support King Charles III's love for Camilla, Queen Consort. One unnamed source claimed to Radar, "Camilla's dad never liked or respected Charles — and even told him to leave her alone." Apparently, in Bruce's eyes, the then-Prince of Wales lacked basic gentlemanly values.
However, as time went on, it became clear that Camilla's parents did not exactly get to choose who their daughter would love. No amount of scandal — or parental opposition — could keep Camilla away from Charles. And the future king felt the same way. As royal expert Penny Junor wrote in a piece for Vanity Fair, "The prince would never give up Camilla, no matter what ... He had stood his ground against his parents, the media, and the voice of the nation in making Camilla non-negotiable. A man who for decades had dedicated himself to duty, to doing the right thing, suddenly put everything he stood for and had worked for in jeopardy because of Camilla."
Perhaps, then, it was because of this that Bruce Shand eventually accepted Charles as one of the family. Writing in Vanity Fair, Junor divulged that Bruce "loved the prince dearly." Meanwhile, a royal source told Radar that the feeling was mutual, as Charles was said to have admired his second wife's father.
The whole Shand family eventually supported Charles and Camilla's relationship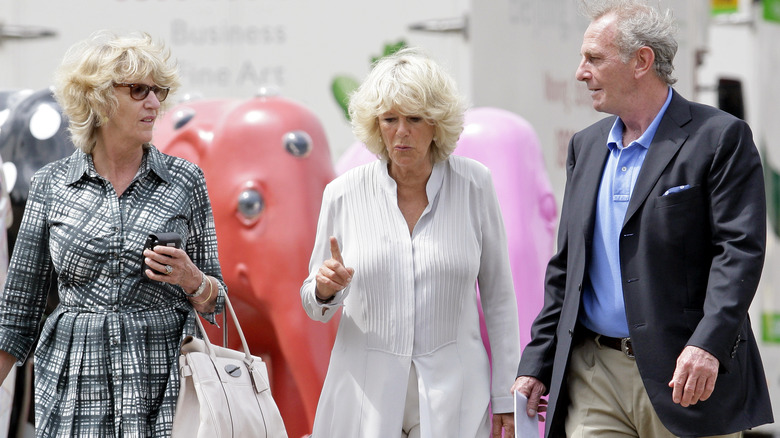 Max Mumby/indigo/Getty Images
Camilla, Queen Consort's parents did not always like King Charles III, but they eventually came to view him as the love of their daughter's life. As Bruce and Rosalind Shand grew increasingly accepting of the British royal, so did the rest of their children. Indeed, Camilla's siblings, Mark Shand and Annabel Elliot, were also said to approve of Charles for their sister. As royal expert, Penny Junor, wrote in a 2018 piece for Vanity Fair, "Charles adored Bruce. He loved the whole extended Shand family and in turn they were very fond of him."
Interestingly, though, Bruce was not as close to Charles as Mark was. Indeed, of everyone in the family, Camilla's younger brother was the one who seemed to bond the most with the future king. Of course, this would hardly have been surprising to those who knew the Shands personally. Mark personality was famously effusive, making it easy for him to connect with Charles and anyone else. Speaking to Vanity Fair in 2015, Mark's friend, John Richardson, recalled, "Mark was absolutely full of his new role being sort of the palace wit. And Charles finally had a buddy."
Per Richardson's account, it was also likely that Mark helped reduce any remaining tensions that existed between Charles and Bruce. He explained, "Mark put everybody at their ease. And he had all these stories to tell. And he told them brilliantly."
Camilla's father never forgot that King Charles III was flawed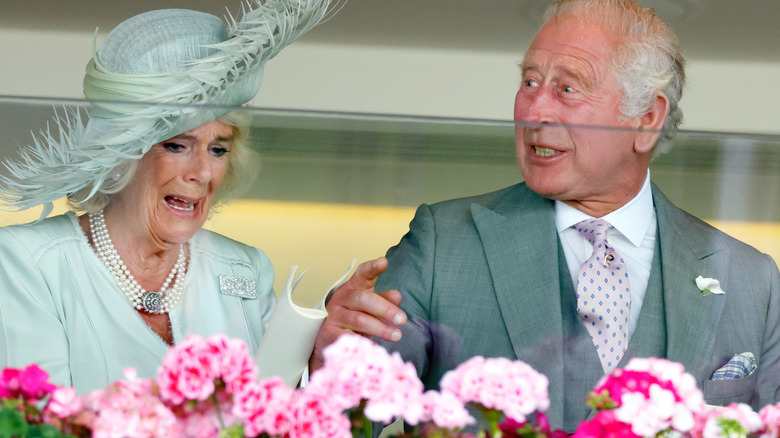 Max Mumby/indigo/Getty Images
Acceptance is one thing, but rose-colored glasses are another. And, as things grew more serious between Camilla, Queen Consort, and King Charles III, Bruce Shand never seemed to forget that his daughter's royal beau was — like any other human — not perfect. This became especially clear around the turn of the millenium when Bruce began to wonder whether or not Charles and Camilla had a future together. By then, both parties had long exited their first marriages, meaning that they were free to remarry. Even so, Charles seemed to be dragging his feet on the question of an engagement, never proposing to Camilla but never ending things with her either.
According to royal expert, Penny Junor, this situation irked Camilla's father. In her aforementioned 2018 Vanity Fair piece, Junor explained, "Although he loved the Prince dearly, [Bruce] thought him weak, and was worried about how vulnerable he had made Camilla by allowing her to live in limbo."
In many ways, Bruce's view of Charles was accurate. Some royal sources have posited that, just because former prince fought for Camilla, did not mean that he was brave enough to marry her. One of Charles' former staffers told Vanity Fair, "He'd been through a lot of bad times with the public, and I think he was probably nervous about putting himself back in a negative situation, damaging the monarchy, and he didn't know whether he could persuade the queen to accept her."
Bruce Shand wanted Charles to marry Camilla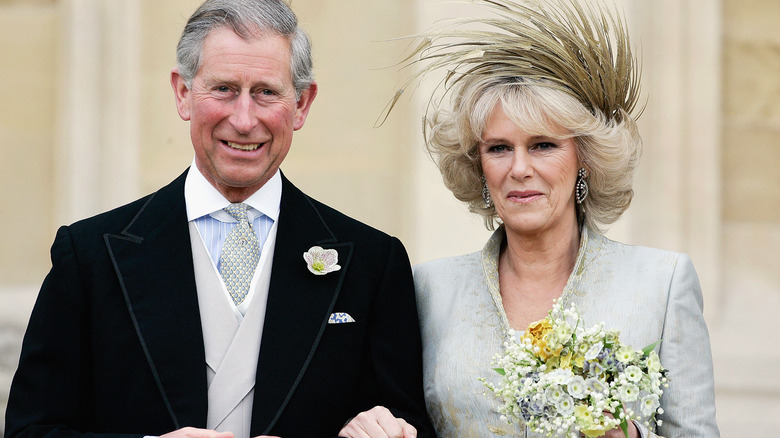 Tim Graham/Getty Images
Back in the 1970s, Camilla, Queen Consort's parents apparently weren't so set on her marrying King Charles III. However, as they approached the end of their lives, this sentiment changed. Unfortunately, though, Rosalind Shand died before getting to see her daughter remarry. Bruce Shand was determined to make sure that the same thing did not happen to him. Well into his eighth decade of life, Bruce decided to confront Charles about the issue of Camilla's future. In Vanity Fair, royal expert Penny Junor recounted how the war hero told the prince to marry his daughter: "Bruce took him aside and said, 'I want to meet my maker knowing my daughter's all right.'"
Fascinatingly, when Camilla heard about his conversation between Bruce and Charles, she was happy to have her father's support. As Junor put it, "Although [Camilla] herself had never wanted marriage in the past, things were different now. She felt herself to be neither one thing nor another and was secretly grateful to her father for putting pressure on Charles." Of course, the rest of the Shand family agreed with Bruce's pro-marriage stance. According to Junor, Camilla's siblings, Mark Shand and Annabel Elliot, "felt that Camilla's situation was precarious and a bit unfair." Thus, Charles proposed to Camilla in 2005 and tied the knot just four months later. At the ripe old age of 88, Bruce Shand was sure to attend the ceremony. 
Bruce Shand thought Charles would make a great king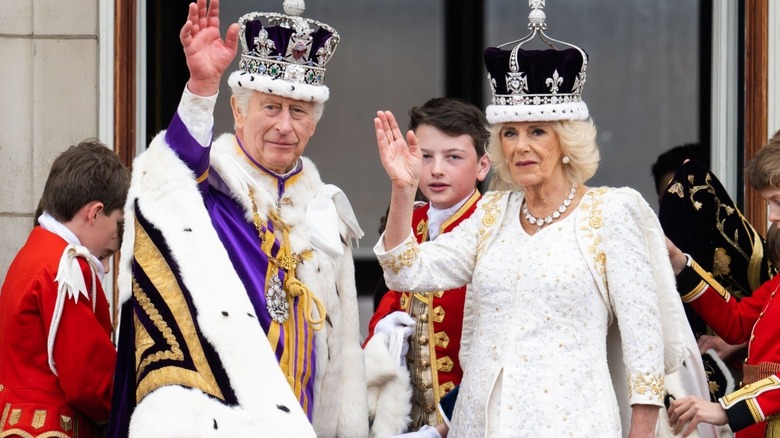 Salma Bashir Motiwala/Shutterstock
On May 6, 2023, King Charles III and Camilla, Queen Consort, were crowned at the coronation. While this was a historic moment for the Shand family, as well as the whole country, neither of Camilla's parents lived to see it play out. Indeed, her father, Bruce Shand, died in 2006 — just one year after Camilla and Charles tied the knot.
Although we have no way of knowing how Bruce and Rosalind would react to seeing a crown on their daughter's head, we do know that the Shand family had high hopes for Charles' reign. In spite of the anger that he occasionally felt towards the then-prince, Bruce even found it within himself to praise Charles for his leadership skills. 
This was particularly apparent in 1994 when Charles publicly confessed that he cheated on Princess Diana. In a groundbreaking ITV interview (via The New York Times), the royal addressed all of the infidelity speculation head on. When asked if he'd remained faithful to his first wife, he replied, "Until it became irretrievably broken down, us both having tried." While Bruce was not pleased with the situation as a whole, he could not help but admire the prince's honesty. According to CBS News, at the time, Bruce said, "I believe he came across as very fair-minded and sincere. I am in no doubt he will make a perfect king."