Chelsea Clinton Sums Up Her Feelings Year After Roe V. Wade's Overturn In Four Blunt Words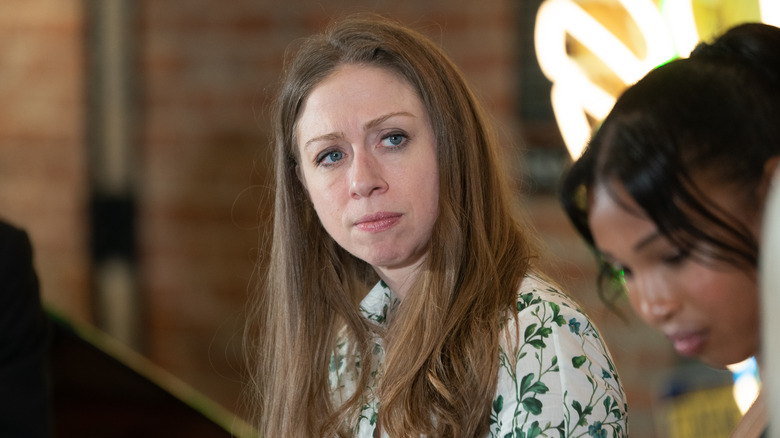 Mark Sagliocco/Getty Images
In June 2022, the Supreme Court made the monumental decision to overturn the landmark case of Roe v. Wade, the 1973 ruling that protected birth-giving individuals' right to have an abortion. Sadly, these vital federal protections were lifted as part of the Dobbs v. Jackson's Women's Health Organization case, and the determination of abortion rights was granted to individual states. Since then, some states including Massachusetts and California have kept their abortion laws, making it accessible to all. However, other states such as Texas and Florida have enforced rigid restrictions that limit who can have an abortion and when they can have one.
The decision rightfully alarmed and enraged feminist and human rights groups across the country. Political leaders and celebrities alike have used their platform to denounce the case and call for political action to restore what many consider to be a fundamental right and a vital element of women's healthcare. Former first daughter Chelsea Clinton is one of the many using their voice to decry the erosion of the right to choose.
'I'm really f***ing angry,' Clinton admits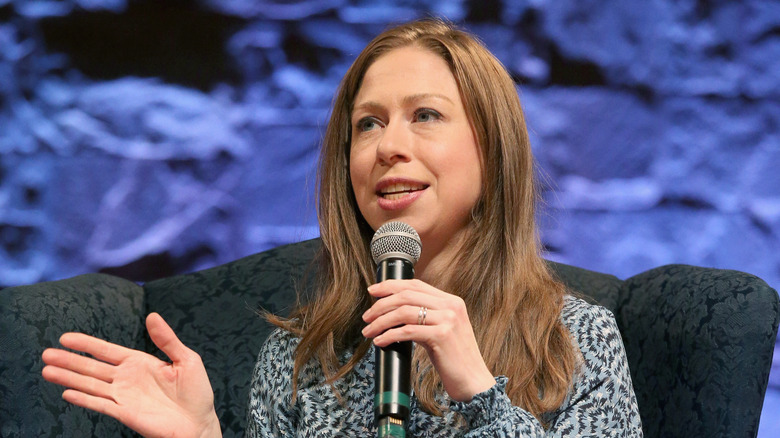 Gary Miller/Getty Images
Chelsea Clinton spoke at the Aspen Ideas: Health summit this month and didn't hold back when expressing her outrage at the repeal of abortion rights in the U.S. "I'm really f***ing angry, and that is an uncomfortable place to be" she said during the Summit (via NowThis). "...But I'm really angry because we know, we know that women have died." 
Clinton went on to name an example of how abortion bans prevent some people from getting the medical care they need. She shared a story about a pregnant woman who died after having sepsis for four days. An abortion could have saved her life, but a physician ruled that there was still a possibility that the fetus could survive, meaning that they couldn't legally perform an abortion. "We have moved forward to, again, a time in which we are making women more vulnerable because of a very extreme, narrowly rendered view of Christian white nationalism," Clinton continued.
In November 2022, Clinton spoke at the STAT Summit in Boston and pointed out that midterm election results indicated that most Americans considered protecting women's rights when showing up to vote. Republicans had expected to sweep the senate, but that didn't happen. Clinton said there is a connection between democracy and women's rights, and despite the laws and restrictions in place around abortion, most people value the right to choose. The midterm results supported her words. 
The current landscape of abortion laws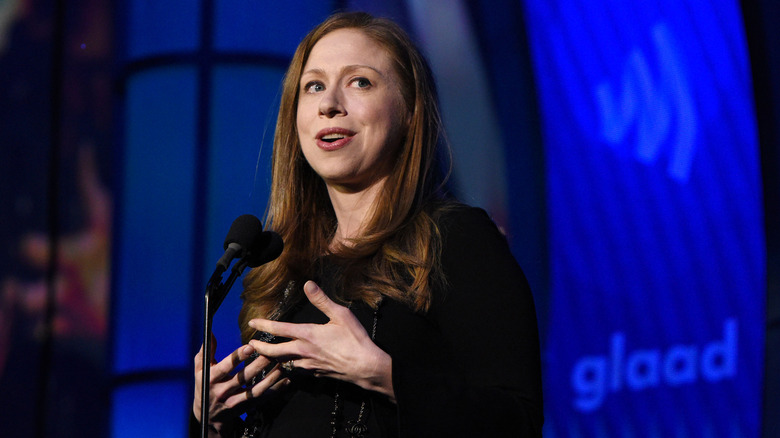 Since Roe v. Wade was overturned and Dobbs v. Jackson's Women's Health Organization became the new law, 13 states have completely banned abortion, and several others have reduced the period in which you can get one to six weeks. In addition to those restrictions, some states have gone as far as banning individuals from helping others travel to other states for an abortion. "When I think about all of the statistics that are painful about what women are confronting today in our country, and what even more women confronted pre-Roe, and how many women died, and how many more women were maimed because of unsafe abortion practices, we just can't go back to that," Chelsea Clinton said on SiriusXM Radio.
The Guttmacher Institute explained that, from the beginning, Roe v. Wade was not enough to uphold abortion rights. While it provided a foundation, it was not built upon, and therefore vulnerable to being overturned, which is exactly what happened. It's important that these rights are reinstated and that more protections are put in place to ensure we never lose them again.