Hannah Waddingham: The Complete Evolution Of The Ted Lasso Star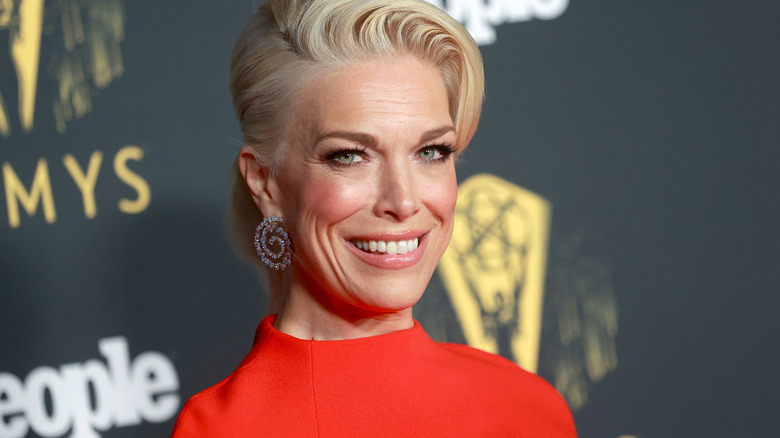 Matt Winkelmeyer/Getty Images
Few will be forgetting the Coronavirus pandemic any time soon. But amid the apprehension and chaos of quarantine, those needing some wholesome escapism had one show in particular to comfort them: "Ted Lasso." The soccer comedy, with its Ned Flanders on goofballs-esque protagonist and supporting cast of eccentric athletes, was the perfect antidote to lockdown anxiety. Even better, it gave us breakout star Hannah Waddingham. As Rebecca Welton, the seemingly ruthless and wonderfully petty owner of AFC Richmond, Waddingham has been a delight to watch. Rebecca was always one to dish out the biting barbs, but behind the scenes, it's Waddingham who's been on the receiving end of a cutthroat industry.
In the arguably ageist Hollywood sphere, Waddingham's career trajectory is a reminder to never give up on your dreams, no matter how out of reach they may seem. After struggling for mainstream acclaim for decades, Waddingham, by then in her late 40s, found herself the fan favorite of the Apple series. "I feel a real responsibility for women of a certain age," she told The Times. "I think it's reassuring that, here I am, a single parent, at the age of 47, with the greatest success of my career ... I'm actually quite glad. People have gone, 'Oh, wouldn't it have been nicer if it had happened younger?' No!" 
We could all learn a lesson or two from the barrier-breaking star. From British soaps to the Hollywood big leagues, let's look at the complete evolution of Hannah Waddingham.
Hannah Waddingham's arty childhood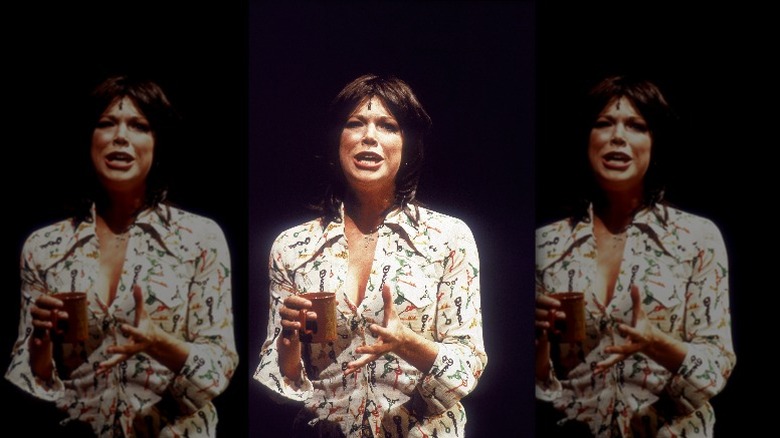 Getty Images/Getty Images
As a child, Hannah Waddingham was bitten by the performing arts bug. As such, a 9-5 job was never going to be her vibe. A South London girl, she was raised in the leafy middle-class suburb of Wandsworth and educated at fee-paying schools, where her artistic talents were nurtured. 
Waddingham hails from a family of creatives: her mother and maternal grandparents were all professional opera singers. Although her mom took a break from performing to raise her, she returned to the stage when Waddingham was a tween, bringing her along to the London Coliseum and the National Opera. As the actor recalled in an interview with the Daily Mail, she would sit and watch in anticipation from the stalls as her mom sang, feeling inspired by the passion and pageantry of opera. "The force has always been strong ... I never had a plan B – not in an arrogant way, but that was my vocation," she said of her unyielding ambition.
But Waddingham is the first to admit that neither she nor her family members were in the creative sector for the money. Accordingly, the ubiquity of the arts in her childhood led to her being baffled by the concept of a traditional workforce. "I don't remember ever not wanting to sing or act — I remember the opposite," she told The Zoe Report. "Finding out some people's parents worked in offices, I was like, 'What do you mean? Doesn't everyone sing and dance for a living?'"
She started out in dinner theater productions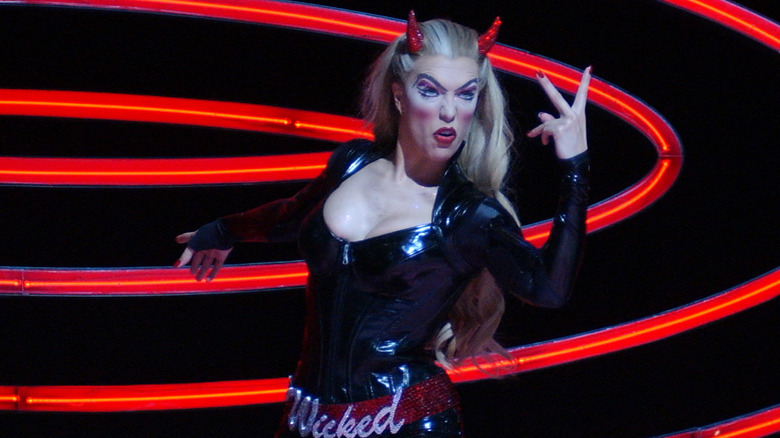 Robbie Jack/Getty Images
Although she exhibited her operatic talent at a young age, Hannah Waddingham decided against following in her mother's footsteps. As a youngster, she showed a natural aptitude for dance and began performing tap, modern, ballet, and jazz when she was just 3 years old, as she revealed to Rose & Ivy. "I didn't want to be a ballerina per se, but I certainly didn't want to stop at 14 when I had just gotten onto blocks," she explained. "So that went to the wayside and I carried on with other types of dance and then I went to drama school." It was at drama school that she realized she didn't want to limit herself to just singing or theatrics.
Making her stage debut in "Joni and Gina's Wedding," Waddingham started out in dinner theater. At the time, she felt that her entire career was resting on the show, telling Esquire that she would have given up acting entirely if she hadn't scored the role. "I did an American accent from the minute I walked in the door, and I didn't quit it for a second," she recalled. "They offered me the job on the spot, and then they said, 'Oh, which part of the States are you from?'"
Chatting to uInterview, she credited "Joni and Gina's Wedding" with helping her hone both her comedic and dramatic skills. Thereafter, in 2000, she appeared in "Lautrec" and played the lead in "Space Family Robinson" two years later.
Hannah Waddingham lost out on roles due to her height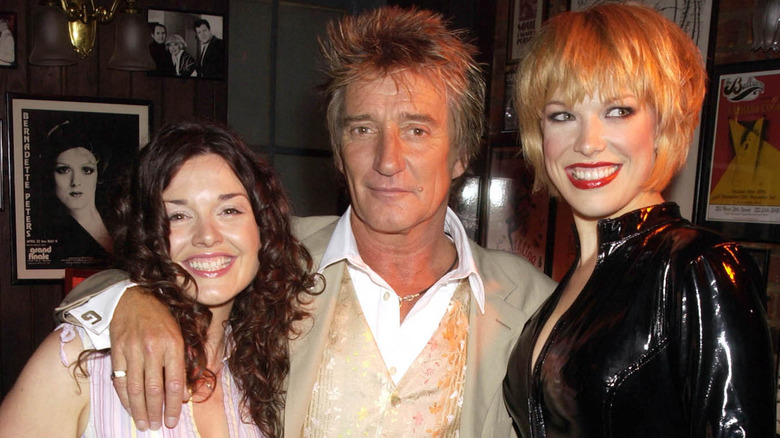 Dave Benett/Getty Images
"That Rebecca is an intimidating, very tall woman," so said Keeley in "Ted Lasso." Though Hannah Waddingham can poke gentle fun at her height now, things weren't always so easy for the statuesque star. Though tall women have increasingly been making their presence known in the industry (just ask Elizabeth Debicki), Hollywood was once a very unforgiving place for women who dared tower over their male co-stars. At 5 '11", Waddingham has candidly discussed the prejudice she faced as a tall woman embarking on an acting career, with her height causing her to lose out on roles.
She first faced discrimination as a child ballet dancer. "The teacher was like, 'Mr. and Mrs. Waddingham I hate to say this but your daughter is a giant,'" she quipped to Rose & Ivy. Later, when she wanted to branch out into film and TV, she found that producers would come up with sorry excuses not to hire her. "It was a constant thing of, 'Oh, no, we'd love to use her, but we've already cast the man. He's 5'8, but we've already cast,'" she told Glamour, "and I could never work out whether it was a height thing or whether it was just that I wasn't established enough."
During an appearance on "The View," she revealed that her positive experience on "Ted Lasso" was an anomaly, with Jason Sudeikis reassuring his tall co-star that she was more than welcome to wear heels.
Hannah Waddingham found fame thanks to Benidorm — and another soccer-themed show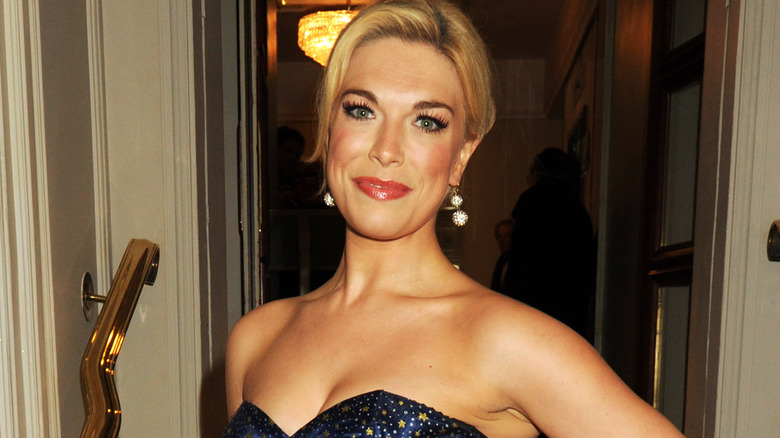 Dave M. Benett/Getty Images
The 2000s saw Hannah Waddingham securing roles on British TV, first appearing in the sitcom "Coupling" in 2002, before taking on minor parts in soaps such as "Brookside" and "Hollyoaks." She also appeared on a show that served as a precursor of sorts to her most famous role.
Long before "Ted Lasso," there was "Footballers' Wives," the thoroughly British soccer drama focusing on the lives of WAGS. Waddingham joined the series in 2005, playing Jools, the lover of soccer chairman Hazel. Alluding to the series in her chat with Glamour, Waddingham admitted that she felt much more comfortable in the role of a soccer boss than a WAG. "There is not even one molecule of my being that would ever consider being a WAG, either professionally or in real life," she joked.
In 2014, she was brought to a wider audience after being cast in the long-running sitcom "Benidorm" as beautician Tonya Dyke. Speaking to The Mirror at the time, she revealed that the show had led to her receiving unwanted problematic attention from men. "I have never been groped in my life, but I was groped three times in one week in Benidorm," she said. Despite these traumatic experiences, she told The Times that she would be forever grateful to series creator Derren Litten for fighting to cast her despite her lack of fame. "He had a struggle with ITV. 'She's not famous enough,'" she recalled execs telling Litten.
The actor won acclaim after appearing on the West End stage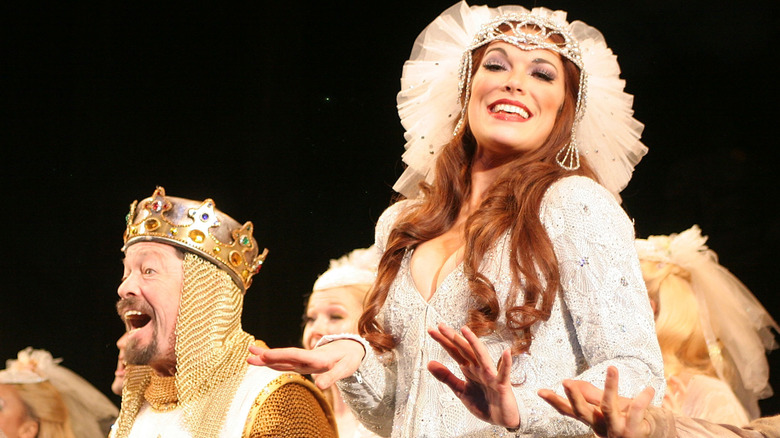 Janette Pellegrini/Getty Images
TV execs may have dismissed Hannah Waddingham's talents, but she found both a safe space and a career opening in London's prestigious West End theater. In 2006, she starred as The Lady of the Lake in "Spamalot" (she had previously appeared as a replacement in its original Broadway run). When the hit musical was snubbed at the Olivier Awards (despite being nominated in seven categories), Waddingham couldn't hide her saltiness. "I don't begrudge the best actor or best actress award at all," she said, per the Evening Standard, "but I really do begrudge the fact we didn't win best new musical ... I'm actually angry."
Angry as she may have been, her theater success soared in the subsequent years. In 2009, she played Desirée in the West End run of Stephen Sondheim's "A Little Night Music." In a chat with WhatsOnStage that year, she recalled how acclaimed theater director Trevor Nunn specifically requested her for the role. At her audition, she impressed him with her impeccable vocal range, singing both opera and show tunes. "I thought it was to understudy," she said. "Still, I did two scenes, sang 'Send in the Clowns' and Trevor said, 'something special has happened today, I'll be in touch.' He did – I got the job!" 
She continued her illustrious stage career with "Kiss Me Kate" in 2012. The Guardian lauded her performance, writing, "The wonderful Hannah Waddingham sings 'I Hate Men' with teeth-baring ferocity."
She began a movie career in her mid-30s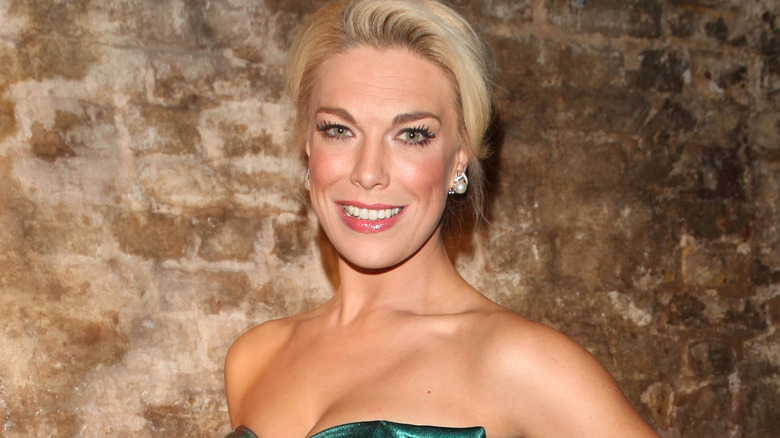 Dave M. Benett/Getty Images
There's no denying that trying to get a foot into the biz hasn't been an easy feat for Hannah Waddingham. It wasn't until 2008, when she was 34, that she secured her first big screen role, a minor part in the Simon Pegg vehicle "How to Lose Friends & Alienate People." She wouldn't star in another film for four more years. In her aforementioned chat with the Daily Mail, she attributed her inability to break into the film world to bias against musical theater kids. "I remember asking my agent if they were going to bring casting directors to see me in something," she reflected, "and they said, 'Oh no, they're not going to come to a musical.' I found it deeply offensive."
In 2012, the then-38-year-old scored a somewhat meatier role for her sophomore cinematic appearance, playing as a snide factory worker in the box office smash hit "Les Misérables," in which the theater vet was undoubtedly in her element. Speaking to WhatsOnStage in 2012, the actor praised her supportive A-list co-stars Anne Hathaway and Hugh Jackman. While she conceded that director Tom Hooper had previously made cheeky comments about musical theater, the pair ultimately developed a strong bond.
Asked whether she thought the role would bring her fame and fortune, Waddingham was surprisingly pessimistic. "I'm very fatalistic about these things," she admitted. "I think what comes my way is meant to come my way and that which doesn't, doesn't."
Game of Thrones helped the actor launch her showbiz dreams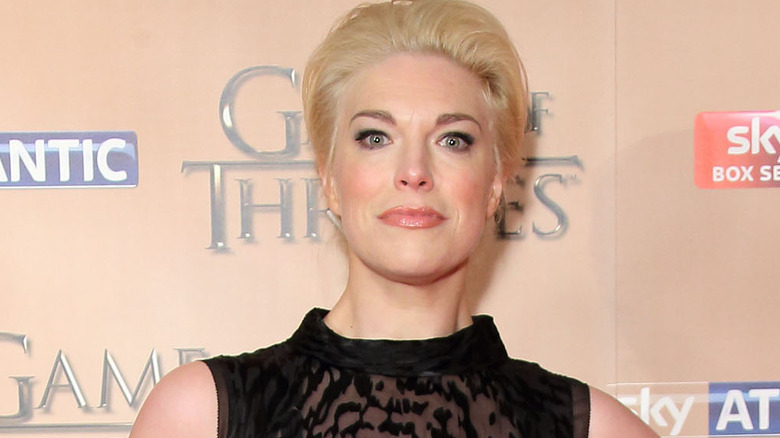 Mike Marsland/Getty Images
Few of us will forget the infamous "Game of Thrones" scene in which Cersei Lannister is paraded through the streets of King's Landing in her birthday suit, an act of humiliation at the behest of the High Sparrow. The scene is made all the more iconic by Septa Unella's sonorous mantra of "Shame!" And Septa was played by none other than Hannah Waddingham.
She snagged the role soon after appearing on "Benidorm" and was heavily pregnant when she auditioned. Speaking to Rose & Ivy, she enthused that Septa was the part she had long been waiting for, one which she believed would finally launch her mainstream career. "I thought, if I can get this role, then I have to be let in, come on!" she joked. Accordingly, she said that she owed much of her success to the epic series' creators, David Benioff and Dan Weiss, as they took a chance on her when few others would.
For the role of the nasty nun, she was required to actually be waterboarded (an act of revenge courtesy of Cersei). But Waddingham dismissed notions that agreeing to be subjected to the cruel torture method was a step too far in advancing her career. "In the moment that you are dealt those cards, you have to go, 'Am I going to ... say, oh no, I can't do this,' or are you going to, rest assured that they're not going to kill you?" she asked Esquire.
Becoming a star thanks to Ted Lasso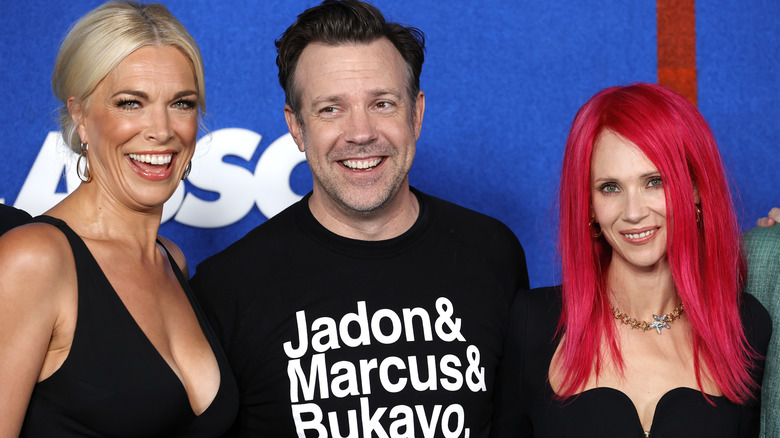 Frazer Harrison/Getty Images
Being a musical theater kid may have proven a hindrance for Hannah Waddingham in the past, but the folks working on "Ted Lasso" saw her background as an asset. At one of her auditions for the series, which debuted in 2020, executive producer Bill Wrubel gushed over Waddingham's work. "Bill said, 'Oh, by the way, I must just say, I love you in your musicals. I saw you in Spamalot,'" she recalled to The Times. "I went, 'Oh God, thank you. But Rebecca doesn't sing, does she?' And under his breath ... Jason went, 'She does now.'"
At 45, she scored the part of scheming soccer boss Rebecca Welton, propelling her to epic stardom. Although Rebecca initially comes across as a shrewd, and borderline cruel, businesswoman, she redeems herself in due time. For Waddingham, a woman who found her feet once she reached her late 40s, it was vital that Rebecca be treated with dignity and respect. "I've cared so deeply how that demographic is portrayed, and how people find themselves in life, newly divorced and trying to find their way," she reflected to Harper's Bazaar.
The series was a hit, with Waddingham receiving praise and plaudits for her role. The Atlantic pinpointed Waddingham's performance as the highlight of the show, while Vanity Fair argued that it would be an affront not to honor her with an Emmy. Waddingham did win an Emmy, along with two Critics Choice Awards and a Screen Actors Guild gong.
Ted Lasso also allowed her to be closer to her daughter
Having been told by doctors that her fertility levels were low, Hannah Waddingham initially feared that she had waited too long to have a child. But when she approached 40, Waddingham and then partner Gianluca Cugnetto conceived naturally. The couple welcomed their daughter, whose identity Waddingham chooses to conceal from the public, in 2014.
In 2019, Waddingham was filming in Belfast when she received a call that her child had fallen ill. As the actor revealed to The Times, her daughter was vomiting green bile and suddenly developed markings on her legs. Distraught, she tried everything she could to get back home that day, attempting to hire a boat and charter a helicopter to no avail, before flying back the next day. Her daughter was diagnosed with Henoch-Schönlein purpura, an autoimmune disorder predominantly found in children, affecting the blood vessels and potentially leading to bowel and kidney malfunction. "I can talk about it now," Waddingham told People, "but I couldn't for a very long time. She was in the hospital for a while with them not knowing what it was."
Thankfully, the youngster is feeling much better now, and "Ted Lasso" enabled Waddingham to provide her daughter with the care she needs. "The biggest gift Ted Lasso has given me is that it's shot 40 minutes from my house ... I want to be able to put my little girl to bed at night," she told Town and Country.
She co-hosted the Eurovision Song Contest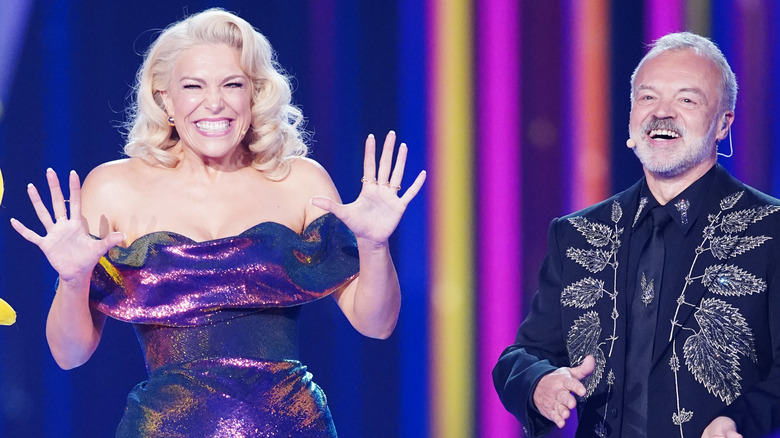 Dominic Lipinski/Getty Images
In 2023, Hannah Waddingham was introduced to an even wider audience when she co-hosted the Eurovision Song Contest. Chatting to Glamour, she revealed that the gig was a dream come true. "The West End community is fully obsessed with Eurovision," she enthused. "So the combination of the theater girl in me and the fact that I couldn't believe I was asked this year and for our friends from Ukraine. I mean, it has to be the most historical one to be a part of."
Her hosting stint was a hit with viewers, particularly the LGBTQ+ community, who lauded the rainbow-adorned star on social media and crowned her the "real Queen of England." Meanwhile, The Times went as far as to dub her the true winner of the contest, declaring that Eurovision had cemented Waddingham's status as an overnight natural treasure. As the outlet notes, she exhibited her manifold talents as host, speaking in fluent French, treating viewers to a little singing of her own, and offering cheeky yet charming witticisms throughout the show.
Critics argued that Eurovision had propelled Waddingham further into the A-list, likely opening up more lucrative opportunities for her in the future. "She's endearing herself to new audiences and I really hope we get to see more of her... There's not really anything she can't do," said Eurovision devotee Paul Jordan, per The Guardian. "If her career goes to bigger and bigger things because of this, it will be thoroughly deserved."
Hannah Waddingham's career is just beginning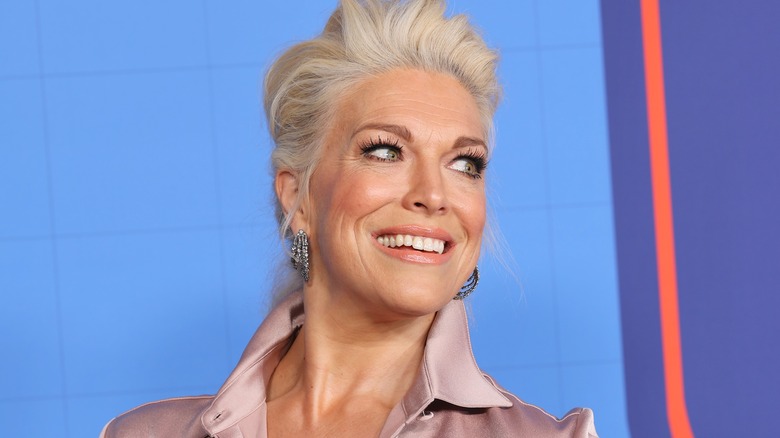 Robin L Marshall/Getty Images
After three seasons, "Ted Lasso" came to an end in 2023. For Hannah Waddingham, having to say goodbye to Rebecca was an incredibly painful experience. "I will never be ready to hang up her high heels," she poignantly told Harper's Bazaar.
Fans fear not, however: the actor has numerous high-profile projects coming up, including roles in the hotly anticipated "Mission Impossible: Dead Reckoning Part Two," a new "Garfield" movie, and "The Fall Guy" opposite Ryan Gosling. In fact, the phone simply won't stop ringing for the breakout star. But finding fame later in life has led to Waddingham being keenly aware of the opportunists and grifters who come her way. As such, she has no time for those who didn't embrace and respect her talents when she was struggling to make her way into the industry. 
"There are some people who are knocking on my door now going, 'Would you like to come and do...?'" she told The Times. "And I think, 'No, I wouldn't like to come and do that, thanks. Why would I want to do that, for 25p a week?' ... There are people about whom I think, 'Oh, I wasn't good enough for you then, but I am now?'" There's a little Rebecca in her, still. And amid all the discrimination she has faced, Waddingham has emerged the victor. In the words of her onscreen alter ego, "I lost my way for a minute, but I'm on the road back."