Taylor Swift May Have Refused Archetypes Invite Over Bad Blood (But Not With Meghan Markle)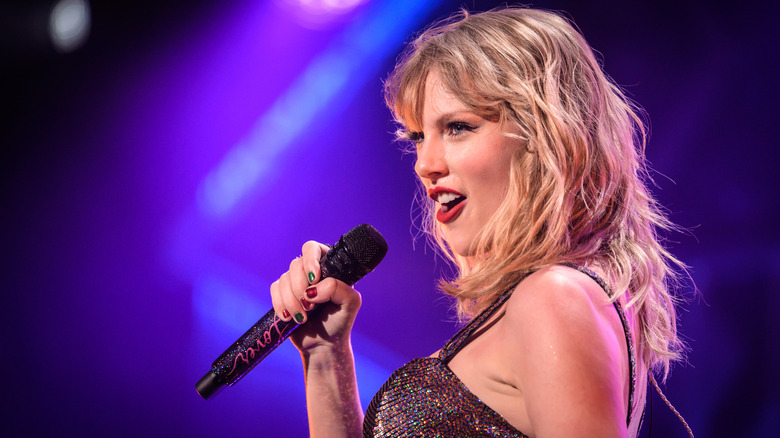 Brian Friedman/Shutterstock
Meghan Markle, once best known for playing Rachel Zane on "Suits," rocketed to worldwide recognition once she started publicly dating Prince Harry. We've been able to learn quite a lot about Harry and Meghan from their eponymous six-part Netflix docuseries, which gave details about their courtship and their time in the royal family. That's not the only place to learn about their lives, however — Meghan also shared notable stories on her Spotify podcast "Archetypes." 
During one episode, she spoke about the time Archie's room caught on fire on a trip to South Africa. In another, Meghan told Paris Hilton the relatable reason she quit "Deal or No Deal," saying it was down to feeling like a "bimbo" on the show. She's also talked about her challenges with her mental health and how Prince Harry helped her. However, there won't be any more "Archetypes" episodes, at least with Spotify. Spotify has parted ways with Harry and Meghan, making "Archetypes" the only podcast the couple produced for the streaming service as a part of a purported multimillion-dollar deal made in 2020.
Along with telling her own stories, Meghan talked with some other big-name celebrities for her Spotify podcast, including Serena Williams, Mindy Kaling, and Mariah Carey. But not everyone she wanted to talk to came on the show. Taylor Swift didn't agree to come on Meghan's podcast — but there's a good chance the "Bad Blood" singer's decision didn't have anything to do with Meghan herself.
Meghan Markle's personal invite to Taylor Swift was rejected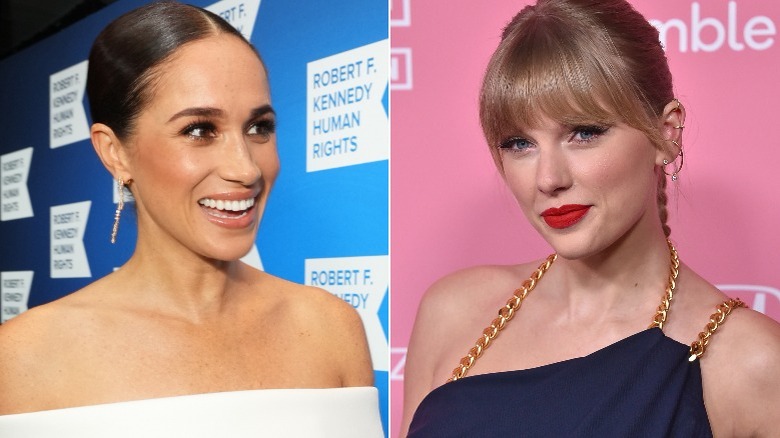 Kevin Mazur/Getty & DFree/Shutterstock
Meghan Markle reportedly wanted Taylor Swift to come on her podcast "Archetypes" — even going so far as to send the "Shake It Off" singer a personal invitation to appear, per The Wall Street Journal. It was potentially a very pretty invite since Meghan is a talented calligrapher. However, as pretty as the invitation may have been, Swift turned down the request via a representative.
The rejection may have had nothing to do with Meghan herself. There could be a couple of different reasons. One possibility is that Swift has had bad blood with Spotify in the past. In 2014, Swift removed nearly all of her music from Spotify because of issues over artist royalties. It took three years before she allowed her back catalog to stream on Spotify.
It could also be because Swift spent a lot of her career keeping a lot of her opinions, particularly political ones, to herself, so she may not have wanted to chat with Meghan about potentially problematic topics — though in recent years, Swift has been more and more vocal about the causes she supports. Or it could simply have been because Swift was super busy. In 2022, Swift was prepping for the Eras tour, attending awards shows, and releasing new music. Overall, there are plenty of possibilities keeping Swift from fulfilling all requests for her appearance.