What Happened To EZ VIP After Shark Tank?
If there was any company that had a great chance to succeed after "Shark Tank," it was the innovative EZ VIP. The concept was something never before seen in the nightlife industry: a service that allowed clubgoers to pre-pay for VIP services prior to getting to the club. The system guaranteed that anyone wanting seating and alcohol for their party would have it, despite any big names who may come to the club and hog up all of the reservations. Owner and founder Alashe Nelson appeared on the show in 2012, seeking a $150,000 investment in exchange for a 15% stake in the company. In the end, he walked away with a joint $150,000 investment from Daymond John and Mark Cuban, who were given 30% equity.
The partnership seemed like a match made in heaven, especially with EZ VIP already attracting its own impressive success before Nelson presented his idea to the Sharks. Since "Shark Tank" does not pay business owners to appear on the show, Nelson came to the platform of his own determination. EZ VIP had already brought in $250,000 of capital, so a boost from the panel of investors seemed like a guarantee for expansion. However, things don't appear to have gone as planned, and it's unclear exactly why.
EZ VIP got a celebrity endorsement thanks to Daymond John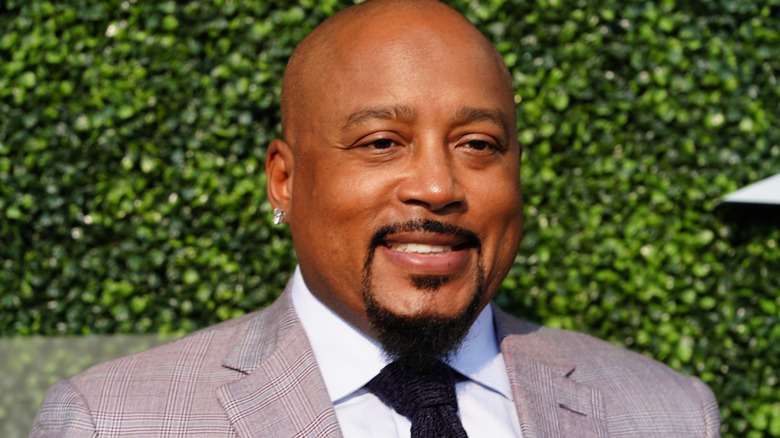 Leonard Zhukovsky/Shutterstock
After Alashe Nelson showcased his EZ VIP on "Shark Tank" among the wealthy panel of star lenders, FUBU founder Daymond John was able to secure a huge opportunity for the company that many startups do not get. During an update episode, John introduced Nelson to Grammy-award-winning recording artist Pitbull during a meeting in Miami. The entertainer signed on to endorse the company and agreed to help bring in other big names.
Pitbull did film several pieces of promotional content for the company, though all of it has seemingly been scrubbed from the internet (via All Shark Tank Products). It also does not appear that any other celebrities followed suit and joined the lively business. John, Pitbull, and Nelson did make some headway in the Las Vegas and New York nightlife, though the extent of EZ VIP's run in the cities is unknown. Even more troubling is that the official EZ VIP website is no longer up. A Facebook page for the company also has not had any activity since 2014. Their Instagram profile is currently private, with the now-disabled URL link still listed in the page's bio.
Alashe Nelson has very few Instagram posts about EZ VIP
Alashe Nelson may have been the proud owner of EZ VIP. However, most references to the once-thriving VIP reservation company have been removed from his Instagram account. The last posts advertising EZ VIP are from 2012, promoting club performances where Nelson is encouraging fans to use EZ VIP to secure their entry. There are also several photos of Nelson and partner Daymond John together, though the last was from February 2, 2018, showing Nelson supporting John during his book signing. In recent years, Nelson hasn't shared any images with the Shark nor given updates about the status of EZ VIP.
Presently, Nelson seems to be more focused on Passive Trucking Company and Nelson Trucking Parking, two new companies that he founded. He shared posts advertising these new ventures earlier this year. His IG bio only lists himself as an entrepreneur, with no mention of the lucrative company that landed him on television. It's not known what exactly went wrong with EZ VIP or if Nelson simply decided to close it down to pursue other opportunities. Either way, the days of EZ VIP were glorious yet brief.