Royal Tour Moments That Caused Controversy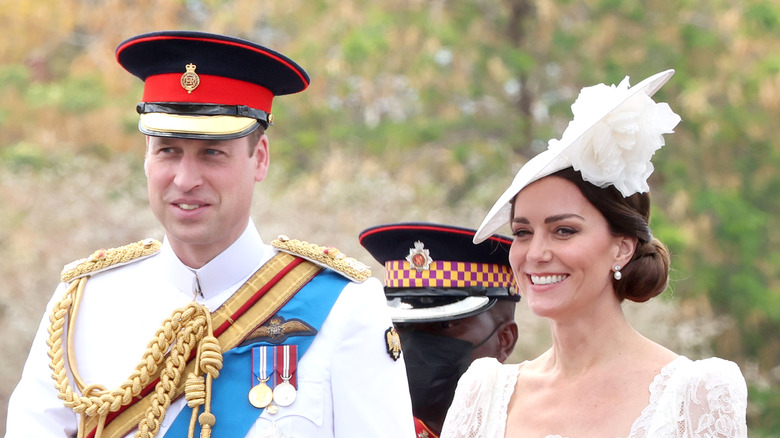 Chris Jackson/Getty Images
Trigger warning: The following article mentions suicide.
It enthralls royal watchers and journalists alike, and even though we're long past the middle ages, royal tours are still as popular as ever.
The custom of touring their own country and going to great lengths to travel to other continents has been a longstanding tradition of the British royal family. In the past, tours existed to let the monarch's subjects and the rest of the world know that they were alive and well. There was no such thing as tabloids to inform the public of the monarchy's comings and goings, so they had to go out there to remind their subjects that they were still in control. As prime minister Lord Salisbury said during his tenure, "Seclusion is one of the few luxuries in which royal personages may not indulge ... loyalty needs a life of almost unintermitted publicity to sustain it." Truer words were never spoken, and today, the tabloids make sure that the royal family receives constant publicity, albeit less than flattering sometimes.
As outdated as the monarchy may seem to some, they somehow remain relevant, even in the 21st century, and that can, in part, be attributed to the fact that they still nurture their relationship with the public. Queen Elizabeth II once said, "We have to be seen to be believed," and that remains true. But with various royal tours have come quite a few mishaps — some hilarious, and others a little more morbid.
King Edward VII's U.S. and Canada tour ended in a collapsed Opera House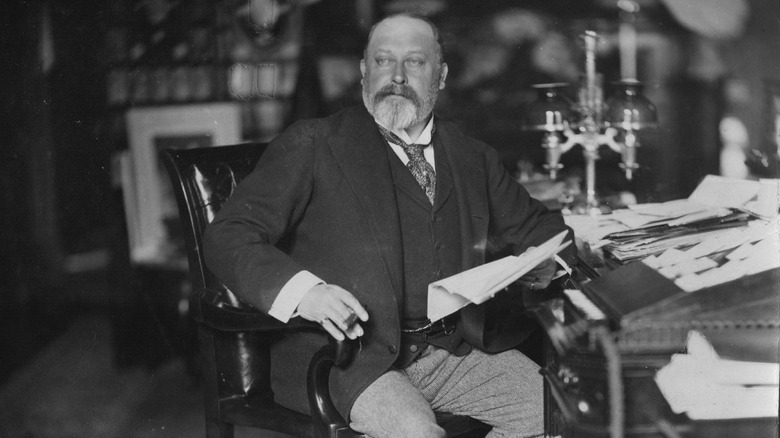 Hulton Archive/Getty Images
Some memorable royal tour disasters occurred as early as 1860, when a New York Opera House sustained severe damage during King Edward VII's visit. It was a memorable trip for more than one reason, however: Edward, who was then still known as the Prince of Wales, was the first royal to pay a visit to North America. As with most royal tours, his visit was a strategic one and not just for fun. The Crimean War was still waging, and Edward's visit served as a means to establish the monarchy's power and influence in the war alongside its allies like Canada. Amid the war, the Victoria Bridge was erected, and Edward's presence was required at the opening, so the royal had his hands full with various engagements.
Edward's stay attracted plenty of attention, and 5,000 people attended the Grand New York Ball hosted in his honor. According to reports at the time, Edward managed to charm the socks off his subjects, so this was no surprise. Unfortunately, the number of guests was way past the Opera House's capacity (only 3,000 people were supposed to be in attendance). The structure couldn't handle the pressure, and the floor collapsed. Edward's popularity literally managed to bring the house down, and while the monarchy was surely pleased, the carpenters who had to repair all the damage likely weren't.
King Edward VIII's 1920 Australia tour ended in a train wreck — literally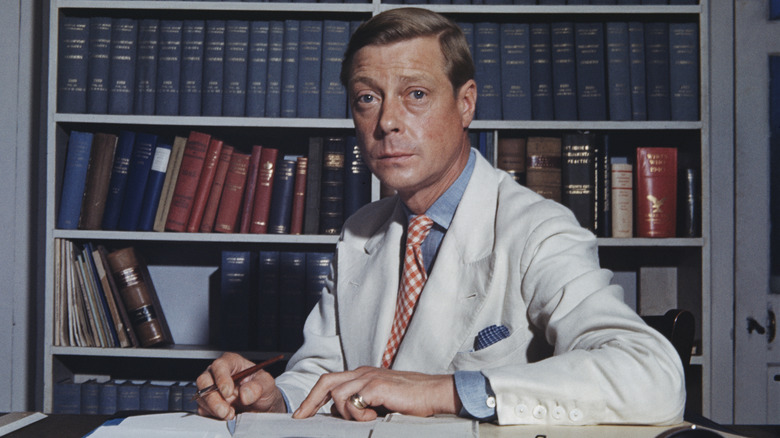 Michael Ochs Archives/Getty Images
If past accounts are to be believed, King Edward VIII quite enjoyed a bit of fun, and if he could manage to work some of that in while on a royal tour, he was happy to jump at the chance.
In 1920, Edward, who was then still known as the Prince of Wales, made the trip down to Australia in his father's stead, making around 110 stops during his time there. The world was still recovering from World War I at the time, and the British monarchy was eager to keep things amicable with Australia, especially since the country provided much-needed assistance during the war.
While most of the tour went down without a hitch, disaster struck when the royal train derailed — with Edward on it. It appears, however, that nothing could faze the man, with historian and author Ted Powell telling Cosmopolitan that Edward miraculously managed to walk away from the incident without as much as a scratch. "He climbed out of the window of his carriage clutching a cocktail shaker," Powell told the outlet, adding, "In fact Edward was delighted; he was always pleased when the grinding routine of his official schedule was disrupted."
King Charles III was caught canoodling on the beach during his 1979 Australia tour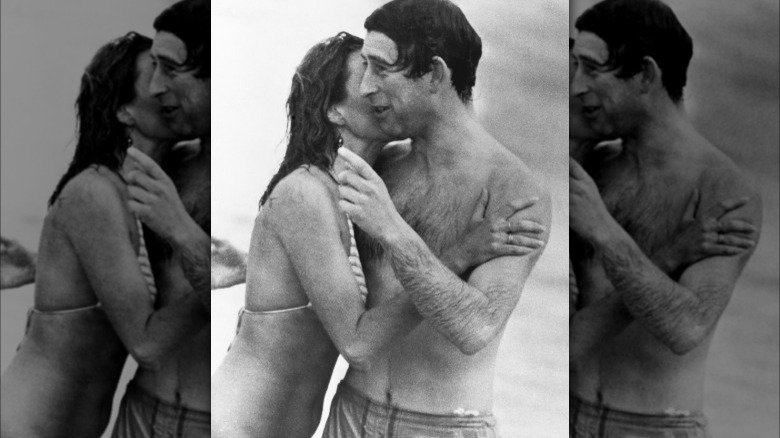 Hulton Deutsch/Getty Images
Once upon a time in 1979, King Charles III was caught canoodling in Australian waters with a pretty Aussie who seemed unable to keep her hands off him. The then-Prince of Wales was representing the monarchy on a royal tour, and while few probably remember much about his royal engagements, this moment went down in history. To all the world, it appeared that the prince had been bamboozled by a beautiful woman on the beach. This was, however, a PR stunt. The prince's team was worried about his image: Charles came across as a little standoffish — not exactly a characteristic one associates with a prince. So the PR team decided it was about time to give his image a boost, and the easiest way to do that was to paint him as someone who attracted the attention of pretty women on the beach.
The encounter instantly gave Charles the sex appeal his PR team thought he lacked. The picture made the front page of nearly every tabloid, while all along, Charles had expected the encounter. He had even met the woman, Jane Priest, beforehand, but then got cold feet, which, in the end, made it look like he truly wasn't expecting her affections. "I actually went and put my hands on his chest to give him a kiss and Charles said: 'No, I can't touch you, I can't touch you,'" Priest later told the Evening Standard.
Queen Elizabeth II almost got shot during her 1981 New Zealand tour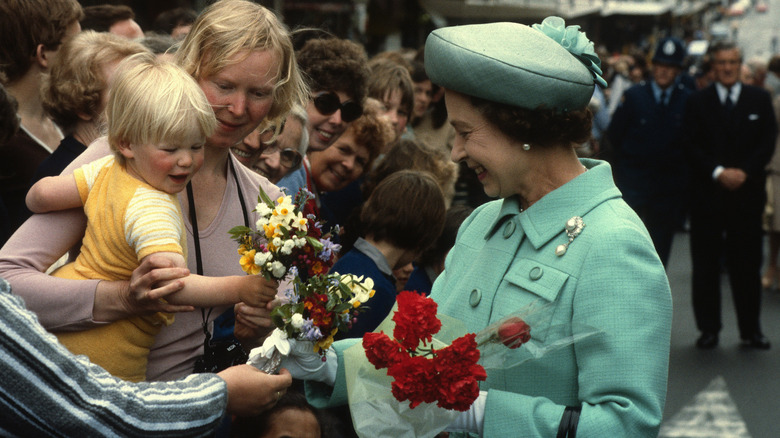 Anwar Hussein/Getty Images
There's no doubt that a lot of planning goes into royal tours, but the most important aspect of it all is the royals' security detail. It appears, however, that the monarchy only truly realized how important security measures were when Queen Elizabeth II nearly got shot while touring New Zealand in 1981.
The queen was greeting members of the public when 17-year-old Christopher John Lewis tried to shoot her. The crowd didn't immediately realize that they heard a gunshot, and likely fearing a stampede, authorities took advantage of the confusion, attributing the sound to firecrackers. The truth was that Lewis had tried to assassinate the queen. Lucky for her majesty, he had shoddy aim.
Naturally, the New Zealand government was shocked by what almost went down and was worried about the country's reputation, fearing that the royal family would suspend their visits to New Zealand indefinitely. An investigation followed, which revealed that Lewis had an obsession with killing the royals and that the queen had been the first on his hit list. His next target was King Charles III, and authorities saw him as a serious threat after he tried to escape from the psychiatric ward where he was in custody. Lewis committed suicide in 1997, but his actions were a wake-up call, reminding governments and the monarchy that extreme safety measures are necessary whenever members of the monarchy make public appearances.
If you or anyone you know is having suicidal thoughts, please call the National Suicide Prevention Lifeline​ by dialing 988 or by calling 1-800-273-TALK (8255)​.
Prince Philip made a controversial comment while touring China in 1986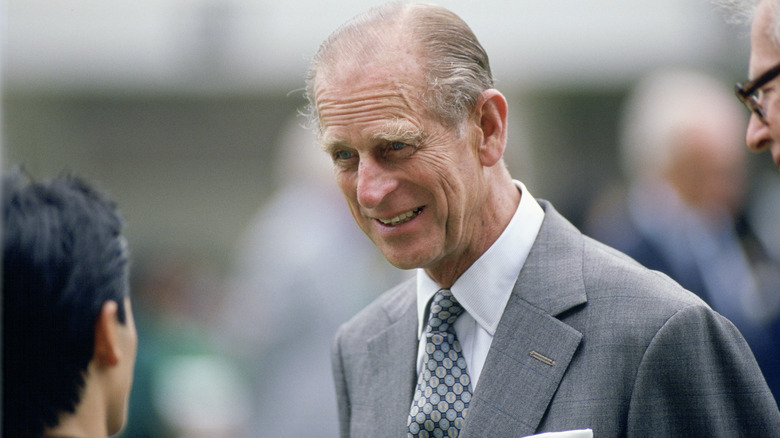 Tim Graham/Getty Images
Prince Philip found himself in some hot water with the British press when he made a very controversial comment while on his 1986 China tour. The prince was reportedly speaking with British students residing in China for their studies when he told them, "If you stay here much longer, you will go back with slitty eyes." Oof! To make matters worse, the prince didn't exactly accept responsibility for the comment. He placed the blame on the British students he spoke to instead, dubbing them "a little tactless" for making it a public debacle. Yeah, that happened.
While Chinese outlets didn't appear to be reporting on the incident, the British media made it clear that Philip had made a massive blunder, and various tabloid headlines reprimanded the prince for his careless words. Today's headline read "Philip Drops a Clanger," while the Sun's headline cried "Philip Gets It All Wong." Meanwhile, Queen Elizabeth II's spokesperson at the time, Michael Shea, had his hands full trying to quell the media storm. "[T]he Duke of Edinburgh is in no way disparaging of the Chinese people," Shea said."It's a well-known physiological fact that people in different parts of the world have eyes that are differently shaped. My eyes are round," Shea added. Then there was also the fact that Philip told those very same British students that he found Peking (now Beijing) "ghastly." Tact is one thing the prince lacked on this trip.
King Charles III and Princess Diana's marital problems were center stage during two of their tours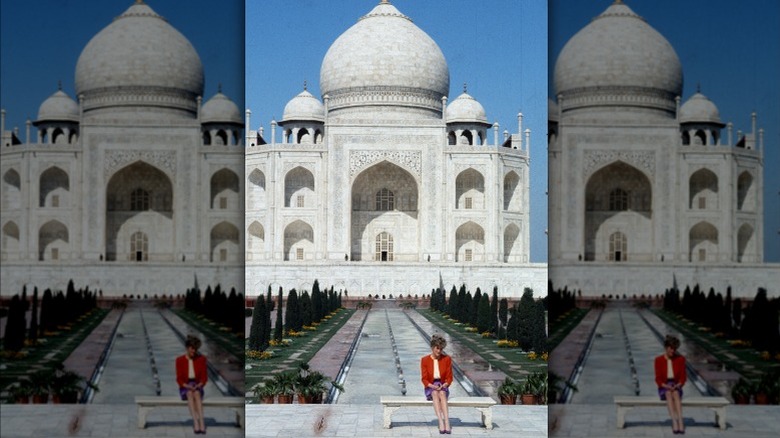 Anwar Hussein/Getty Images
It's no secret that King Charles III and Princess Diana's marriage was unhappy for the most part, but the public really started to get suspicious when the two of them were seen looking less than happy while on some of their royal tours. Historian and author Ted Powell told Cosmopolitan that the couple had a hard time pretending all was well during their 1988 visit to Canada. "[T]heir body language said it all, as the photographs showed them looking strained and uncomfortable in each other's company," Powell told the outlet.
Then there was the couple's 1992 tour, which made their marital troubles all the more evident. While they were visiting Seoul that year, they didn't even try to put on a facade of happiness. "Their eyes never met. There was no physical contact. It was as if they were two strangers," royal correspondent James Whittaker revealed via the Mirror. "They arrived in Korea with orders to present the image of a loving couple. Instead, stony-faced, they ignored each other, not even exchanging a look," Whittaker added. In India, Diana posed for an iconic picture on a bench with the famous Taj Mahal towering behind her. This, Powell calls "a poignant statement of her isolation." And if there's one thing we know, it's that Lady Di was very good at making statements — and this one stuck, even after more than two decades.
Princess Anne took a dramatic fall and gave a bailiff a scolding during a 2007 tour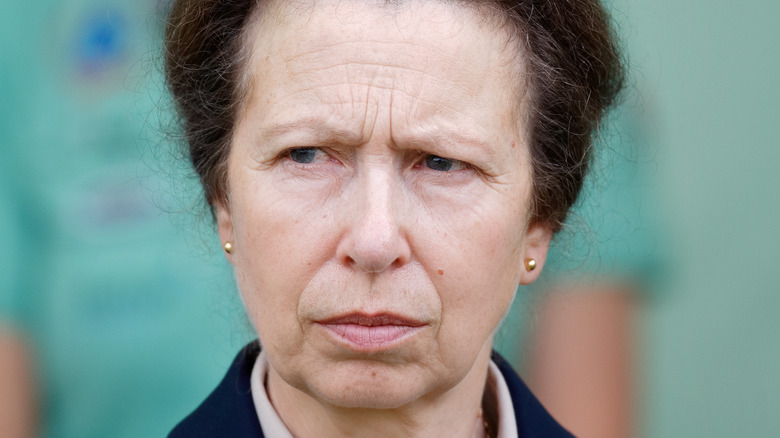 Max Mumby/indigo/Getty Images
When you're in the spotlight, the last thing you want is to lose your footing, but that's exactly what happened to Princess Anne on her Channel Island of Guernsey tour in 2007. Anne fell more gracefully than most — we have to give her that. But the royal was clearly more than a little distraught by the mishap, and one unsuspecting, concerned bailiff quickly learned that a modern royal lady doesn't need a man to come to her aid.
The fall, which happened in the middle of the street, was witnessed by many, and as the bailiff tried to rescue the princess from her predicament, she could be heard politely telling him off. "No, don't do that, thank you. Grabbing me round my... (inaudible) won't help. I'm perfectly capable of getting myself up," Anne was heard saying. Photographs of the incident gave the impression that the bailiff was holding onto her arm, but that didn't keep people from speculating where exactly he'd "grabbed" Anne to cause such consternation. It doesn't appear to have been inappropriate in any way, however.
The Daily Mail reported that some who witnessed the incident claimed Anne was furious with how the bailiff handled the situation, but it might just have been her pride that was hurt. Regardless, it's clear that the princess royal is fiercely independent and that not even a little fall will keep her from fulfilling her royal duties.
Princess Catherine was caught in a dress mishap during a 2016 India tour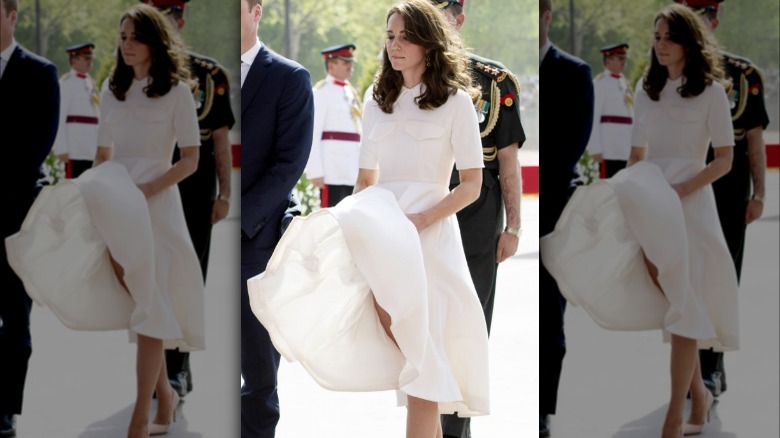 Samir Hussein/Getty Images
It's no secret that women of the royal family favor dresses for royal engagements, and Princess Catherine can always be trusted to wear a stunning dress whenever she's out and about. When she and Prince William embarked on their 2016 India tour, Catherine wore a striking Emilia Wickstead piece as she and William made their way to India Gate, where they were set to pay their respects to the Indian soldiers who laid down their lives for Britain in World War I.
All was proceeding smoothly, but the wind had other plans, and it swept Catherine's dress up into the air, exposing way more of the royal than would be deemed fit for any public engagement. Naturally, the journalists present couldn't believe their luck, and consequently, the whole world was informed about Catherine's swift wardrobe malfunction.
It makes one wonder how Queen Elizabeth II managed to avoid such mishaps during her long reign as monarch — and as it turns out, her dresses were always adorned with small weights to ensure no tabloid would ever see more of the queen than she deemed fit. An "ancient" practice? Maybe. Effective? Definitely.
Prince Harry and Meghan Markle's 2019 Africa tour resulted in a few mishaps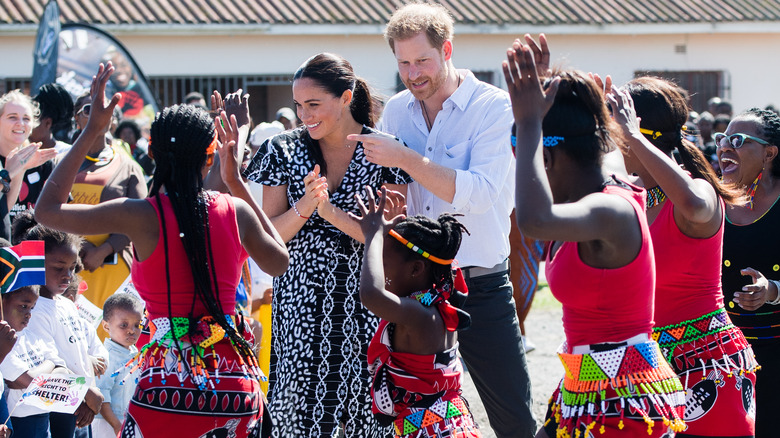 Samir Hussein/Getty Images
When Prince Harry and Meghan Markle embarked on their Africa tour in 2019, they had just become parents to Prince Archie and were still trying to adjust to life as a family of three. To complicate matters, Archie's room caught fire while the couple was out on a royal engagement, which understandably left them both shaken. Meghan later revealed on her podcast, Archetypes, that she and Harry weren't even afforded a moment to collect themselves after the incident. "[W]e still had to leave him and go do another official engagement," she revealed.
ITV's Tom Bradby was accompanying the couple on the tour and doing interviews on the side for a documentary the outlet was making about their African adventures, and at one point, Meghan opened up to him about the struggles of royal life, admitting that she was having a hard time adjusting. When the documentary was released, this bit of info really got people talking. The tour also ended up being overshadowed by Harry and Meghan's decision to sue certain British outlets for publishing information about them that they claimed was obtained illegally.
Royal experts criticized the couple for not engaging with the press during this tour, specifically Prince Harry. Several reporters interviewed for the BBC documentary "The Princes and the Press" complained that the prince barely acknowledged their presence. Given the circumstances, one can't really blame Harry for giving the press the cold shoulder.
Prince William and Princess Catherine's 2022 Caribbean tour did not go down well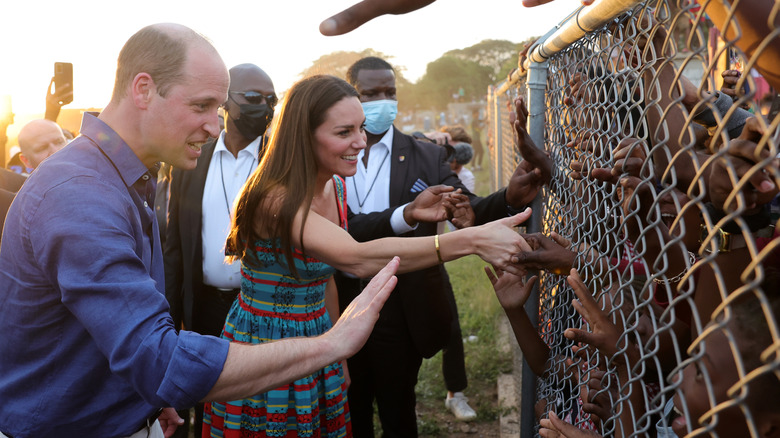 Chris Jackson/Getty Images
Prince William and Princess Catherine's 2022 Caribbean tour made headlines for all the wrong reasons. Not only was the Windrush scandal still fresh in people's minds, but many of those who were affected by it hail from the Caribbean. It was a badly timed visit, and many royal experts later pointed out that it was unbelievable that the palace didn't realize the tour was in bad taste.
The couple went about their public engagements amid protests and widespread criticism aimed at the monarchy. While the tour was supposed to encourage Caribbean countries to remain part of the Commonwealth, many media outlets argued that it might have achieved the exact opposite. "I think they're going to have to face up to some really harsh criticism because in reality, it was a disaster," Daily Mirror royal editor Russell Myers told Nine News Australia. Some claimed that all the royal couple managed to achieve was to remind people of colonialism. Photographs of children reaching out toward Catherine and William from behind a chainlink fence especially raised some eyebrows. In a statement released after the tour, William made it clear that he was not in the business of "telling people what to do," likely referring to the fact that several Caribbean countries appear to be taking steps to sever themselves from the monarchy, despite the couple's visit.