We'll Take Ryan Seacrest If It Means We Can Keep Vanna White On Wheel Of Fortune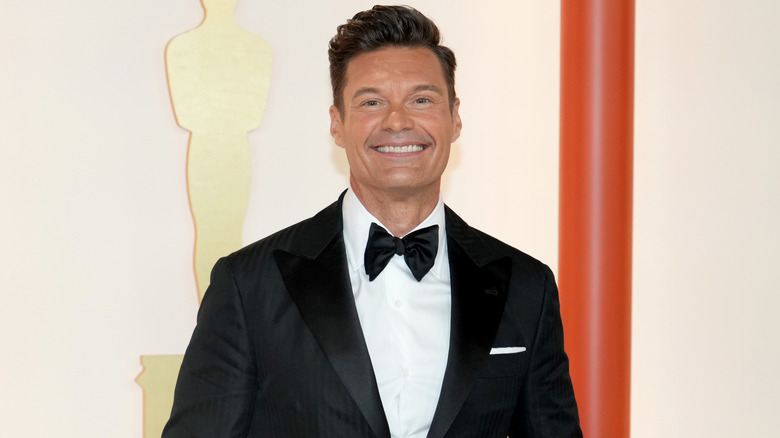 Jeff Kravitz/Getty Images
It doesn't seem possible that Pat Sajak's future with "Wheel of Fortune" will only last one more season. As the host of the iconic game show, he seemed as much of a fixture as the "Bankrupt" cards or the ceramic Dalmatian dogs that were once offered as prizes. But retire he will in 2024, leaving big shoes to fill — and the feet have just been chosen. Just two weeks after Sajak announced his departure, Sony Pictures Television confirmed Ryan Seacrest will be the one coaching contestants. In a statement (via People) Seacrest said, "I'm truly humbled to be stepping into the footsteps of the legendary Pat Sajak." He added that he was eager to learn the ropes from the "Wheel" master. A Sony executive echoed, "Ryan loves 'Wheel' as much as we do and is the perfect person to continue the show's four-decade success into the future." 
Is this news worth celebrating?  Well ... at least the decision came much more quickly than the endless process of finding a successor for Alex Trebek on "Jeopardy." But Seacrest's rep for being a go-to replacement is getting old. He took over "New Year's Rockin' Eve" after Dick Clark died and filled Regis Philbin's empty seat to banter with Kelly Ripa on "Live." At this rate, Jeff Probst must be looking over his shoulder nervously. But we'll accept the new regime graciously — as long as this is the only change coming for "Wheel."
If Vanna walks, so will we
Shortly following Pat Sajak's retirement bombshell, rumors spread that Vanna White's "Wheel of Fortune" future might be endangered, too. According to Entertainment Weekly, the popular co-host has been negotiating for her first pay raise in 18 years (it seems she's been given bonuses here and there, but no regular bump in salary). In 2022, White also admitted to People she couldn't imagine doing the show with anyone but Sajak. Frankly, neither can we. Anyone who claims White has an easy job has obviously never spent 40 years walking around a soundstage in evening gowns and 3-inch heels. She has to smile and be enthusiastic, even if she's just had a fender-bender or a root canal. And think of the self-control she has to have in order to not react when a contestant flubs a puzzle with only one letter missing. 
Fortunately, Ryan Seacrest offered hope when he spoke of "working alongside the great Vanna White." This suggests that the negotiations have been going well enough that she'll be staying around for at least a while longer. We'll give it a chance, for Vanna's sake. Still, we have to wonder why she wasn't offered the job instead. There are few enough women in the game-show world to begin with, and who knows the rhythm and vibe of "Wheel" better than she does? Let her do the talking while Seacrest smiles and lights up the vowels. That would be a "Fortune" worth winning.