The Moment From Prince Philip's Funeral Princess Anne Is 'Glad' She Didn't See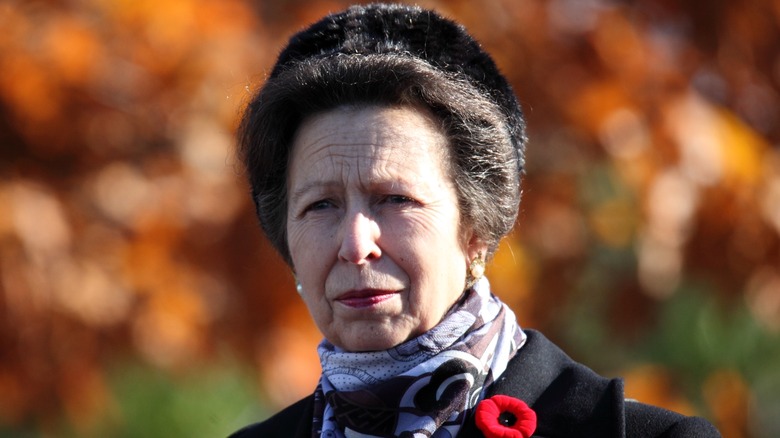 Art Babych/Shutterstock
Prince Philip died on April 9, 2021, at the age of 99. The patriarch of the royal family was survived by his wife, Queen Elizabeth, their three sons (King Charles, Prince Andrew, and Prince Edward) and their only daughter, Princess Anne. Following Philip's death, Anne released a statement. "You know it's going to happen but you are never really ready. My father has been my teacher, my supporter and my critic, but mostly it is his example of a life well lived and service freely given that I most wanted to emulate," she wrote, per Town & Country, adding, "I regard it as an honour and a privilege to have been asked to follow in his footsteps and it has been a pleasure to have kept him in touch with [his organizations and causes]."
The royal family began making preparations for Philip's funeral service, keeping in mind that he didn't want any fanfare or fuss made about him. "He has asked for a much more quieter event. He has asked, in his words, [for] a simple affair and that is exactly what is happening at the ceremonial service that will take place at St. George's Chapel at Windsor Castle," royal author Omid Scobie told Entertainment Tonight at the time. Although the event was significantly "scaled back" due to the pandemic, according to The New York Times, Philip's family was in attendance at St. George's Chapel. Following the service, a photo of the queen sitting alone in a pew surfaced — and the image made Anne terribly upset.
Princess Anne has a hard time looking at the photos of her mother sitting alone at the funeral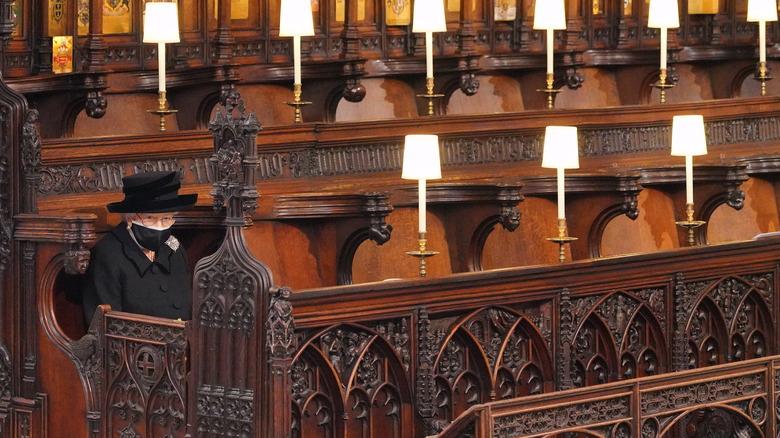 WPA Pool/Getty Images
At one point during the funeral service for Prince Philip, his wife of 74 years, Queen Elizabeth II, sat in a pew all by herself. Dressed in all black, along with a black hat and a matching black face mask, the queen peered up from her seat with only the bridge of her nose and her eyeglasses visible. The reason, though still heartbreaking, had to do with COVID-19 restrictions. 
"A reminder of how this pandemic has changed all our lives. The Queen sits alone, with a mask on, as she says farewell to her 'strength & stay' for so much of her life," Twitter user Dan Walker described the image. It was this moment that Princess Anne says she's grateful she missed.
"In some ways, I'm glad we didn't see that at that moment. And then when you see the photograph, it's much worse, somehow," she said in an interview with Canadian broadcaster CBC. Anne explained that she didn't actually see her mother sitting alone at the funeral because she and her siblings accompanied their father's coffin as part of a procession. 
Princess Anne had a close relationship with her mother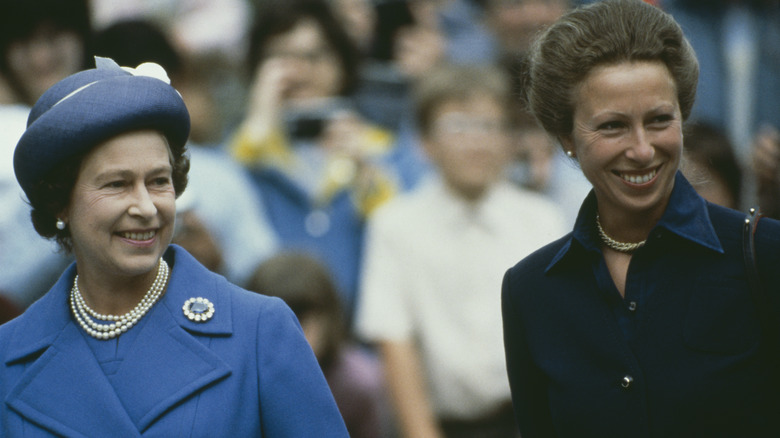 Tim Graham/Getty Images
Princess Anne had a close relationship with her parents, especially her mother. Aside from the fact that Anne was the only daughter of the monarch, the two also bonded over their love of animals, especially horses. When the queen fell ill in September, Anne was by her side. Following her death, Anne released a statement. 
"I was fortunate to share the last 24 hours of my dearest Mother's life. It has been an honour and a privilege to accompany her on her final journeys. Witnessing the love and respect shown by so many on these journeys has been both humbling and uplifting," she shared in an Instagram post. "We will all share unique memories. I offer my thanks to each and every one who share our sense of loss. We may have been reminded how much of her presence and contribution to our national identity we took for granted. I am also so grateful for the support and understanding offered to my dear brother Charles as he accepts the added responsibilities of The Monarch."
As she said in her statement, Anne fully supports her brother's reign as king. At King Charles' coronation in May, Anne accepted a special role as the Colonel of the Blues and Royals in the Household Cavalry regiment as Gold-Stick [in Waiting], according to Us Weekly. "I was asked if I'd like to do for this coronation, so I said 'yes,'" Anne said, joking that it saved her from needing to find a dress to wear for the occasion.