How Did Steffy And Finn Meet On The Bold And The Beautiful?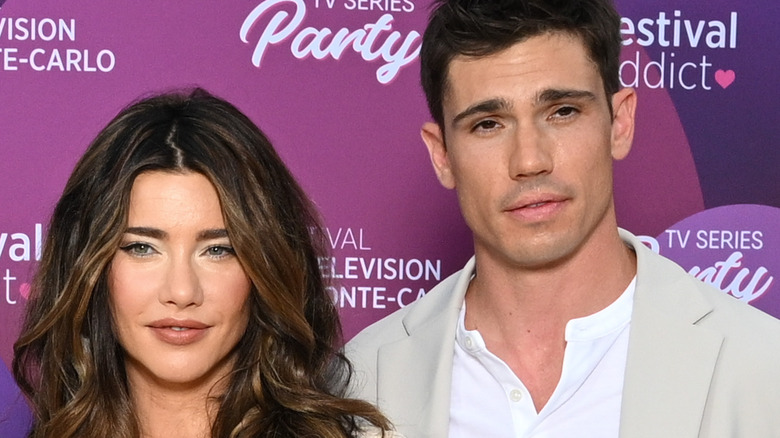 Stephane Cardinale - Corbis/Getty Images
Nobody is marshaling the current generation of leading women on "The Bold and the Beautiful" quite like Forrester Creations' CEO Steffy Forrester (Jacqueline MacInnes Wood). Steffy has been at the forefront of almost every major storyline since MacInnes Wood joined the series in the late 2000s. In the past, Steffy was stuck in a never-ending battle with her rival, Hope Logan (Annika Noelle), over the affections of Liam Spencer (Scott Clifton). Liam had a stronghold over the two women, unlike anything the show has ever seen. 
It had all of the complexity of the Ridge Forrester (Thorsten Kaye), Brooke Logan (Katherine Kelly Lang), and Taylor Hayes (Krista Allen) love triangle that fans couldn't get enough of, with the drama dialed up even further. However, eventually, Steffy was able to break the cycle and find true love with a new man, Dr. Finn (Tanner Novlan). Despite their undeniable love connection in the present, Steffy and Finn met in the most unconventional way possible. 
In 2020, several shows took extended breaks with no new episodes airing because of the ongoing COVID-19 pandemic. When "B&B" was finally ready to come back from its hiatus, the long-running soap needed to do so with great impact, and the first big story was Steffy's motorcycle accident. It looked like Steffy would be killed off the show, and interest immediately peaked for everyone watching at home. It's also the first time viewers met the charming Finn. 
Steffy was struck by an unknown driver while out on her motorcycle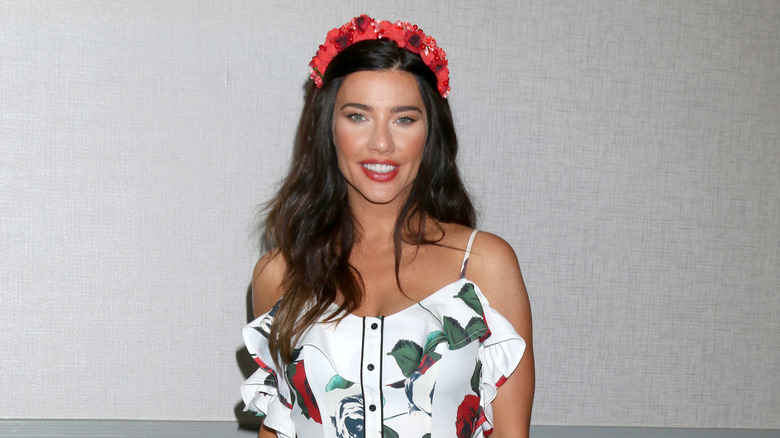 Kathy Hutchins/Shutterstock
There was no better way for the show to return to the air than by having Steffy Forrester mowed down by a truck in the middle of a Los Angeles street while riding her motorcycle. This wasn't the first motorcycle accident of Steffy's on "B&B" with high stakes either. Steffy previously wrecked her bike while pregnant with her son. For quite some time, the collision rendered her unable to have kids — something that proved to be corrected when she became pregnant with her daughter, Kelly Spencer. 
The person behind the wheel was later revealed to be Steffy's former father-in-law, Bill Spencer (Don Diamont). Bill was guilt-ridden for what happened, but Steffy's life being on the line remained the number one priority. Dr. Finn was assigned to be Steffy's doctor during this time and oversaw every last detail of her care. He was instantly smitten with her, but Finn had to put his personal feelings to the side and focus on professionalism and saving her life. 
Bill's relationship with Steffy's family — namely her father, Ridge Forrester (Thorsten Kaye) — was contentious on a good day, so finding out that he was responsible for the crash didn't go over well. There was a lot for everyone to take in, but the focus had to remain on helping Steffy recover from her injuries. 
Dr. Finn saved Steffy's life and brought her back from the brink of death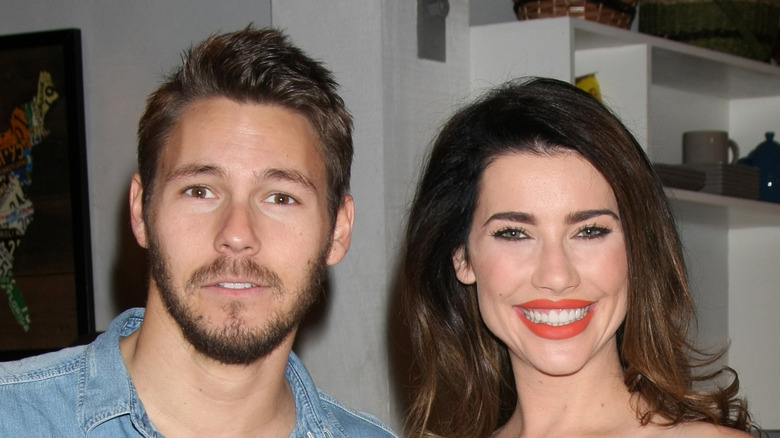 Kathy Hutchins/Shutterstock
Dr. Finn was the ultimate miracle worker and saved Steffy Forrester's life. However, even though he helped her through that initial touch-and-go phase, there was still so much more work to be done. Steffy was in rough shape, and her recovery was going to be a long and tedious one. Much to the chagrin of his wife, Hope Logan, Liam Spencer was an integral part of her recovery, but he set a lot of alarm bells off because of Finn's obvious interest in his ex-wife. 
Liam was telling just about anyone who would listen that while he was grateful for Finn saving the life of his daughter's mother, he found their relationship and Finn's personal involvement with his patient to be uncomfortable and inappropriate. Every time he showed up at Steffy's to check in on her after the accident, Finn was there, and it didn't sit right with Liam. 
Despite Liam's reservations, Finn played an instrumental part in saving Steffy yet again, but this time, he recused himself as her doctor, so they could ethically pursue a romantic relationship. Not only did they have a spark that she seemed to only ever have with Liam in the past, but for the first time, Steffy was building a future with someone who only wanted her and wasn't constantly waffling between two women.