Inside Kim And Kourtney Kardashian's Relationship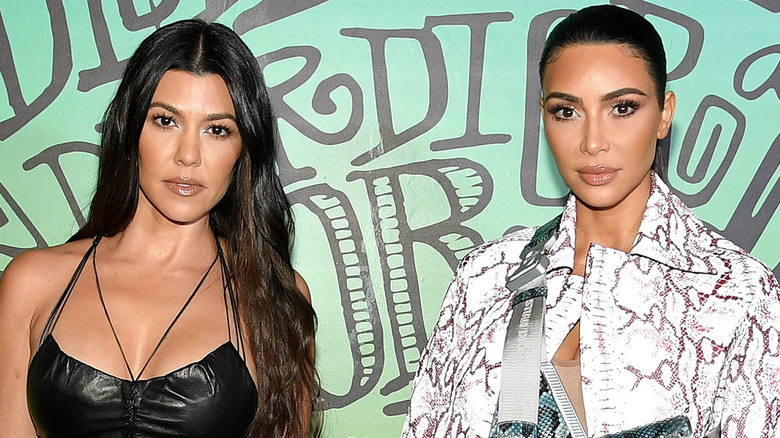 Dimitrios Kambouris/Getty Images
Since the Kardashians first appeared on our television screens in 2007, the show has always been about their interesting family dynamic. The central figures of the show are, of course, the Kardashian and Jenner sisters along with their "momager" Kris Jenner. While we've watched them build their ever-expanding empires in business and beauty, it's the drama that keeps us tuning in — and no one serves up drama quite like this family.
As the biggest star of the family, it's no surprise that sometimes Kim Kardashian finds herself in the middle of drama with her sisters. Bickering with your siblings is nothing out of the ordinary, but in the Kardashian-Jenner world, cameras are rolling every step of the way.
As we kept up with the Kardashians over the seasons and the crossover to Hulu, viewers have noticed the growing tensions between Kim and Kourtney. Despite having polar opposite personalities, both Kim and Kourtney have one thing in common — neither sister bites her tongue. The siblings have argued over everything from birthday parties to business deals. Despite Kris Jenner's attempts to keep the peace between her two famous clients/daughters, the arguments between Kim and Kourtney have led to cease and desist letters and even shocking physical fights. Here's everything you need to know about their relationship.
The infamous lost earring debacle
Family trips are usually ideal for bonding and exploring new places, but when you bring cameras long, they're sure to catch some bickering. In Season 4 of "Keeping Up with the Kardashians," the family took a trip to Bora Bora along with Kim's then-fiancé Kris Humphries. The trip started off fun but soon Kim suffered what she regarded as a major crisis. After Humphries playfully tossed her in the water, one of her expensive diamond earrings came off of her ear. A shocked Kim immediately broke into sobs as she realized it might be gone for good. 
As famous momager, Kris Jenner attempted to console her daughter mid-ugly cry, Kourtney believed she needed a reality check. "Kim, there's people that are dying," she bluntly told her sister. Kim didn't take too kindly to her sister's nonchalant attitude and explained the worth of the earrings. "Anyone would be annoyed, I work really hard and I bought these," she explained to her mom. "This is the most expensive thing I've ever bought." 
She further explained the importance of the $75,000 earrings in 2017 to E! News. "I had just gotten them, and I didn't insure them, and imagine if you don't insure something and it's gone, I just threw that money [away]," Kim said. Nevertheless, she added, "Yes, I see Kourtney's point now." Despite the hefty price tag of the earrings, Kourtney's comment went on to become a viral meme (that people still quote) and left Kim looking slightly out of touch.
Kourtney rejected Kim's game
In Season 10 of "KUWTK," we saw Kim Kardashian developing her own mobile game, "Kim Kardashian: Hollywood." The reality star had the idea to include her famous sisters in the game, too; however, when she presented the idea of designing characters modeled after their likenesses and not paying them, she faced major pushback from Kourtney. The oldest Kardashian sister turned down the offer and simply explained she didn't want to be a part of the game and noted that they weren't even going to be paid. 
This clearly frustrated Kim, who viewed this as a favor her sister should do for her instead of a regular business agreement. "For Scott [Disick] to call me and say, 'You should buy her a pair of shoes to put her character in the game,' I'm like, 'Buy her a pair of shoes? All the s**t I've done for her?'" she angrily told Kourtney. "I said to Scott, 'I'm not buying her a f**king pair of shoes. I bought her a f**king career!'"
Those harsh words from Kim obviously didn't do much to persuade Kourtney into changing her mind. In fact, Kourtney reportedly sent a cease and desist letter for using her likeness without permission, proving that she was not up for games. However, Kourtney did eventually come around and appeared in the app.
The Christmas card drama
In Season 15 the relationship between Kim and Kourtney Kardashian hit a major low. While gearing for a family Christmas card, the sisters began bickering over the schedule. Kourtney had requested that the shoot end at a certain so she can return home. Kim, who had a business meeting scheduled for that time, found it difficult to accommodate those demands. As the cameras rolled, the sisters began arguing and things quickly escalated. 
Kourtney made it clear she wasn't going to budge on her schedule and Kim shot back by disinviting her to the whole photoshoot. After Kourtney suggested Kim simply reschedule her business meetings, Kim grew irate. "Maybe if you had a business that you were passionate about then you would know what it takes to run a f**king business. But you don't, so don't even act like you know what I'm talking about," Kim shouted. Kris Jenner made a futile attempt to resolve the disagreement, but not before Kourtney stormed off. 
As she made her exit, Kim threw in one last hurtful jab her way. "She's the least exciting to look at," said Kim. Still hurt over the argument, Kourtney later called Khloé in tears. "I'm not here to be mistreated by my f**king b**ch family," she cried. She explained that she's prioritizing being a mother over work obligations. Kim argued that Kourtney should be accommodating since she "works the least" and Kourtney responded by calling her a "distraught, evil person". After another argument, Kourtney decided to skip Kim's baby shower.
Kim threatened to fire Kourtney from the show
According to Kim Kardashian, her family members need to earn their coveted spots on "KUWTK." In Season 17, Kim and Khloé came to the conclusion that Kourtney wasn't exactly pulling her own weight. The two accused her of hiding her dating life from the cameras and considered it "unfair" since they each show their personal lives. In an effort to get her to reveal her love life on camera, Kim and Khloé secretly followed Kourtney to a business meeting -– which they believed was a secret date – and brought the cameras along. This, of course, upset Kourtney, who accused them of not respecting her boundaries. 
"Our job is being open and honest and sharing a lot of ourselves and it just seems like for the past few years Kourtney hasn't really been open about her personal life on camera," Kim said in a confessional. Their argument led Kim and Khloé to ponder Kourtney's role on the show. The sisters even threaten to fire Kourtney, which obviously didn't go over well. After FaceTiming her, they let it be known that they were close to firing her. Kourtney broke down in tears and later texted her sisters that she didn't appreciate it. 
The sisters even phoned momager Kris Jenner to voice their displeasure with Kourtney. They argued that she wasn't pressuring Kourtney enough to show her life on the show. "Let's show [Kourtney]," Kim said. "If she doesn't want to show up, she doesn't want to work, she has too many f**king boundaries, she's out!"
Kim accuses Kourtney of stealing her style
In Season 17 of "KUWTK," Kourtney Kardashian celebrated a milestone birthday. The Poosh founder was turning 40 and planned a party for the occasion. As seen on the show, she showed Khloé her birthday dress and asked for her opinion. After seeing the dress, Khloé suggested they phone Kim. "I don't know if I trust [Kim's] opinion the most," Kourtney joked. After getting Kim on the phone, Khloé joked that Kourtney didn't care what they thought and would rather have Kendall Jenner's input. Kim took offense, replying, "Well if she doesn't care, why do you keep on picking out all the same clothes?" Kourtney disagreed. "We have completely different looks," she said. "I'm not trying to copy your styles." Kourtney further explained that they often wear the same designer brands.
In a confessional, Kim expressed that Kourtney didn't understand the unwritten rules of the fashion industry and the years she spent building relationships with designers. The back and forth escalated via text messages with both sisters hurling names at each other. As Kourtney recounted the fight to her friend, Kim called her an "ungrateful b**ch," to which Kourtney replied, calling Kim "a petty woman." Kourtney continued, saying, "I said, 'You're going to school to become a lawyer and help the world and these are the kinds of problems you have?' Kim recounted the fight to their mother and admitted she called Kourtney a "fake humanitarian."
Kim and Kourtney weren't too sweet on each other when planning a Candy Land party
If there's one thing the Kardashians are known for, it's their lavish parties. When it comes to throwing a birthday bash for their kids, they love going all out. From the festive themes to the star-studded guest list, their parties are nothing short of impressive. On Season 17 of "KUWTK," fans got a look at Kourtney and Kim Kardashian planning a Candy Land-themed joint birthday party for North West and Penelope Disick. Despite the fun theme, the party planning wasn't very sweet. It all started when the sisters disagreed over what to serve at the party. 
Kourtney, who has been transparent about living an organic lifestyle, suggested that they should be serving healthy candy at the party. The Poosh founder even argued that serving unhealthy candy would go against her brand. A frustrated Kim shot back, "Then why does your car have leather seats? Why are you wearing plastic glasses?" The argument didn't end there. With both sisters refusing to compromise on candy, they butted heads again and Kim even threatened to pull out of the event. "It's Candy Land, not Gluten-Free Land," she told Kourtney. 
Eventually, family intervened and suggested a truce. The sisters ultimately agreed to throw the party together with classic candy on the menu. The party ended with Kim admitting that there was indeed way too much candy at the party.
Kim admitted to being mean to Kourtney
In the finale of Season 17 of "KUWTK," the Kardashian family made an effort to strengthen their bond after recent arguments. Kris Jenner planned a family trip to Wyoming so the girls could bond and experience new things together. However, things got off to a shaky start when Kourtney brought along her three kids despite Kris suggesting this be a kids-free trip. In the car, Kris hosted an impromptu therapy session and asked the sisters who they wanted to build a better relationship with. Both Khloé and Kim revealed that they hoped to repair their relationship with Kourtney. 
Kim, in particular, admitted that in their relationship, they could improve their communication and be less judgemental of each other. "I want to fix my relationship probably with Kourtney for those reasons," Kim told the group. She noted that the two of them bicker often and resort to being mean to each other. "I mean yeah, I can be so mean," Kim admitted to Kourtney. Khloé chimed in with her perspective, saying that both Kim and Kourtney are mean to each other. 
Kim and Kourtney's feud turns physical
The most shocking argument between Kourtney and Kim Kardashian occurred during Season 18 of "Keeping Up with the Kardashians." The sisters, along with Khloé and Kendall Jenner, were discussing their careers. Kim mentioned that her and Khloé's strong work ethic meant they don't back out of work obligations often, unlike Kendall and Kylie. Kendall took offense and mentioned how hard she works despite suffering from panic attacks, but Kim emphasized that she and Khloe work the hardest even when they're sick. Her exclusion of Kourtney's name in that statement wasn't very subtle. "Well, you don't care about [work] stuff," Kim attempted to explain to her.
"You act like I don't do s**t," Kourtney snapped. "You have this narrative in your mind. I will literally f**k you up if you mention it again." The eldest Kardashian kept true to her word and tossed a water bottle at Kim before shoving her. The fight only escalated from there. The two sisters began kicking, scratching, and slapping each other before being separated. After noticing scratch marks on her arms, Kim again lunged at Kourtney as Khloé intervened. At one point, Kourtney slapped her younger sister so hard that a makeup stain from Kim's face was left on the wall. 
Kourtney left the house in tears and later took a break from filming. They apparently apologized to each other behind the scenes. The following season, Kris Jenner called Kourtney in tears after seeing the footage. Also crying, Kourtney expressed that she felt ganged up on by the family.
Kim and Kourtney disagree on parenting
Kourtney and Kim Kardashian disagree on a lot of things, including their parenting styles. Back in 2016, Kourtney revealed that they're frequently at odds when it comes to parenting. "So even if it's things with our kids, we'll talk to each other about it. I'll say, 'I think I want to do this, this way,' and then she wants to do something that way. She will give little digs as if my way is wrong or something," Kourtney told The New Potato. In Season 20 of "KUWTK," audiences saw an example of that when the two had an argument stemming from an issue with Kim's nanny.
While accompanying Kourtney and her kids on a trip, Kim's nanny made an off-hand comment to Kourtney's son Reign, which resulted in Kourtney scolding her. "We had a talk and [the nanny] was crying and she thought she was going to lose her job," Kim told Kourtney. "She said that she felt so degraded by you and you just started yelling at her." Kourtney denied yelling and explained she only confronted the nanny after her son asked her to. Kim disagreed with Kourtney's approach.
"Keep her, I don't care," Kourtney replied. "She will not ever be around my kids." This prompted Kim to bring up Kourtney's history of firing nannies, which upset Kourtney and made her storm off. "I think that was just really, really hurtful coming from my sister," Kourtney said in a later confessional.
The Dolce & Gabbana debacle
In the third season of "The Kardashians," on Hulu, viewers watched Kourtney and Kim Kardashian's relationship begin to unravel — again. It all started when Kourtney said "I Do" to Travis Barker in May 2022. During the couple's lavish wedding ceremony in Italy, the bride and her sisters were dressed in vintage Dolce & Gabbana. Four months later, Kim revealed she inked a deal with the Italian fashion brand as creative director of their Milan Fashion Week show. Upon hearing news of the collaboration, Kourtney felt betrayed and believed Kim used her wedding as a business opportunity. "She sees everything that I had [at my wedding] and takes it for her own and she doesn't even see it, she sees it for the dollar signs," Kourtney revealed.
She later called Khloé in tears and accused her sister of lacking loyalty. However, according to Kim, she was mindful about stepping on Kourtney's toes while curating the collection sand, deliberately avoiding using any looks her sister featured at the wedding. "I shouldn't have to ask her for permission. I thought I was being really mindful. There were so many collections [I didn't choose items from]," she explained. "She's saying every one of her friends [supports her], but she doesn't have any friends. So, Travis?" Yikes.
At a celebratory dinner, Kim even called her sister "such a hater" with Khloé agreeing. At the dinner table along with the designers, they made a shady toast in honor of Kourtney.