Why Boho Fashion Will Never Go Out Of Style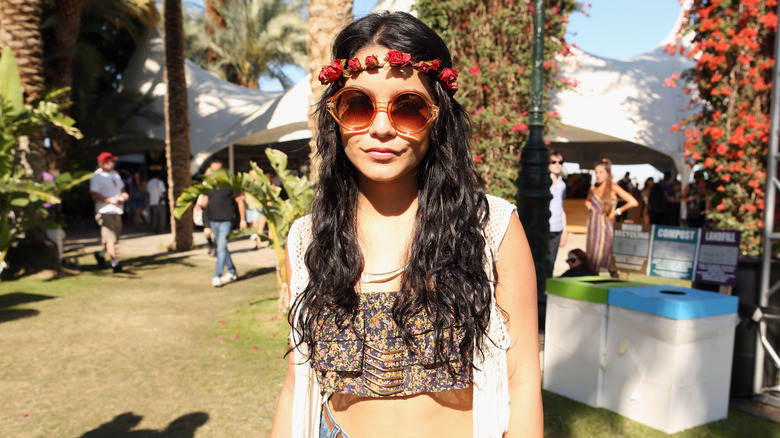 Christopher Polk/Getty Images
Whether you think of the abundance of flowy sleeves from the 1970s or find that Vanessa Hudgens' 2010s Coachella fits live rent-free in your mind, boho fashion has always stuck around in one way or another. Certainly, the '70s revival has a lot to do with the constant resurgence of boho style. Shows like "Daisy Jones and the Six" have helped to popularize the free-spirited, flowy silhouettes that are quintessential to boho style. Moreover, as the Y2K revival continues to go strong, it only makes sense that boho chic would make its way to the forefront of 2000s trends.
Boho chic was huge throughout the 2000s, too. Celebs such as Sienna Miller and the Olsen twins popularized accessorizing with scarves, wearing shawls with everything, and, of course, tons of fringe. A lot of 2010s boho fits, such as Vanessa Hudgens' iconic crochet vests and denim shorts combinations, spilled over from this era and became iconic in their own right.
Here's why the trend continues to stick around year after year.
Key pieces from the trend have cropped up endless times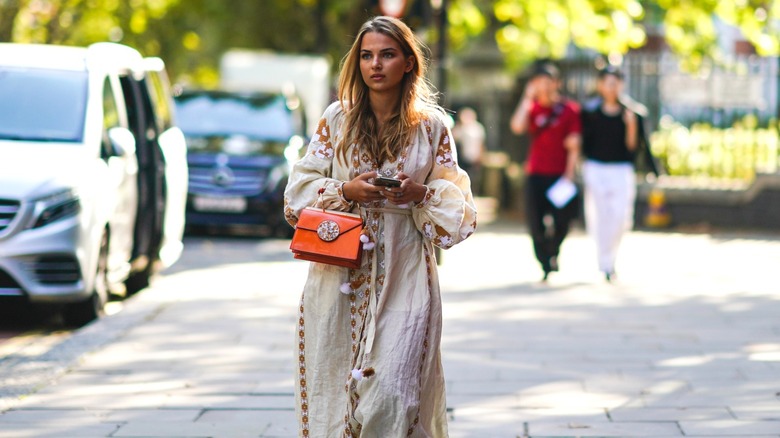 Edward Berthelot/Getty Images
Of course, some brands never left boho style behind. Free People is a notable example of boho chic never going out of style — throughout the years, the brand has stayed true to its ethos of flowy clothing made for the boho girl's closet. The brand even partnered up to release a collection with Riley Keough, who played the titular character Daisy Jones in "Daisy Jones and the Six." Several of the pieces in the collection are items Keough actually wore during filming, making them the perfect splurge if you want to dress just like Daisy Jones herself.
However, there is a slight shift with each generation of boho chic. No longer just romantic dresses and fringe suede jackets (though there are still plenty of those around), this time round, the style sub-genre includes lots of patchwork denim and florals in pastel shades instead of vibrant colors. It isn't just for a certain set of people either — in the 2020s, boho fashion is for everyone, not just for those who want to dress like Stevie Nicks (understandable). 
Here's what to look out for within the trend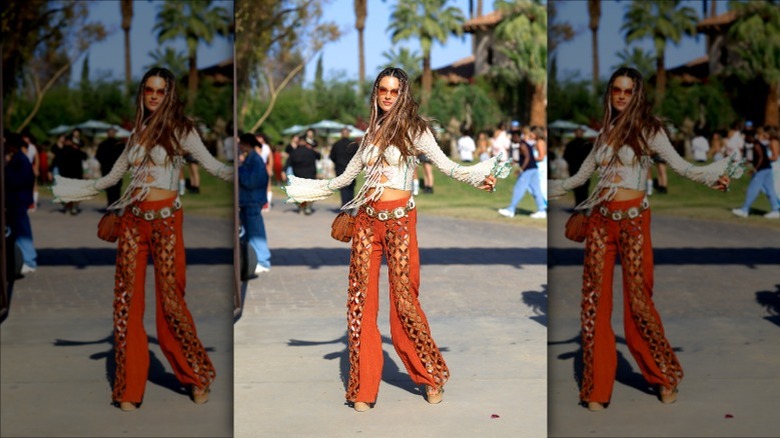 Rachpoot/bauer-griffin
The beauty of boho chic is that mismatching is part of the trend, meaning you can definitely still put your own spin on the style without needing to purchase heaps of items. To get started, familiarize yourself with patterns. Popular patterns within the boho fashion sphere are paisley, florals, and anything botanical. Speaking to Marie Claire, Nandita Raipurani, co-founder of boho fashion brand Hemant and Nandita, said that boho prints "are inspired by the earth around us." However, these patterns can be dark or light — boho doesn't have a particular color scheme, and you'll see everything from dresses to pants come in all colors of the rainbow.
Per Raipurani, boho clothing should additionally feature "relaxed, easy-to-wear silhouettes" that symbolize "the free-spirited mindset." Some items like pants may fit tighter at the top, but grow loose at the bottom. No boho item should ever be tight or uncomfortable. 
As for boho staples, a flowy prairie dress, some flared pants, and a loose, billowy blouse should be your go-tos. These items can be built up with accessories like a raffia bag or stacked beaded bracelets, but are also great staples to pair with existing items in your closet.