The Disturbing Gift Jared Leto Gave Viola Davis On Set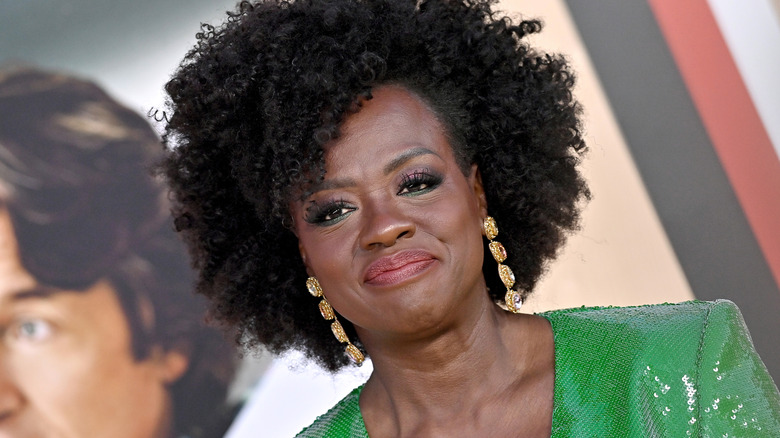 Axelle/bauer-griffin/Getty Images
Sometimes actors take on roles, and sometimes roles take on actors. Tom Hanks nearly lost himself while filming "Castaway," and Natalie Portman once revealed that she should have checked into rehab after "Black Swan" wrapped. The Joker, a character embodied by a handful of A-listers throughout the years, is thought to be a particularly intense challenge. Jack Nicholson portrayed the famous Batman villain under the direction of Tim Burton in the late '80s and (allegedly) warned Heath Ledger before he began filming "The Dark Knight" in the 2000s, per Fox News.
Since the actor's untimely death in 2008, two other stars have signed on to play the part: Jared Leto and Joaquin Phoenix. According to the latter, "It turns out, [transforming for a role] affects your psychology. You start to go mad when you lose that amount of weight in that amount of time" (via the Daily Beast). 
What's more, according to his costars like Viola Davis and Margot Robbie, Jared Leto had a habit of making them uncomfortable on the set of "Suicide Squad," staying in character even when the cameras weren't rolling. Worst of all, he was infamous for sending disturbing "gifts." Here's what we know about the box that Jared Leto delivered to Viola Davis.
Jared Leto sent Vila Davis a box of bullets while filming Suicide Squad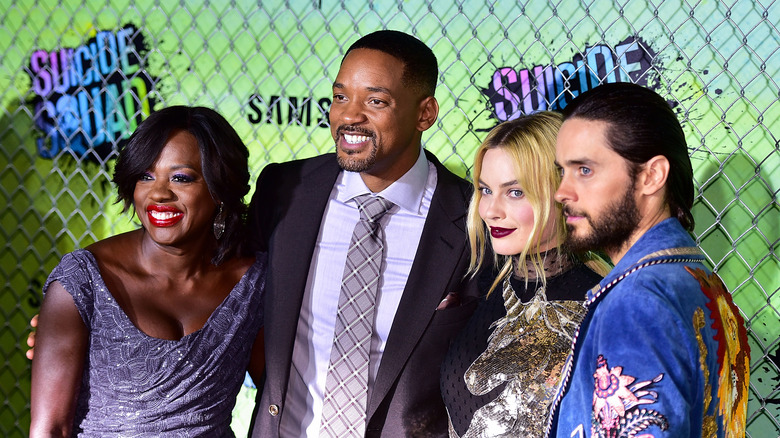 James Devaney/Getty Images
In order to become the Joker, Heath Ledger locked himself inside a hotel room for six weeks, Joaquin Phoenix committed to losing 50 pounds, and Jared Leto sent esteemed actor Viola Davis a box of bullets. "We all got a gift from Jared," the "Woman King" star explained in an interview with E! News. Before meeting Jared Leto at a Glamour Magazine event post-filming (Davis had only ever been introduced to that actor as "the Joker"), she remembered feeling worried by the so-called "gift." "I almost had my pepper spray out," she joked, adding, "It made you a little bit nervous and I'm pretty tough. You know I got into a few fights when I was growing up ... but it scared me a little bit."
Viola Davis wasn't the only cast member who was targeted by Leto (scratch that, "the Joker"). The whole cast was treated to a dead pig during an early-stage rehearsal, and Margot Robbie (aka Harley Quinn) received a rat, among other things. According to Leto himself, he sent used condoms to everyone, and he also threw in some anal beads for good measure, per E! Insider. "Jared, he went full Joker," Will Smith explained, adding, "And the rule generally is never go full Joker..."
Jared Leto has become a controversial figure in Hollywood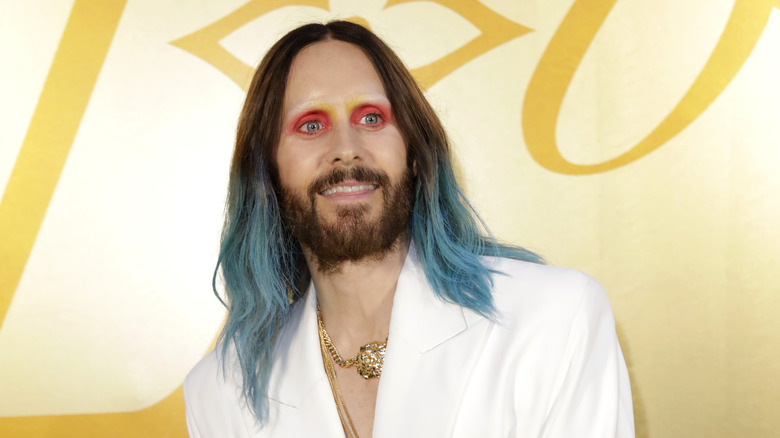 Antoine Flament/Getty Images
Not only has Jared Leto become infamous for his on-set behavior — production assistants were asked to wheel him to the bathroom on the set of "Morbius" — he's also been accused of starting a cult (yes, a cult). In 2019, Leto invited fans of his band Thirty Seconds to Mars to a remote Croatian getaway. Here, the so-called "Echelon" (the term this group of followers were called) wore white, listened in rapt attention to workshops run by Leto himself, and some even got tattoos, according to the Independent. Attendees paid upwards of $1,000, with some dishing out $6,500 for VIP access. "Yes, this is a cult," the band (jokingly?) confirmed on Twitter.
Jared Leto has also been accused of propositioning underage models and fans. In a famous 2018 tweet, actor Dylan Sprouse asked, "Yo @JaredLeto now that you've slid into the dm's of every female model aged 18-25, what would you say your success rate is?" What's more, as an anonymous source told the New York Post in 2005, "He's a serial texter. He is constantly texting these 16 and 17-year-old girls. It's really kind of creepy." Despite several decades worth of rumors circulating around the industry (and on the internet), no official charges have ever been brought against the "Suicide Squad" star. 
If you or someone you know may be the victim of child abuse, please contact the Childhelp National Child Abuse Hotline at 1-800-4-A-Child (1-800-422-4453) or contact their live chat services.