Anne Hathaway Lets Everyone Know The Truth About Jared Leto's On-Set Behavior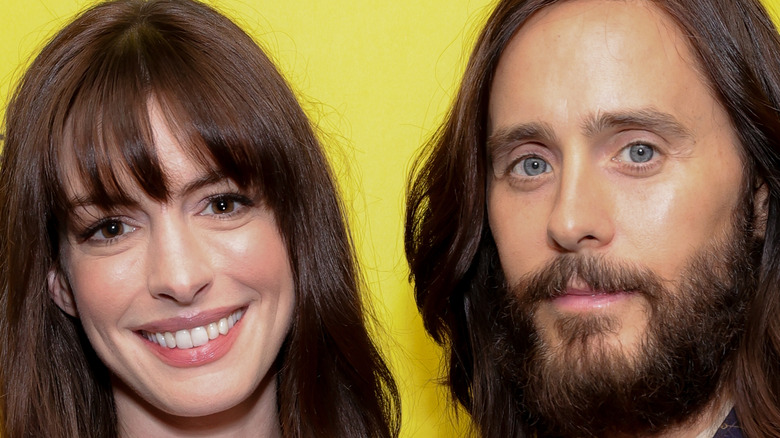 Rich Fury/Getty Images
Anne Hathaway and Jared Leto made a red carpet appearance at the 2022 South by Southwest Festival (SXSW) in Austin, Texas. They were there to premiere their new AppleTV show, "WeCrashed," based on the Wondery podcast of the same name.
The show highlights the relationship between "WeWork" co-founder Adam Neumann and his wife, Rebecka, and chronicles the downfall of what Variety notes was once "one of the world's most valuable startups."
Leto and Hathaway star as Adam and Rebecka. Leto's first major breakout role was staring as Jordan Catalano in ABC's "My So-Called Life," before he went on to become a founding member of the band 30 Seconds to Mars and starring in movies like "Fight Club," "Requiem for a Dream," and "Dallas Buyers Club." For him, the role of Adam was a new challenge.
To the crowd at South by Southwest, Leto explained how he'd "never made a film or done any kind of acting that was based on a story that was so fresh" (via The Hollywood Reporter). He reportedly became so buried in source material that once production began, he "became Adam Neumann."
This is what Anne Hathaway thought about working with Jared Leto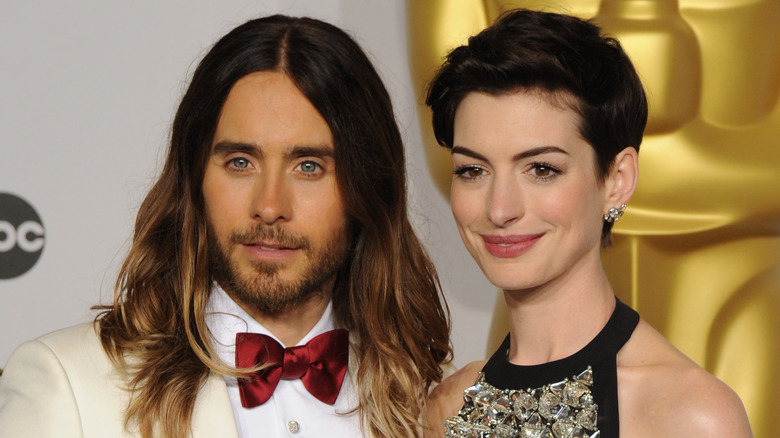 Featureflash Photo Agency/Shutterstock
That's why Anne Hathaway joked at the premiere that it was nice to finally meet Jared Leto: all of their time together has been with Leto in character, per The Hollywood Reporter.
Hathaway plays Rebecka, Adam's wife who the public doesn't know much about. Hathaway, who has starred in a number of blockbuster hits playing a wide range of characters, still had her work cut out for her when it came to portraying someone with little source material to go on.
"She didn't do everything right all the time," Hathaway told the SXSW audience of her character (via The Hollywood Reporter), "and nobody ever has in all the time that all human beings have been alive. So, 'sweetness' was the word that really opened her up for me." It was something she said she brought to Rebecka's character every day.
"Sweet" is also how Hathaway described her co-star to People, saying that her co-star was "gentle" with her, and he was someone she learned a lot from. "I think sometimes when you just know somebody's work from the outside, you imagine, there's a level of intensity to him," Hathaway said. "But he was so sweet, calm, and supportive of me throughout this whole process."